What I've Learned from 5 years of Marriage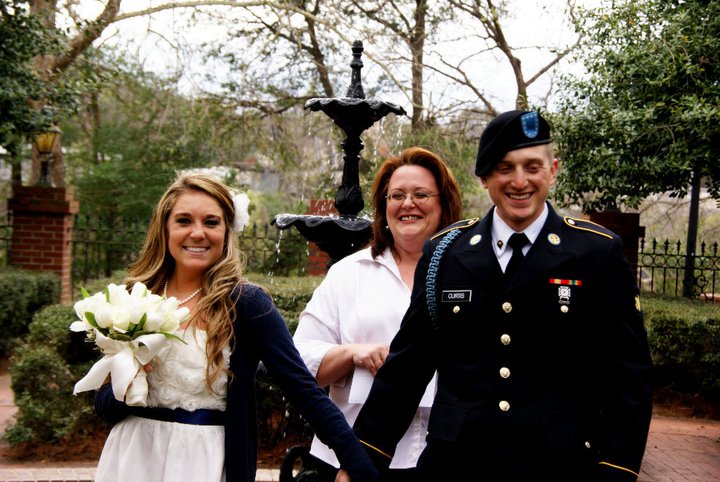 You know in movies when they make it sound like every girl starts planning her wedding at age 4?
I didn't.
Sure, when my husband and I got engaged I started to think about bridesmaid dress colors, center pieces, honeymoon destinations, etc. But it was never something I had thought about before getting engaged.
Our entire relationship was far from traditional.
August 2010- We met.
September 2010- We started dating.
November 2010- He left for Basic Training.
December 2010- He came home for Christmas and we got engaged.
January 2011- He went back to Basic Training.
March 2011- He graduated Basic Training and we got married.
April 2011- We moved to upstate NY and got pregnant.
May 2011- He deployed to Afghanistan.
Are you dizzy reading that? Don't worry, I'm dizzy too. But the best kind of dizzy.
Why did we get married so quickly? The best answer I have to that question is when you know, you know. 
He made me feel a way that no one ever had. I just knew in my heart of hearts that he was the one. I remember calling my best friend the first night we kissed and leaving her a message saying " I just kissed the man I'm going to marry." I have no other explanation for it other than I just knew.
Of course we wanted a wedding to celebrate with friends and family but it's not that easy when it comes to the military. He was in Georgia at the time and I was in Ohio. He would be leaving Georgia and we didn't know where he would go next. Without being married, I couldn't go with him. So for us, the plan was to get married by small ceremony in Georgia and then have a big wedding with friends and family down the road.
But life happened. We tried to plan our wedding for later that year but the Army had different plans for us when they slapped deployment orders on him. We threw away the wedding pamphlets and got our power of attorneys and his will in order. Not exactly the documents you want to see getting prepared when you're a newlywed. But we knew this would just be a small speed bump in many years of married bliss.
I had no idea what I wanted when it came to my wedding because maybe I was never supposed to have a big one. We were married in front of God and our parents and most importantly, each other. I'll never forget how I felt that morning; it had been 12 weeks since I had seen him last and when I finally saw him later that day, we would be on our way to say "I do."
We've been through a lot in the past 5 years and it's hard to believe it's already been that long. I've learned a lot over the past 5 years and if I had to choose a timeframe of my life where I've grown the most, I would say this is it. But we've grown together and learned from each other, ultimately making our marriage better.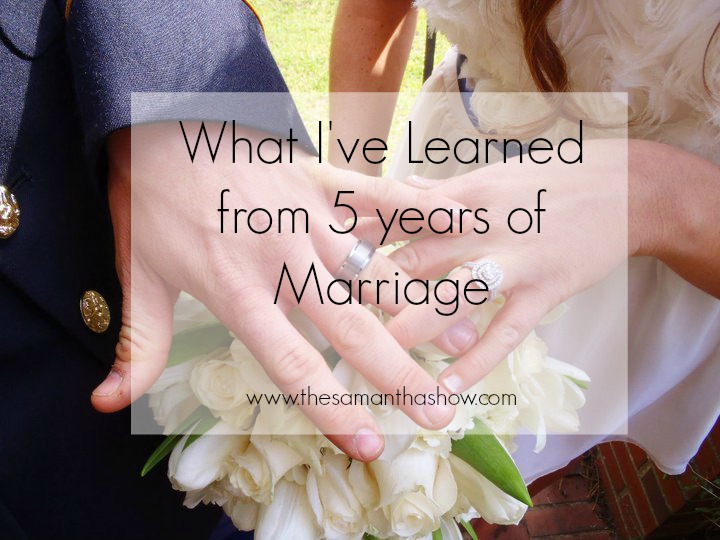 I've learned when to say "I'm sorry".
I've learned how to take care of an entire household.
I've learned independence.
I've learned I'm strong enough when I need to be.
I've learned to make sacrifices.
I've learned to trust. Which is something that was hard for me in the past.
I've learned that communication is KEY.
I've learned that having fun and goofing around is absolutely necessary.
I've learned that making time for each other is one of the best things you can do.
Of course I've still got a lot to learn but the only thing that matters is that I get to do it with him by my side.
He's the greatest man I've ever met and always puts our family first. The late nights, the early mornings, the time away, is all for us. He loves his job so it makes it easier but being away from family is never easy for him, just as it's not easy for us either. But he does it because he knows it's the best thing for us and so he misses birthdays, holidays, and milestones because that's the type of man he is.
I'm not a perfect wife; I nitpick, I have selfish moments, I word vomit, and I'm sometimes too busy to stop and kiss him when he walks through the door. But those are all things I'm working on. Being married isn't easy but if you have love, everything else will fall into place.
To my sweet husband, thank you for standing by my side the past 5 years. Thank you for everything you do for our family and for being the best dad I could have ever imagined for our kids. Thank you for watching The Bachelor and Teen Mom with me, agreeing to pizza every Friday night and for always showering me with affection, even when I don't want it. There's no one else in the entire world I would want to be on this crazy rollercoaster ride with and I thank God everyday for bringing you into my life when I needed you most.
Happy anniversary babe. 5 years down, 100 to go <3