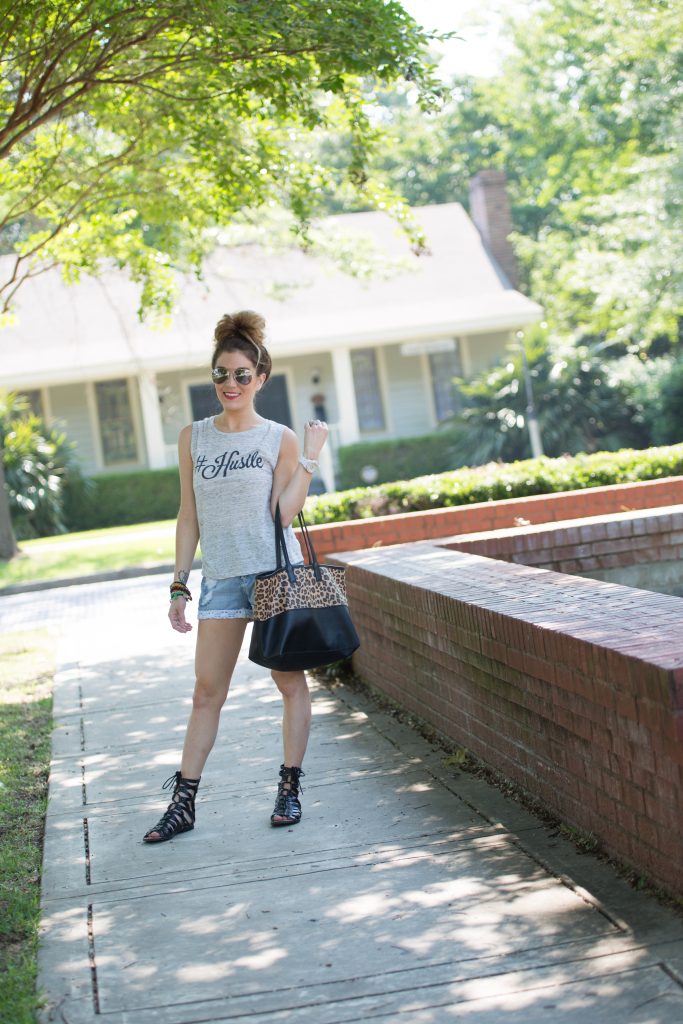 ATX Mafia Hustle tee// The Posh Peach shorts (similar here)// Tory Burch tote (similar here)// Oakleigh Rose bracelets (use thesamanthashow for 20% off) (sold out but love this one)// Go Jane sandals// //Walmart sunnies
I've been going back and forth about the switch from Blogger to WordPress for quite some time now. Should I do it? Is it worth it? Will I like it? How much is this going to cost? Is it the best next move?
Luckily, one of my good friends Marquis is an absolute baller and helped me with the entire process. She's helped me with three redesigns and every time so does it, I love it more than the last. Which must mean I love it a lot because I always love her work.
Not only did she customize this theme after I bought it, but she moved everything over from Blogger to WordPress. I don't speak HTML so thank God she does. I'm still waiting to work out a few glitches, so if you follow me on Bloglovin' or RSS feed, please be patient. Waiting on a few different things to happen and then it should all be good to go.
There are so many exciting things happening behind the scenes in my life and I cannot wait to share them with you. I'm working on hiring a Mother's Helper/new babysitter in hopes that I can get some more work done during the day. I need to designate certain "work time" so that I stop feeling like I'm neglecting my kids when I need to sit down and get some stuff done. I've talked about this guilt before and some may think it's silly because I'm not working a 9-5, but I still feel guilty when they want to play and I have to lock it down in front of the computer. So I'm hopeful that this Mother's Helper situation works out and is good for all of us.
I've also got this "idea" bug. I've always been a creative soul and feeding it has always been a necessity. Whether it's reorganizing the office/playroom or new business ventures, there have been a lot of gears turning around here. So stay tuned…it's gonna get fun : )
So with all of that being said, there was no better shirt to add to my collection than "Hustle". I may not have my dream job or even know what that is anymore, but I'm doing things I love and seizing opportunities. All while making fabulous connections and working with amazing people. That has to count for something, right?
Tell me… what's your dream job? Are you doing it? Do you ever want to do more? Let's lift and inspire each other to succeed 🙂