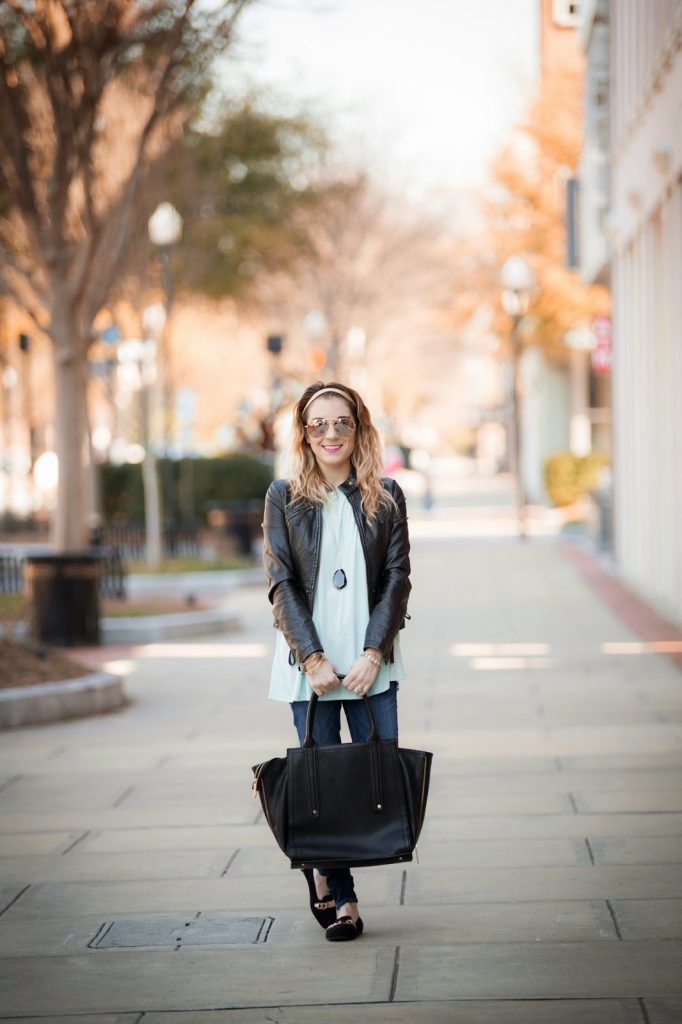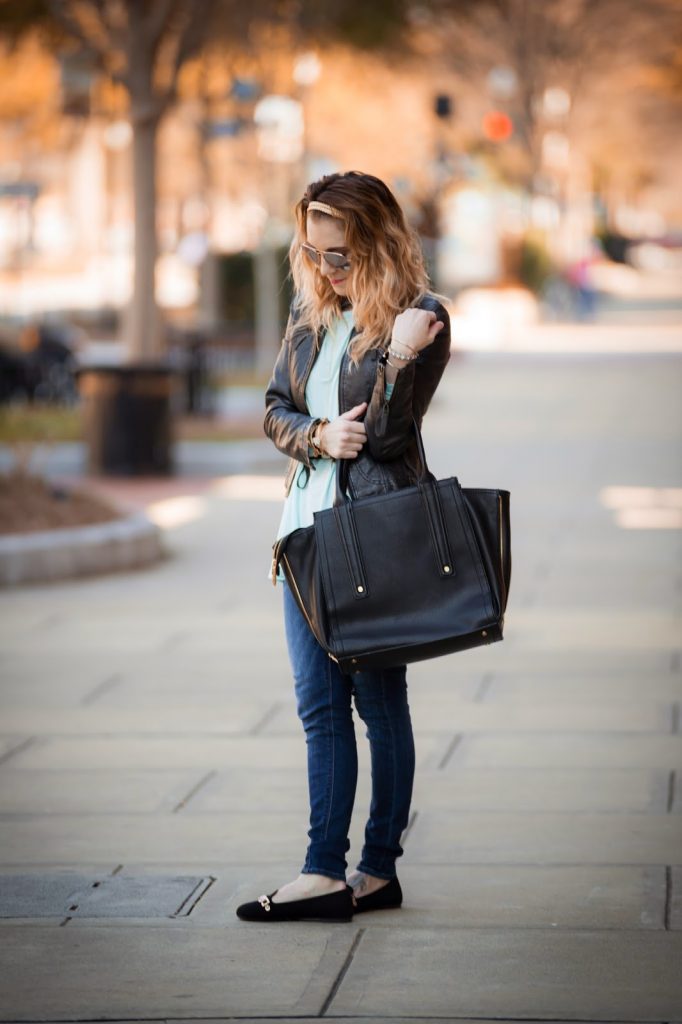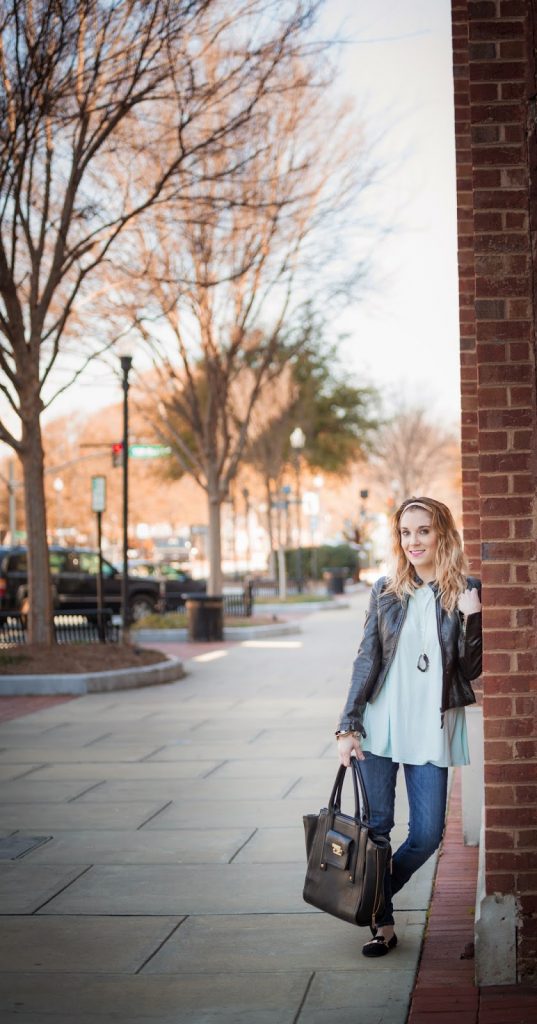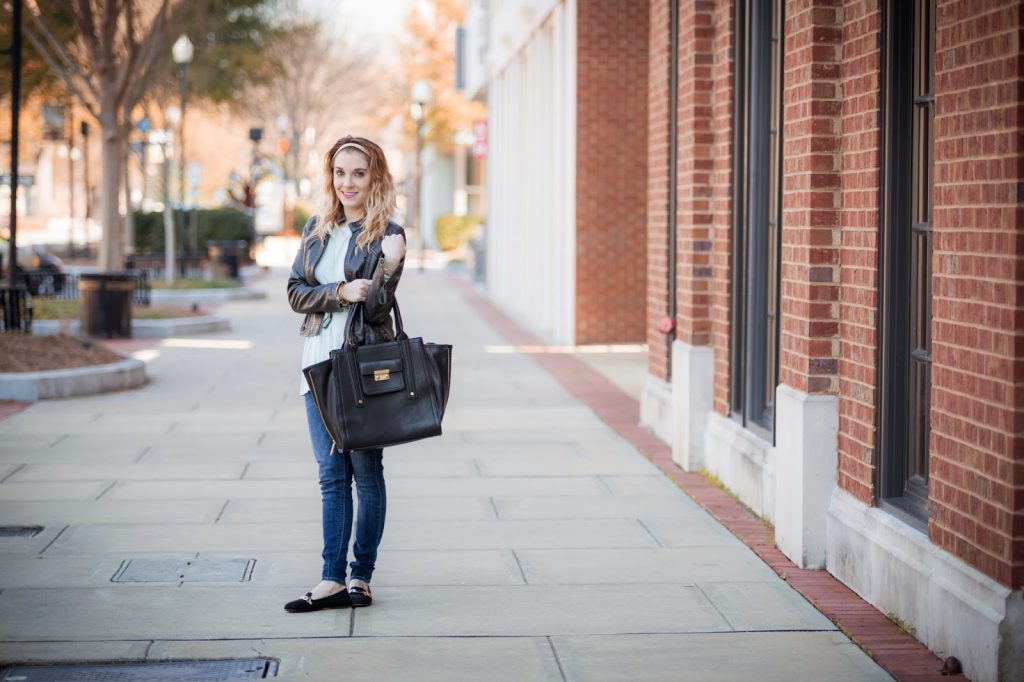 It was 75 degrees yesterday in Georgia. The day before that? It was like 40 degrees. Things are about to get real crazy around here, because Georgia usually goes from winter to summer in 2.5 seconds. We get a spring but it's not like the spring I'm used to. Spring in Ohio still meant sloshy snow everywhere and temps in the 40's 50's. Georgia spring is like 70-80's… big difference, right?
I'm loving the pastel trend this season (pretty much every spring season… I'm convinced). And this mint
Famous Piko
from
My Sister's Closet
is perfect to transition from the cold months to the warm. I'm layering it here with a faux leather jacket, because that's the key to southern weather. LAYERING. You wake up and it's slightly chilly and then by 10 am you're sweating. That's one of the first things I learned when moving here… always layer.
But this top is seriously one of the most comfortable tops I've ever worn and I'm pretty sure I want one in every color. And for $22, that's actually a possibility! I talked about my
favorite places to shop
yesterday and how I don't pay a ton of money for clothes from boutiques because I can't afford to. But this… this I can afford. And not only that, but it's a basic that I can wear a lot of different ways and in a lot of different seasons.
In my opinion, Piko tops are one of the most flattering tops for all body types. They're slightly tighter in the arms and looser everywhere else. And let's be real, no one wants their clothes hugging them, no matter what size you are. (I'm wearing a size small above for reference). I also love that you can wear them with jeans OR leggings. Because yes, I believe leggings are to be worn as pants ONLY if your shirt is long enough to color your rump. These are 🙂
Need ideas on how to wear a Piko?
Alone.
With a jacket.
With a vest.
With a belt around your waist.
Tucked in to high waisted shorts or a skirt.
With leggings.
With jeans.
The possibilities are really endless! The reason why I love these so much? They're affordable and they're comfortable. Two of my must haves when picking out new clothes 🙂
How do you wear your Piko? Do you own any? What colors are a MUST have?