Welcome to my Modern Chic Home Office! Read below for details! 
A few months ago I decided that the way my office was set up was not conducive for creativity. I didn't want to be there and was feeling uninspired. Well for me, the best way to inspire new ideas and creativity is to redecorate. And since New York City is one of the places that I find most inspiring and where I feel alive, I knew I wanted a New York City inspired modern chic home office.
What does that mean? Well I had previously decorated an office with a NYC theme but in a house that we didn't own. So I couldn't paint the walls or make any changes and the yellow is just not my vibe. But the reason I mention this is because I already had this giant canvas print that would serve as the inspiration for my new office. I wanted everything to be black and white and feel very clean and chic.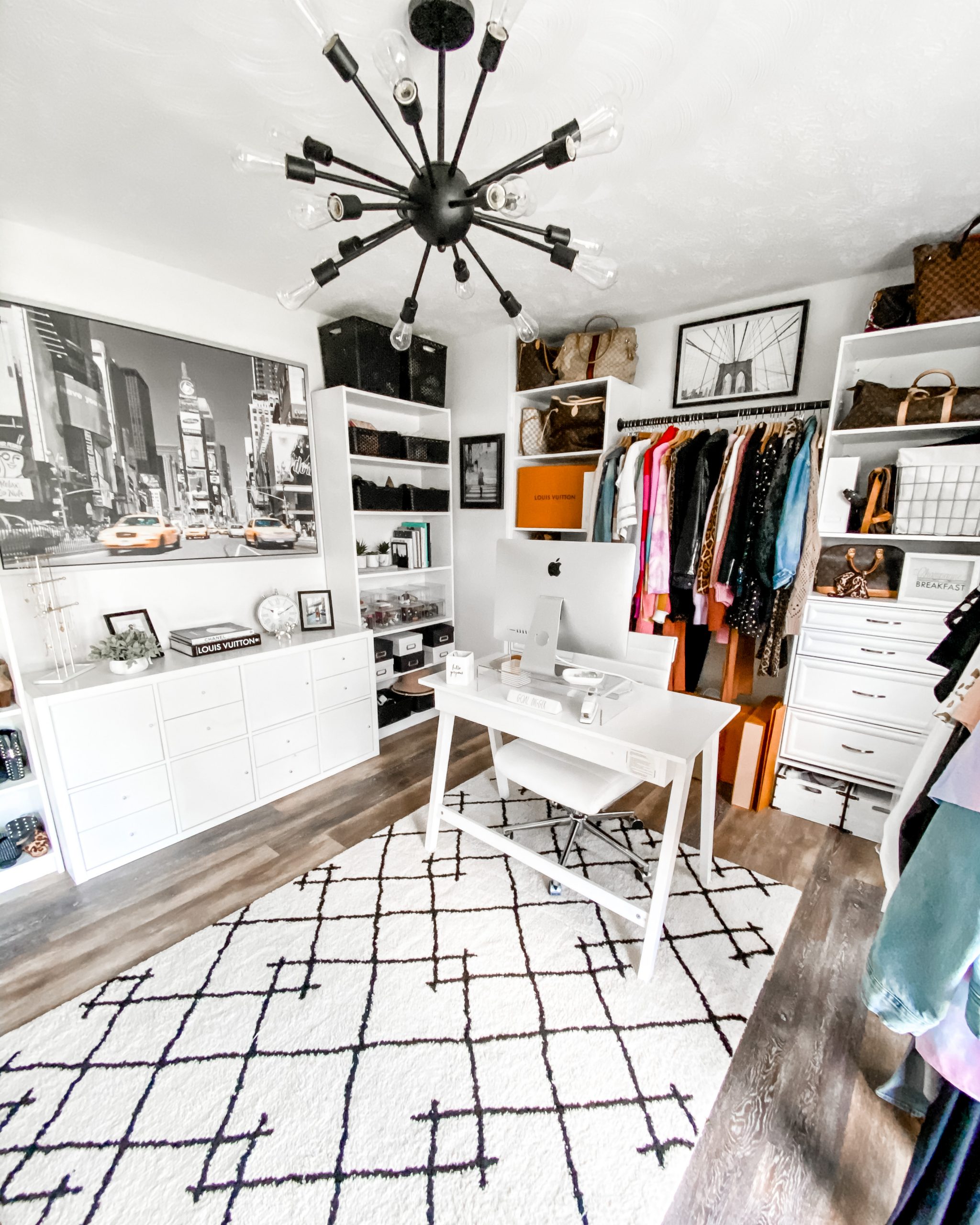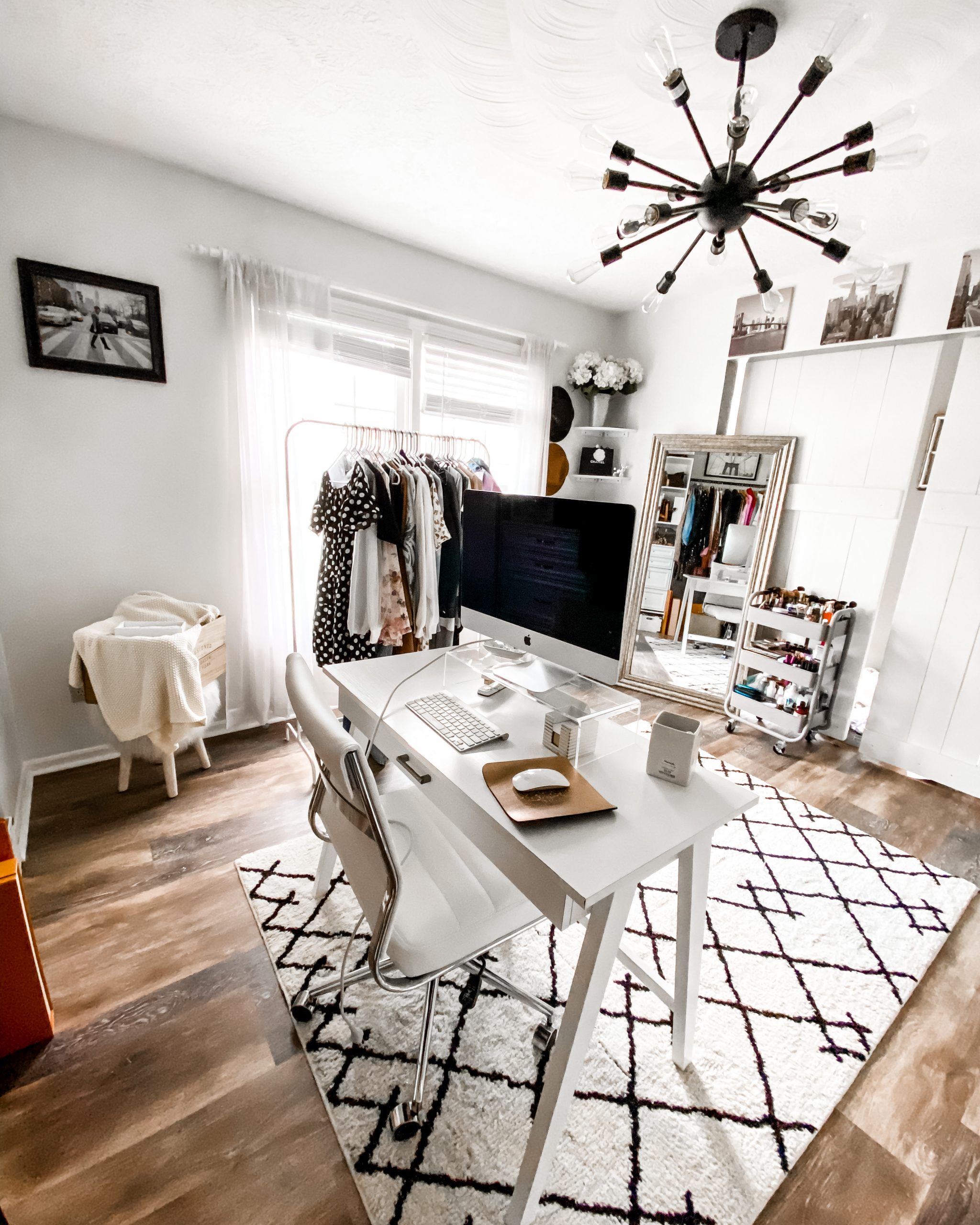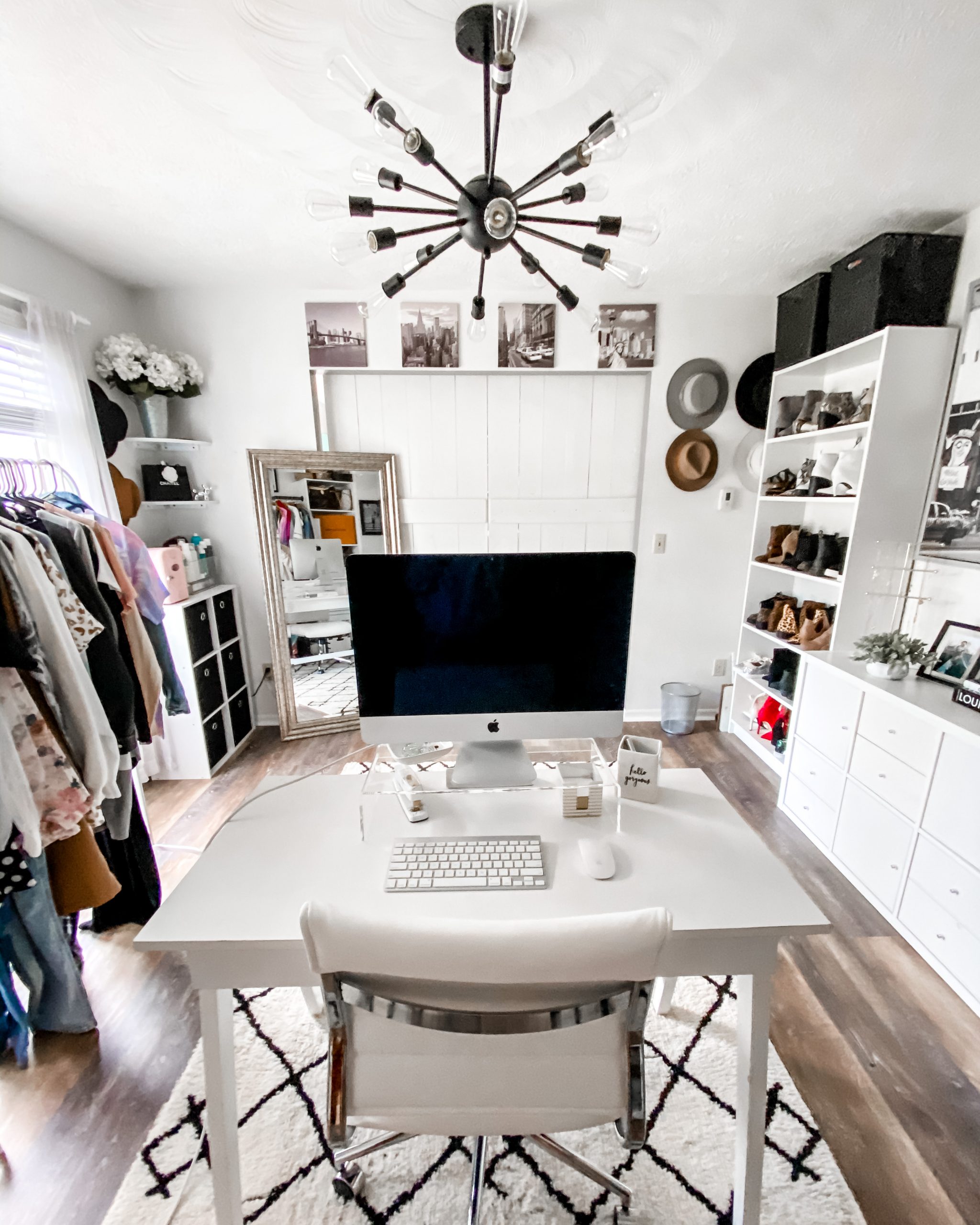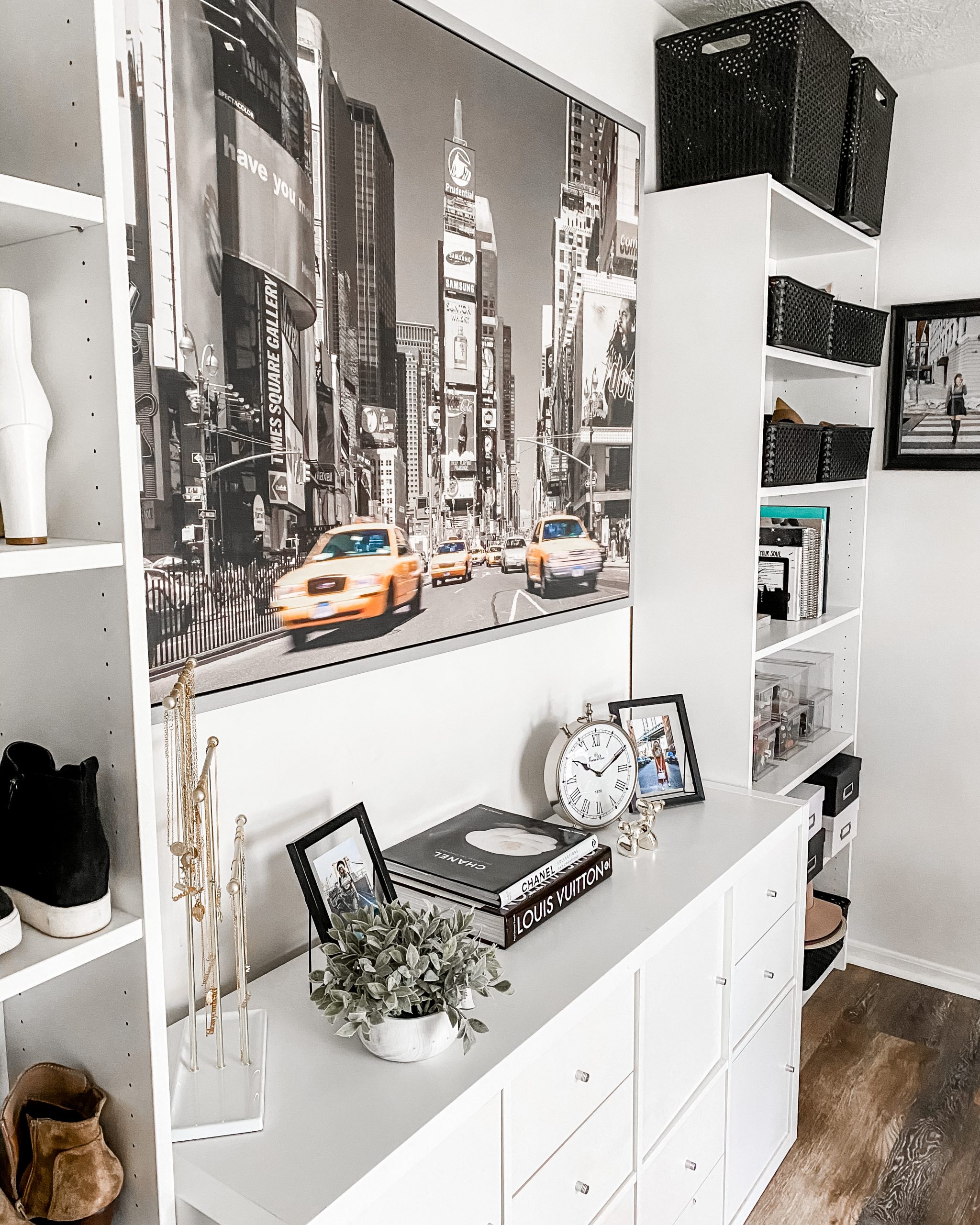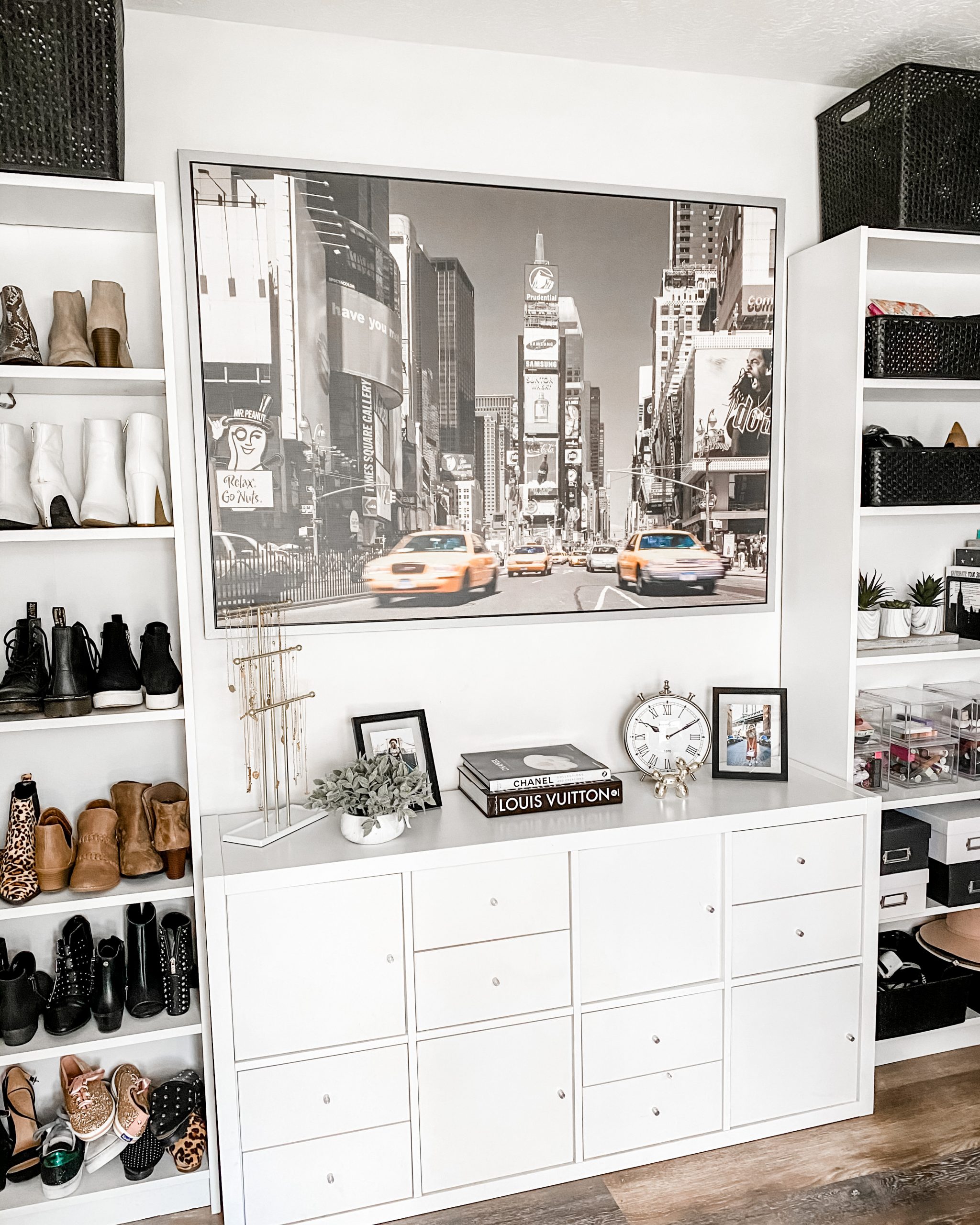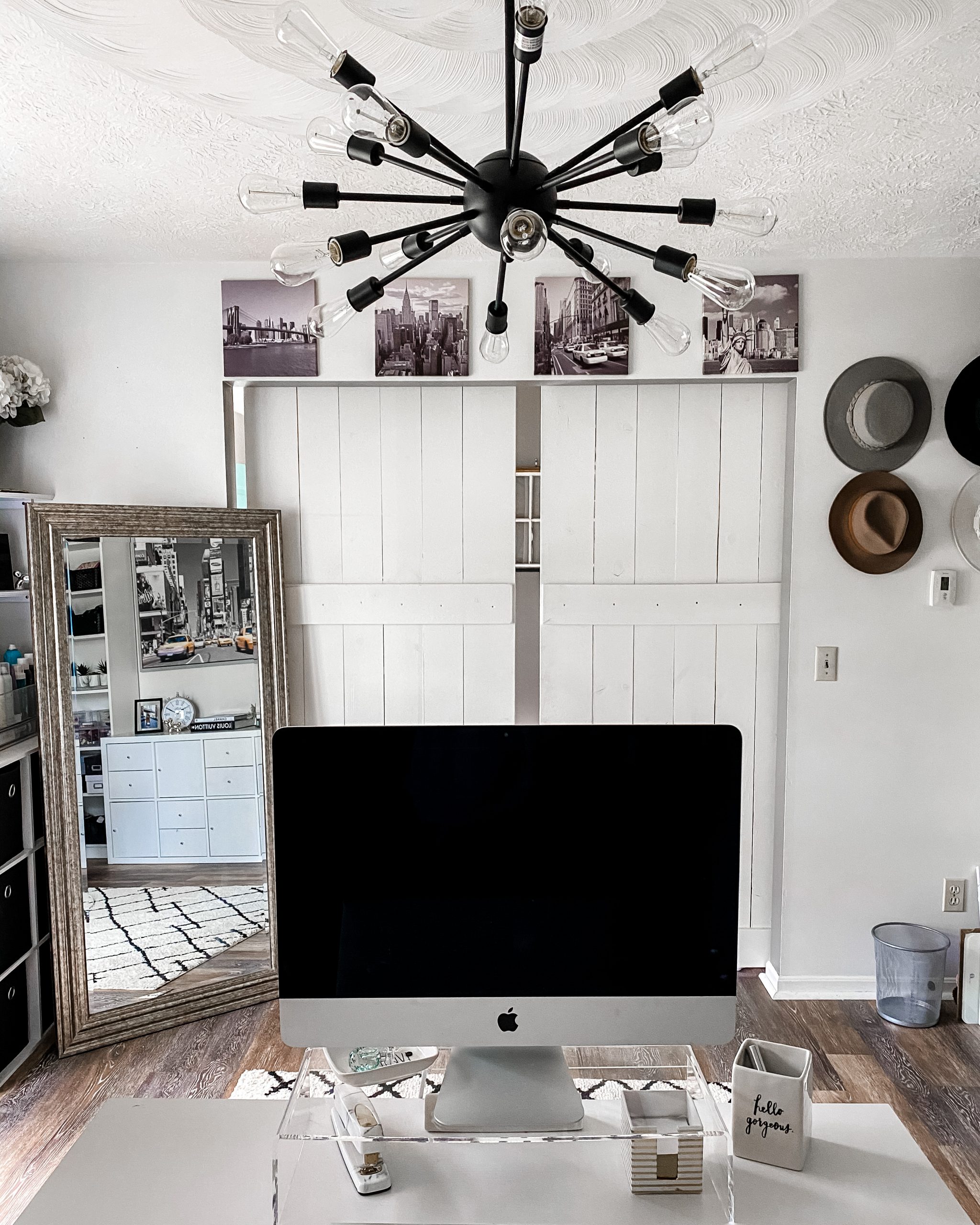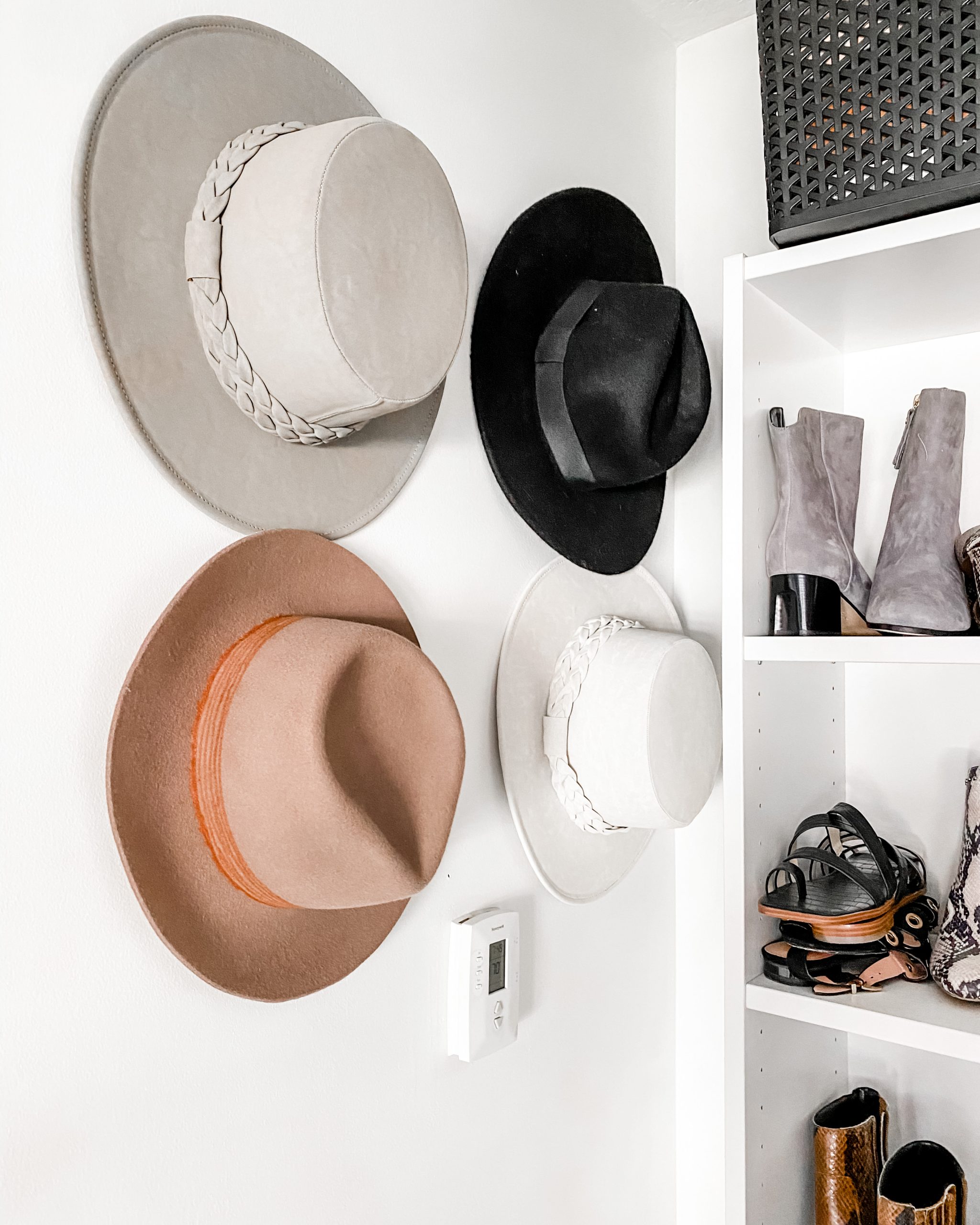 =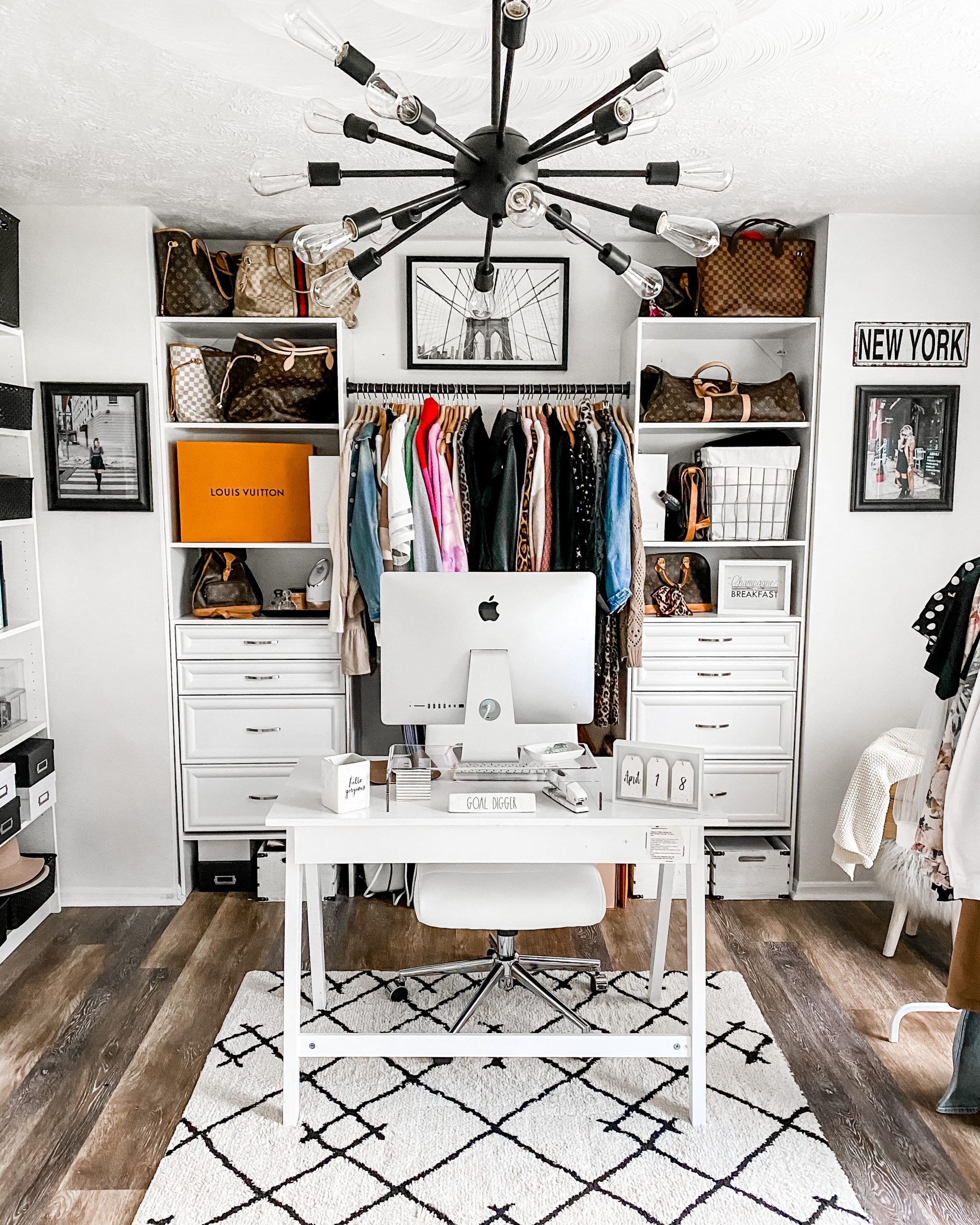 I had one of these bookshelves in my office prior to redecorating and to even it out, we added another one with a bar in the middle for my clothes. I wanted to leave some shelves open for decor but also wanted drawers to make it functional and for storage. So we added 4 drawers to each side to hold sunglasses, purses, hats, office supplies, etc. And then I chose to use my purses, baskets, file holders, and a mirrored tray to decorate the shelves. Again, mixing in a little decor and function.
I had previously used the space above this cabinet to hold boxes of product, but decided that I wanted this to look cleaner and be more decorative than functional. I added books, a clock, a jewelry holder, a plant and frames with pictures from fashion week as decor. I love how it kind of ties everything together while keeping it simple.
I used to have both bookshelves filled with shoes but decided to use one for shoes and one for my office supplies; camera, products to test, books, etc. I loved these white and black boxes because they're functional yet keep everything clean looking. The black bins also come in a variety of sizes and colors and are perfect for storing items neatly.
I wanted to keep an extra clothing rack separate from the one behind my desk so that I could pull pieces for try-ons, photoshoots, etc. This one is from Ikea and I've had it for years. Super simple and functional.
I needed more space for products so I put this organizer behind my mirror. I move my mirror depending on the lighting so I did want to get matching drawers for the shelves in case my mirror was in a different location. This is also where I put my skincare fridge so that I would actually use it! You can read a full post on why I have one and what's inside here.
Since my mirror covers these corner shelves most of the time, I just wanted flowers that were tall enough to be seen. And in case the mirror is moved, I have a few other little pieces of decor. These corner shelves are also great if you're tight on space and need function or simply want a little space for decor!
I've got a bit of a hat obsession so decided to make my hats part of my decor. I chose my favorites and hung them on nails, and then I stored the rest of them on top of the organizer behind my mirror.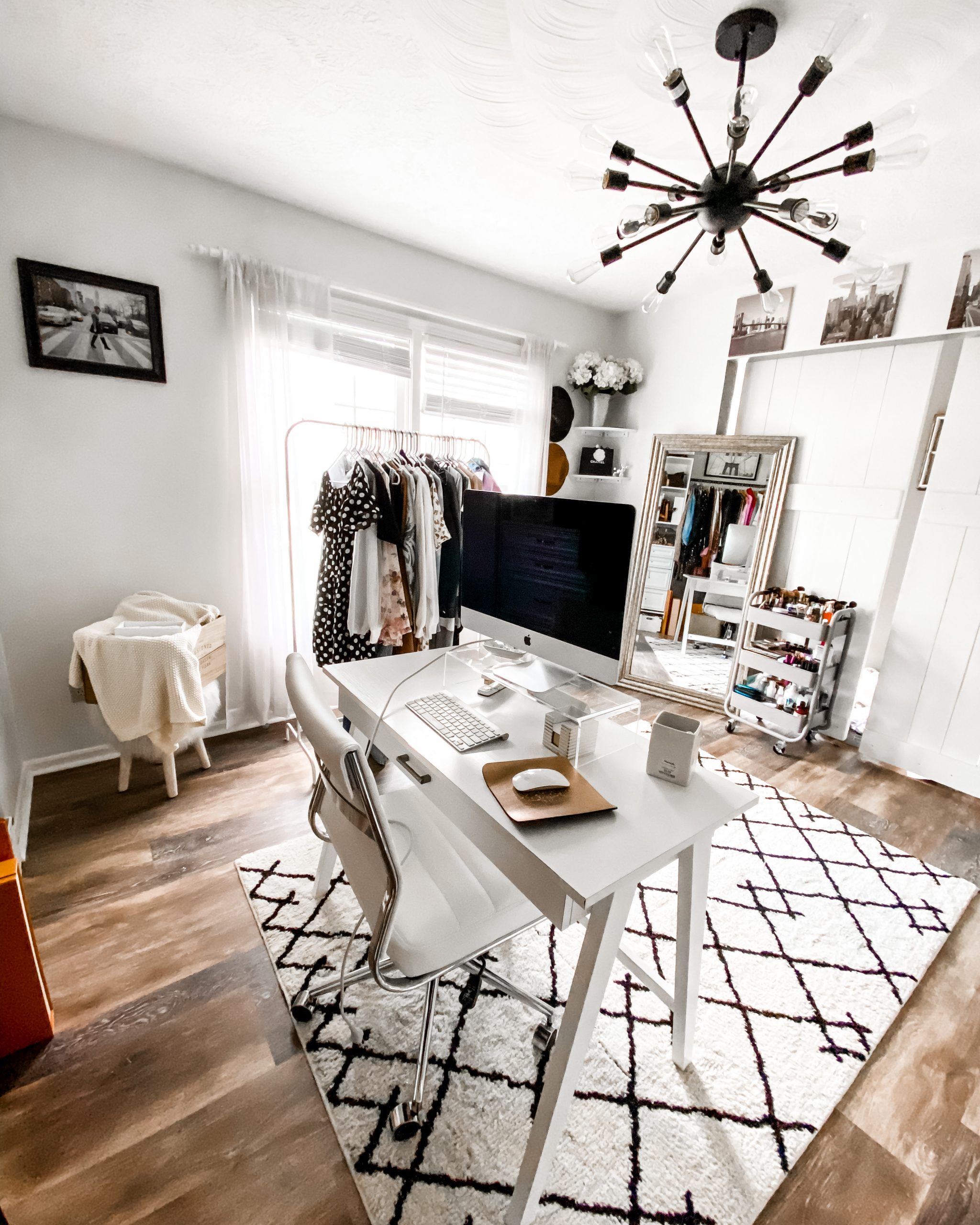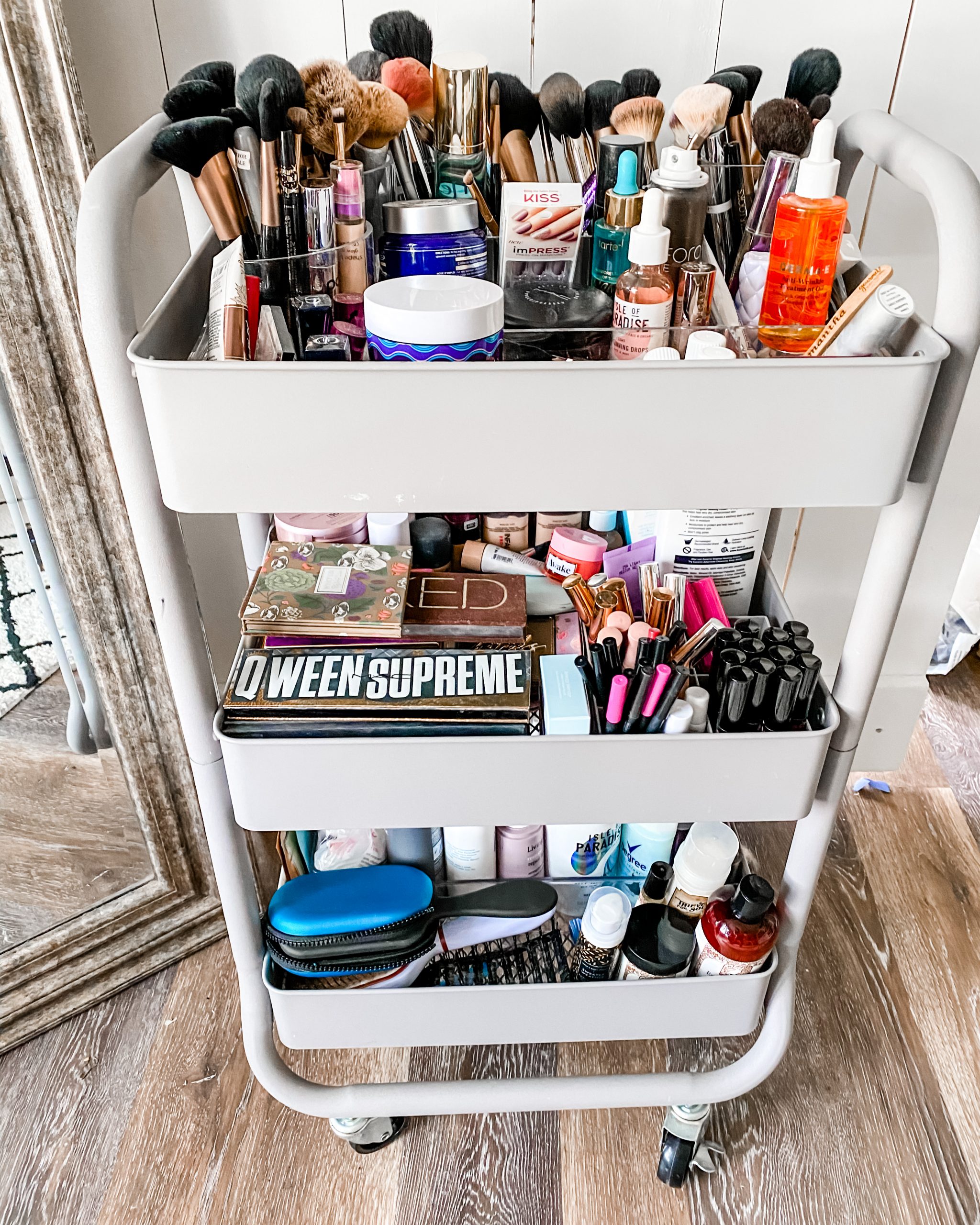 I've had my desk for YEARS and I love it. It's simple and has a drawer for storage. I couldn't find my exact one but this desk is pretty close! I recently added an acrylic riser and love how I can store office necessities under it while still keeping my space neat.
I found a cart that fit my acrylic makeup organizer perfectly so that's where I store all of my makeup, hair products, hot tools, etc. This is the hardest part to keep neat but I try to keep everything in these little bins and stand up whatever I can.
This rug is one of my all-time favorite rugs; I actually have the same rug in different colors in 4 rooms of my house! It's super affordable and holds up while vacuuming, traffic, kids, etc.
Since the Times Square canvas is such a focal point, I wanted to keep the other signage and imagery a little more simple and muted. The pictures in the frames are some of my favorite shots from the city while I was visiting. I also found this New York sign and these canvas prints to hang above the doors. Since I sit at my desk and look out towards the hallway, I wanted to be able to feel like I was in the city. If I can't be there physically, I can be there mentally!
The final touch was this light fixture from Poly and Bark. Is it not AMAZING?! I love the matte black and how bold of a statement this piece made. Perfect to contrast all of the white pieces and furniture. My desk chair is also from Poly and Bark and while I went back and forth between white and black, I decided on the white one!
This space is near and dear to my heart and I feel so much happiness when coming into it. It holds me over until I can plan my next trip to the concrete jungle… which is hopefully sooner rather than later 🙂
I've linked everything on the liketoknow.it app, so you can easily shop everything below! Just click the item and it will take you to shop! Happy decorating!