As Zach and I enter the home stretch of our time apart, I can't help but reflect on everything we've been through.
Basic Training
Airborne
Deployment
Field time
CID School
Collective time apart? (give or take a few days/weeks…) Close to 20 months.
Collective time together? (give or take a few days/weeks…) Close to 21 months.
So just recently, we crossed over to the side where we've spent more time together than apart. I've never sat down and looked at it and now that I have, it's hard to believe that I'm actually looking at my own life and not something out of a movie.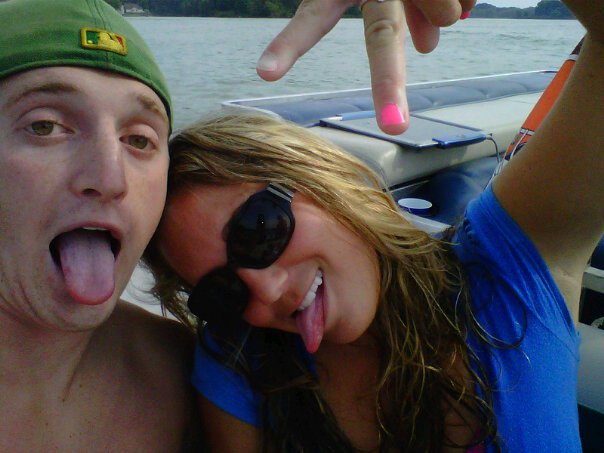 The day we met.
When I first met Zach, I had no idea he had plans to enlist in the US Army. We fell in love very, very quickly and I was so head-over-heels in love with him that nothing else seemed to matter. When he finally came clean and told me about the army, I had no idea what it even meant, but I knew that I loved him and I wanted to spend the rest of my life with him.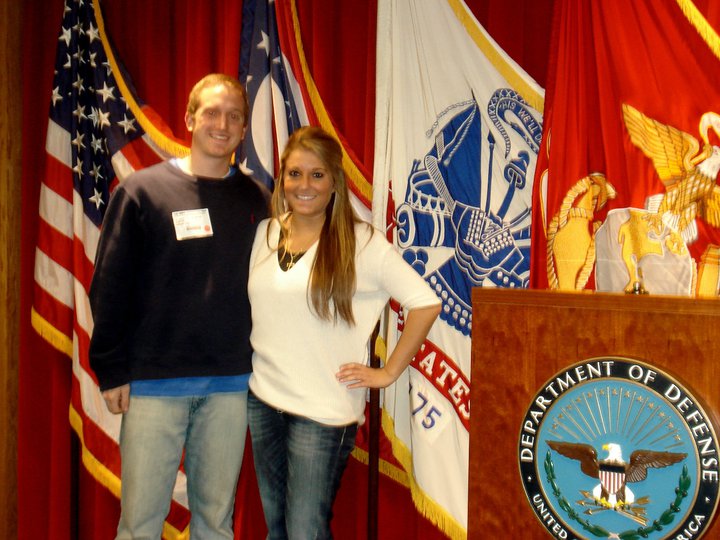 The day he took his oath.
When all was said and done, we were engaged, married, and pregnant within 8 months of meeting. I know, some people may think we're crazy, but to me? We were nothing but crazy in love.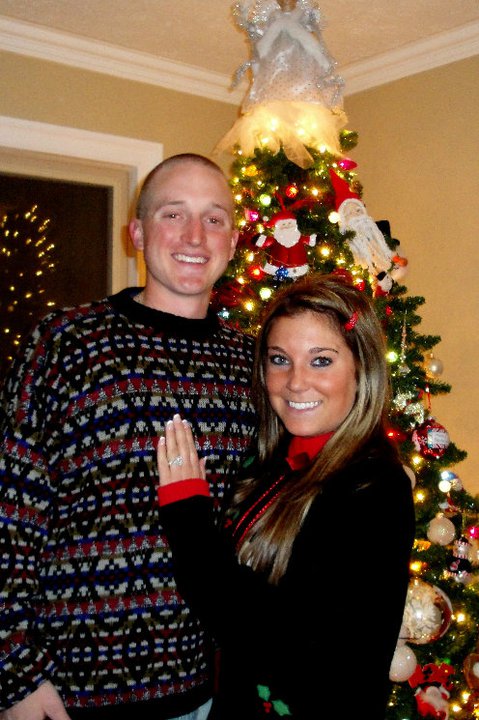 The night we got engaged.
We had been married for a month when the bomb was dropped… he would be deploying to Afghanistan. My heart was broken. I didn't know how I would make it 10 months without seeing him, talking to him regularly, or knowing if he would be coming home alive. We had barely spent time together and now he would be leaving without a return date in sight. I was pregnant; he would miss everything and possibly miss the birth. What if he didn't come home? How could I live without him?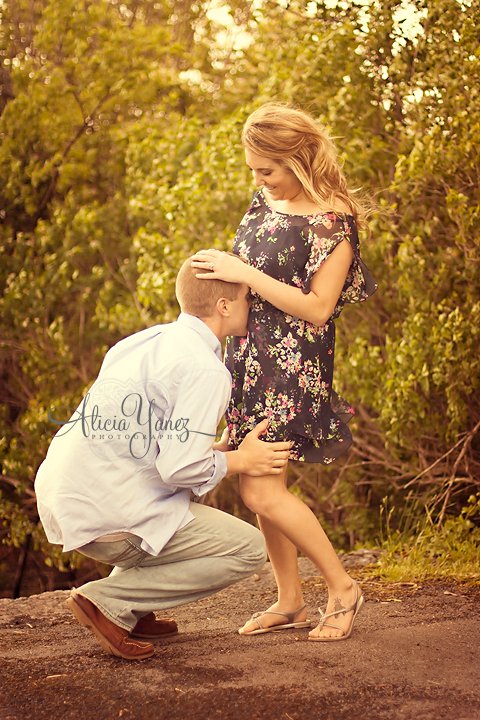 Pre-deployment photo shoot
But we said our goodbyes and we tried to stay strong for each other, and for the baby growing in my belly. But as Murphy's Law would have it, when it rains, it pours.
I was admitted to the hospital twice for bleeding.
I was in pre-term labor at 26 weeks; 1.5 cm dilated and 50% effaced.
I was assigned to 6 weeks of bed rest.
I developed Gestational Diabetes.
Zach was in an explosion.
And this all happened in a matter of days.
I almost lost both of my boys in the same weekend.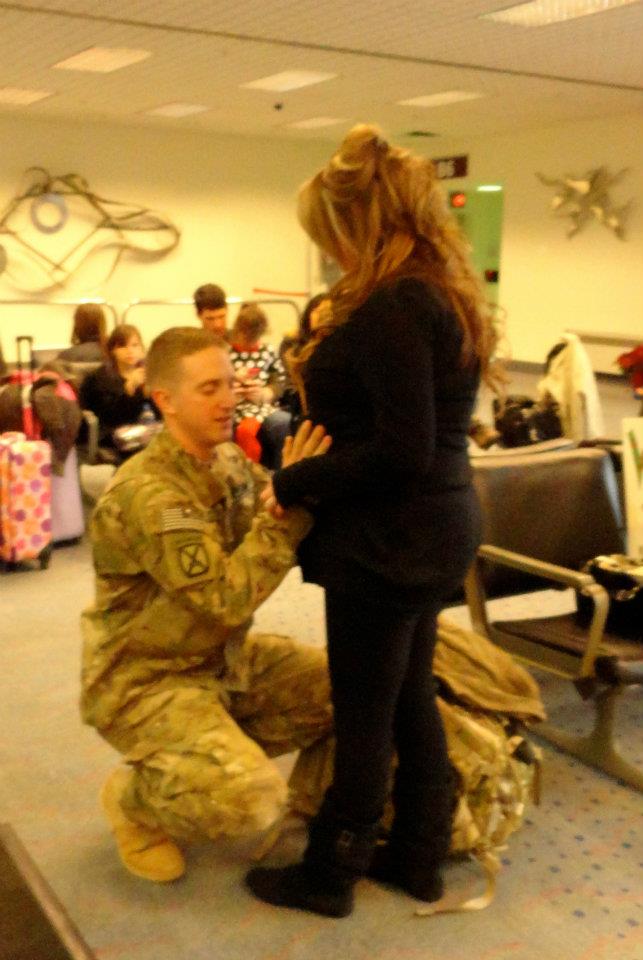 Home for two weeks R&R and seeing the belly for the first time
Looking back, I don't know how I did it. But I did. I was forced to reach deeper down than ever before and find the strength to push through the hardest time of my life.
As I reflect on everything we've been through, I wouldn't trade it for the world. Of course I miss my husband when he's gone and wish we never had to be apart. But on a positive note, it has taught me the meaning of true love and how much I am willing to sacrifice to be with my one and only.
I may have been fierce in these moments but there are a ton of other women around the world who have had to be stronger or fiercer than I have. When I heard about the Fierce Fund, I couldn't wait to share my story with all of you and encourage you to do the same.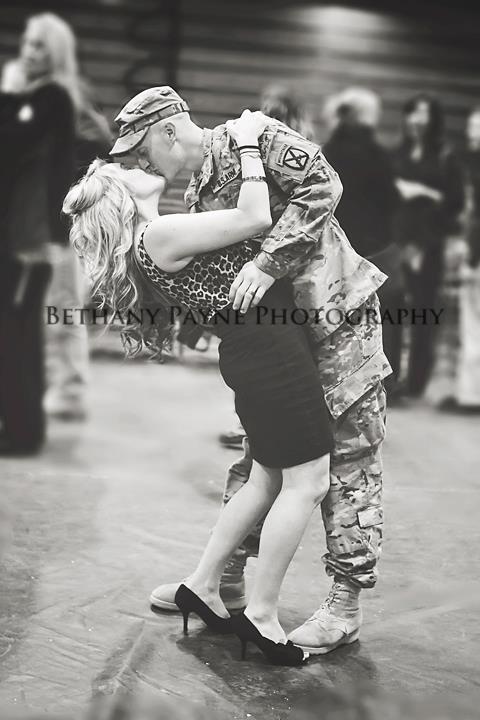 The day he returned home from Afghanistan…for good.
We don't give ourselves enough credit half of the time; we're ALL a lot stronger and fiercer than we think. This year, the Fierce Fund will donate $20,000 to a women's organization and you have the chance to help choose where the money goes! The organizations that were chosen were:
CoachArt
Dress for Success San Francisco
Girls Who Code
You can read more about each organization and place your vote simply by visiting this page. The silly looking pictures of me in the blue wig above? It's part of the Traveling Blue Wig Project; women are encouraged to share their stories of how they were fierce, whether it be surviving cancer and rocking a blue wig or surviving a deployment and encouraging other women to do the same 🙂
In times of sadness, I look back on all that we've been through and can't help but smile. I hope to never go through an experience like that again, but I am so proud of myself for how far I've come. It's made our marriage stronger, it's made our love deeper, and it's made me realize that there's nothing we can't do.
How are you fierce? 🙂