A letter to my little one.
Compensation for this post was provided by Procter & Gamble via MSB New Media. All opinions expressed in this piece are my own.
Dear Little One,
Before you were even a thought in our minds, your Daddy decided to make a very brave decision and enlist in the Army. And although you don't quite understand what the Army is yet, or how big of a deal that is, I know you are very proud of him and the fact that he's an "Army Guy."
You were born into a whirlwind of chaos. You only spent 9 days with your Daddy before he went back to Afghanistan. And although you were only days old, you were the only thing getting me through that goodbye. I held you in my arms as I watched my best friend walk onto the airplane and head back to war. I held you tight as I walked from the gate to the car, sobbing the entire time. But I knew that I had a little piece of him, in you, safe in my arms, and that you would get me through the last part of that deployment. At that point in time, I needed you more than you needed me.
We headed back to New York when you were two months old and anxiously awaited Daddy's return. We spent the next year and a half there, and before leaving, learned that you would be getting a baby sister! We headed to Ohio for four months while Daddy left again for training, and prepared for our move to Georgia at the end of the year. You were a trooper; with no routine, Daddy coming and going, and me carrying your baby sister, you continued to shine as bright as you have since the day you were born. You made us laugh, impressed us daily with your intelligence, and truly showed us how strong and resilient you were.
We left Ohio and headed to Georgia, celebrated your second birthday, and then welcomed your sister a few days later. Not once did you show signs of jealousy or have difficulty adjusting. You embraced the change and welcomed it with open arms. Daddy started his new job and we adjusted to life as a family of four. You were eager to take on your new surroundings and teach your baby sister the ropes. I knew she would have no problem learning the ways of a military child, because she had you to look up to.
Daddy left for a few weeks and we tried to keep busy. It was the first time he had left me alone with the two of you and boy was it a crazy time! But three weeks passed and we couldn't wait to welcome him home. But unfortunately, he didn't return with good news.
He had orders to deploy. I cried when he told me and you were there to wipe my tears and ask me what was wrong. I couldn't possibly explain what was really going to happen, so I just told you that Daddy had to go away for work for awhile. You laid in bed with me and I knew that we would be okay. I would have you and you would have me, and we would talk to Daddy, take pictures for him, and check off the days together.
P was too little to understand but you made sure to tell us that you were the man of the house and you were supposed to keep an eye on us. I don't know what I would have done without you, my sweet boy. And although there were days you drove me absolutely crazy, I would take 100 of those days over 100 days without you. I spent the first deployment alone, with you in my belly. And this time, you were there to snuggle me and hold my hand through it all.
People always say that you won't remember him being gone, and that's true. But you knew he was gone in the moment. There were days when you only wanted Daddy, and couldn't pick up the phone to call him. Days you acted out because you didn't understand the pains of missing him. Or the frustration that he wasn't there or a phone call away when you needed him. I tried to be there for you as much as I could, but at times there was no one that you wanted but Daddy.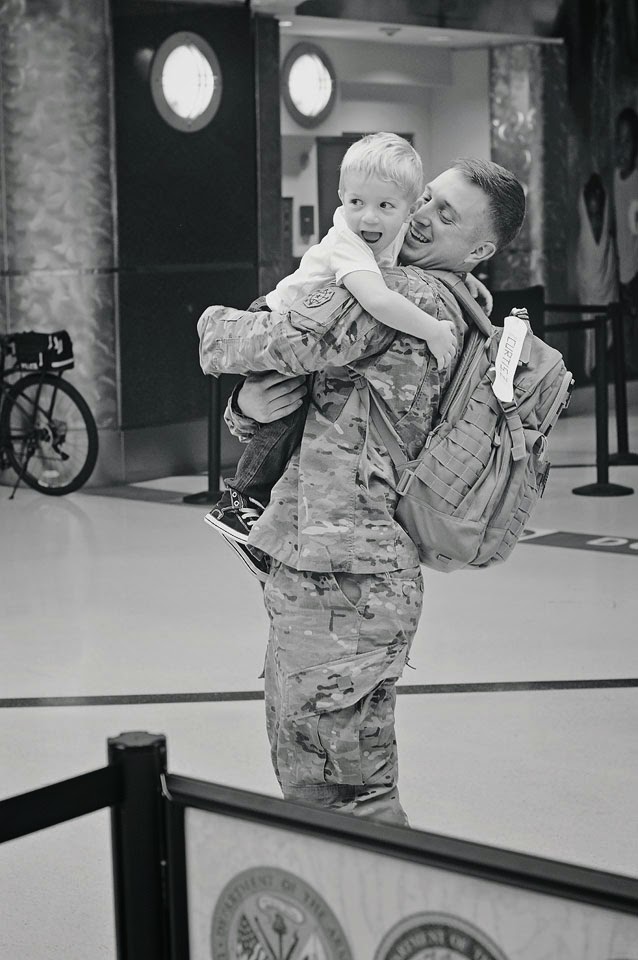 But despite the bad, there has been so much good. Seeing you reunite with your Daddy was hands down one of the best moments of my life. You picked up right where you left off; ready to wrestle and play basketball in the living room. You wanted nothing to do with me for the first few weeks, and I wouldn't have had it any other way.
You'll most likely forget all about this when you look back on your childhood, but I can't even begin to tell you how proud I am of you. You've slept in more beds that weren't your own, lived in more states than some people do their whole lives, and said hello and goodbye more than I wish you would have in your short three years. But you've done it with ease and grace, and accepted the challenge. You've kept me afloat on my darkest days and reminded me that there's always something to be happy about.
Military children don't have it easy. And although I had no idea this would be the life you would live the first few years of your existence, I am so unbelievably proud of you and thankful that I was given the gift of being your mom.
Thank you for being you and for bringing so much joy and happiness to our lives. You'll never know dear, how much I love you…
Love,
Mommy
———————————————————————————————————————-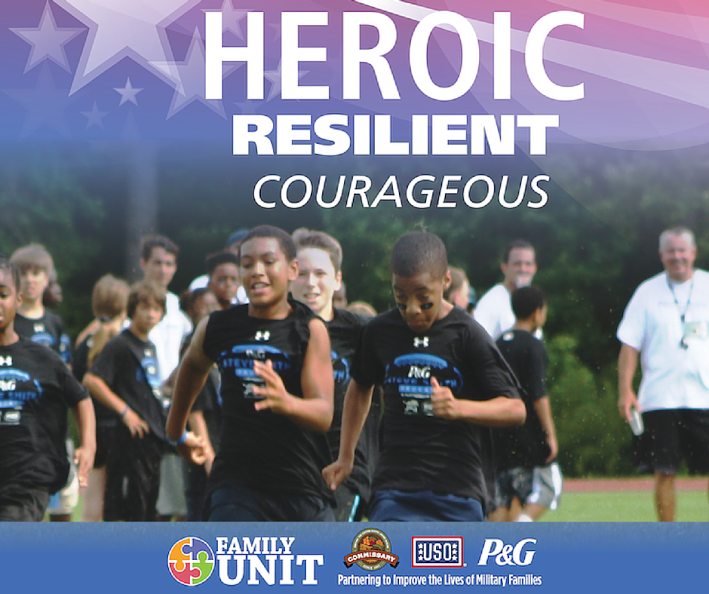 P&G
's Month of the Military Child campaign focuses on raising healthy and active military kids. They've partnered with the
Defense Commissary Agency
to bring ProCamps to military installations around the country. This ProCamp opportunity supports the Defense Commissary Agency's initiative to help service members, their family members, and DoD civilians live happier and healthier lives through nutrition and fitness.
For a lot of children with family members deployed or separated for various reasons, it's easier to look forward to big events rather than count days until their return. These
ProCamps
give military children an opportunity to not only do that, but meet new friends, encourage an active lifestyle, and a once in a lifetime opportunity to meet an NFL player!
For a military installation to be considered, specially marked items must be purchased from the commissary between March 19th-April 8th. Items such as Tide, Bounty, Pantene, Crest, and more! Even if you don't have kids, this is a great way to support the families in your community and give them the opportunity to learn from NFL players they watch on TV every Sunday. You can check out the P&GbrandSAVER® 
here
for coupons 🙂
Military children are exceptional. And I hope I've given you a glimpse at what they go through. They didn't choose it, but they sure make the most of it and embrace it as best they can 🙂