10 things to do during the Super Bowl if you don't care who wins.
 GO BROWNS! (Oh wait, just kidding…)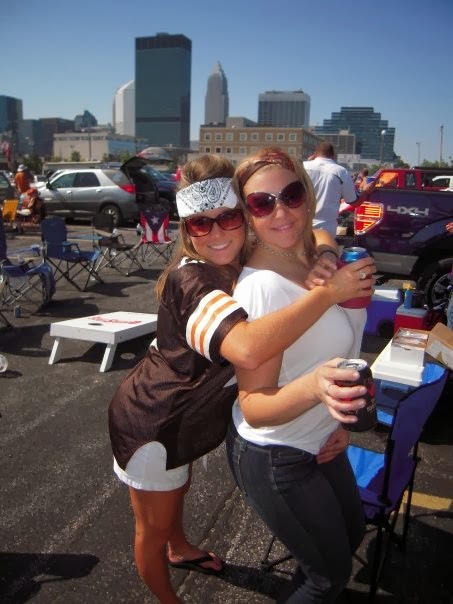 Since I'm a Cleveland Browns fan (go ahead, feel bad for me), I've never even come close to cheering my own team on in the Super Bowl. But despite the fact that my season ends when the regular season does, I'm still a football fan and I love a good Super Bowl party.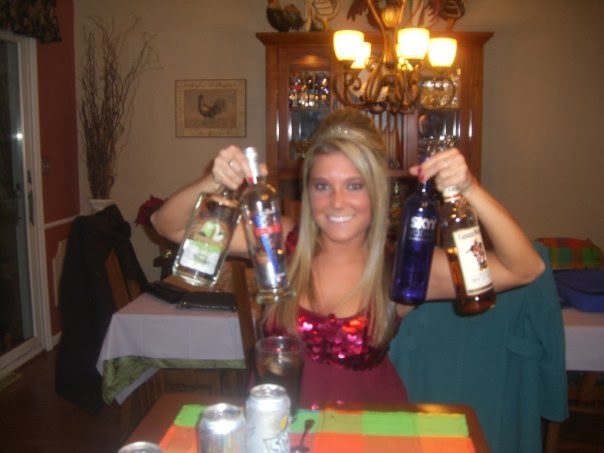 Birthday circa 2010
Even better? My birthday is February 1st and it's always on Super Bowl weekend! Double the food, double the drinks, double the fun.
We've hosted Super Bowl parties the past two years and although we recently moved here, you better believe we will be celebrating and celebrating the right way. But because I sometimes get bored watching teams I don't really care about (apologizes, Broncos and Seahawks fans), I've compiled a list of 10 things to do during the Super Bowl if you don't really care who wins or loses.
1. Drink every time someone scores. Whether it's a sip of beer or a shot of Tequila (I just gagged), take a drink every time someone scores a touchdown. And then another one if they kick a field goal or go for two extra points.
2. Bet on Super Bowl squares. You know, the game where you buy a square and then depending on the score at the end of the quarter, you win money. This will at least get you cheering for one of the teams…
3. Eat your face off. Boneless wings, pizza, Buffalo dip… pick your poison. Although I prefer to sample the entire spread… diets always start on Mondays anyways.
4.  
Shop online
. There's gotta be good
Super Bowl sales
, right? And your husband or boyfriend will be so preoccupied with the game, he won't even care you're spending a ton of time (or money) browsing your fave stores.
5. Get on Twitter. Since I prefer the commercials over the actual game itself, I'll be tweeting about my favorites during the game. And you know I won't be the only one.
6. Cheer for the opposite team of everyone in the room. I love trash talking and even if I know nothing about the other team or really care if they win, it's always fun to get a rise out of people. Be sure to be extra obnoxious by jumping on the couch and doing the Carlton dance when they score.
7. Have a dance party at halftime. Nothing will ever top the Justin Timberlake/Janet Jackson performance when she "accidentally" had a nip slip on live TV but it's usually a pretty good show. And if you don't like the performer (Bruno Mars this year), mute the TV and play "Timber" a billion times while shaking your booty around the living room. I mean, that's what I'll be doing anyways…
8.  Catch up on your favorite blogs. I don't know about you, but I am extremely behind on reading my favorite blogs. While you're stuck in front of the TV, plop down with your laptop and check out what's been going on in blog land.
9. Make a cocktail. What better time to experiment with a new drink than the Super Bowl. Even better? Try a different one each quarter of the game. And if you really don't care to watch the game, make it extra strong and you'll be snoozing in no time…
10. Enter the giveaway below. Because who couldn't use a $250 gift card to spend on anything you damn well please?
I'm teaming up with these awesome ladies and
coupons.com
to bring you the chance to win a $250 gift certificate! Just enter the Rafflecopter below and the winner will be selected Monday, February 3rd!
This giveaway is open to US residents only.
This post was sponsored by coupons.com. I was compensated however, all opinions and ideas expressed are my own. 


"From one military wife to another, be sure to check out this month's featured blogger!"