Today's discussion was sponsored by Ulta Beauty. All opinions are my own. #UltaTrendAlert #StyleHunters4Ulta
As I mentioned yesterday, I've been really into lipsticks lately. And until recently, I had no idea there were different types of "looks" when it came to lipstick. All I knew was there was lipstick and lipgloss. That's it. Well in the past few months, I've been obsessed with makeup, beauty bloggers, and more specifically, lipstick. SO in honor of fall and the velvet lip trend, I decided to give it a try. and I have to say I'm kind of obsessed…
Of course there are matte lipsticks that will give you a matte finish, but to really get a velvet look, I took a few extra steps before applying the lipstick.
I purchased all of this at Ulta Beauty and you can find the links below. But here's how to get a velvet lip: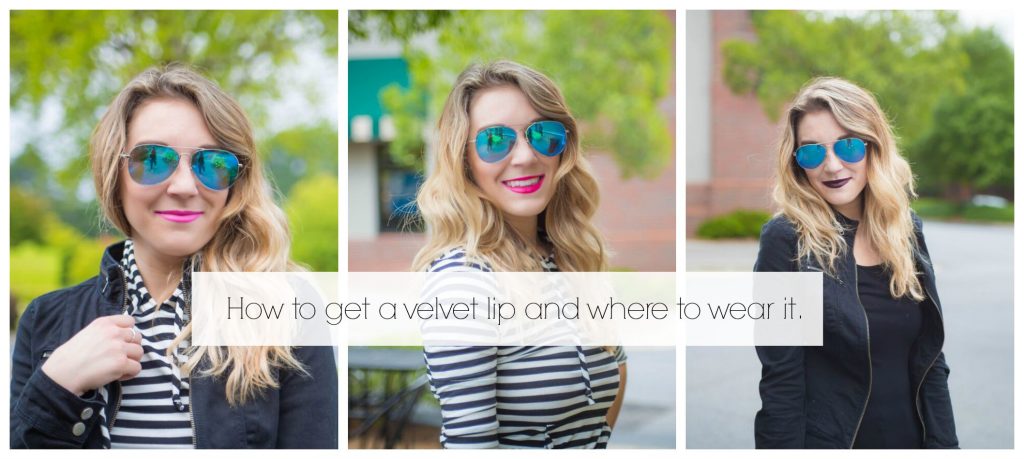 1)Cleanse and exfoliate
What I bought: Fabulips treatment kit ($45): The foaming cleanser and sugar lip scrub help to clear the lips and give you an even playing field so to speak. With the matte lipsticks, you'll be able to see every single little crack or uneven skin if that's the case. So preparing your lips helps to avoid any of that. The lip plumper is glossy so I wouldn't recommend that for a velvet look, but it's great for glossy lipsticks. And the moisture balm is great to lock in moisture before applying your lipstick as well.
2)Lip primer.
What I bought: NYX Lip Primer: ($6.99)I had never used a lip primer prior to buying this one. It goes on like a chapstick and helps your lipstick stay on longer.
3)Lip liner.
What I bought:
NYX Lip Liner in Rosy Pink SPL835 ($3.49) (Used with Maybelline)
Palladio in Chianti ($2.99)(Used with Urban Decay)
I used to think lipliner was only for old ladies but it's so necessary, especially when it comes to matte lips. You can either define your lip or extend the lines if you want them a little bigger/more dramatic. This keeps your lipstick from bleeding and let me tell you, that matte lipstick is no joke to try and get off your face!
4)Matte lipstick.
Maybelline Matte 684 (Electric Pink) ($7.99)
L'Oreal Colour Riche 405 in Frieda's Red ($8.99)
Urban Decay Matte Revolution in Blackmail ($22)
What I bought: You'll need a matte lipstick to complete the velvet lip look. I decided to try three different colors and brands and to be honest, I loved them all. They vary in price point but I had pretty much the same affect with all of them. And to be honest, the L'Oreal was the hardest to get off!
I decided to add a little spin on things and use 7 items to make 3 outfits, and then let the velvet lips be the statement piece in each one. Here's what I came up with:
1 Dress
1 Skirt
1 Tank
1 Jacket
1 Pair of jeans
1 Pair of shoes
1 Purse
The first outfit is perfect for running errands on the weekend. Casual yet fun with a pop of pink. The middle outfit is perfect for a date night; I mean, you can't go wrong with red. This is also the first time I've ever done the skirt over a dress thing and I have to say I'm kind of obsessed. And the outfit on the right is perfect for Girls Night Out. This color is totally out of my normal color palette, but I have to say it was kind of fun. However I would like to experiment a little more and see what types of clothing look best with it.
So there you have it! What do you think?! Are you ready to try a velvet lip?!