Winter Amazon Fashion Haul
Affiliate links present. If you make a purchase, I receive a small commission at no extra cost to you. Thank you for your support! 
It's no surprise that Amazon is one of my favorite retailers and based on what so many of you bought in 2019, it seems to be one of your favorite places to shop too. With how crazy busy everyone is these days and how easy Amazon makes free shipping and free returns, how could you not love it?!
Today I wanted to share my winter Amazon fashion haul. These are all cozy, casual, and affordable pieces (my go-to!) and I wanted to show you a few different ways to style them. I did NOT keep all of them, so scroll down to hear my thoughts and to see which ones I kept!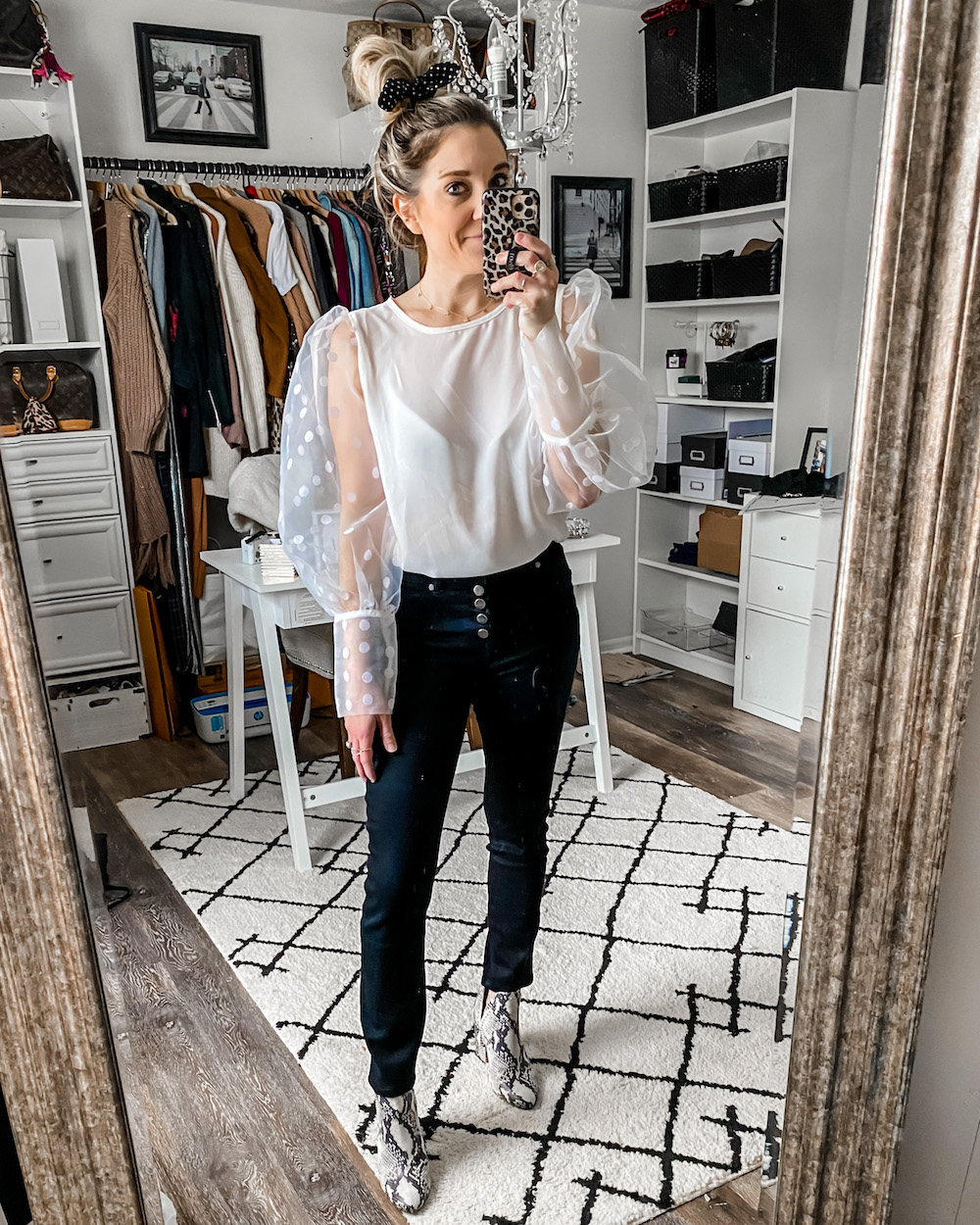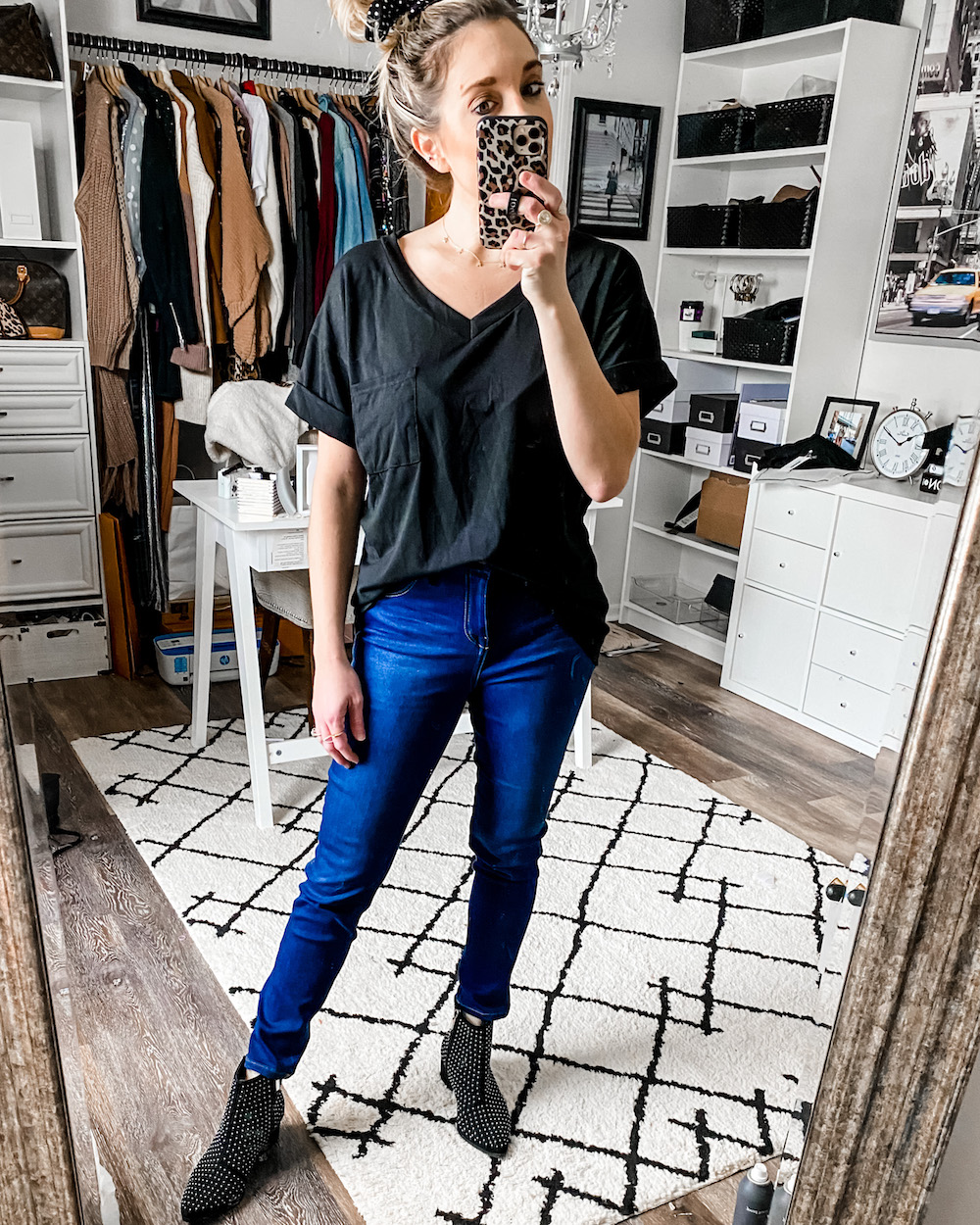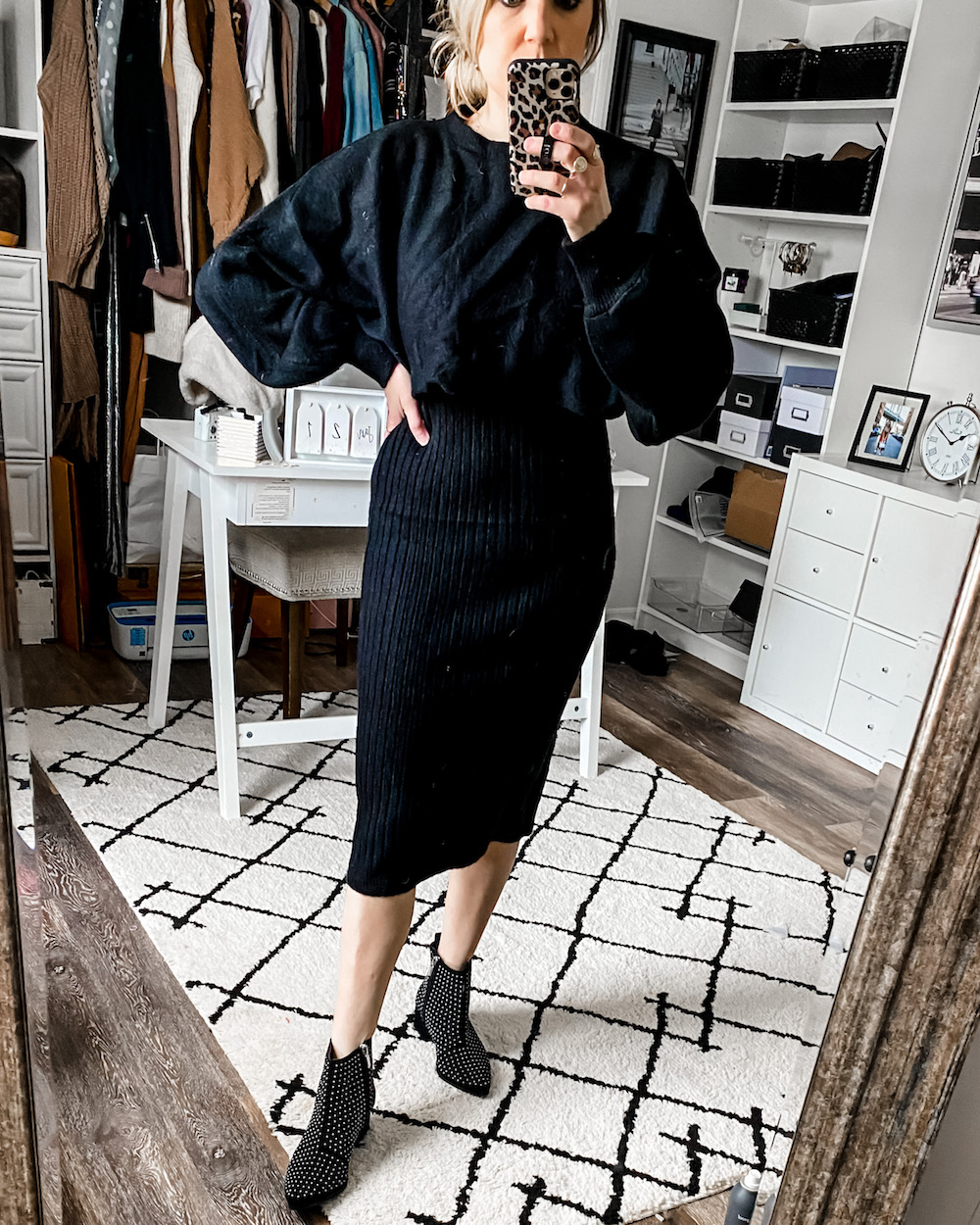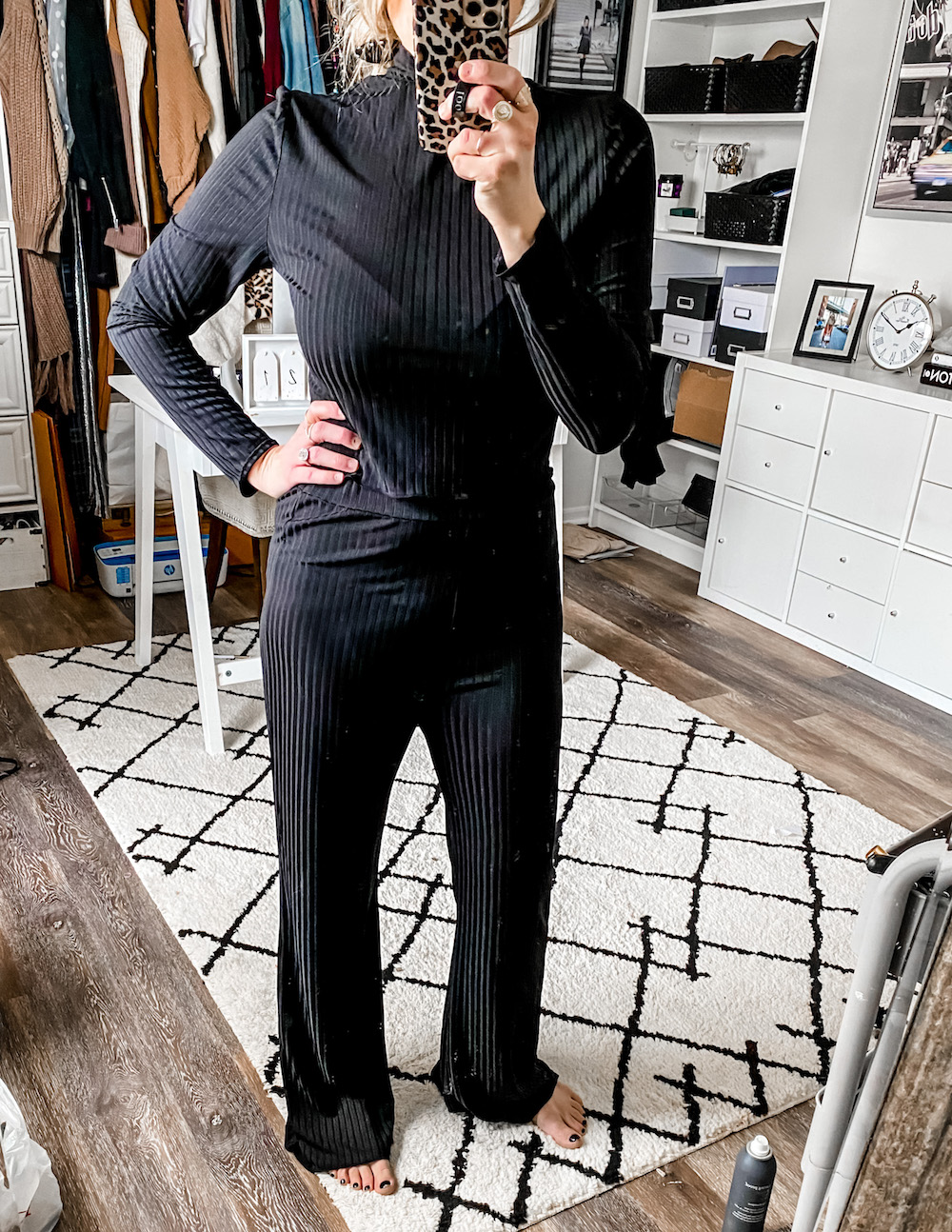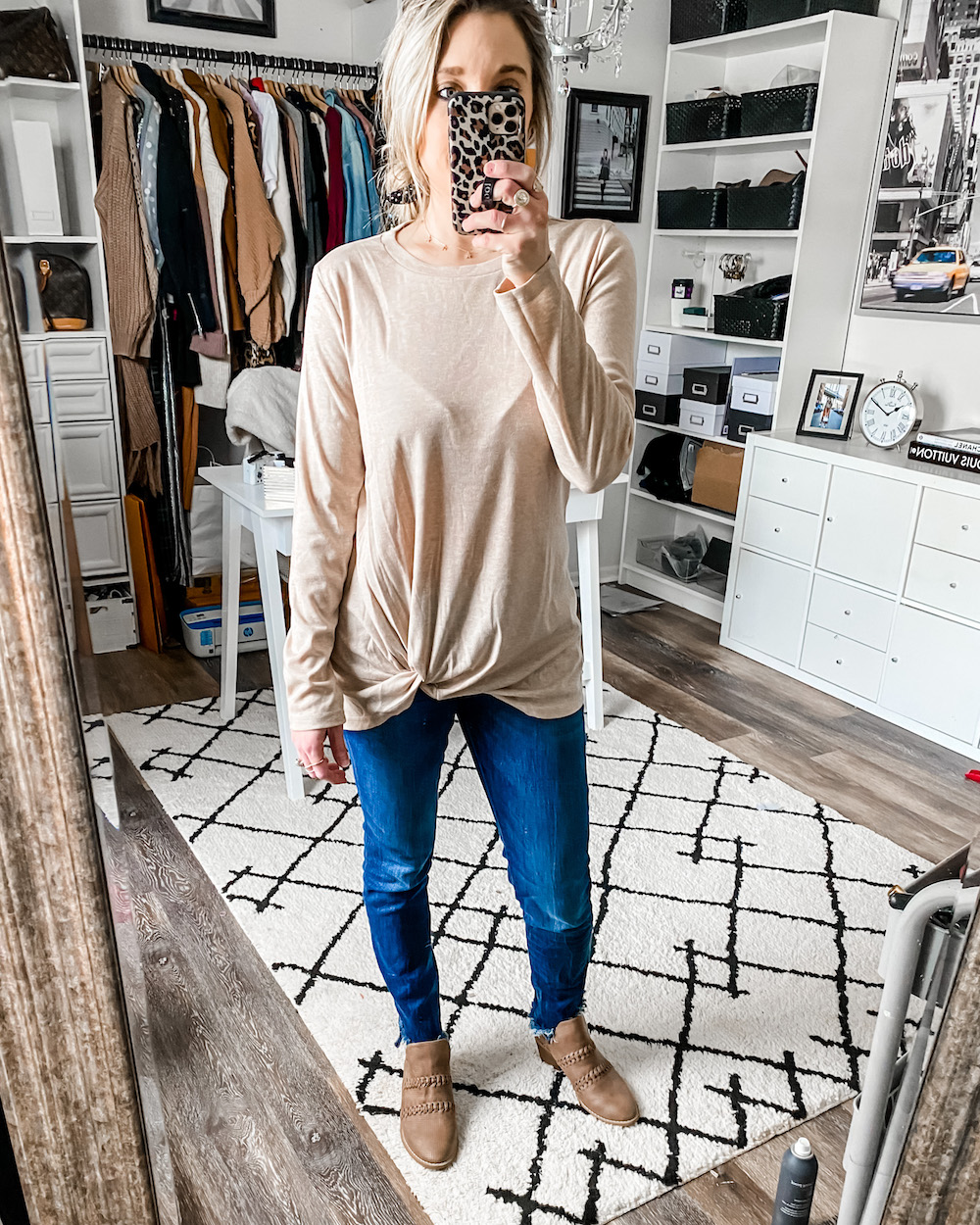 Sheer sleeve blouse: I loved this one so much that I actually got it in two colors! White with black polka dots and white on white as seen above. These types of sleeves are super popular right now and this is such a cute and affordable option. This was a KEEP.
Basic pocket tee– I love a good basic tee and this one was SO comfortable. Nice stretch, loved the rolled sleeve look and perfect for layering. I went with a medium (my true size) because I like them a little oversized, so if you want a more fitted fit, I'd size down. This was a KEEP.
Leopard pocket tee- This was the same brand as the tee shirt above, and I loved the little pop of leopard on the pocket. This was also a KEEP.
Spanx dupe leggings– You guys SOLD these out when I shared them a few weeks ago! They are seriously very very close to the real thing and only a quarter of the price ($26 vs $98). I think I will always love my Spanx and be partial to them but this is a great alternative if you cannot justify the price tag of the real ones. I ordered a Medium, the size I normally wear and these were obvi a KEEP. They're currently still sold out so keep checking back!
2 piece ribbed sweater set- I was worried about this one because it's "one size".  I'm usually a medium/size 6 and I thought it fit me well, and even with a little room. I loved the pistachio green color but you know your girl loves her black clothing so of course I had to get it in black. Unfortunately it felt a little thick to me and I ended up sending this one back. But if you want a heavy duty sweater dress with cropped sweater (could be worn separately, try it out!)
2 piece ribbed knit top and wide leg pants: So I wanted to love this set but just couldn't. I have a short torso and it just didn't look good on me. I'm also a little self conscious of my tummy area so I didn't feel comfortable in it. This one went back!
Basic long sleeve with knot detail: I was actually surprised at how much I liked this basic tee. The knotted detail gives it a little bit of a twist (no pun intended) on a basic classic and I really liked this color. This was a keep!
Leopard color block tee:(Not pictured but I will get one added ASAP!) I know, more leopard print but I can't help myself! And since I'm all about the cozy right now, any tee that I can layer with a cardigan is a necessity in my book. And this one did not disappoint. Ordered a medium, and it was a keep!
And there you have it! I tried to step a little outside my comfort zone but I think basic tees is where I feel most comfortable! Although the blouse isn't an everyday wear for me it's definitely been a favorite of mine and gotten a lot of use.
What else do you want to see on my next Amazon haul?! Let me know below! xo