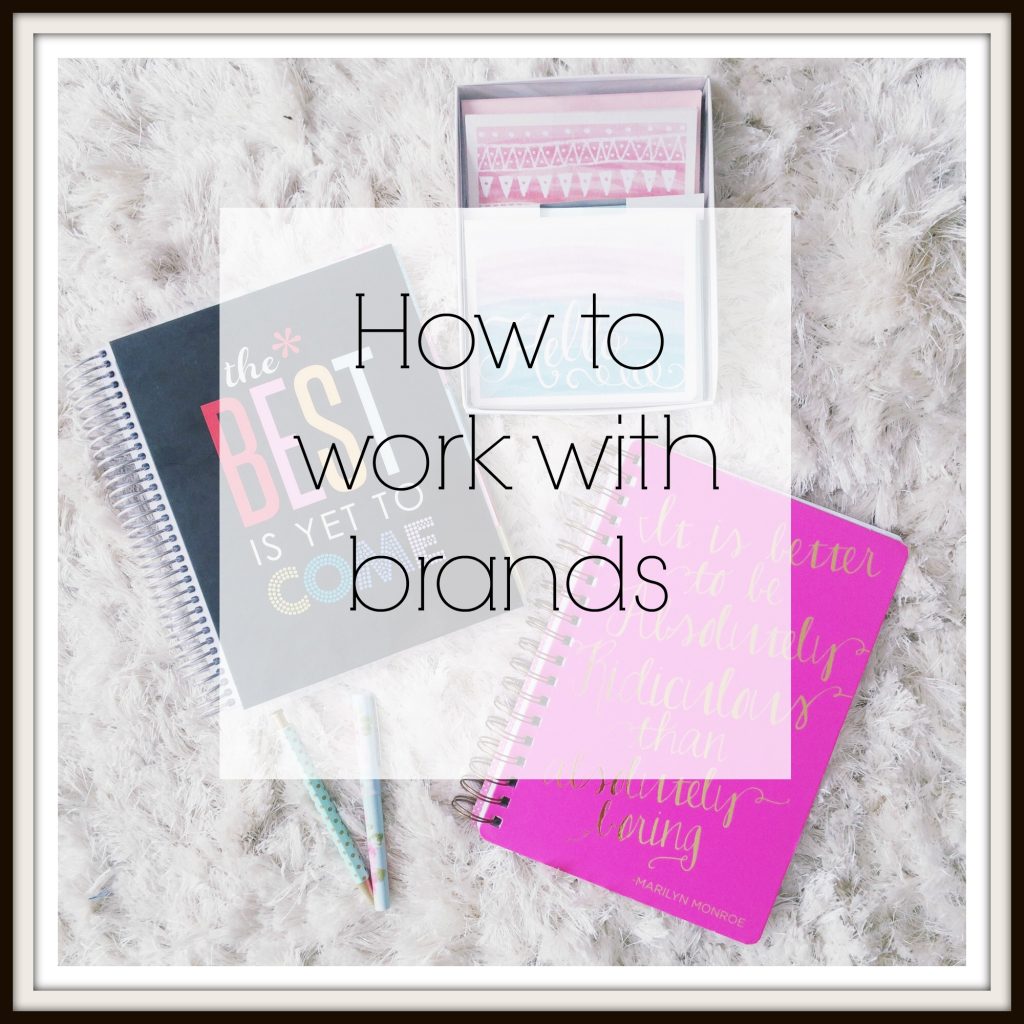 I had no idea what I was doing when I first started blogging 3 (technically 4) years ago. For me, blogging was just an outlet to deal with my husband's first deployment to Afghanistan. It was just a place to vent, spill, and share my feelings; somewhere to write, one of the only things I had ever felt good at and one of the only things that made sense to me during that time.
Little did I know that it would turn into a career. That blogging would lead me to freelance writing, social media consulting, and my own little business. This didn't happen overnight, but rather over time as I made connections and built my brand. Yes, blogging is your brand. At least if you want to make money and work with brands, that's the way you need to treat it. There's hobby blogging and then there's the business of blogging; you can do both, but you must take it seriously if you want to have opportunities to make money from it.
I'm still not an expert on this and if I had a day job, I wouldn't be quitting it to blog. Yes, I make money but it's only supplemental for us. However there are people out there who make six figures blogging and eventually, I would like to be making a full time income from it. But who knows if that will ever happen and I'm okay with that. Because for the first time in the long time, I'm happy with what I'm doing and the connections I'm making. And a lot of it has to do with the brands and awesome opportunities I've had.
How can you work with brands? There are a few different ways:
Networks: I would say that 75% of my opportunities come from networks. Some of my favorites include:
Social Fabric: I would say I work with this group most frequently. There are a ton of different opportunities and you can apply for the ones you're interested in. A creative pitch is super important when applying for "shoppertunities", and you want to pitch something that's realistic, creative, and you can organically weave into your content.
Socialstars: They offer what I think is one of the highest compensation points AND they send an awesome kit to get your creative juices flowing. For example, when I worked with Banana Boat, I received a kit that included a kite, pool raft, chalk, popsicle molds, snack containers, sunscreen, and more. It's something the other networks don't do and I truly appreciate it. They also pay two weeks after the completion of the post, which is a very quick turnaround compared to other networks.
Clever Girls Collective: CGC is the first network I joined when I first started blogging. Their applications are a lot shorter than other networks, which can be nice when you've spent all day applying for other campaigns. The only drawback is that they pay net 60 (aka 60 days from post completion).
Page view requirements: 10,000 page views a month.
Influence Central: Most of these opportunities pay in the form of Amazon gift cards, but I mean, who can't use an Amazon gift card? Other times they'll pay in the form of product from the brand. If you're looking for cash, this isn't the network for you. But I've always enjoyed working on campaigns with them.
Mode Media: It took me awhile to be selected for opportunities but now that I have, I'm obsessed. They're quick, easy, and pay very well. Not only are there campaign opportunities here, but this is an ad network. So those ads on my sidebar? I'm getting paid every time those are clicked. I could write an entire post on ads so I will do that another day 🙂
Pollinate Media Group: Pollinate sends out an email with opportunities every Monday. I used to work with them a lot more than I have recently, but I think it's because they've grown so quickly. Just keep applying and pitching creatively and eventually it will pay off.
Page view requirements: 20,000 page views a month. 
Linqia: Linqia is unlike any other network because they pay per-click. They send you emails with opportunities and you either opt-in or out. They'll send you an offer that says they'll pay you "x" amount of money for "x" amount of clicks. If you don't meet your goal, you still get paid for the clicks you received.
Requirements: 1,000 followers on Facebook or Twitter. 
There are a lot of other networks out there, but these are the ones I work with most frequently and where I see the greatest opportunities. Some other networks include:
Weave Media: Pollinate's sister network; 7,500 monthly page view minimum.
SITS Girls/Massive Sway: I belong to this network but don't know that I've ever worked on more than one or two campaigns with them. A lot of theirs require a ton of page views.
Markerly: They send you emails with opportunities.
So those are just a few ways to be connected with brands on sponsored content. The other opportunities I've had have come through direct email or networking on social media. How?
Have a contact page on your blog: I can't tell you how important this is. No one wants to go digging around your blog just to find an email address to contact you. Make it clear and visible so that brands can easily get in touch with you.
Have a media kit: Whether or not you display your media kit on your blog is up to you. I prefer to send it out to brands when they ask for it. Why? I like to have a conversation and discuss what they're looking for. This also helps you develop a more personal connection and get to know the brand instead of getting down to business right away. Lasting relationships are really important!
Email brands: This may seem like a no brainer, right? But when I first started blogging, I was terrified to do this! But now more than ever, brands love working with bloggers. If there's a product or company you're interested in working with, shoot them an email. You may hear nothing, you may hear no, or you may hear yes! It doesn't hurt to try.
Be active on social media: Tag brands on social media; this will get their attention and may lead to them stalking your pages and offering you a chance to work with them. Big, small, tag them all!
Send thank you notes: This is something I'm trying to get better at. With the chaos of daily life, it often slips my mind. But whether it's a handwritten note or even a short email, thank a brand personally if you can. It helps sustain that relationship and leave a good impression. You're more likely to get opportunities in the future if you're polite and thankful.
To be honest with you, sometimes I have no idea where or how a brand finds me. Maybe they were searching Google and my name popped up. Or maybe they saw me work with another brand and came to my blog. It all just depends I suppose. So with that being said, being active on social media and creating good content on your blog are super important. Keep your brand consistent and companies will find you. If not, be proactive and find them. Don't be discouraged, it doesn't happen overnight. I mean, Rome wasn't built in one day right? Just keep doing what you're doing, be yourself, and look at it from a brand's perspective. What can you offer them? How can you help them market their product or service? And if you keep all of that in mind, things will start to come together 🙂
What networks do you like to work with? How do you find brands to collaborate with?