I seriously cannot believe it's November already. This time last year, I was counting down the days until I would get to see Z again and he was safely home from Afghanistan. It seemed like the holidays would never come and now here we are, back at the beginning of the holiday season once again!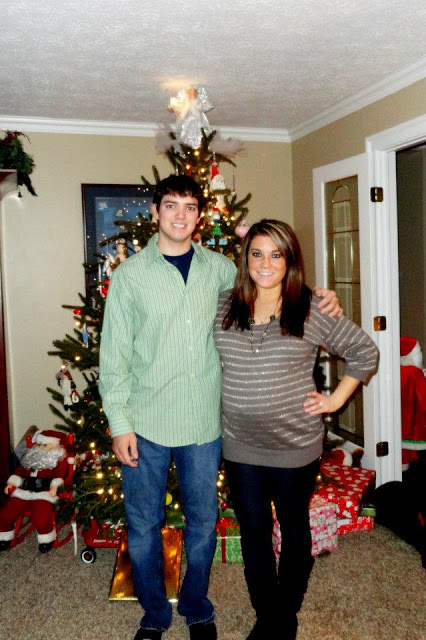 38 weeks pregnant on Christmas Eve last year with my "little" brother
The holidays are always my favorite time of year and with Bubba having his "first" everything this time around, they're going to be even more fun. I've already put a call into the North Pole and Santa has some great things planned. Eek, I seriously cannot wait for him to come visit!
You know when you're little and Christmas is just that much more magical? I know, Santa isn't the reason for Christmas and the celebrating, but seriously, Santa was like the best part of my childhood. My brother and I would wake each other up at the butt crack of dawn and bust into my parents room and beg them to get out of bed.
We'd run down the stairs, taken aback by all of the goodies under the tree, check to see the milk and cookies were gone and read the note that Santa had left us. My parents always went all out and ensured we had the best Christmas we possibly could. I am so excited to bring that kind of happiness to Bubba's world and plans have been in the works for awhile now. Although he won't remember it at this point, it's important to me that we start the traditions now and stick by them each year.
What kind of traditions do you and your family have? What's your favorite thing to do for your kiddos (if you have them)? And if not, what was your favorite thing about the holidays growing up?
With the beginning of the holiday season comes a whole new world of DIY possibilities and I'm wasting no time by starting today 🙂 Check back for more frequent DIY projects and recipes this month… I can't wait!