I seriously haven't caught up on sleep yet and I'm leaving again for a press trip Wednesday. And then it starts to get crazy for holiday and at this point I just think I'll never sleep again. Who needs sleep anyways right? That's why God invented coffee.
New York Fashion Week was a whirlwind. As I knew it would be but for some reason, I never learn my lesson and tend to overbook myself and push myself to my limit. But it's only twice a year and I'm only in NYC for a few days so YOLO. Are the kids still saying YOLO? Well regardless, you get my point. I wanted to maximize the time I had there and use every minute I could.
We arrived Thursday evening and hit the ground running with the Tula party! The dress code was pink which was perfect, because I had already bought this super fun pink tulle shirt to wear. I paired it with a pair of camo pants for a fun contrast and white booties because white booties are not only my favorite right now but they're all the rage across the fashion scene. Tula also gifted us their new Brightening Eye Balm Stick and it is AMAZING. Get yourself some and use code SAMANTHASHOW to save 20% off!
After the Tula party we met up with some of the other girls for our first show, Affair. It was a 9pm show which didn't start until 9:45 (most shows tend to start late so I should have known!) But it was a super fun and unique show and it felt good to be back.
Friday morning kicked off with a hair appointment with Tresemme, followed by brunch with The Sis Kiss. The owner of The Sis Kiss, Megan, is a good friend of mine from Cleveland so it was SO fun to see her and celebrate her brand in NYC. She literally is the queen of branding and details; her champagne glasses were hand-painted with leopard paw prints, her mimosas had GLITTER in them, the succulent center pieces had enamel pins, and so much more. She also gives the best swag bags (I love every single one of her products) and she gifted us new neon snakeskin bags with custom handwriting on them. Did I mention this was the first meal we had sat down for since arriving so the food was extra delicious!
After brunch we did a quick change at the hotel and met up with the other girls to shoot our Respect the Sisterhood tees from Emily Roggenburk. If you don't know who that is, go check her site out. She's a local Cleveland designer and her pieces are so fun. She also does a One of a Kind collection where she repurposes pieces she finds while thrifting and they're always amazing!
Next I went to The Studio at Tractenberg and Co and it was SO much fun. There were a ton of little stations and activations, exciting products, experiences, and more! Definitely one of my favorite parts of the week. Not to mention I got to put a face to a name with some of the people I've been emailing back and forth with for years when working on campaigns.
Up next was the Eliza J showroom and y'all, I wanted it all. We got to meet with one of the designers and chat inspiration, see some of the new pieces set to hit the stores and snack on delicious goodies.
Last but not least, we ended the evening with an event at Ann Taylor at the girls from Style Collective. I've been a member for years and it's a great way to make the blogging world feel smaller. I haven't even used my membership to it's full potential but it's chock full of resources!
While planning our trip I threw out the idea of waking up and heading to the Brooklyn Bridge at sunrise to get some photos. With the Brooklyn Bridge obviously being a high traffic tourist location, I wanted to beat the crowds. Not to mention the view and lighting would be perfect! So all 8 girls agreed and our amazing photographer Kailey trekked with us to the bridge and the view (and photos) did not disappoint. We also wanted to capture a few shots under the bridge in Dumbo, so we did a quick change and headed down there next. With a stop at Starbucks of course #bless.
My husband's cousin is the CEO of Cookie Dō NYC and we had arranged to meet her before the store opened so we could take some photos. And of course, eat some cookie dough! She is the original creator of edible cookie dough that is safe to eat raw, and she does an amazing job at creating the best goodies. Fudge, cupcakes, cookies, and more!
Following our visit to Dō,  we went back for another outfit change (don't even ask me how many outfits I brought haha) and headed to our show. We were late but as I talked about earlier, shows never start on time and we made it just before it started!
One of the other girls and I had another show but truth be told, it wasn't my style and we were exhausted and starving, so we probably could have done without it. This is what I was talking about earlier, I WAY overbooked myself and although I say I'll do it differently, I never do. Maybe next season will be different?!
We grabbed a slice of pizza, did another change back at the hotel and headed to a blogger meet-up at Jimmy at the James. Which was an AMAZING rooftop space overlooking the city. But as soon as we ordered a drink and sat down, we realized we had a show to make. Like it started in 20 minutes and we were 20 minutes away. FAIL. But we chugged our drinks as best we could and left for the show. Which we made… because you guessed it, it was running late haha. Following the show we did a quick photoshoot, grabbed some dinner, and hit the hay!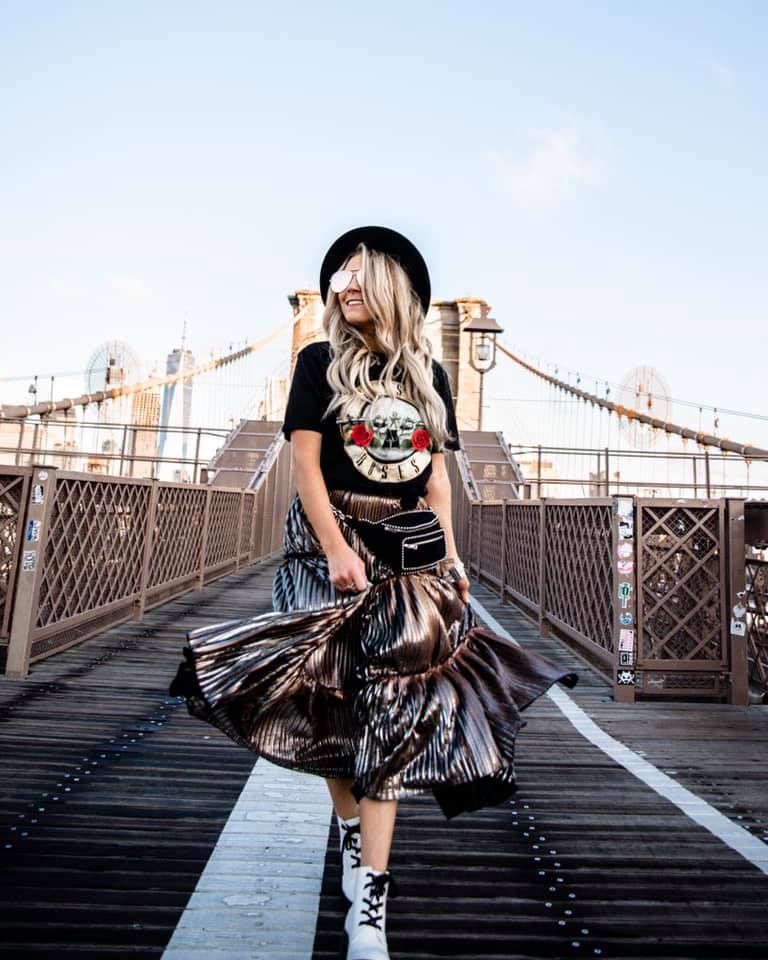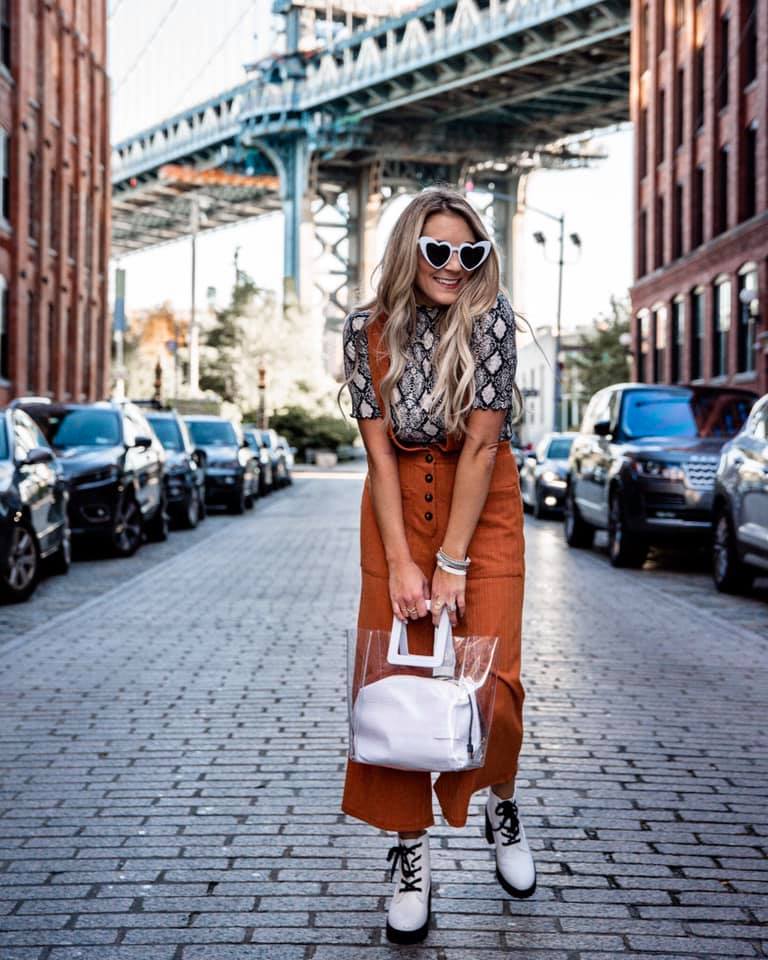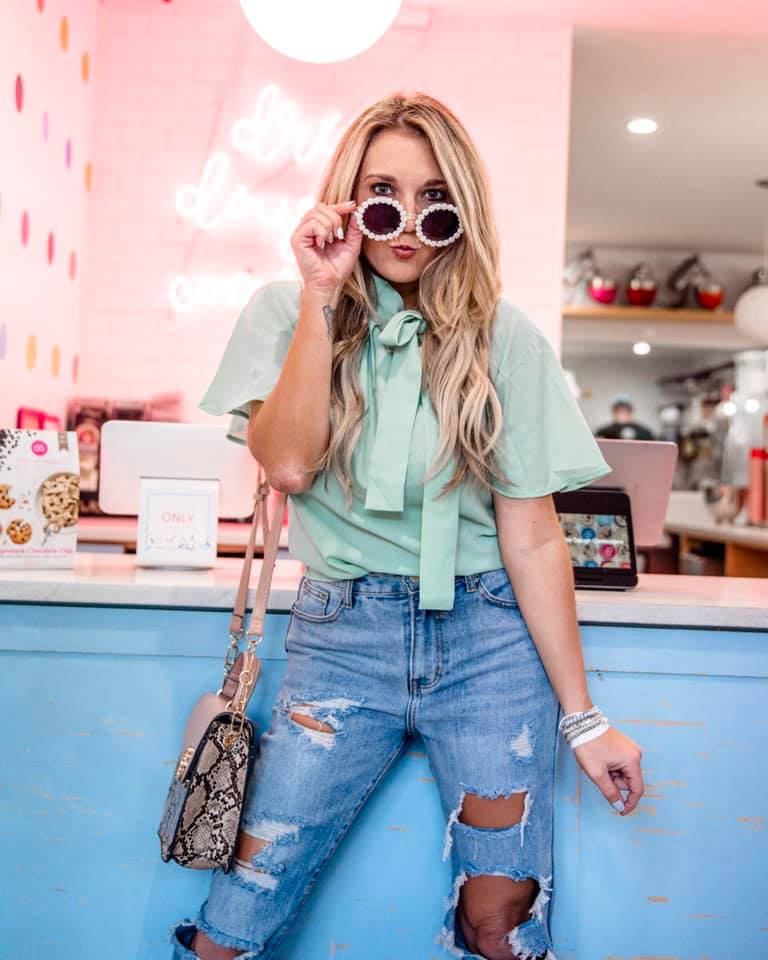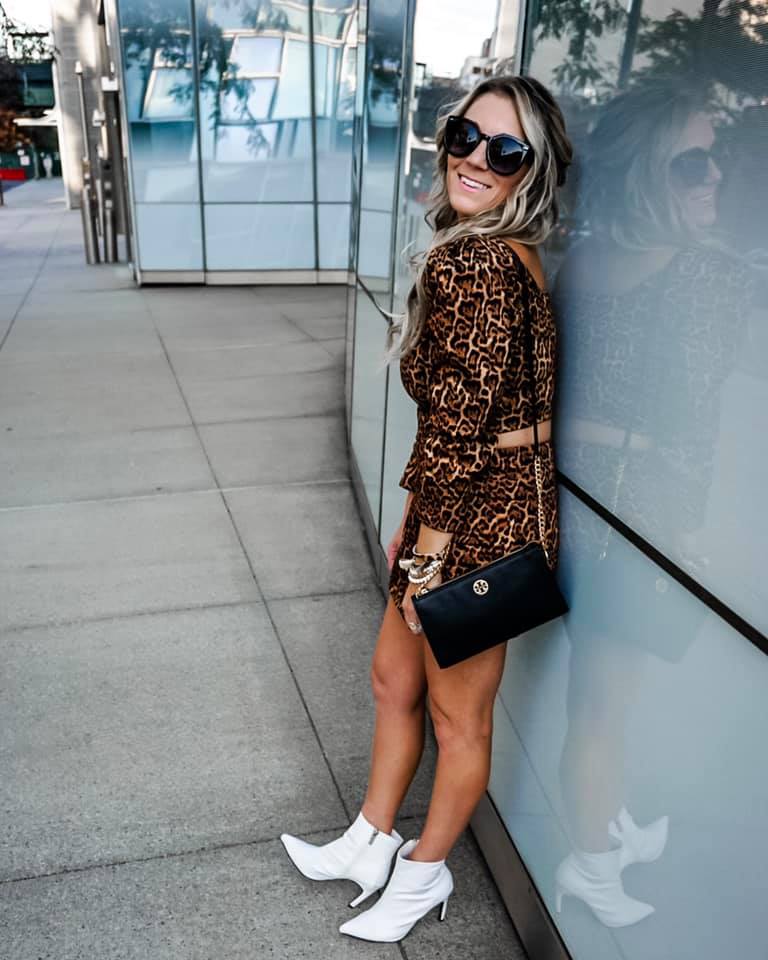 Sunday morning was another early wake up call but thankfully it was because GlamSquad was coming to our hotel room. There were TWELVE people in our tiny hotel room; a hair and makeup person per person. It was INSANE. Yes we blew a fuse, yes someone unplugged the mini fridge and defrosted all the breastmilk I had pumped (that's a story for another time), but yes we looked and felt amazing. Wouldn't it be nice if we could have a GlamSquad everyday? Sign me up.
Top of the Rock is a must see when in the city and we wanted to make sure to squeeze it in before the rest of the days events! It was the perfect day with the perfect view. We made sure to take it all in quickly because we were already running late for the Maybelline House, which is something I had never done before but SO glad we got to do this time. It's a super fun, interactive experience with custom lip gloss mixing, product testing, make-up and hair touch ups, temporary tattoos, and so much more! They also gave out some goodies to take home 🙂
Following the Maybelline House we had another photoshoot with our photographer before our final show of the weekend. The Fashion Palette is always my favorite; it's a ton of different designers and I just feel like their designs are pieces I'd actually wear and buy. Which is rare to come by during fashion week since some of the designs are SO over-the-top.
We made one final quick change to get nighttime photos in Times Square (another must when in the Big Apple) before grabbing food and calling it a night. But on the way back, my friend learned that our ticket request for LIVE with Kelly and Ryan had been approved! And while walking back to our room, we passed Jessie James Decker on the stairs of our hotel. The night just kept getting better!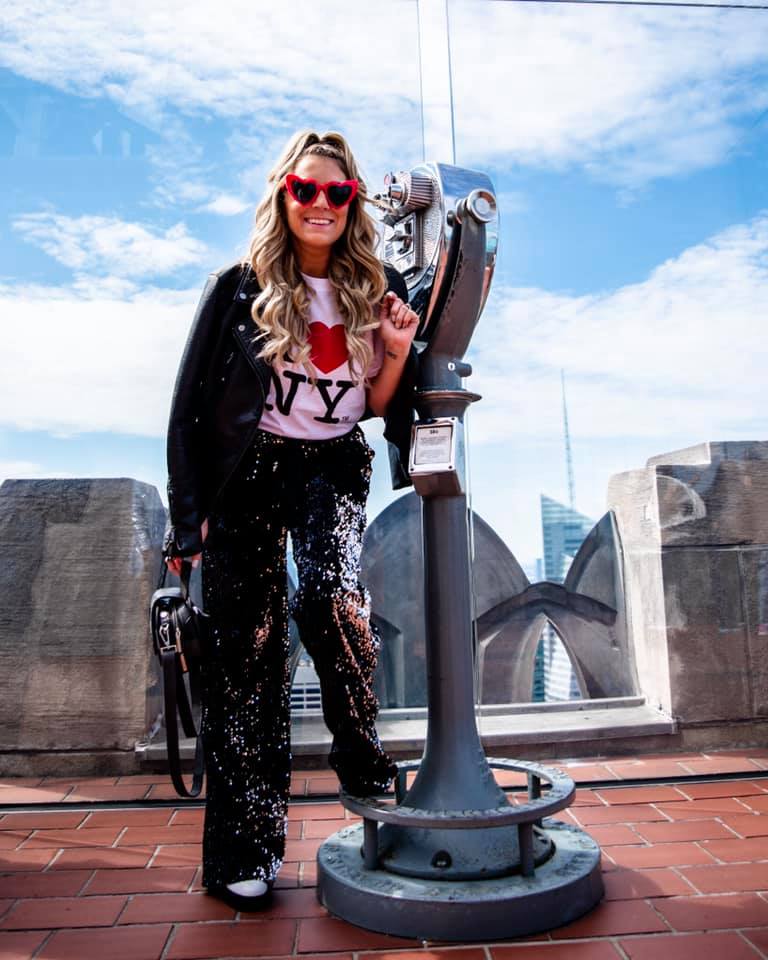 On our last day, we woke up early again to make sure we got good spots in line at the show. We arrived at 6:30 and were in the studio until 11 a.m. But it was super cool to be there live and also see the behind-the-scenes and all that goes into producing the show.
As our time in NYC was coming to an end, we grabbed a last meal (Ramen… so delicious), picked up souvenirs, and took a few pictures. Which by that point, we were OVER pictures! But when I have the chance to shoot without my kids running around, I'm going to take advantage of it. We checked out of the hotel, basically crawled to the airport with exhaustion and headed home.
Fashion Week is always one of my favorite parts of my job and I look forward to going every February and September. I have a few more things I want to share about it but I'll spare you anything more today. Look out for those posts in the next few weeks!
And if you have any questions, leave them below! XO