Best accessories for the Peloton bike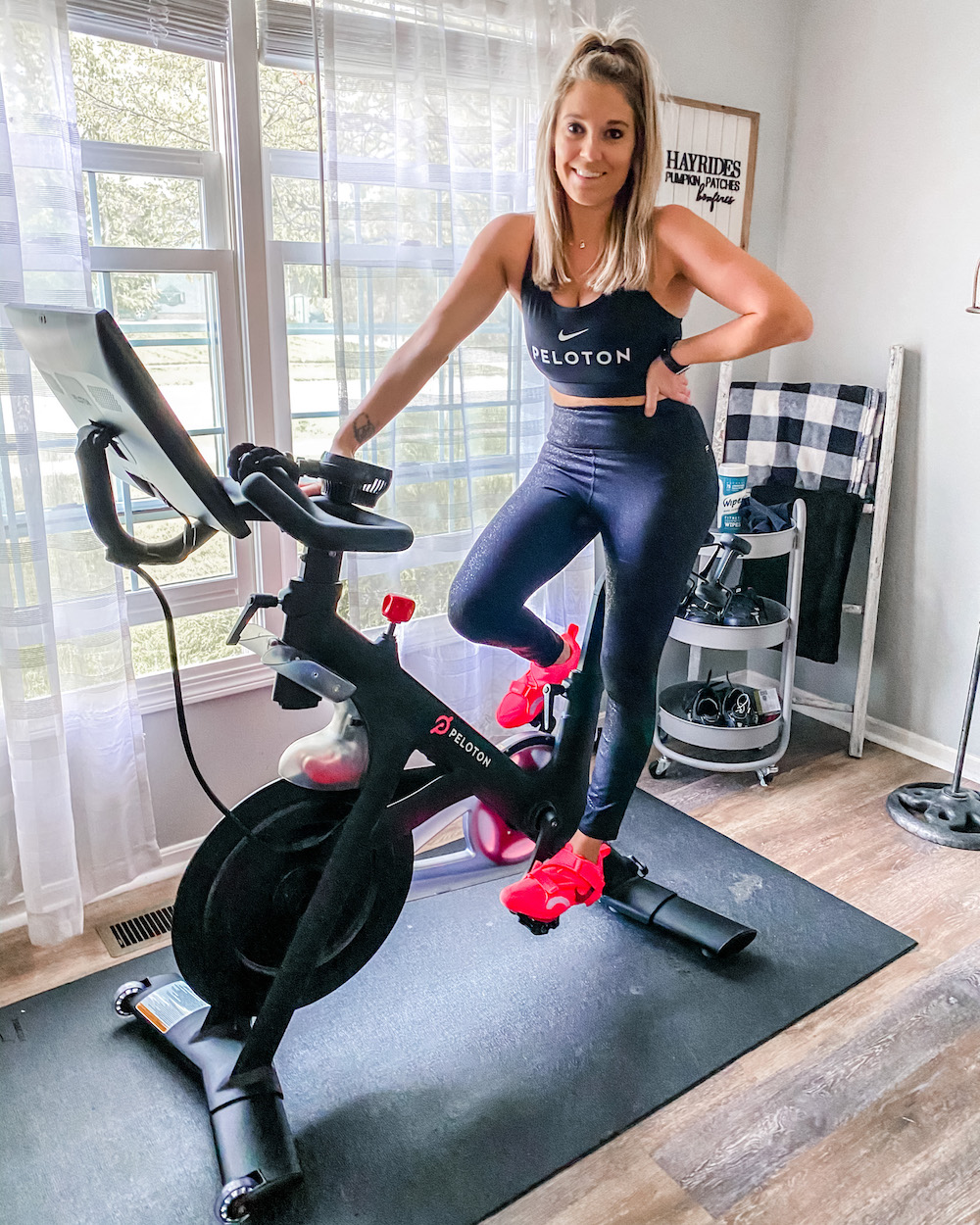 It's no secret I'm obsessed with my Peloton. And now that I've had it over a year, there are definitely things I wish I would have had the entire time. But live and learn and I've learned as I've gone. But don't worry, I'm saving you the trouble of trial and error and sharing the best accessories for the Peloton bike.
Shoes: I ordered the Peloton shoes when we ordered the bike and honestly, there's nothing wrong with them. However, after a year I decided to treat myself and upgrade to these Nike SuperRep cycle shoes. When I'm in the saddle, I don't notice a huge difference. But when I'm in 2nd or 3rd position, they feel a lot lighter and like I can feel more of the pedal if that makes sense. They do run small so I would advise sizing up. I'm normally a 6.5/7 and I got a 7.5 in the cycling shoes.

Fan: I do NOT know how I even survived without a fan in the beginning. It makes such a huge difference during my workouts when I am not overheating and dripping sweat everywhere! And don't worry, you'll still sweat like crazy. This just makes it more bearable! I love this one because you can place it wherever you want.
Mat: We didn't originally order a mat for underneath the bike but after I felt like I was rocking on the bike, we decided to get one. We went with the Peloton one but this one on Amazon also has great reviews and is a little cheaper!
Towels: Grab a few microfiber towels and keep them handy.. you'll need them!
Weights: You can either order the weights in the bike accessories package, or grab some from somewhere else. But if you plan to do any of the rides with arms, or any of the other programs (bootcamp, strength ,etc), you'll need some weights. When you order the bike with the accessory package, they'll offer 1,2,or 3 lb weights.
Shoe hanger: I actually don't have this shoe hanger because we have a cart behind the bike that holds everything, but this is a great way to keep your shoes near and store them when you're not using them.
Cart: Like I mentioned, we have a cart to keep all of our things organized. I'd recommend something like this if you're going that route!
Wipes: Even if you're the only one using the bike, you'll want to wipe it down to keep it clean and germ free. We use these wipes and love them!

Wireless headphones: I wore wired headphones for awhile and it was SO annoying. I kept getting the cord caught on the bars and it was a mess! I polled my Instagram followers and they said AirPods were the way to go. So that's what I got and love them!
Workout clothes: I typically ride in leggings and a sports bra but you can ride in whatever you feel comfortable in! I also wrote a blog post about my favorite workout clothes from Amazon if you want to check it out here!
And there you have it! If you have any questions, feel free to leave me a comment below! And feel free to add me on the Leaderboard! #thesamanthashow