Let's dust the blog off this here blog here. Do I need to reintroduce myself?! Sheesh it's been awhile! But I am so excited to share some of my favorite spring fashion finds!
I've been slowly adding more spring pieces to my wardrobe, despite the 10 pounds I still need/want to lose. But I am working on accepting my body for what it is right now. I cannot find the time to work out (I can barely find the time to sleep at this point) so I know this body isn't just going to change itself.  I've given myself some grace and when the time is right, the time is right. For now I'm learning to dress this 10 month postpartum body and actually embrace it.
So here are a few of my favorite spring fashion finds (so far… more to come!)
Paper bag waist shorts: These are SO flattering y'all. They make me feel so feminine and confident and anything that makes me feel that way needs to come home ASAP. I got them in denim and leopard because duh, anything leopard is a necessity. I'm wearing a size 6 and that's the size I'm typically wearing right now so they run TTS.
Rainbow everything: I found this long sleeve rainbow top and think it's so cute for pairing with jeans or jean shorts for the spring and summer!

I also love this pullover and this one! I sized up to large so they would be oversized instead of a long-sleeve tee look. Only $17 and $19 too so you can't beat it!
Polka dot ruffle top: This has been one of my favorite purchases and it's from Amazon! And it comes in a few other colors. But this is one of those tops where you can wear it to the office, a bridal shower, date night, wherever. The ruffle sleeves are so romantic and feminine and it's totally a steal for less than $20!
Polka dot dress: Clearly I'm digging polka dots right now but this dress has been a super popular Amazon find amongst bloggers this spring. I loved this yellow color and I wore it with a belt, but I've seen some of the other colors and without a belt and it's also beautiful that way!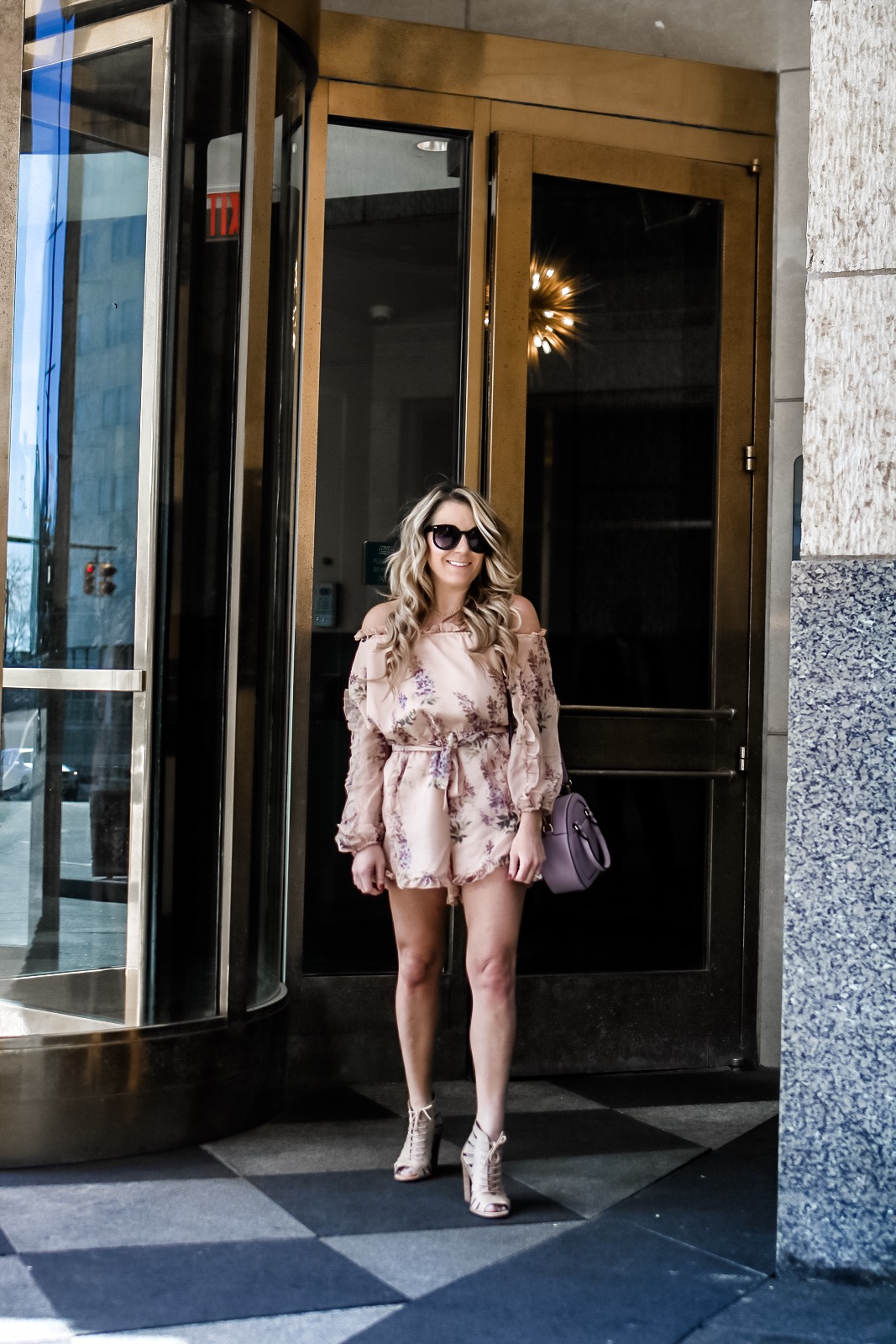 Floral romper: I wore this romper to an Easter event and it was perfect. It's meant to be asymmetrical off one shoulder but I found that if I wore it like that, it was too short and would ride up. No one wants that haha so I just wore it off both shoulders! The price on the site says $89 and while I wouldn't pay that much for it, they're always running sales so be sure to check the site regularly.
Striped off-the-shoulder top: This is another Amazon find! It's super cute for spring and think it would be even cuter with white denim. It also tons in a ton of other colors so there are so many options. I am typically a medium/size 6 right now and the small was a 4-6 so that's what I went with and it fit perfectly! So make sure you check the size chart.
Pearl barrettes: I wasn't sure I could get on board with the barrette trend but I'm actually loving it. It's so easy to pin back my (usually day 2-4 hair haha). I got a pack off Amazon that included 4 different styles for $8.99. Can't beat that, right?!
Studded sandals: These Valentine dupes are amazing. I would much rather pay $20 than $780! Insane, right?! They come in nude too which is perfect for spring and summer.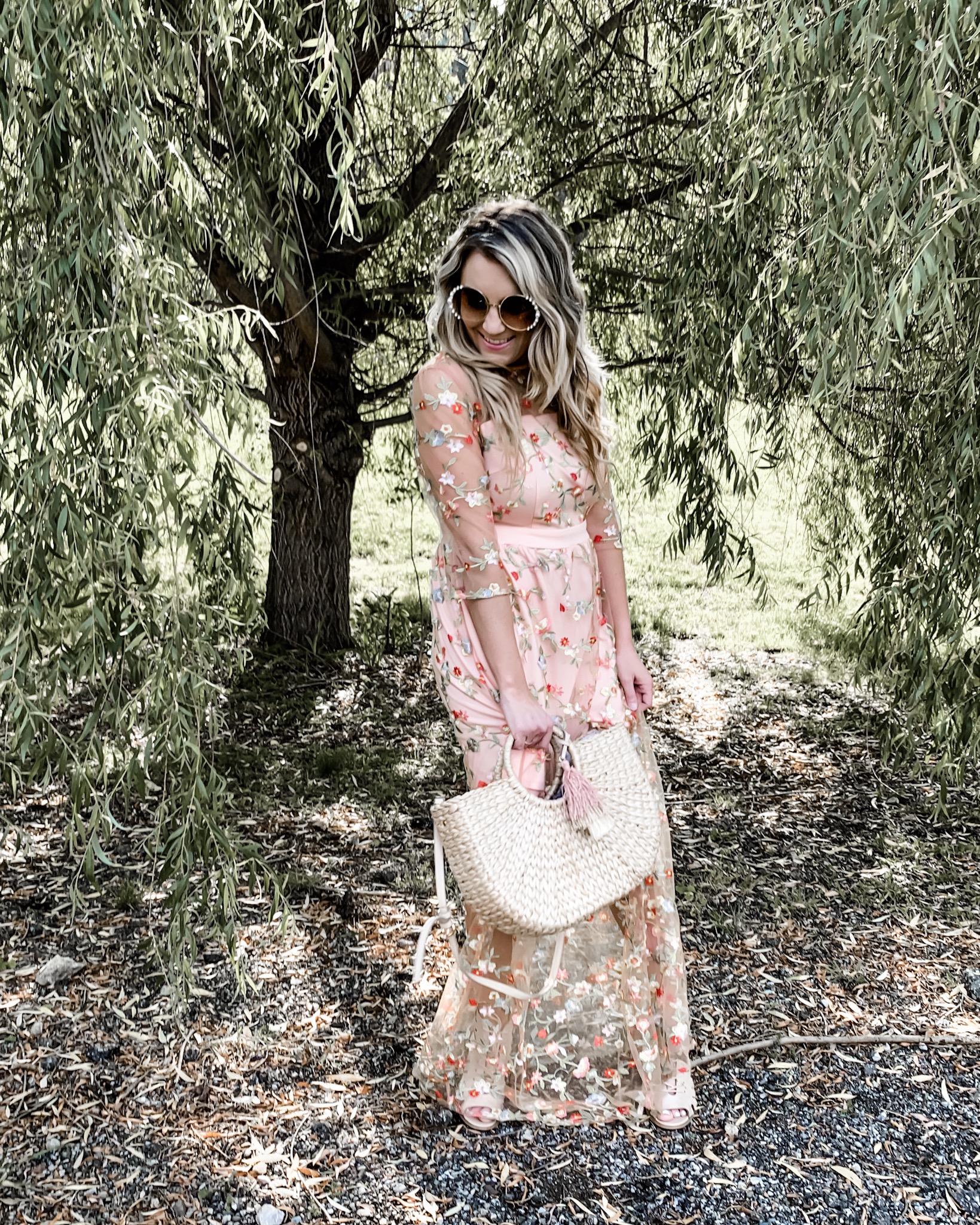 Floral dress: You guys… I have gotten SO many compliments on this dress and people can't believe it's from Amazon. I wore it to the wedding and then wore it again while exploring Fairfield County this past weekend and I am obsessed with it. It also comes in black and navy and is only $40.
Pearl sunglasses: These were another favorite dupe find! The Chanel ones I wanted were $380 so these were much more affordable. And such a fun statement piece!
Half-moon tassel bag: I loveeeee this bag! First, it has a zipper so you can keep all your goods safe. But the tassel is adorable and straw bags are all the rage right now. This one is also currently on sale for $30!
Whew that was a lot! Clearly I like to shop but I promise, all of these items are affordable and versatile. I've already worn so many of these things numerous times! I hope you'll check some of them out because I think you'll love them too 🙂 And if you have any questions on sizing.. let me know! XO
What are some of YOUR recent fashion finds? Share below!