Spooky Halloween Home Decor Ideas
I've always loved Halloween but until this year, I've never really decorated for it. Why? Because fall decor seemed to last long where as Halloween decor was only one day. However, this year I decided Halloween can, in fact, be an entire season and mood and I decided to go all out with decor. So today, I'm sharing a few Spooky Halloween Home Decor Ideas! Do them exactly as I did or draw inspiration from your favorite elements I used. Most importantly, MAKE IT FUN!
Hallway: This inspiration actually came from another account on Instagram and I modified it a bit. But how Spooky is this?! I grabbed a pack of witch hats, poked a hole through the top with a pin and then pushed fishing line through the hole. I tied a knot at both ends and stuck it to the ceiling with a push pin and voila! The ghosts are from the Dollar Tree and I did the same thing; tied fishing line in a knot around the string that was already on the ghost and then another knot at the other end. Stick to the ceiling with a push pin and voila, easy peasy! This space makes me so happy!

Fireplace: Most of the decor throughout my house is neutral and muted, and I wanted my Halloween decor to be the same. I kept the garland from my fall decor up and added a few spooky pieces; a crow, black florals, bats, spider webs, potion bottles, etc.
Entry table: My inspiration behind this table was an old haunted house. It has a typewriter, handles, Ouija board, etc. I pictured almost a Tales of the Crypt-esque space while designing this area. I ordered a real Ouija board strictly for decor so rest assured, it has not been played in this house! And just in case, I saged the house as well haha. Also, the pack of bats I purchased was enough to cover the mirror above the mantle and this mirror so I definitely got my money's worth! And next year, I can just add new adhesive and reuse them.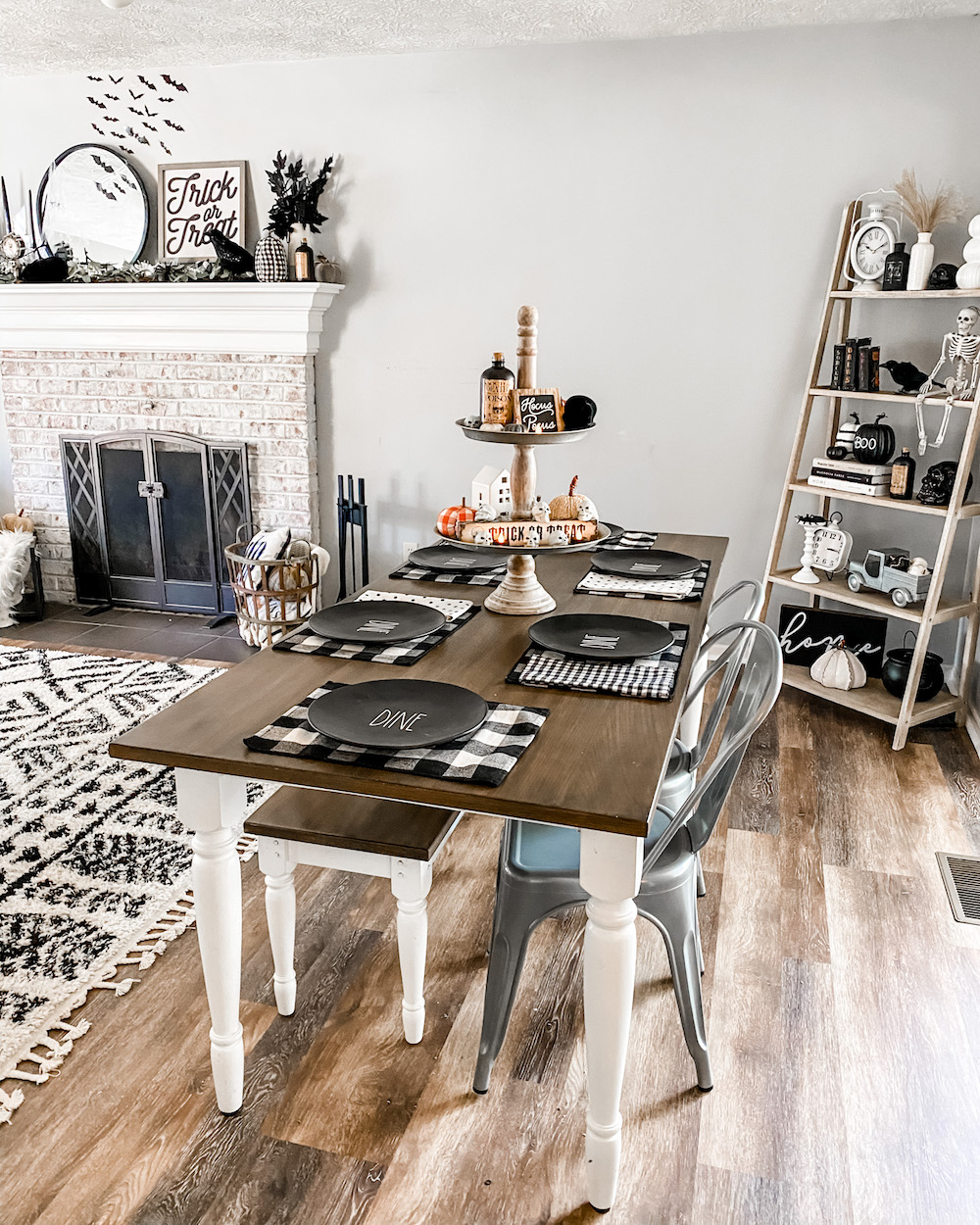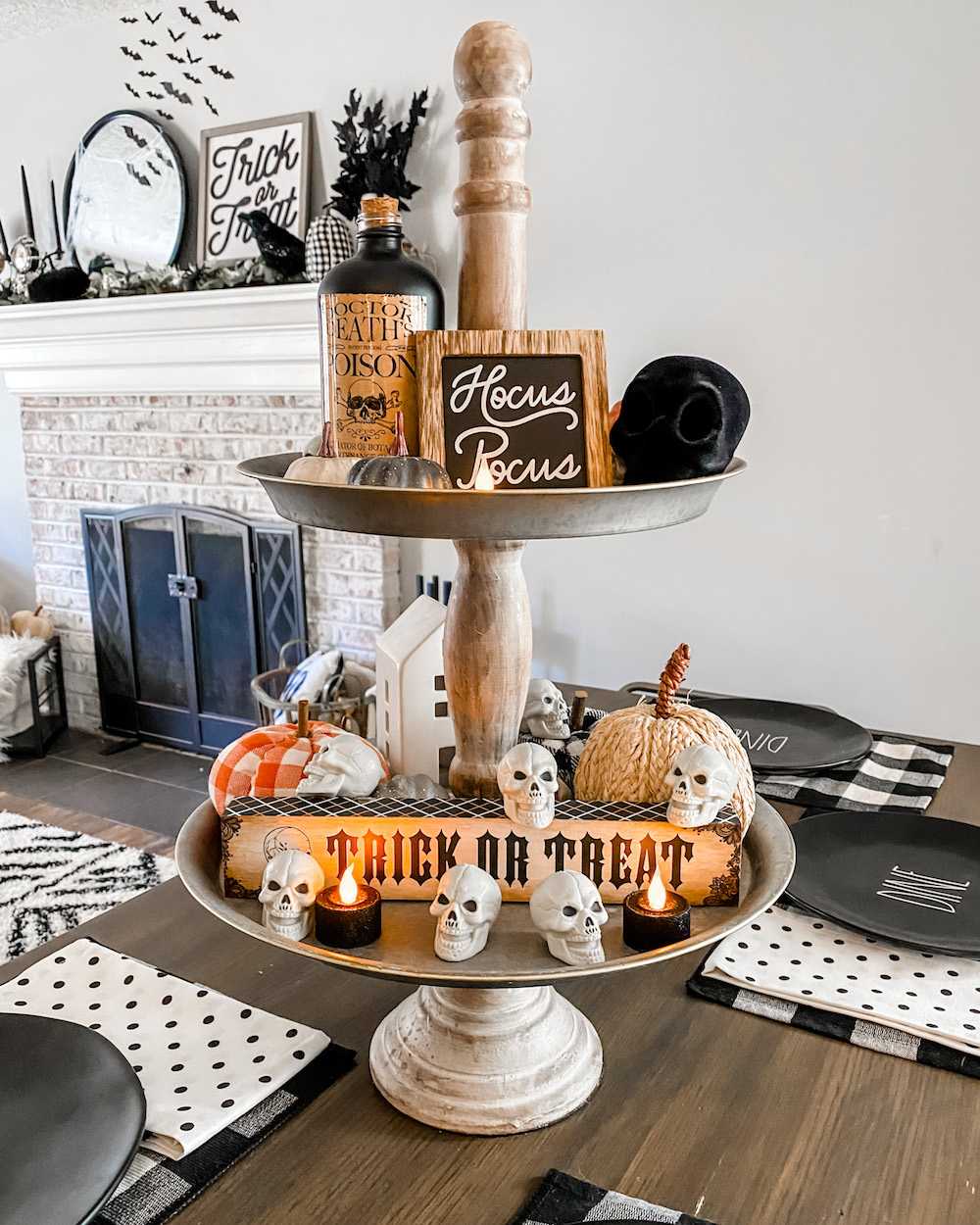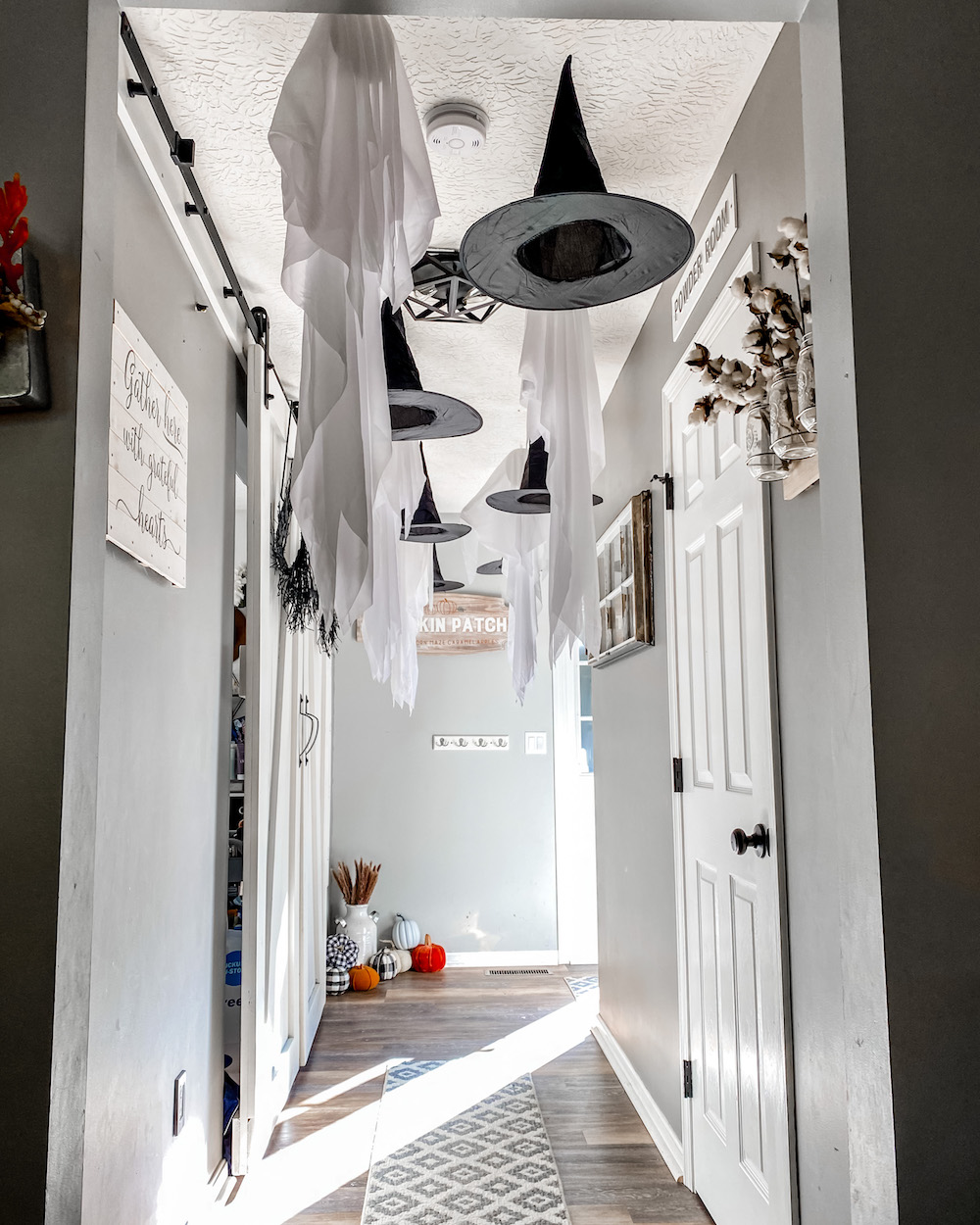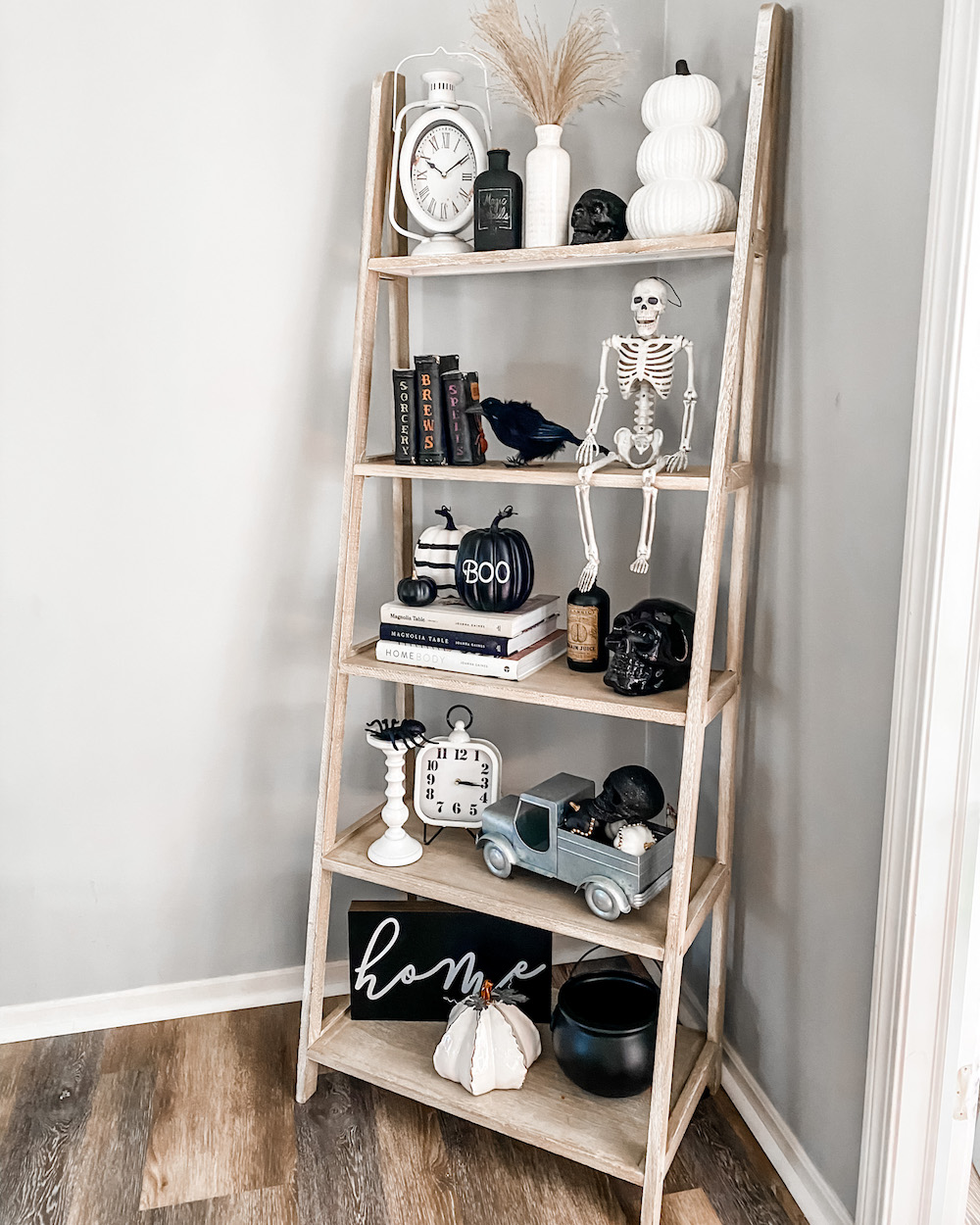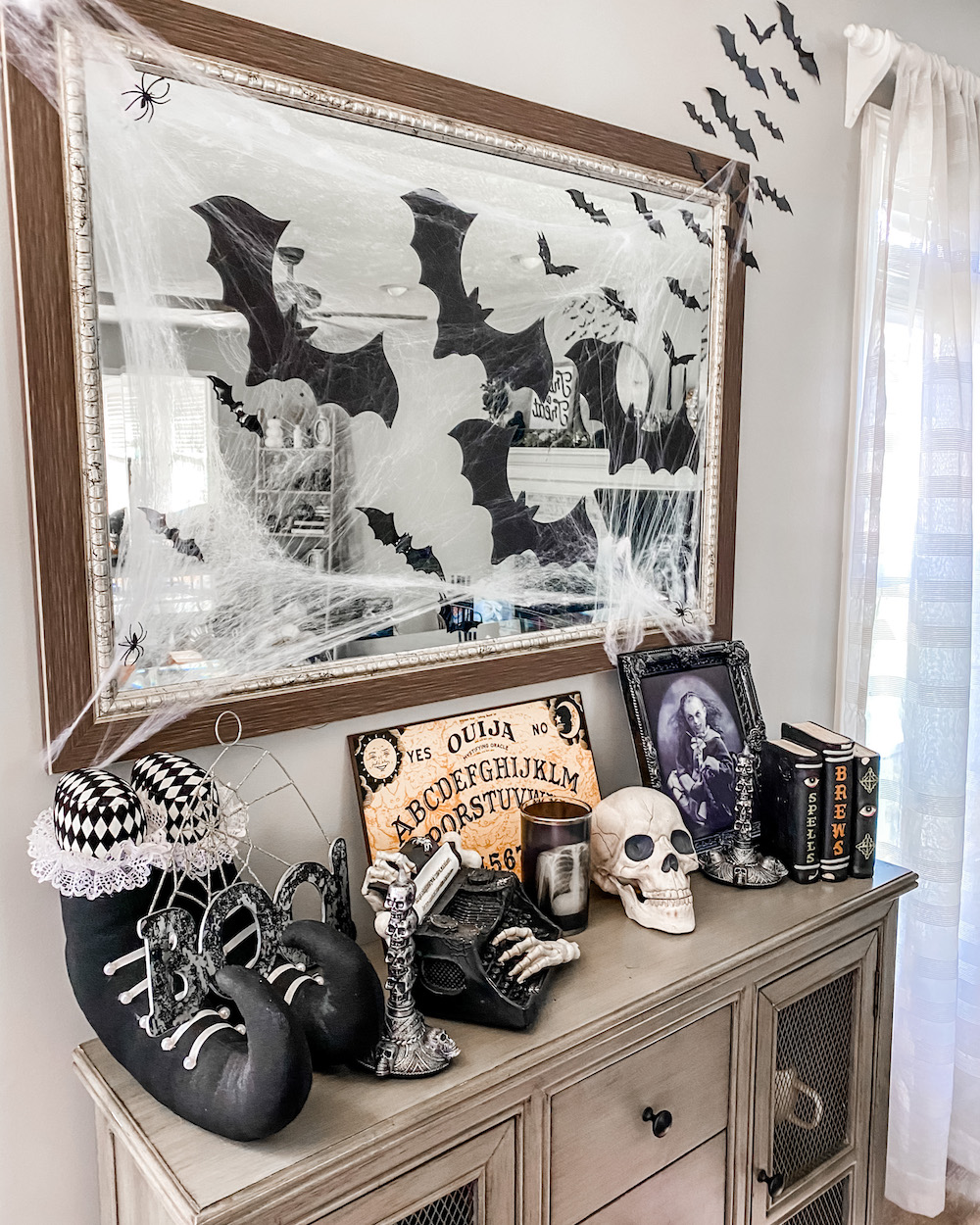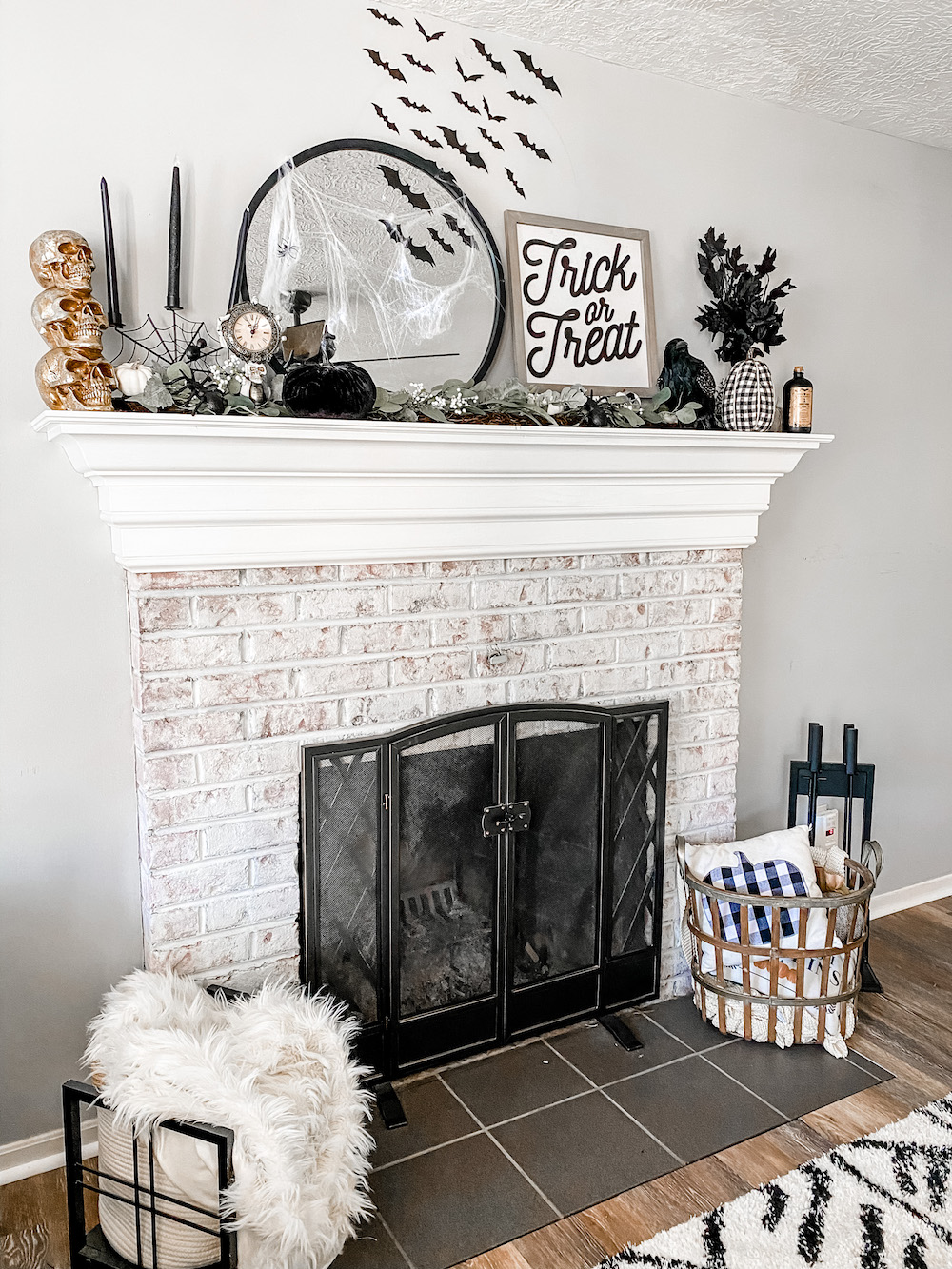 Bookshelf: When possible, I try to use whatever decor I can and just add a few things. This alleviates having to take it all down, store it away, and put it back up when the holiday/season is over. I always use this rustic truck and just swap out what's behind it; pumpkins, skulls, Easter eggs, etc. Some of the decor was what I put out for fall and I just moved things around and added a few spooky pieces.
Dining table: I always use the black and white check place mats so to switch it up, I added these cloth napkins and switched my white plates for the black ones. The tiered tray is one of my favorite things to decorate each season because it's so easy to find little pieces and signs to make it themed. These little tea lights make it extra cozy and spooky feeling!
Not pictured, I added orange lights on the fireplace and stairwell and added purple lights on the bookshelf after the fact. I love the cozy vibe the lights give off and the kids love them. Twinkly lights just make everything better!

So what do you think? Would you decorate for Halloween using any of the pieces I did? I've linked everything but if you have a question on something or how I did something, leave a comment below! xo