Nordstrom Anniversary Sale Haul
Ok so remember last week when I shared my Nordstrom Anniversary Sale picks with you guys? Well they've all arrived!  Some things worked out, some things not so much. And I was actually kind of shocked at two of the items but I'll get to that in a little bit. The sale has been officially open to everyone for the past few days so if you haven't checked it out yet, go do so now!
Here are the things I ordered:
GUESS Envelope Collar Double Breasted Coat:
Regular price: $240
Sale price: $139
I've been looking for a pink trench coat for awhile so when I saw this, I immediately added it to my cart. I was looking for more of a spring trench coat but I kind of fell in love when I saw this. It's SUPER heavy but I love the fit. It's flattering and makes me feel super chic. The only problem? It arrived with a stain on it. Not okay. So I'm going to send it back. Should I order another? I can't decide!
Regular price: $39
Sale price: $24
I loved the neckline of this dress and a girl can never have too many little black dresses, am I right or am I right? Definitely keeping this one.
Regular price: $38
Sale price: $24.90
Nordstrom Ponte and Faux Suede leggings
Regular price: $60
Sale price: $34.90
Let's start with this top. I am obsessed. I love how different the cut is and it feels very flattering. It's flowy yet fitting and I'm super sad they're out of my size and colors. Ya snooze ya lose..
The leggings, ehh, still deciding on those. I guess I haven't worn leggings in so long because it's so damn hot down here but it felt a little weird wearing them. I kind of strayed from leggings last year and mostly stuck to jeans but I think it's one of those things where I'll miss them this fall if I send them back so I think I'm going to end up keeping them. Plus I love the faux suede.
"Whitney" Bell Sleeve Woven Shift Dress
Regular price:
Sale price: $31.90
I think this was one of the things I was most excited about. I love this pattern and it's a perfect summer to fall transition piece. Unfortunately this pattern is sold out but they have some solids and other cute patterns I love too! How cute would this be in the fall with boots? YASSS.
Thread and Supply Double Breasted Peacoat
Regular price: $58
Sale price: $37.90
I know, I ordered two peacoats and I live in the south? Not forever though. And I may need them sooner than I think (hint, hint). But this one is perfect for everyday wear in the fall and then winter. It's olive green so a little different than a traditional black one but I'm kind of obsessed with this color if you didn't notice.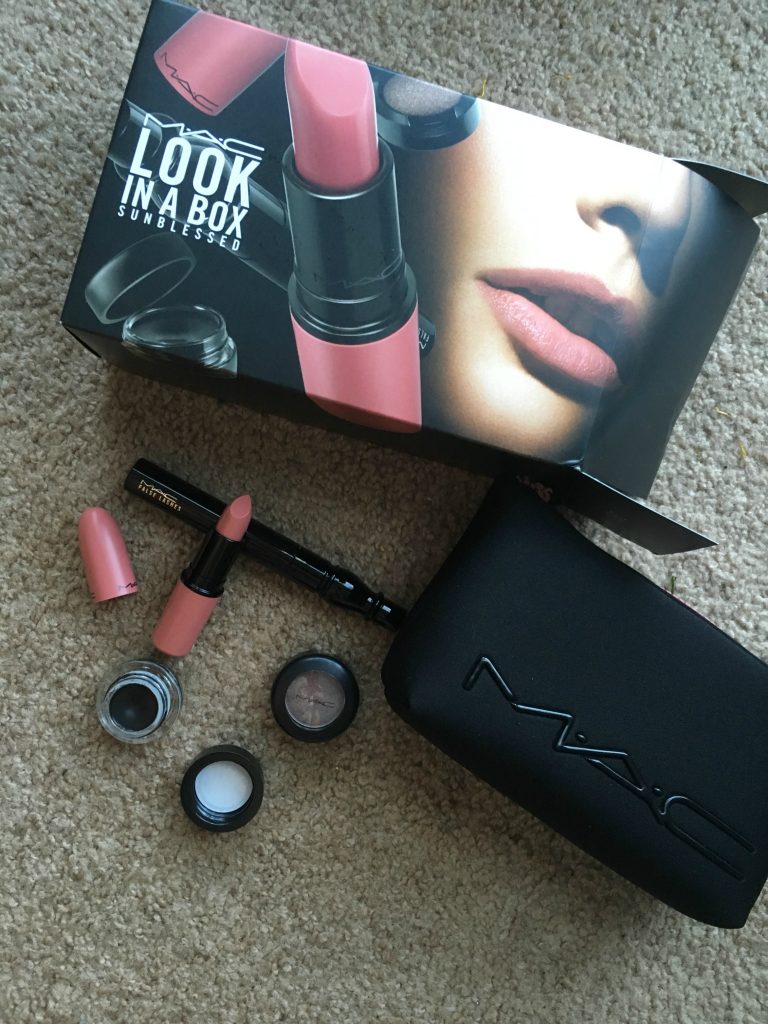 M.A.C 'Look in a box-Sunblessed' Face Kit: 
$71.50 value
Sale price: $39.50
So I'm not sure if this was on sale or if these kits were special for the anniversary sale but I bought it as a Christmas gift for someone. I'm always keeping my eyes open for deals that will come in handy over the holidays! But I love this mascara, lip, and eye. I'm not a huge fan of this kind of eyeliner but it's not for me so I guess that doesn't really matter, ha! But I'm sure the person getting it will love it 🙂
.
Love by Design Lace-Up Pullover
Regular price: $48
Sale price: $31.90
And last but not least, this one. And I'm super sad and disappointed because I really wanted this one to work. But the sleeves were super tight and weird and their was a snag in it. So I can only imagine how badly it would snag down the road. Boo. So this one is going back.
So there you have it! For reference, I'm wearing a small in everything. I'm going to keep shopping the sale and make sure I'm not missing anything good because come August 11th, the prices go back up!
What have you bought so far? What are you eyeing?
Shop the post here: