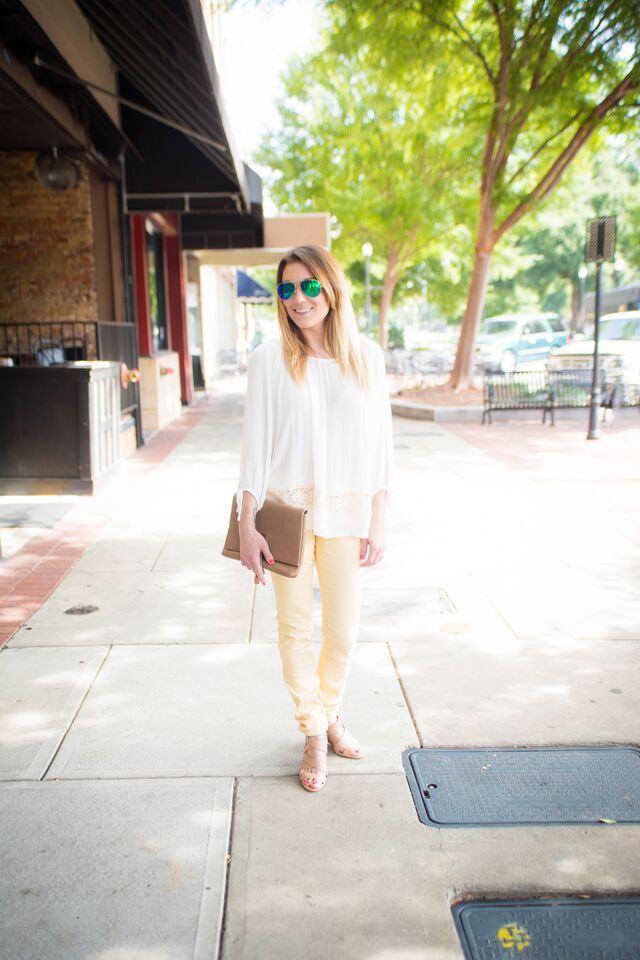 The feeling of defeat is something we've all felt at some point or another. The feeling of giving your all and working as hard as you possibly can, just to come up short. In middle school you may have worked hard to impress your friends or the boys in your class. In high school you may have worked hard to impress your parents or colleges you were applying to. In college you may have worked hard to build your resume and impress future employers. In your first job you may have worked hard to impress your boss and show them what an asset you were to the company. Or maybe you're still working hard to prove your value. I don't know. But what I do know is that we often set expectations for ourselves and that sometimes, we fail at reaching them.
We're human. We aren't perfect like we sometimes wish or try to be, and that's reality. That we can work as hard as we possibly can and still not be where we want to be. I work at being a better mom everyday; each day is different than the last and sometimes I don't know where I'll find another ounce of patience or strength to make it through the day. Where I try and balance working from home and tending to my kids. Where I struggle with a messy house, horrible diet, and lack of exercise. I know that I can't be perfect and I never pretend to be, but I do set expectations for myself and try to uphold them. So when I fall short, it's upsetting. And we can all relate to that.
I'm always running around like a chicken with my head cut off. As much as I try and plan or stick to a schedule, I can't do it. Because something always comes up and I'm always interrupted in whatever it is I'm doing. Not only is it affecting me but it's starting to affect my children. They're horrible sleepers and they often act out because they aren't getting the amount of sleep they need to be getting at their age. And then the mom guilt kicks in and I wonder how I can get them on a routine when I can't even get myself on one.
So with that being said, I'm setting a few goals for myself and sharing them with you to hold myself accountable. And in hopes that I'll find others who need encouragement as well so that we can encourage each other.
1. Eat more balanced meals. No more skipping breakfast or picking at the kids' leftovers for lunch. And only sticking to ordering/eating out on Fridays for pizza night.
2. Pick one room of the house each day of the week and focus on it. When I look at my house and what needs cleaned, it's overwhelming. So I want to focus on one room each day of the week and deep clean it like there's no tomorrow.
3. Be technology free for one hour a day. It's pretty pathetic that I'm shooting for only an hour. But I am literally on my phone ALL day currently and that needs to change. Baby steps…
4. Set blogging goals. We all want to be successful at what we do. And while this may be my full time job, it's certainly not conventional. I don't leave the office at 5pm and return the next morning… I'm always working. Which doesn't bother me because I love what I do. However I know I need to get on a better schedule so it's not interrupting time with my husband or kids. I've decided to set little monthly goals for myself and work on meeting those. Maybe that will help!
5. Get more organized. I like to consider myself fairly organized but there's a lot of little piles everywhere. Everything has a place and if I have to spend $100 buying bins at the Dollar Store, so be it. Time to crack down.
I want to start small and manage these goals before diving into too much. I often overwhelm myself when I look at everything that needs done or take on more than I can handle. Because I want to believe I can and I want to believe I'm Superwoman. But the reality is that I'm not. That I need to find a balance between work and life, a happy medium between wanting a spotless house and living in a tornado zone, and being unpredictable and structured. One day at a time, right? I can do this. 
How do you rise up when you're feeling defeated? How do you get back on track?
[inlinkz_linkup id=547272 mode=1]