7-Eleven gives back to U.S Military Veterans
This is a sponsored post written by me on behalf of 7-Eleven Franchising for IZEA. All opinions are 100% mine.
Transitioning out of the military isn't always easy. And sometimes, the decision to leave the military isn't always planned. And even if it is planned, the job market can sometimes be unreliable.
My husband doesn't plan to make a career out of the military but during his time, he has learned discipline, perseverance, and faced adversity. He has been a leader, challenged himself, and perfected specialty skills. He has traveled the world and served our country. And I am so proud to be his wife.
There are so many factors that can affect a military member's success after his or her career, and 7-Eleven has decided to do their part by giving away a Franchise to one lucky veteran. President and CEO of 7-Eleven Inc, Joe DePinto is a military veteran himself and understands the importance of hiring and employing U.S. veterans.
In the past four years: 203, 890 new vet and military spouses have started franchising careers, 5,608 vets have become franchise owners and in the past year alone, 50,000+ vets have found employment in the franchise industry. Specifically, 7-Eleven provides franchise owners with the store, land and equipment. And within 3-6 months, franchise owners are trained and are ready to go! And of course, they're surrounded by an amazing support system throughout the entire process.
From now until 1/25/2015, military veterans can enter to win a 7-Eleven franchise. To enter:
Enter – fill out form OPERATION: TAKE COMMAND  
Apply – apply through January 25, 2015
Finalists announced – top finalists will be announced in March 2015
Make a video – finalist will create an impressive video explaining why they should be the winner
Videos are posted to Facebook – all finalist videos will be posted to the 7-Eleven Franchising Facebook page
America votes – the top three are flown to Dallas for a final interview
We have a winner! – the 7-Eleven franchise winner is announced April 13, 2015
If you know someone who is looking to take a leap of faith, please tell him or her about this contest! Our veterans deserve the world and thanks to 7-Eleven, they may be able to win their very own franchise.
.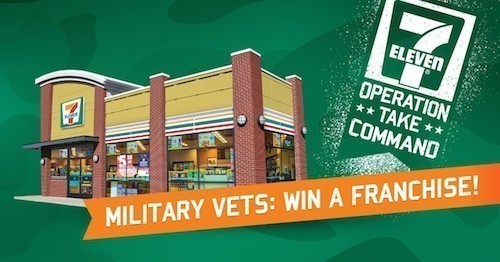 Thank you to those of you who serve or have served. We are forever grateful. Now go enter 🙂