Farmhouse Christmas Home Tour
IT'S HERE!! Y'all I am SO excited to share my Farmhouse Christmas Home Tour with you all today! Decorating for Christmas is always my favorite holiday and this year, I stepped up my game! I added 3 new trees (I like the coziness of the lights and I couldn't help myself!) and I'm so happy with how everything turned out.
Now before you judge my craziness, let me give you a little background on the trees.
My family tradition growing up, and one that I have continued with my own kids, is getting an ornament every year. The tree that I purchased last year can change from white to color lights. However, the color lights were harsh LED lights and I didn't like them.  I wanted a tree with lights that were soft and warm and reminded me of my childhood. So I purchased another tree with incandescent lights to do just that.
Well I wasn't going to get rid of the other tree since it was new last year, right?! SO I decided to put it in my office and do an entire curated theme. I saw these beautiful rose gold ornaments at Hobby Lobby and knew that that's the direction I wanted to go in for that tree. I found pointsettas, pinecones, snowflakes, and ornaments in this color scheme and I am so happy with how it turned out.
My flocked tree has been one of my favorites since last year; there's just something about the coziness it bring to the room. I went with a white, silver and gold color scheme and this tree is definitely one of my favorite parts of the house. One of my favorite parts of the tree is the glitter cotton picks that I bought in Chicago last year, and I ordered a ton more this year to complete the look.
I wanted a tall skinny tree for the corner of our hallway and this one was perfect. I kept with the farmhouse theme and added buffalo check, black glitter and cotton ornaments to this tree. I loved this tree farm easel too (I have a thing for tree farms) and put it in front of the tree to complete the corner. I also saw a photo on Instagram with a wreath on a barn door and decided I wanted to double the fun and add one to each door.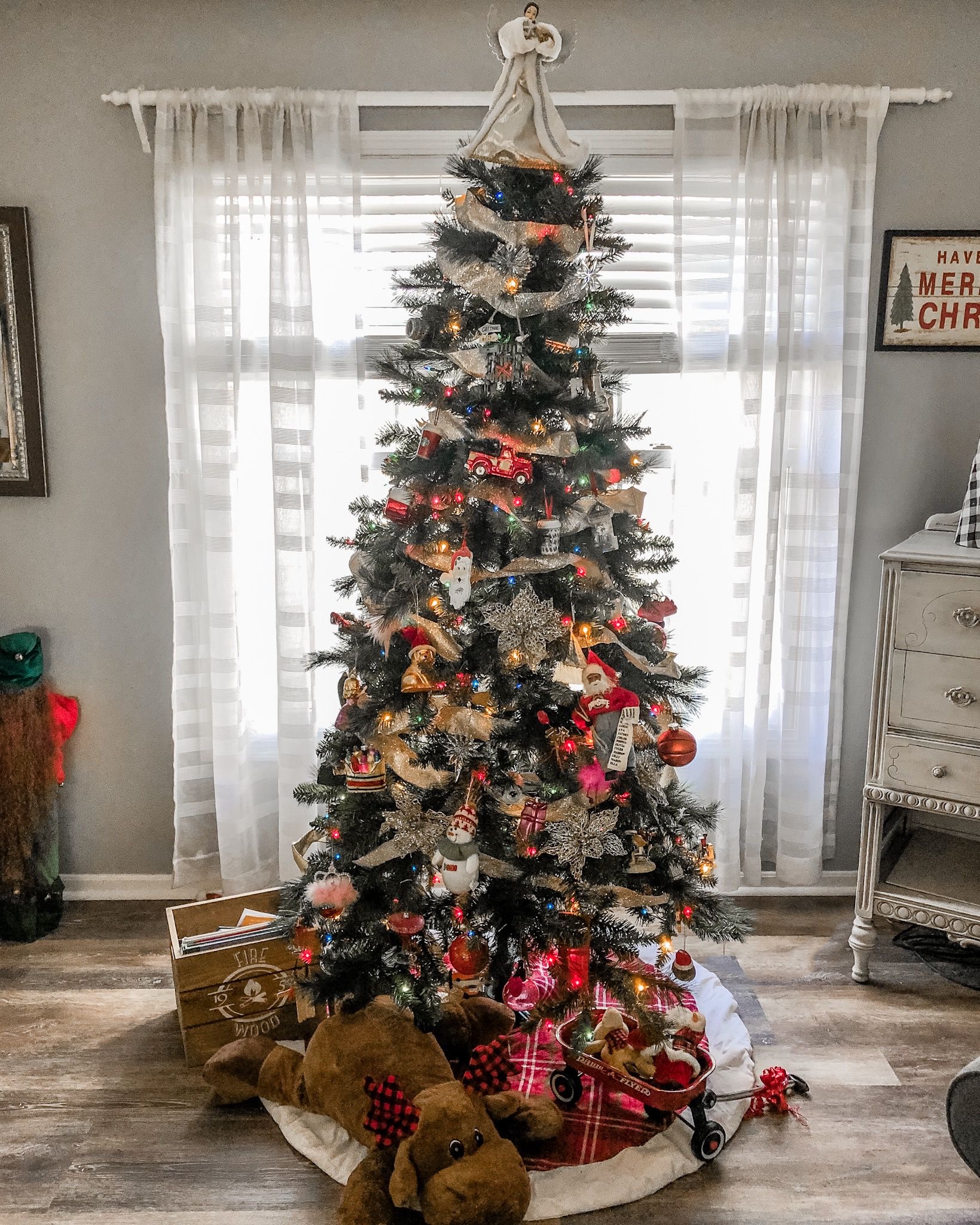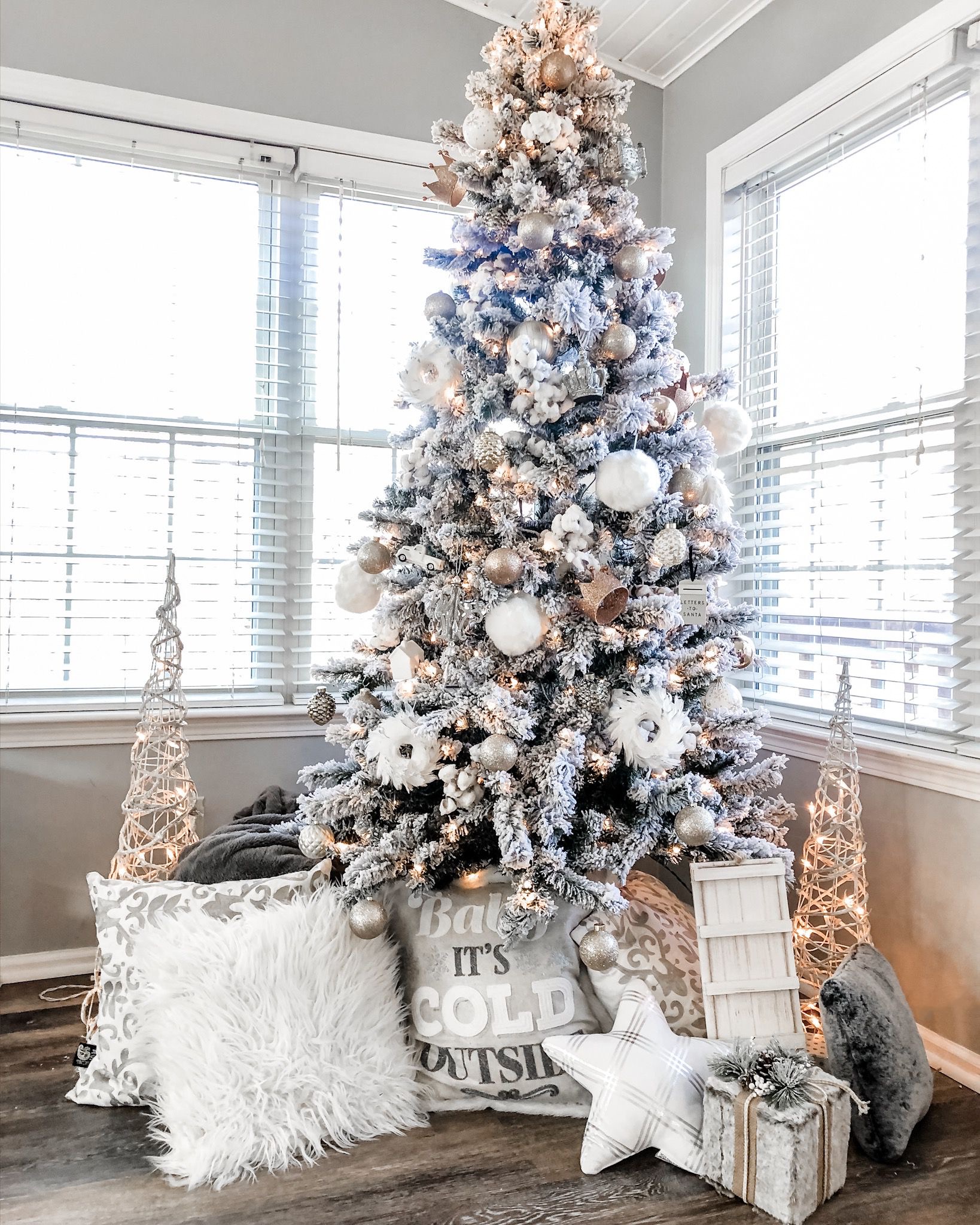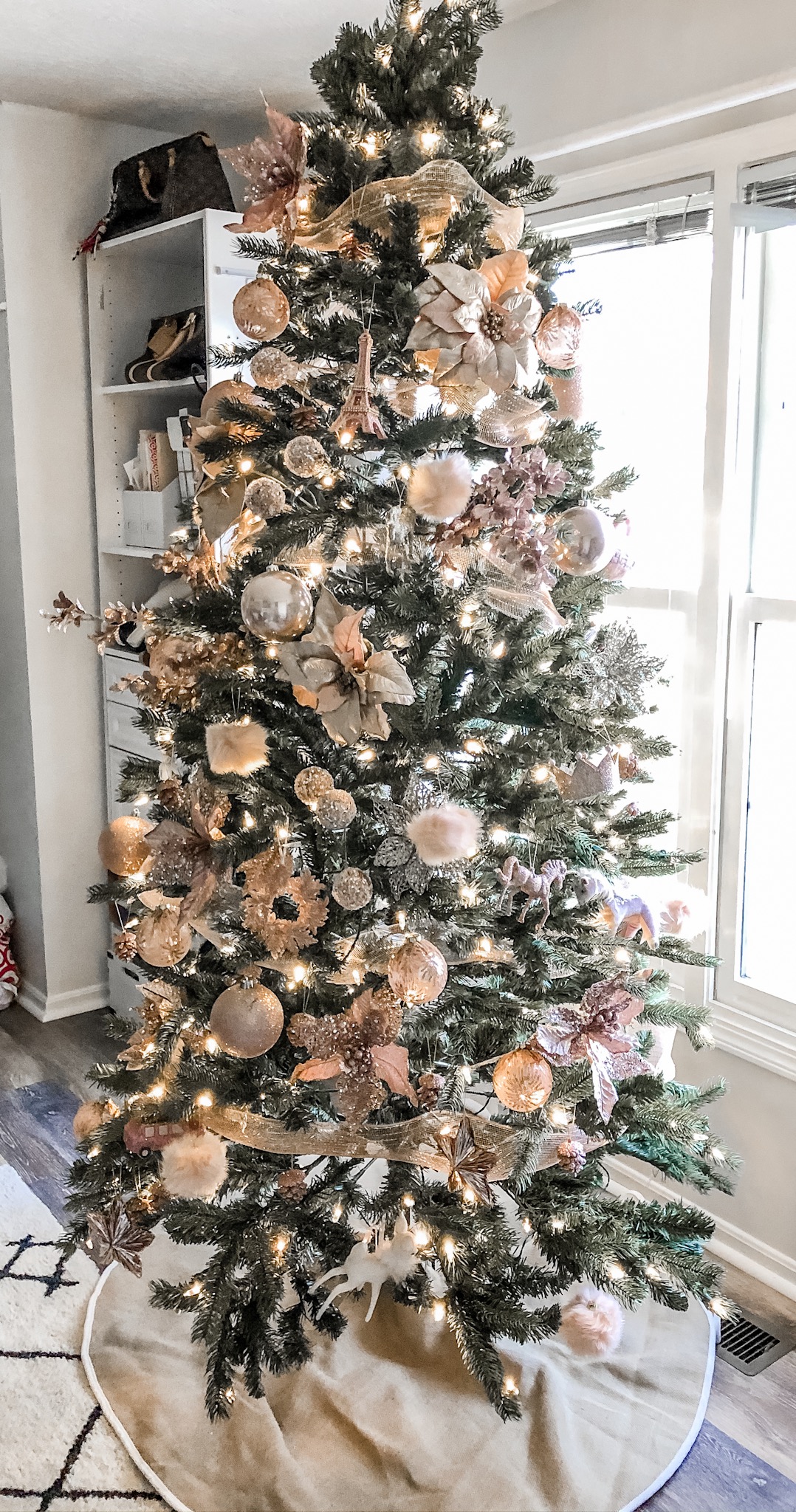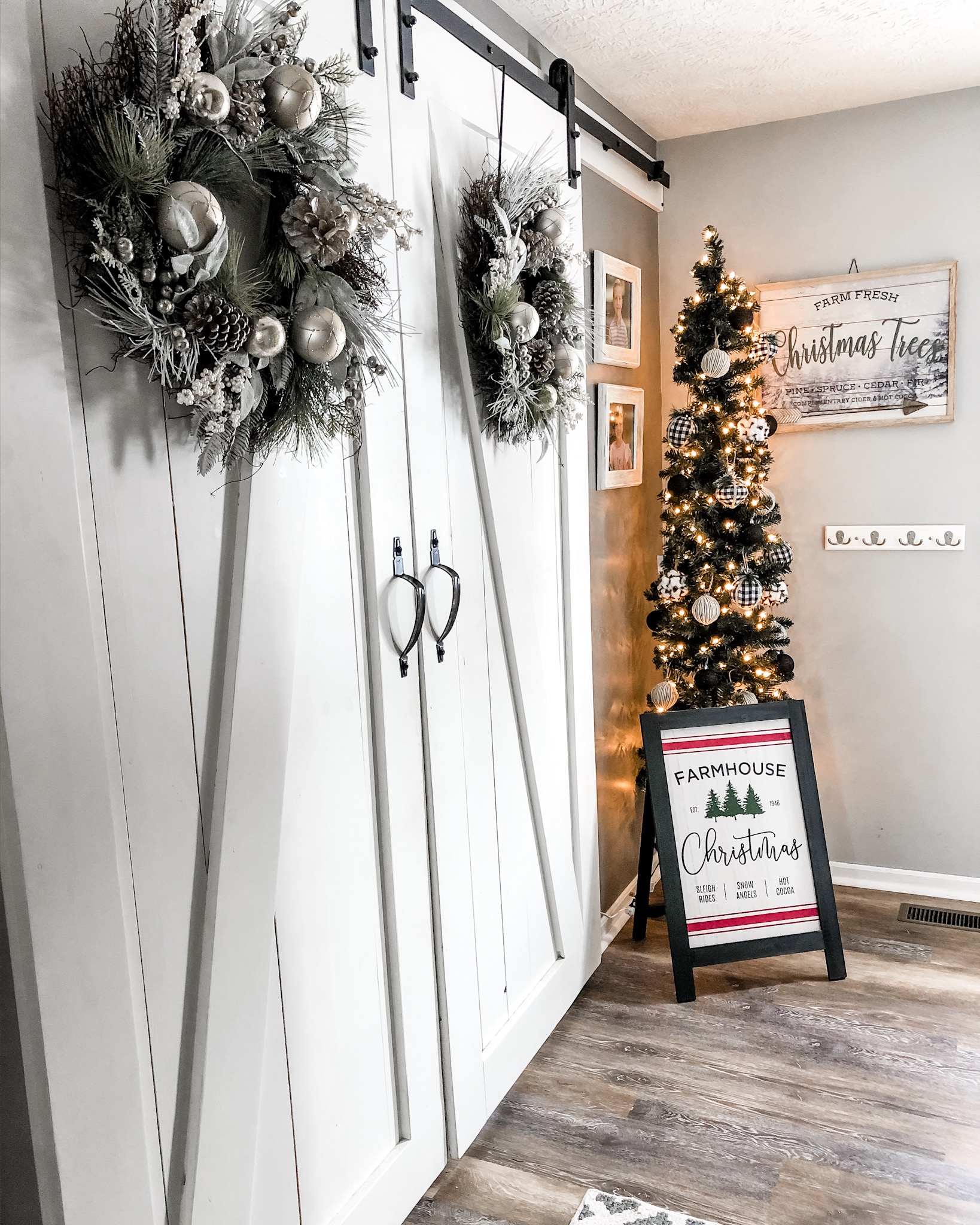 When it came to my kitchen, I wanted to keep it very neutral. But then I decided to add little pops of red to contrast with the neutrals. I'm not usually one to add a lot of color in the house so this was a little out of my comfort zone but I ended up loving it!
For our dining room centerpiece I kept it simple with a few pinecones, a small sign, and brush trees. The Target Dollar Spot is a great place to find the brush trees, signs, and accessories. And you won't break the bank doing it!
My fireplace decor is also super neutral (if you can't tell I'm a neutral person when it comes to home decor). I originally had 3 of one stocking and 2 of the other but I fell in love with a few more that I saw and decided that I would just do all of them different! The sled and tin were finds at a vintage market and since this room is where our nostalgia tree is, I thought it was super fitting. I added this matte black reindeer, birch candles and wooden tree to complete the set up.
I've never done our bedroom before so this was probably one of my favorites to transform! I found an unlit garland at Homegoods and just strung my own lights on it, but I found a pre-lit one for you too! I swapped out our throw pillows and signs and then added brush trees and reindeers! Can you tell I have a thing for brush trees?!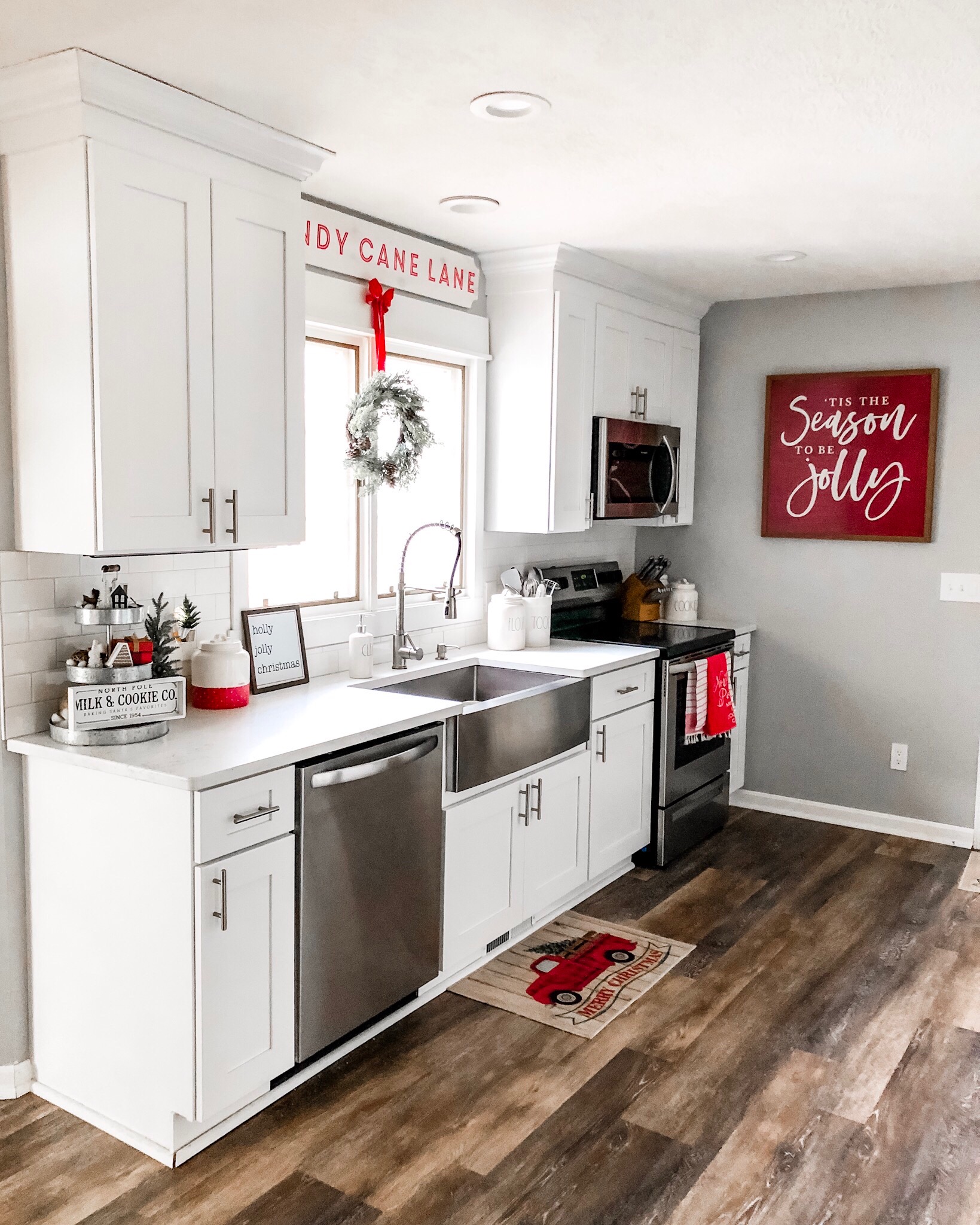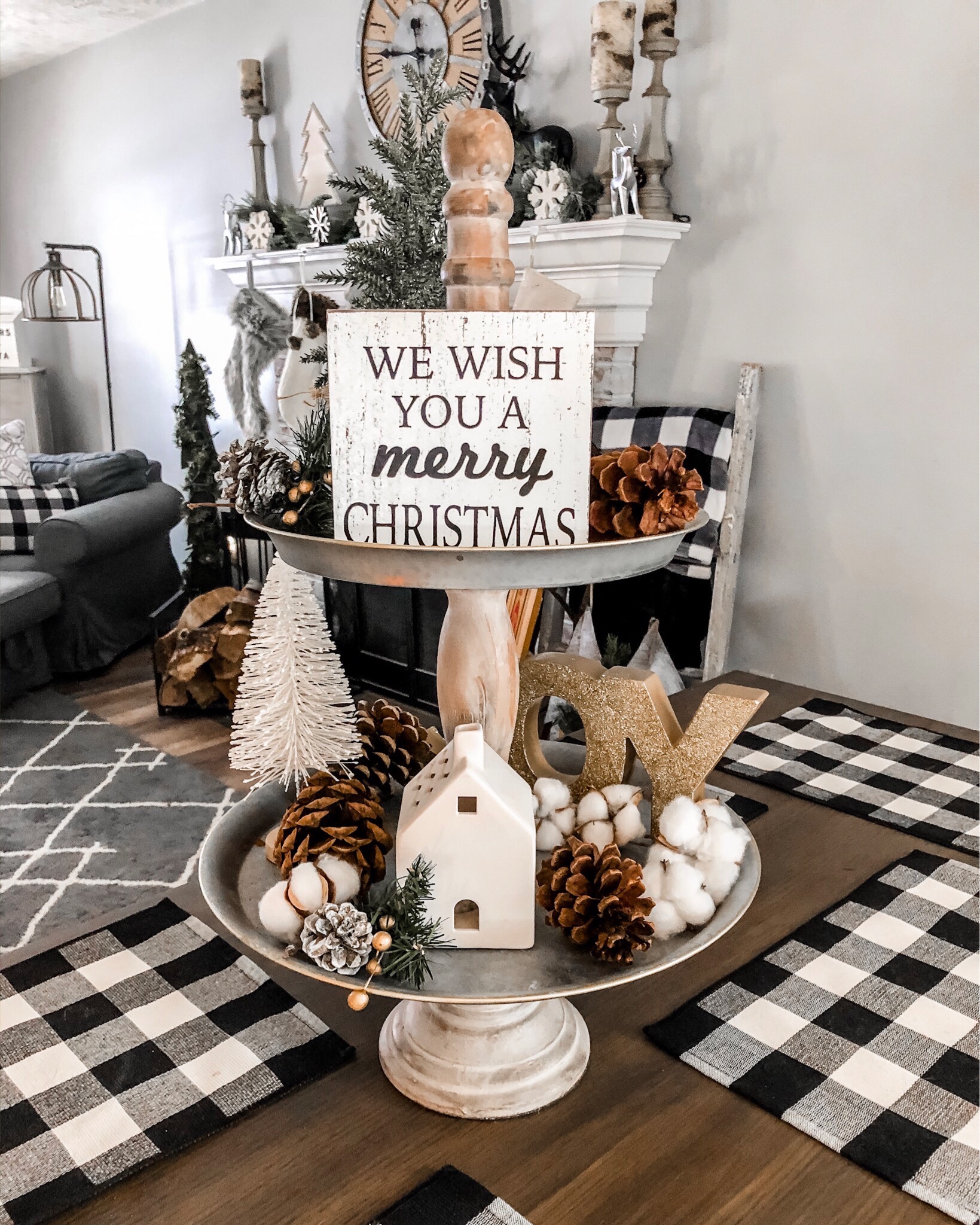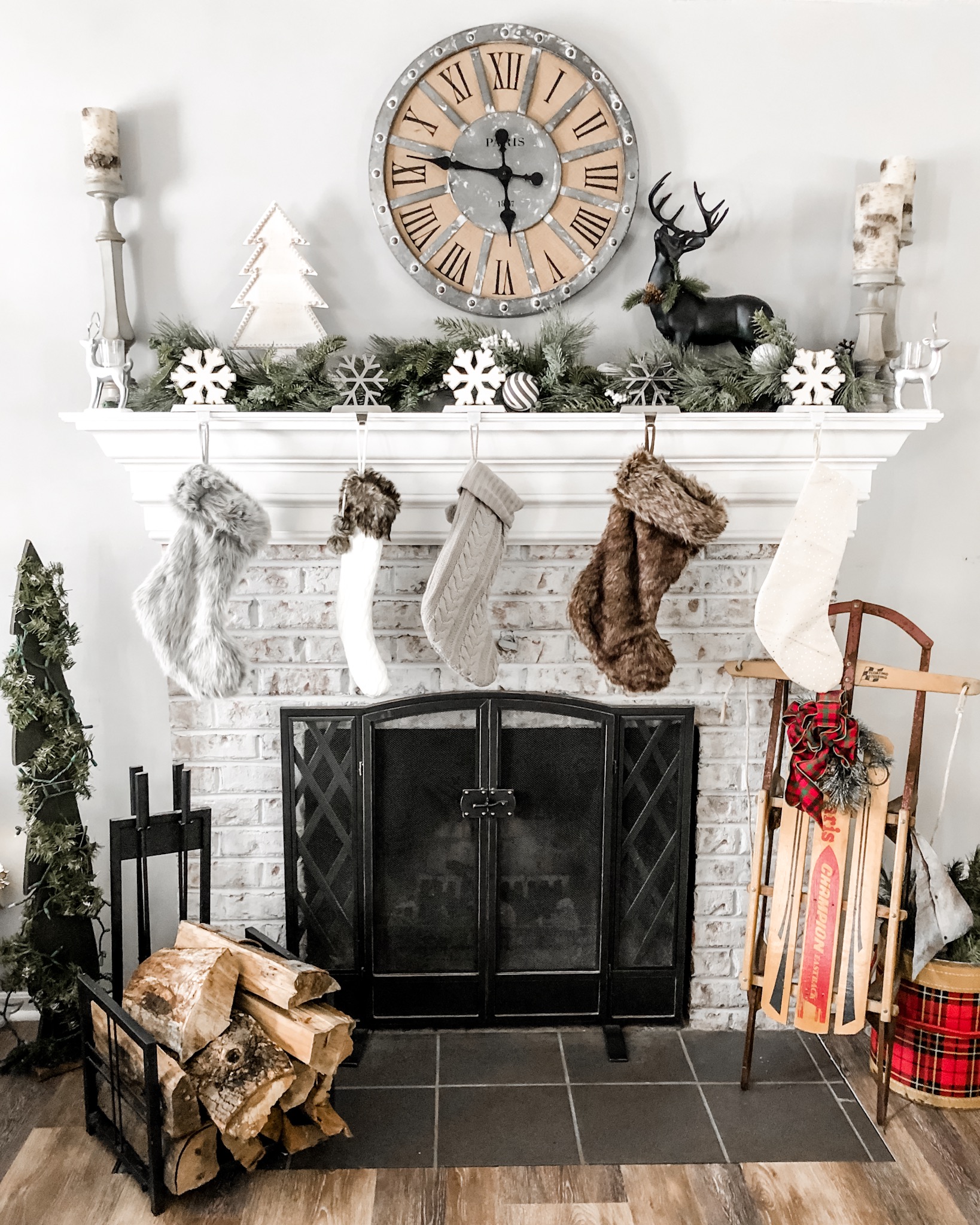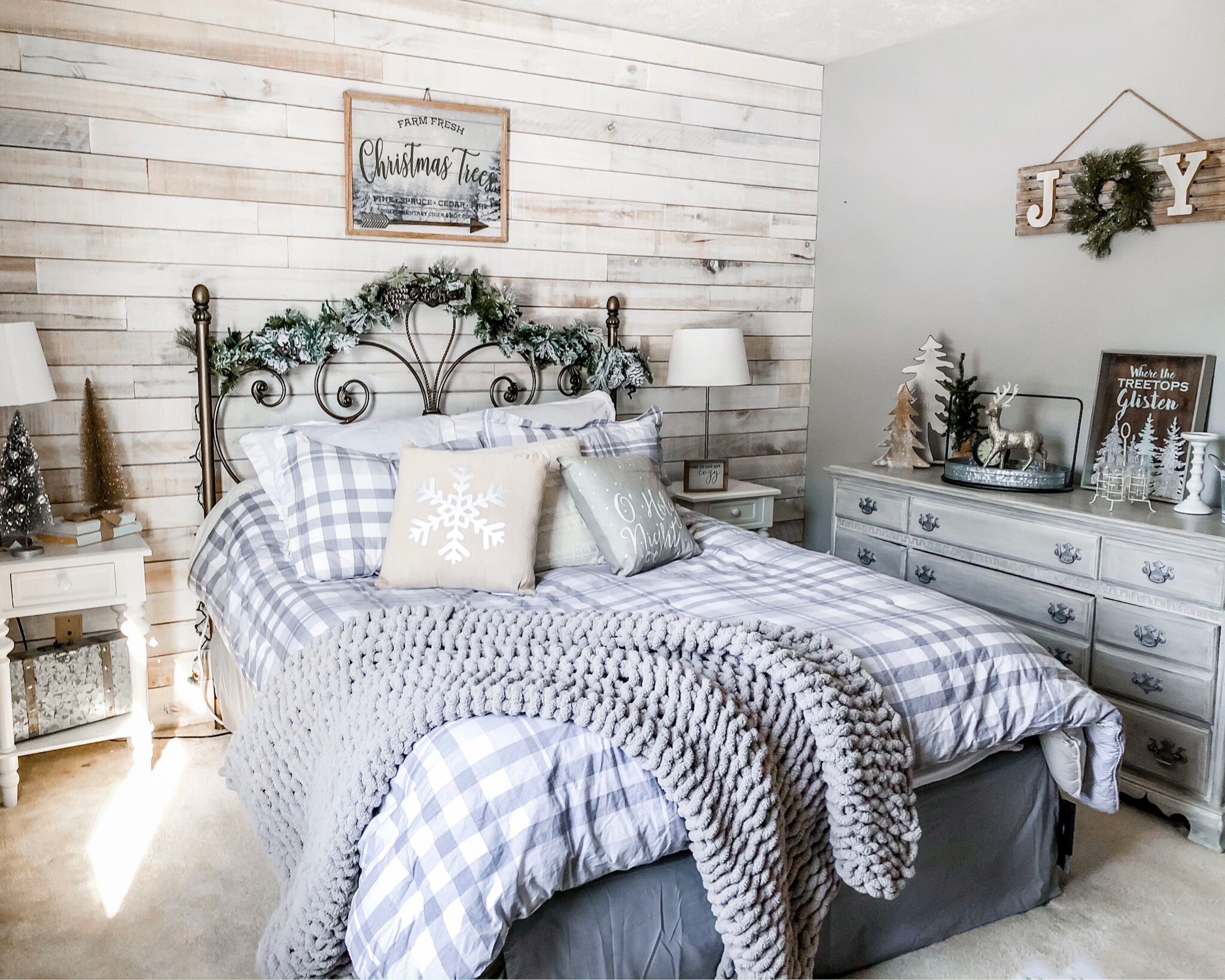 The living room was an easy transformation as well with a few swaps of throw pillows and a new wreath. I also picked up some houses, trees and reindeer for the end tables and voila, finished! My white tree is in the other corner of the room so I wanted to keep the focus on that.
I went with white, silver and gold for our shelf decor as well. I know these galvanized trucks are all the rage right now and I have a little hack for that! Instead of buying a red for Christmas, brown for fall, whatever… buy a silver one and then just swap out the goods in the back. I put pumpkins in there for fall and these brush trees in the back for Christmas/winter! I'm also obsessed with these stacks from BrookStacks and she can customize them to say any phrase, names, whatever! Such a cute gift idea, right?!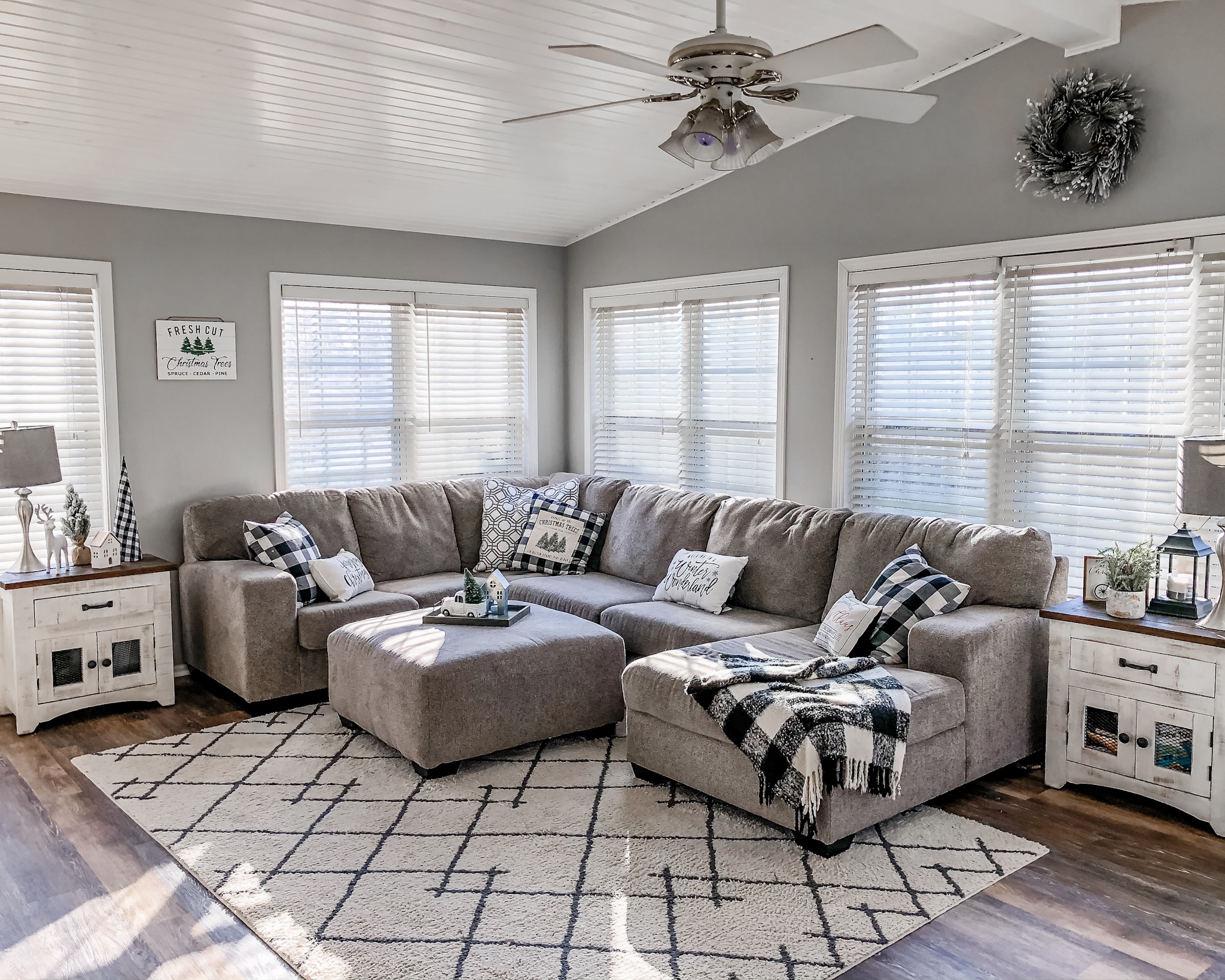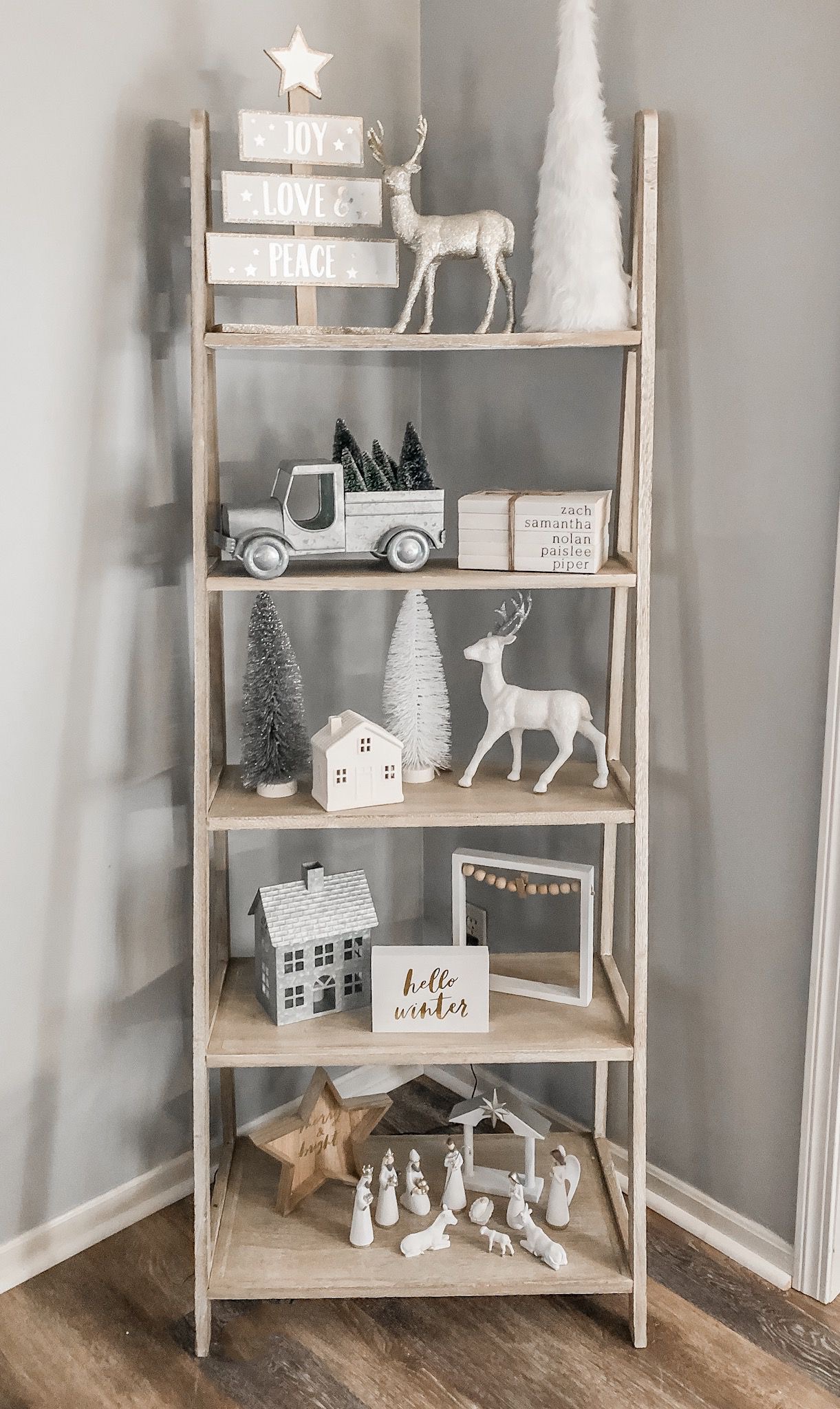 And there you have it! I also decorated our half bath on the first floor but there's no natural light and it's too hard to get a picture in there so I skipped that one! Haha but the theme in that room is the ever so popular vintage red truck 🙂
I've linked everything in the Like to Know it app if you're interested in shopping any of the specific images. You can also click on the collage below! Happy Holidays and Merry Christmas! xo