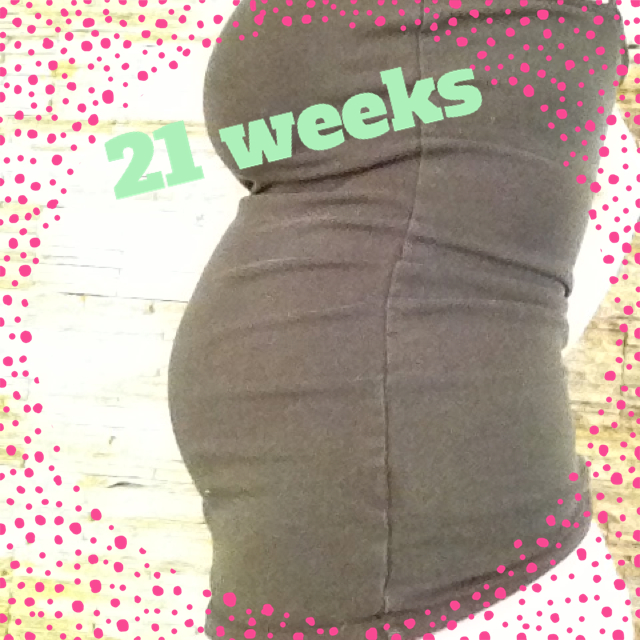 How far along: 21 weeks
Size of baby: Banana
Baby's size and weight: 7 in, 11 oz
My total weight gain: 21 pounds. I saw the high risk doctor Thursday and asked about it. He told me I look great and because I was considered underweight when I got pregnant, it may just be my body's way of making sure I have enough to support baby.
Baby's development:
-Swallowing amniotic fluid daily
-Taste buds are developed
-Sleeps 12-14 hours a day
-Plenty of room to move and flip…hence the movement I'm feeling!
Stretch marks: None.
Maternity clothes: Yes. Feeling pretty large!
Gender: Girl. Confirmed for a fourth time 🙂
Movement: All the time! She moves way more than I remember Bubs moving.
Sleep: Insomnia and Bubs has been waking up crying a few times a night. It started after Z left and I wonder if there's any correlation :/
What I miss: My hubs. It's been a rough week 🙁 Oh and wine, I could use a glass right about now.
Food cravings: Tator tots and pudding… not together!
Symptoms: Anxious, tired, hormonal.
Nolan is: going to be without me all weekend 🙁 I'm in my cousin's wedding and basically spending Friday and Saturday downtown for festivities. I know he will be fine with my parents and a babysitter but it's still hard considering I've only left him overnight once. Prayers for this mama!
Zach is: fully immersed in classes at school. I can't wait to see him next month… I miss him like crazy.
Best moments: Finding out I won't be considered high risk based on my previous pregnancy. And getting to see baby girl again 🙂
Funny things: Everything Bubs does has been cracking me up. Thank goodness for my little rock while daddy is away 🙂
Not so funny things: Zach being gone. It's really no fun at all…
Sorry if I've seemed MIA or been slow at responding to emails! We've been adjusting since Z left and preparing for the wedding. I'll be back soon! Have a great weekend dolls!
"She's addicted to Diet Coke and loves designing pretty things…Check her out!"