Happy Friday friends! It's been the strangest weather here in Cleveland! It was super nice earlier in the week and it's SNOWING today. Ugh where is spring?!! I need it in my life time meow.
It's been a super hectic week of playing catch up after my weekend in ATL. Even though I was only there for two days, I feel like I'm so behind on work and life in general. I don't think I'll ever get it together… maybe after this baby is born..#not.
Here's what's been going on this 18th week of pregnancy: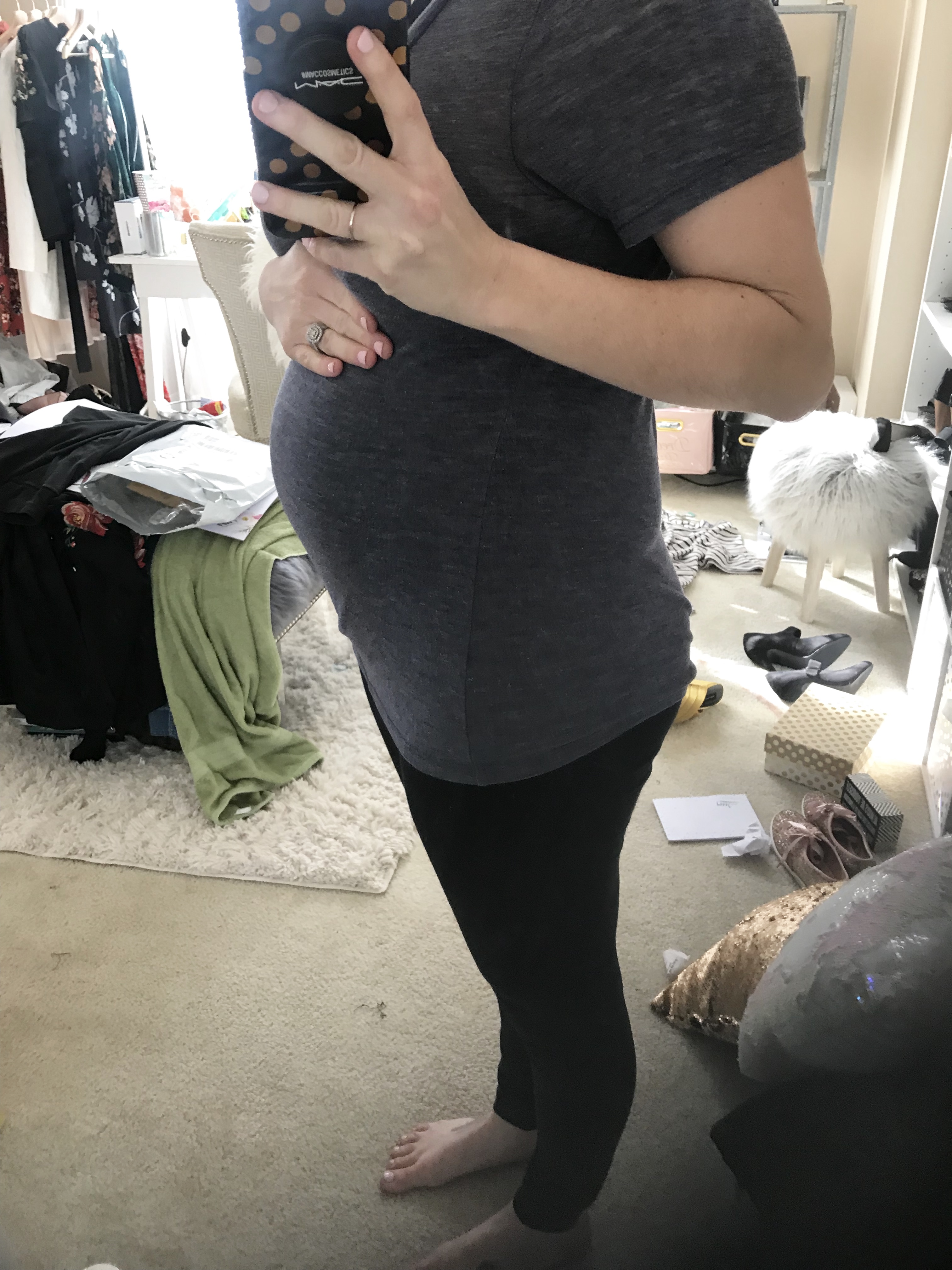 How far along: 18 weeks + 4 days
Size of baby: Artichoke
Baby's size and weight: 5.59 inches and 6.70 ounces
My total weight gain: 17 pounds
Baby's development: 
Baby is yawning, hiccuping, sucking, and swallowing!
Baby is also twisting, rolling, and punching too (and I can finally feel it more consistently)
Stretch marks: I have a few on my side from one of my last pregnancies but luckily nothing significant.
Maternity clothes:  I'm full blow PREGNANT looking now. Like literally, this bump came out of no where! Still living in leggings, maternity jeans, and tops that I've just sized up in. I like to wear camis a lot of the time because bras suck.
Gender: Girl. Still nameless.
Movement: So much movement!! Z has felt her a few times but the kids haven't yet. But I can't believe how crazy she's going in there.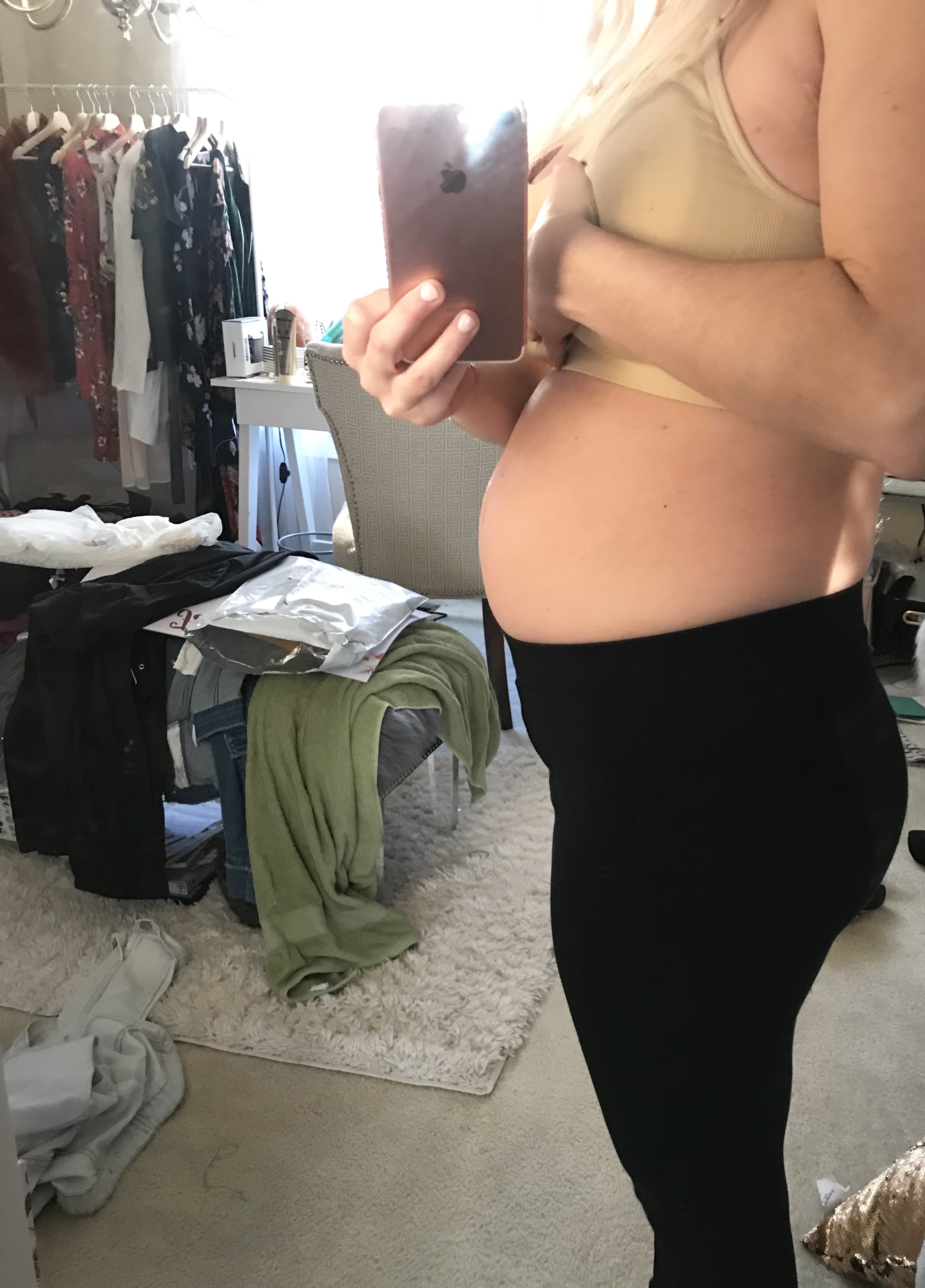 Sleep: I suck at sleeping so still taking a half a Unisom nightly.
What I miss: feeling good in my clothing. Don't get me wrong, I pick out the best maternity options I can. But me and weight gain don't do well together. I also really missed living in Georgia when I was there. I didn't get to go to "my" town but just being in that airport brought back so many memories.
Food cravings: I've been hating on meat. So not really a craving but against it. I've always been iffy about meat but after this weekend, I'm totally disgusted by it. They accidentally served me pulled pork instead of pulled chicken and then the pulled chicken looked disgusting and I wanted to vom.
Symptoms: Back pain is out of control. Dizzy and lightheaded. Super tired in the afternoons.
The siblings are: ready to feel the baby but I don't think they'll feel her for a few more weeks. P is still constantly trying to touch my belly and woke me up super early this morning to "see if she could see the baby growing". How can I even be mad about that?!
High of the week: Feeling her move as much as I have <3 I haven't felt super connected to this baby yet so I think now that she's moving and it feels more real, I'll start to feel more of that motherly instinct. And if not, that's okay too. It will come eventually.  
Low of the week:  Just pure exhaustion. And my house is a mess and I don't know where to begin. Exhibit A: my office in those pictures up there. #reallife
We have the big mid-pregnancy ultrasound next week and I'm super excited to check up on her! Z has never been to that one with me so it will be cool for him to see all of the things they show you! Have a great weekend babes and I'll see you Monday! xo
Previous weeks: