One in a Melon First Birthday Party
Happy Tuesday babes! I am SO excited to finally share the details of the One in a Melon First Birthday Party I threw a few weeks ago! Being my only summer baby, I knew I wanted a super, over-the-top "summery" birthday party. And after tossing around a few different ideas, I decided that this was the theme I wanted to go with. Even better? I realized I brought her home from the hospital in a watermelon outfit so it was the perfect way to celebrate her turning one!
So let's break it down by category.
Outfits:
A girl has to look her best and I kept seeing the cutest rompers and such. So she did a few costume changes throughout the party (babies get messy anyways, right?) I also used an outfit for her cake smash photo shoot and other little photoshoots I did in the backyard. So she definitely got use out of them! Here are all of the outfits I ordered:
Birthday crown: Her crown was handmade by Little Blue Olive and she has the most adorable pieces! Crowns, hats, Mickey ears and more! You can also use a discount code to save some $$ 🙂 Use SAMANTHALBO!
My husband and I also ordered watermelon gear: linked my shirt here and his is sold out but linked a similar option here.
Dessert bar: I actually made this watermelon stand for her cake smash photo shoot but wanted to use it for decor at her party too. And it was super easy to make. I picked up 4 crates and painted them white. We had extra wood lying around from a kitchen renovation but you just need two thin pieces of wood for the sides and one for the top. Nail gun all together and voila… watermelon stand is ready for use! I thought it would be cute to switch the sign to "Lemonade" and let my kids have a lemonade stand when we were finished with the party so to me, it was worth the money.
I had a cake and a smash cake made for the birthday girl, as well as cake pops and macaroons. I purchased apothecary jars and filled them with different types of watermelon candy; Airheads, Salt Water Taffy, Tootsies, and Sour Patch Watermelons. This was a big hit!
I purchased her cake topper on Amazon and I've linked it here.

Activities: 
Of course I had to keep the kids entertained so the backyard was transformed into their own little playground!
I stuck with the theme and purchased a watermelon pool, sprinkler, bounce house, and a piñata! I filled the piñata with PlayDoh, Squishies, and candy. And for the grown-ups, we had cornhole… and adult beverages.
Food: 
Dinner: My MIL chose a few watermelon recipes to make, including Spicy Watermelon Salsa, Watermelon and Brie bites, and Watermelon cookies. My mom made a fruit salad and cut the watermelon into the shape of a basket. I also had watermelon cake pops made and cake, of course! We kept everything else simple with pizza, boneless wings, pasta salad, chips, salad, etc.
Decorations:
Centerpieces: My mom made these centerpieces for the tables and they were super easy. She just cut a hole out of the top of the watermelon, added a little water and picked some flowers from her yard. Easy peasy and they looked great!
Balloons: I ordered a few different balloon kits: this One in a Melon one came with all of the letters and one of the watermelon balloons. The other kit came with pink and green latex balloons and 2 watermelons. And then I grabbed individual letters for her name and a "One" balloon too. I had originally planned to put the "One in a Melon" one outside but it was SO hot that day, they kept popping! So inside it came.
Banner: I ordered this burlap banner and used it for her cake smash and then draped it across her high chair for her party. Her cake topper came with a banner that I used outside as well.
Paper products: I ordered 2 sets of paper products and then picked up a few extra packs of utensils and plates at the dollar store. Linked the paper products pack here and straws here.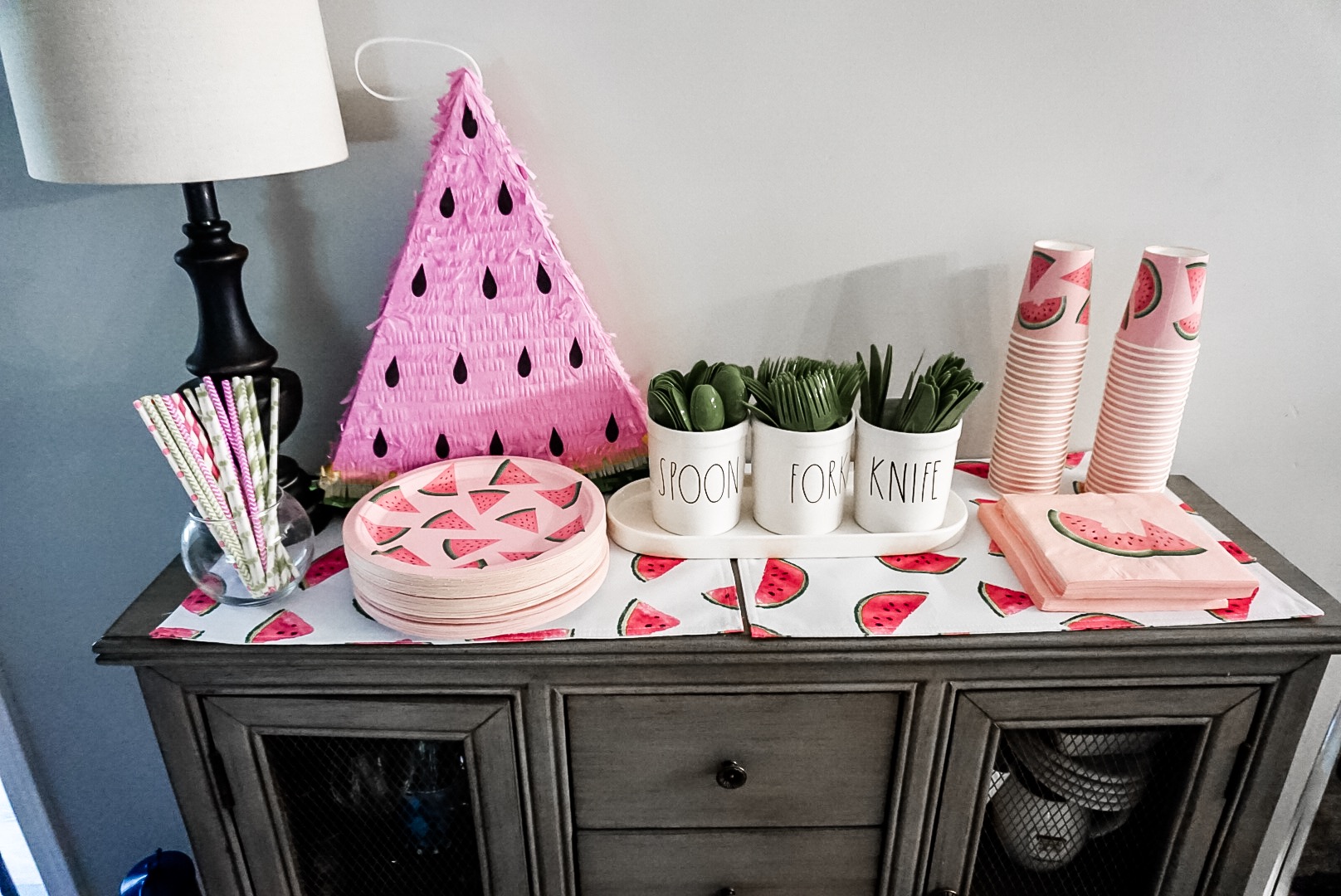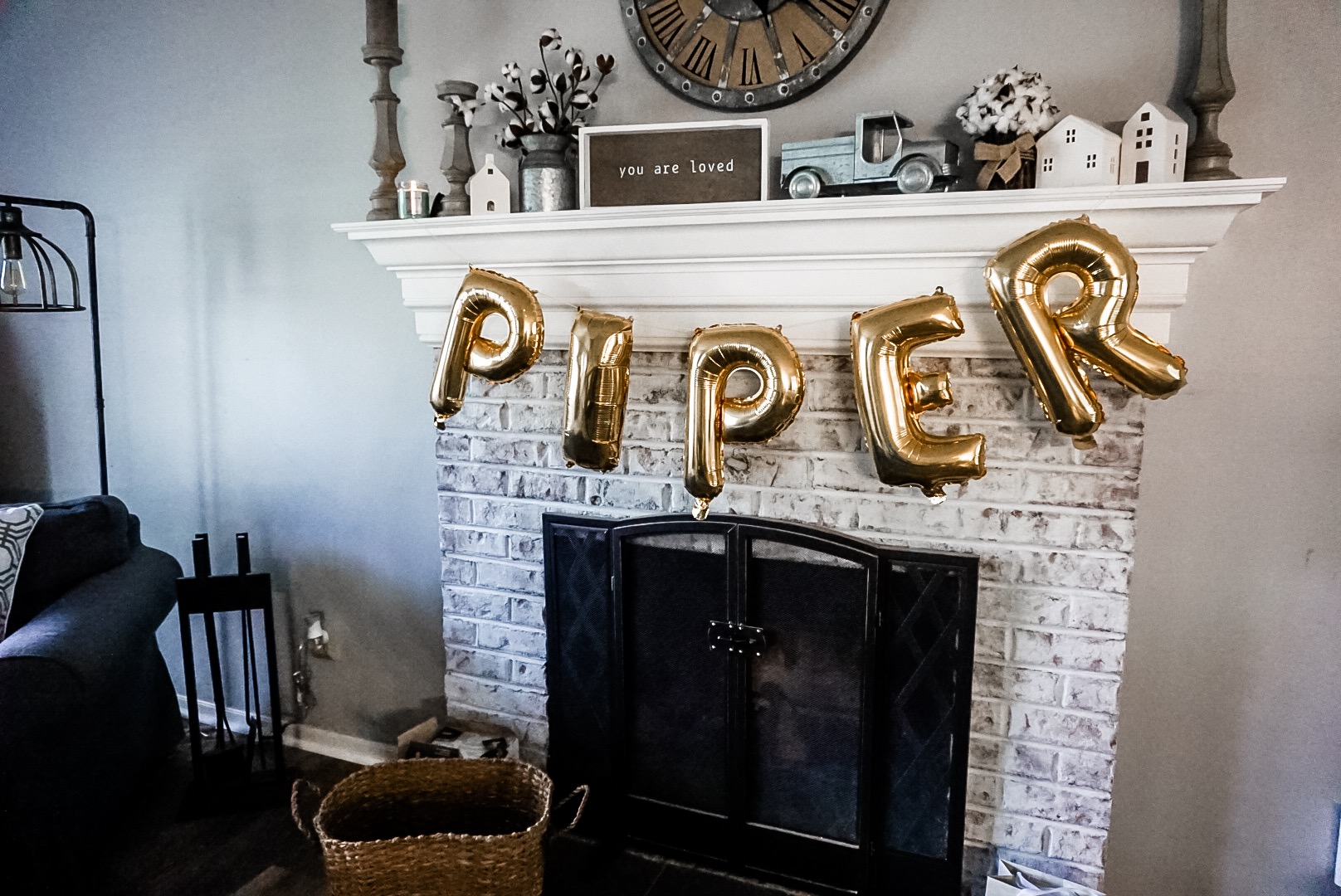 Book:
I purchased this book so that everyone in attendance could sign and leave a little birthday message and she could keep it forever. I made a sign on Canva and then printed it out and used a frame I had lying around. I can't wait to give it to her when she's older!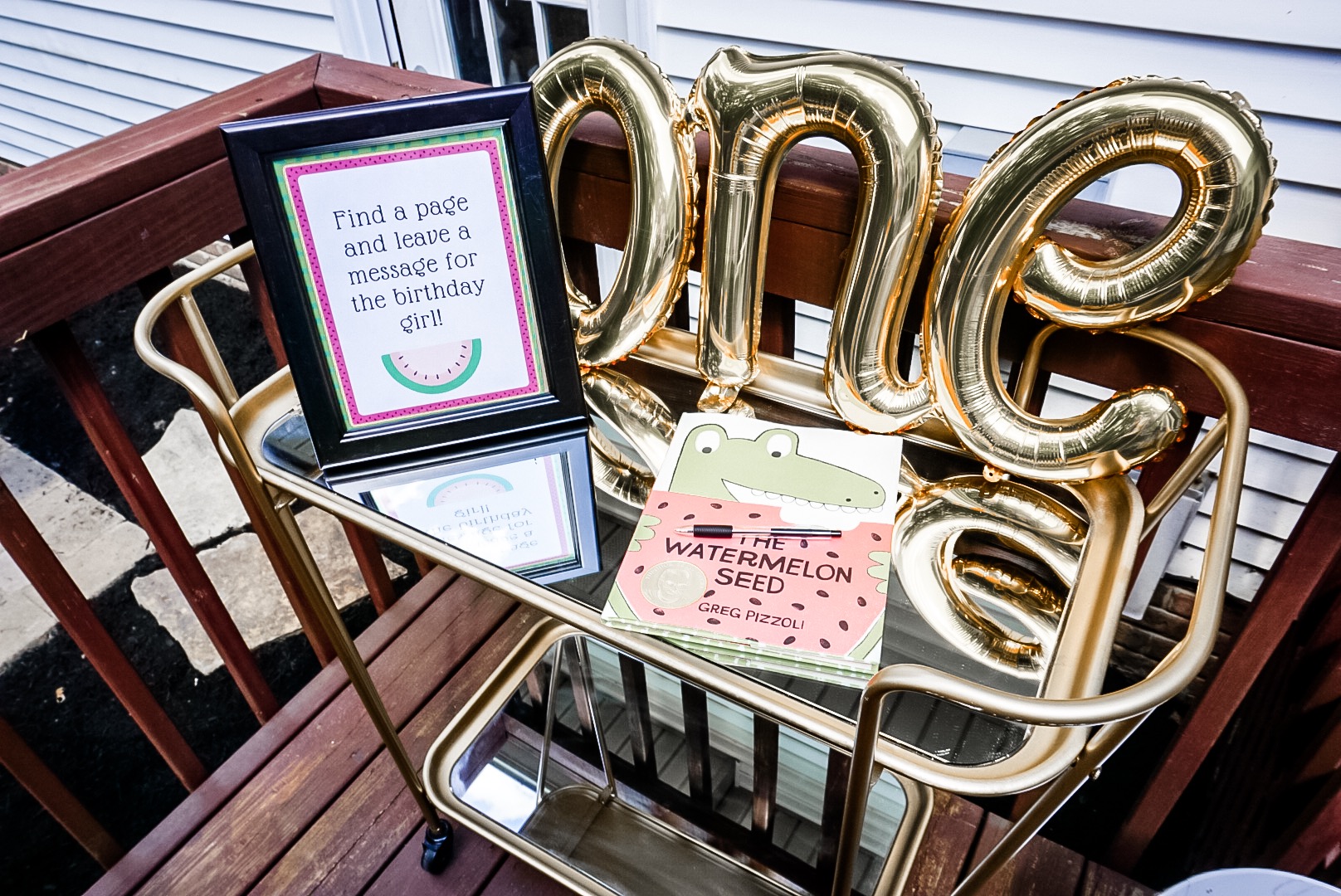 I had SO much fun planning this One in a Melon first birthday party and I can't believe it's already come and gone! But I hope you enjoyed this post and it inspired you if you're also planning a watermelon themed party 🙂 XO