Watching OITNB. Love it or hate it. But I love it and I'm going to be watching it every chance I can get. When the kids are sleeping of course…
Getting ahead on work. Because next week is a short week due to our trip to Maine. I can't believe it's finally here!
Finding a dress to wear to the wedding. I have a few laid out but don't love any of them. I need to find one ASAP… time's a ticking…
Purging. Maybe it's the fact that I can't walk through my house without stepping on an army guy or dinosaur, but I need to get rid of some stuff. Toys, clothes, you name it. Things need to find their places and stay there, because I'm sick of living in tornado aftermath.
Reading. I've made some headway on one of my books… only three more to go.
Taking time to breathe. I stress myself out way too much. And way too easily. My kids drive me crazy but at the end of the day, they're kids. And I need to stop worrying about so many other things and just be in the moment. Easier said than done when the kitchen needs cleaned, laundry needs put away and lawn needs watered. But it will all get done and that's why God gave us coffee.
Having a wine night. The girls are coming over Saturday for a little wine. Or a lot of wine…. depending on how our weekends are going by that point.
Working on something that needs to be done. I saw a fashion challenge a few weeks ago and I've been dying to try it. It might make me miserable for a few weeks but I think it's going to be good for me. So I'll be planning all of that out.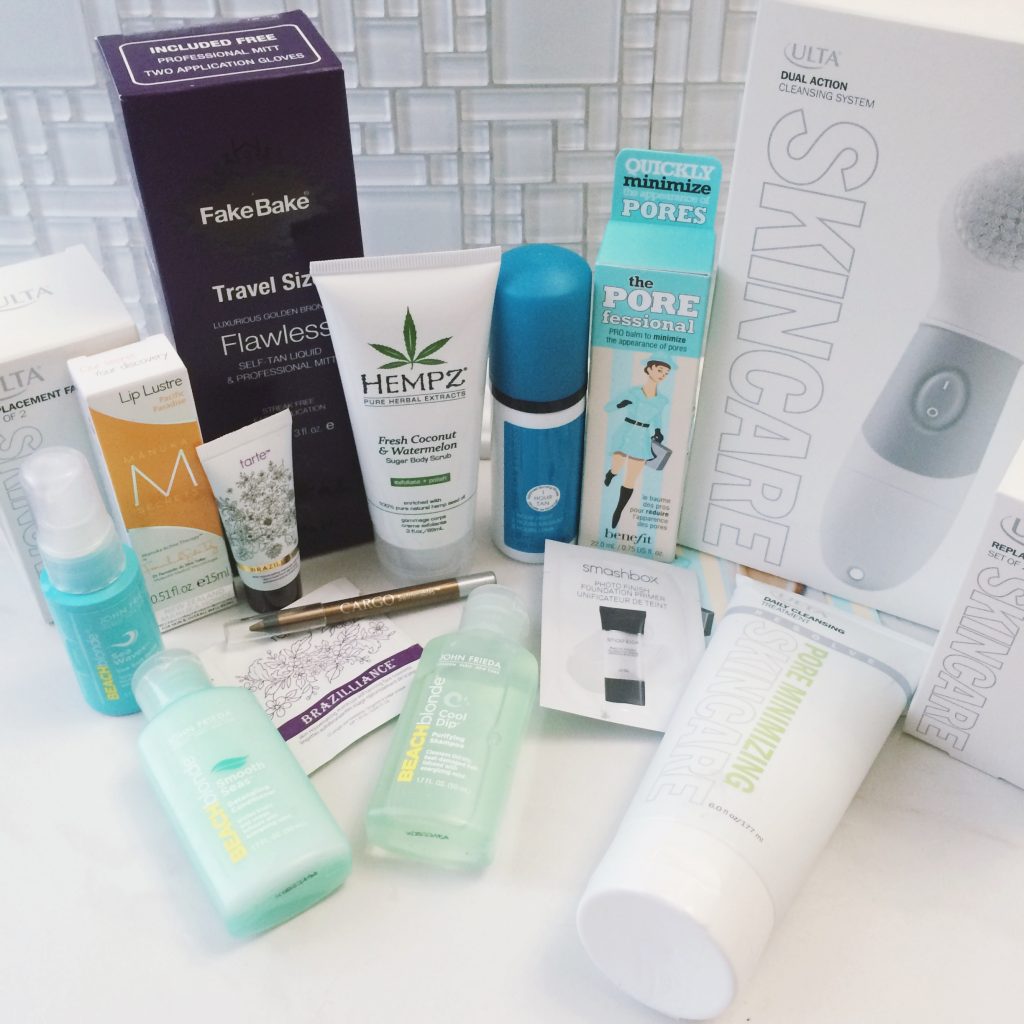 Trying my new products from ULTA. I used the face washer (what's the technical term!?) last night and LOVED it. Confession: I usually just use a makeup remover wipe and go to bed. But I need to start taking better care of my skin and I hope this works. Excited to try all of the other stuff too 🙂 Ps: I only paid for the POREfessional, cleansing system and cleanser. Ulta products were buy one get one free and the self-tanner pack was a happy hour freebie when you spent over $50. And then the John Frieda samples were free when you spent over $65. Then I had the $3.50 off $10 coupon, plus free shipping. So moral of the story, shop ULTA online!!
Watching the CAVS. I may not have nails and be 600 pounds by the end of this series. Come on boys… our city needs it!
Getting ready for my mom's arrival. Which means extra cleaning, especially dusting! (Mom if you're reading, don't judge the mess when you get here).
What are your plans this weekend? Hopefully something fun 🙂 See you Monday! xo