Farmhouse Kitchen Spring Decor
I used to hate spring. There, I said it. I know everyone loves it because it's finally warm, it's stopped snowing, and we can actually spend time outside. I think I used to hate it because the slushy mess of melting snow and muddy grass bothered me. But I digress. I actually enjoy spring now and since we just redid our kitchen this past summer, it's the first time I've actually been able to add farmhouse kitchen spring decor into my rotation!
Y'all know I'm not a huge fan of color. I like to keep things very neutral and chic. However my husband told me we needed color; "It's spring! It's supposed to be colorful" Okay fine, I'll add a little color in here! We compromised and I added just enough color where it wasn't overwhelming but enough to be bright and cheery as we await warmer weather and Easter.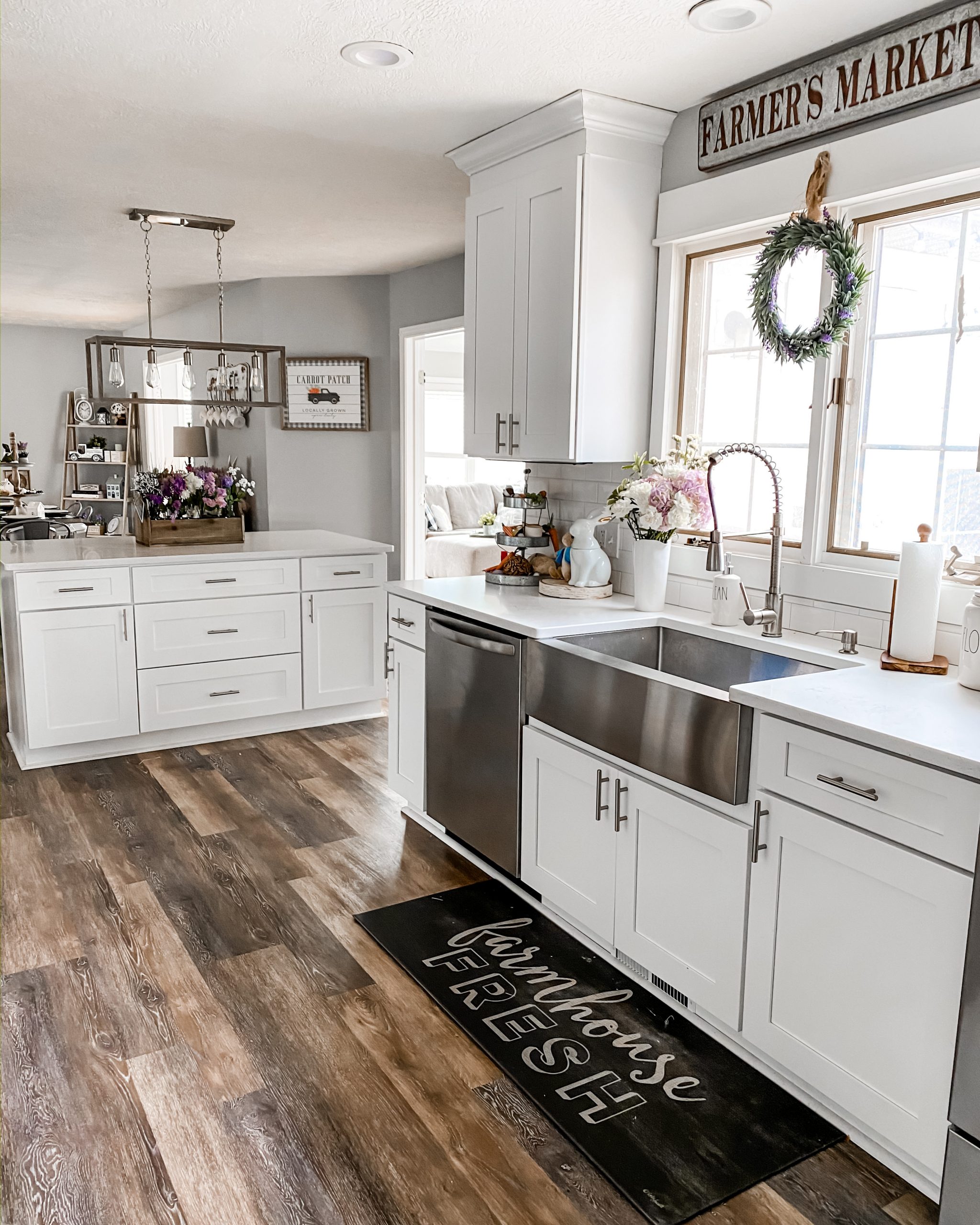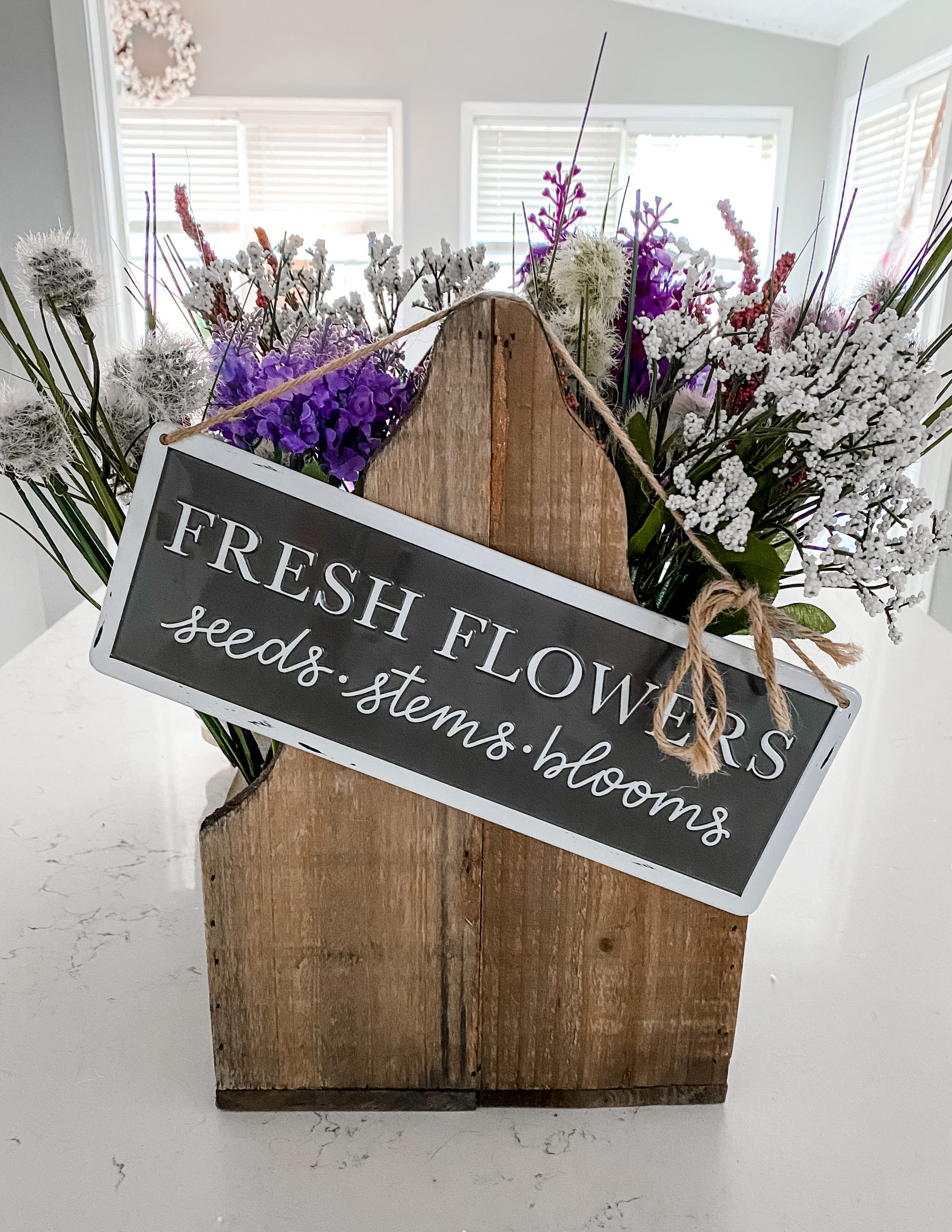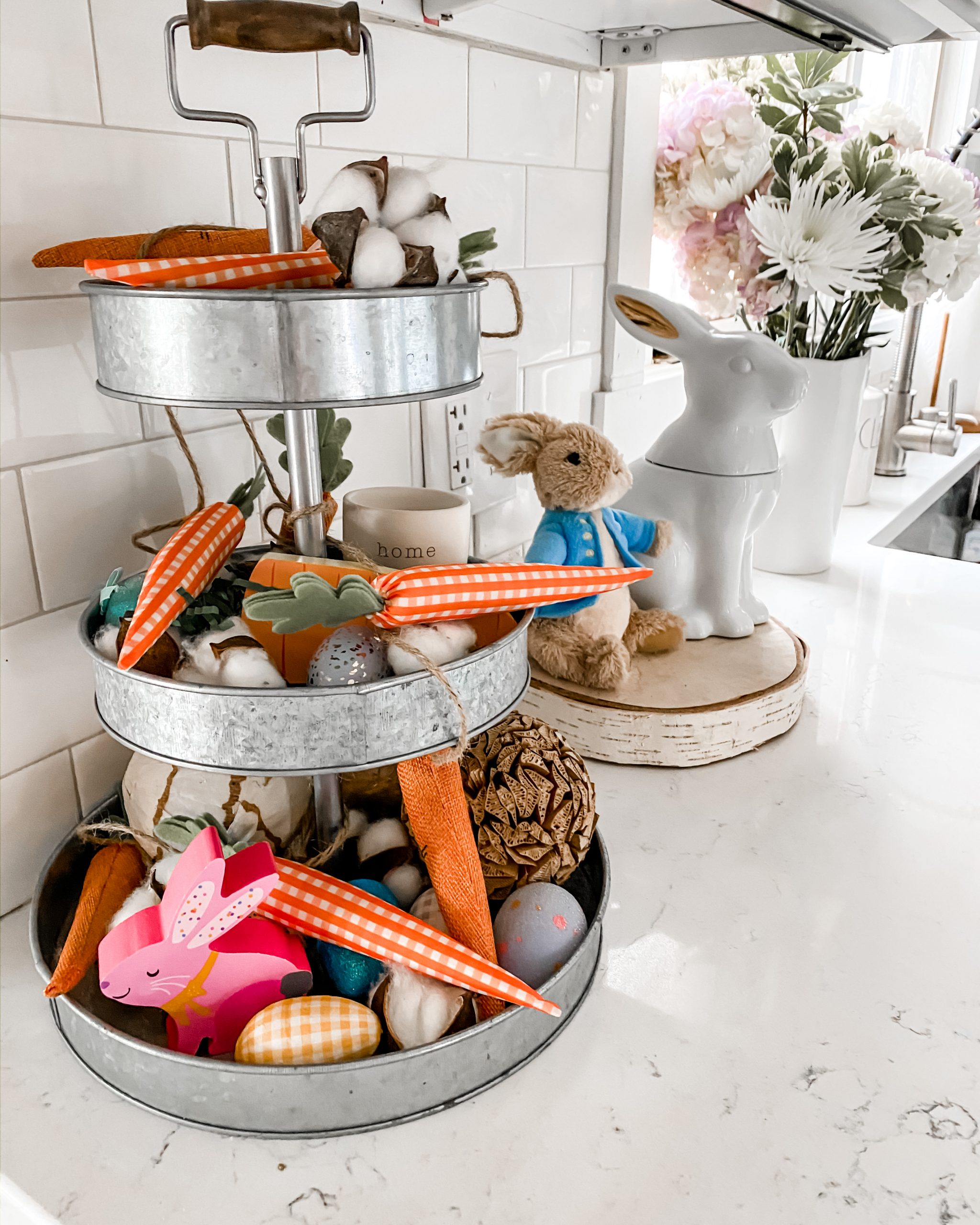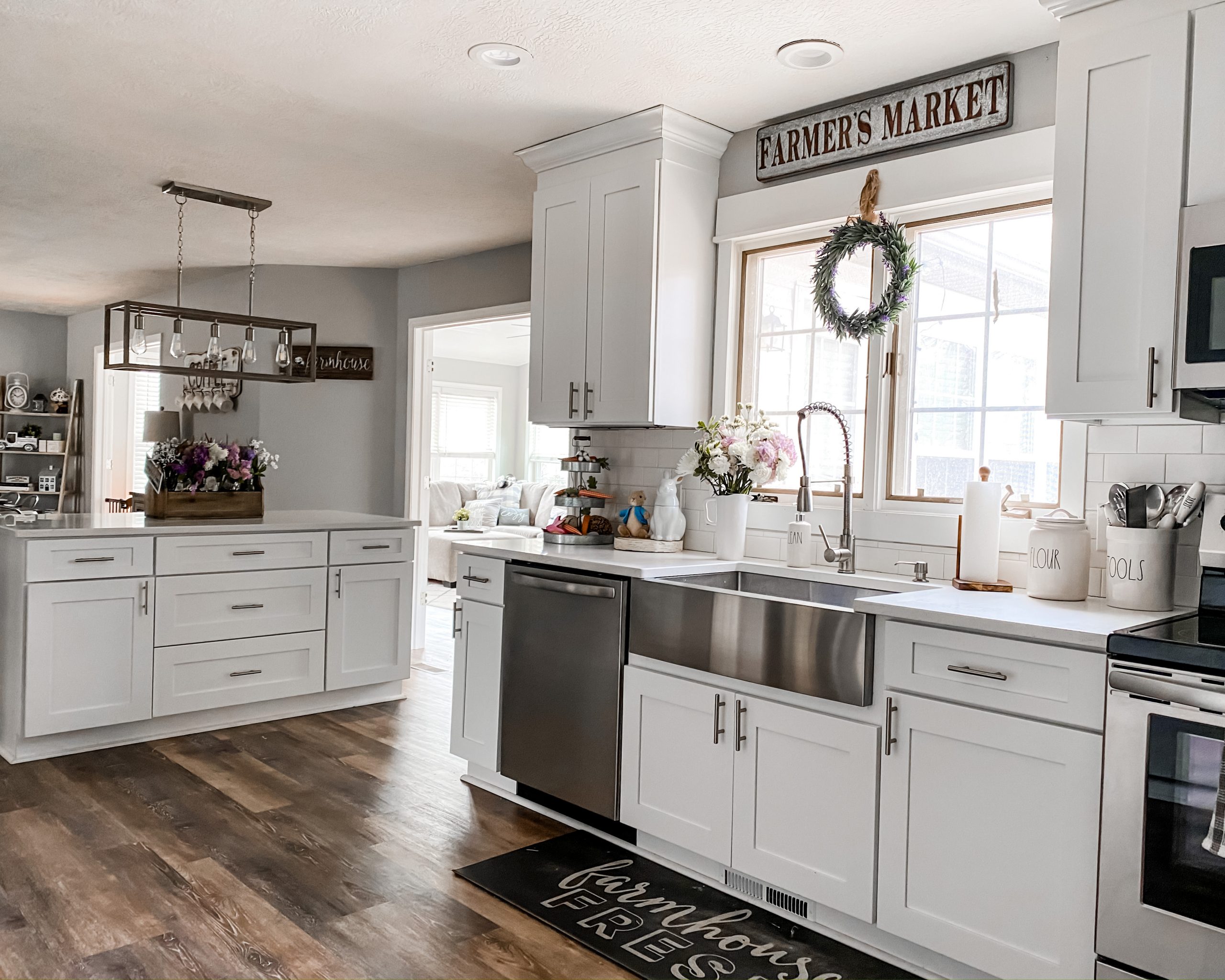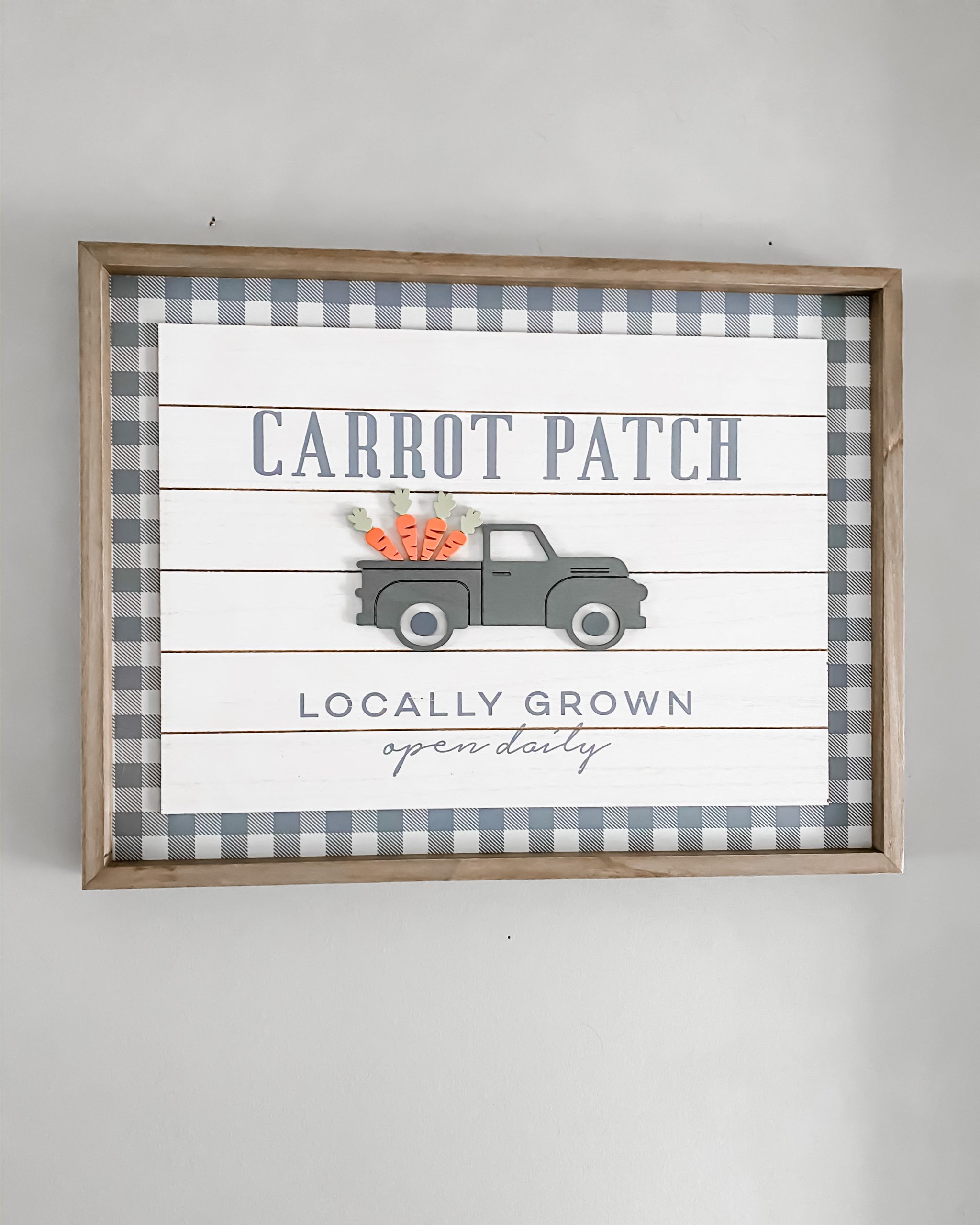 I added a command strip hook over the sink during the holidays for my Christmas wreath and decided to just keep it up and rotate a different wreath each season or holiday. This is actually a wreath that used to be in the hallway but we added different decor there and repurposed this here! I used a piece of burlap to tie it and voila! Easy peasy!
Our farmhouse fresh mat is here all year round, and I love fresh flowers next to the window. If I don't have fresh flowers I have faux lavender I put in there instead. I have a flat birch log that I leave on the counter year round as well, and then just switch out small pieces. For spring and Easter, I added a small Peter Cottontail stuffed animal and a porcelain bunny cookie jar!
The metal tiered tray is one of my favorite parts to decorate. I have this smaller one on my counter and then a larger one on my dining room table. I added a carrot garland, faux eggs, a wooden carrot and bunny, and left some of the cotton to tie it all together.
Our centerpiece on our island varies for each season and holiday too. I purchased this rustic tool box last year (linked a similar option) and put mason jars in each of the slots. And then I picked up all of these flowers at the Dollar Tree. I was shocked at how cute their spring selection was! This sign is from Target last year and it's one of my favorite simple touches. I couldn't find it online but I found a ton of cute similar options, like this one!
Last but not least, I added this buffalo plaid sign; I loved that it was mostly neutral but had a little pop of color with the carrots! The perfect compromise for my husband and me 🙂
You can shop exact and similar items by clicking on the widget below! Feel free to reach out with any questions! xo