2 Year "Dating" Anniversary
Since I'm running around like a crazy person for a photo shoot tonight (which by the way is so special and it's going to be a m a z i n g ), I decided to revisit a post I wrote about the hubby and how we met.
Let me break it down for you again, in case you've forgotten:
2010-
August: We meet.
September: We start dating.
November: He leaves for Basic Training.
December: He comes home on leave and we get engaged.
2011-
January: He goes back to Basic Training.
March: He graduates Basic Training and we get married.
April: We move to Fort Drum and I get pregnant.
May: He deploys.
Yes, things moved very fast. But maybe this post will give you a little insight into our relationship and how we just fit.
My family had just moved to a new private lake community a city away from where I spent my whole life growing up. Things in my life were hectic to say the least; I was living at home, working a job just to pay the bills, and to put it mildly, partying my ass off. Although I had graduated college over a year ago, I still felt the need to act as though I never left. I didn't have much direction in my life, and it seemed as though I was just waiting for something or someone to come along and change everything; and then he did.
I had been in Cincinnati for the weekend celebrating my best friend Emily's birthday, and left early Sunday morning to make it back for Sunday Funday. For those of you unaware as to what a Sunday Funday is, I must first explain what it means in general, and then what it means to those in my neighborhood. A Sunday Funday typically means day drinking-that part is universal. A Sunday Funday in my neighborhood means starting to drink at 11:00 am, tying up 3 pontoon boats in the middle of the lake, blaring music as loud as we can, and breaking out in dance parties on the boat. Most people check out (or pass out) around 5:00 or 6:00 p.m. considering the days festivities begin so early.
Since I was the new girl in the neighborhood, this was my first Sunday Funday with the friends I had recently made. Maybe it was my nerves or maybe it was underlying personal issues, but it was on this Sunday that I would have a little too much fun (making for a Not-So-Funday-Monday). This was a day that would go down in the books as "Spring Break '94″ based on it's insanity. I wasn't the only "fun" one that day, but I'll spare the details for everyone's sake because most of it is just down right embarrassing.
Now after hearing that, you are probably wondering how the hell I managed to snag such a keeper. Well, I wasn't "fun" the whole day. I walked into my best friend and neighbor Brian's backyard and immediately noticed a boy with a pair of gorgeous green eyes that I had never met before. We were introduced, and I couldn't keep my eyes off of him the rest of the day. We talked and flirted, and even managed to take a mini photo shoot on my phone (one that wouldn't be discovered until the next day) and I knew that there was something about him that I was very interested in. Like I said, that day was pretty hazy for everyone, so it would be a few weeks before Zach and I began talking and hanging out. Blame it on the a a a a a a alchol.
Once we realized that the feeling was mutual, we were inseparable. Up until that point, I had never believed anyone when they told me when you know, you know. Well I can assure you, after spending only a few short weeks with Zach, I believed it more than ever. Soon after we had begun dating, Zach informed me he would be joining the Army and leaving for Basic Training. A lot of people questioned me when I told them we were staying together…"It's going to be hard," "You haven't known each other that long," "How do you know he's the one?" etc etc. I think I heard every comment and question in the book. But at that point, I had fallen in love with the most amazing person I had ever met. I knew he was the person I wanted to spend the rest of my life with and therefore, I was in it for the long haul. So at that point, I just knew.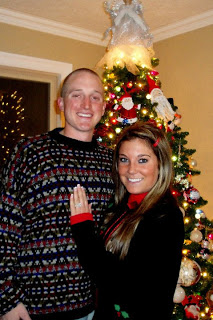 The night we got engaged

Although the Army forced us to be apart a lot sooner than we expected or would have wanted, our relationship grew from our time apart into a relationship that can make it through anything. We learned how to communicate, we learned what was important to share when he got phone privileges (which was very rare), we learned how to express our love for each other through our words in our letters, we learned to trust each other from miles and miles away, and we learned that our love can endure all.