I'll keep this short and sweet… Merry Christmas!
Last year, I was 38 weeks pregnant and missing my husband while he celebrated Christmas 3,000 miles away from me in Afghanistan.
Together this year <3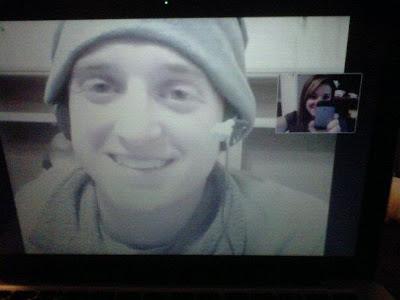 Our "Christmas photo" last year… on Skype!
This year, we're celebrating our Bubba's 1st Christmas and together as a family of 3.
I cannot even begin to describe the emotions I feel right now. Having my husband home safely, a baby boy in my arms, and my parents and brother all together is the best Christmas gift I could have ever asked for.
Bubba was beyond spoiled by Santa and family; but this child deserves the world. He has been the biggest blessing in our life and I love watching him grow.
A special shout out and thank you to those serving overseas and their families holding down the home front. May you still find joy in this year's celebration and look forward to next year when you can be together.
To those celebrating their first Christmas without a loved one, may you find strength and happiness knowing your loved ones are always there with you.
We are all extra thankful and blessed this year… hope you all are too 🙂
Merry Christmas!