This post was sponsored by Elizabeth Arden as part of an Influencer Activation for Influence Central and all opinions expressed in my post are my own.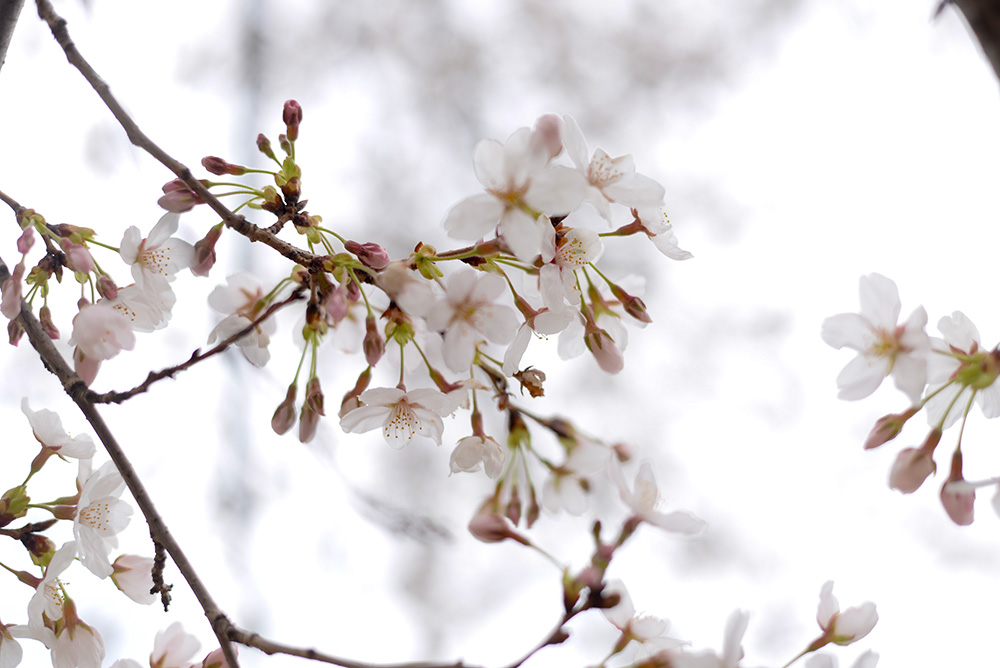 Before moving to Washington, D.C, I had never heard of the Cherry Blossom Festival or really paid that much attention to Cherry Blossoms period. But when everyone kept raving about them and how beautiful they were, I knew I needed to make it downtown to see it for myself.
I started stalking the forecast and social media channels to find out when they would be in peak bloom and kept a close watch. And once I knew when they were expected to peak, we fought the crowds and headed down to the Tidal Basin. Twice in three days #noshame… because it was SO worth it.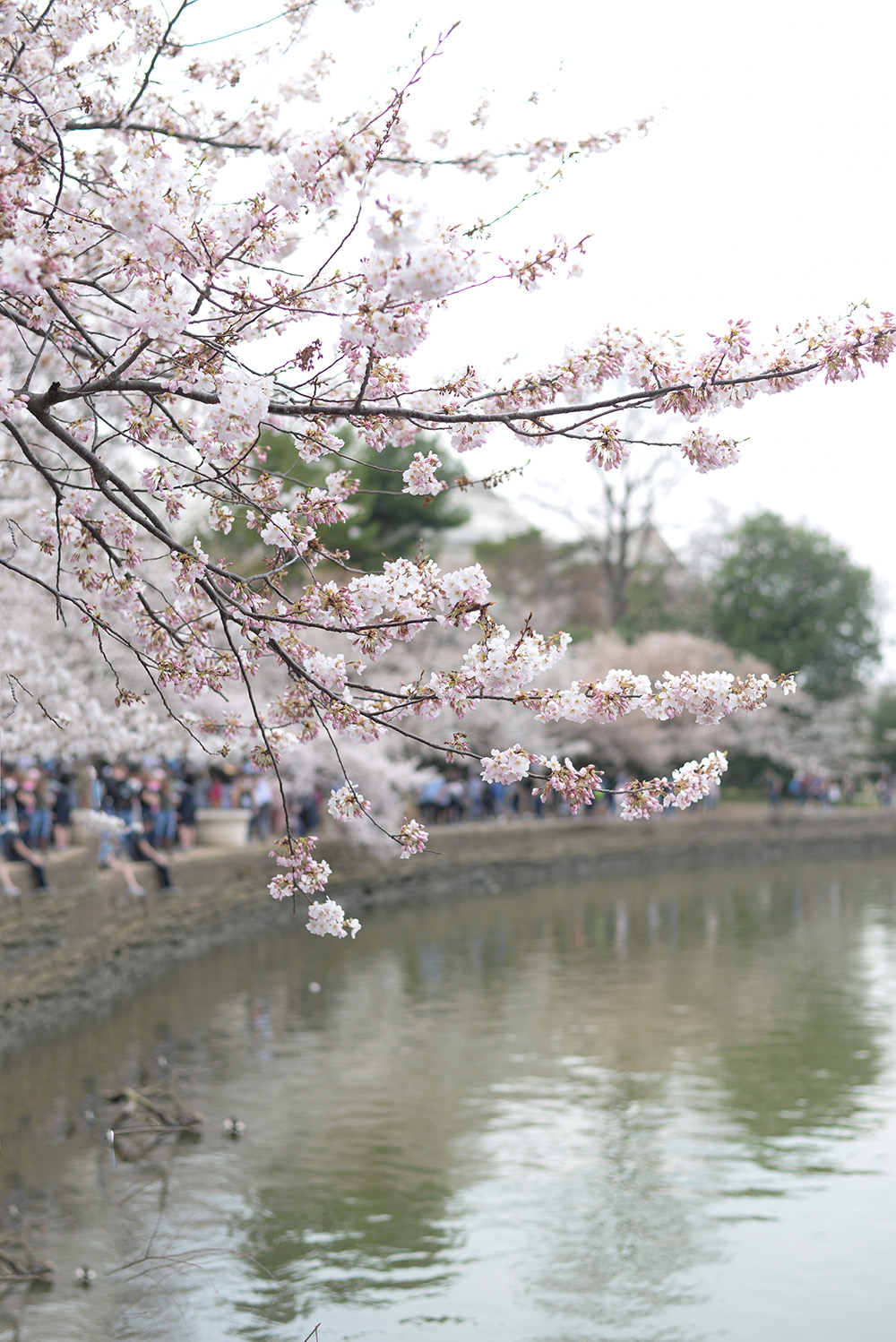 The Cherry Blossoms were given to the US as a gift from the Japanese in 1912 and each year, it draws over 10,000 visitors to see them. The Cherry Blossom Festival runs for weeks and there are bands, food vendors, races, and so much more. I had truly never seen anything more beautiful than when we were walking alongside the water and surrounded by the trees.
I mean, just look at this gorgeousness! (And you know I wasn't going to pass up a good OOTD opportunity, duh!)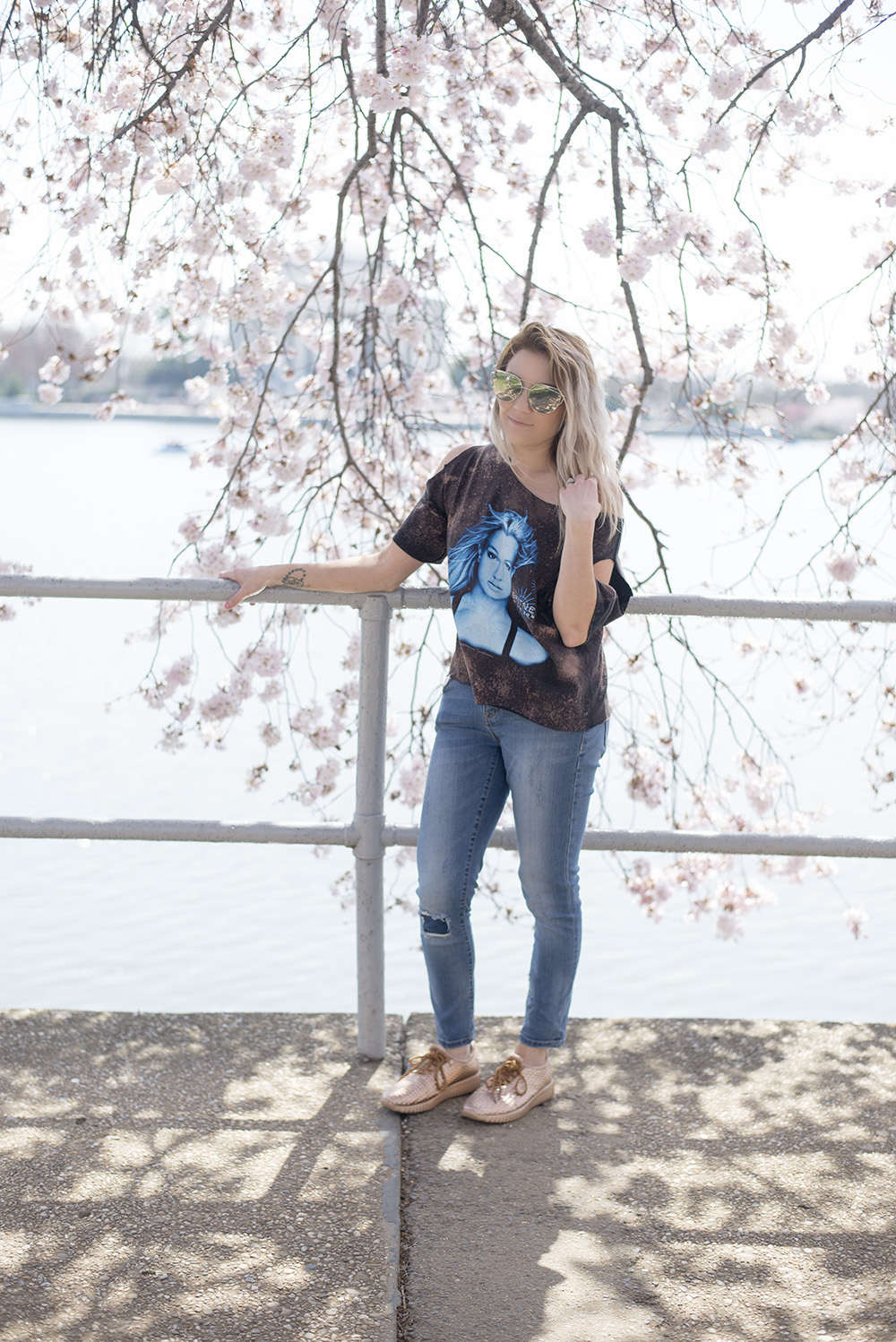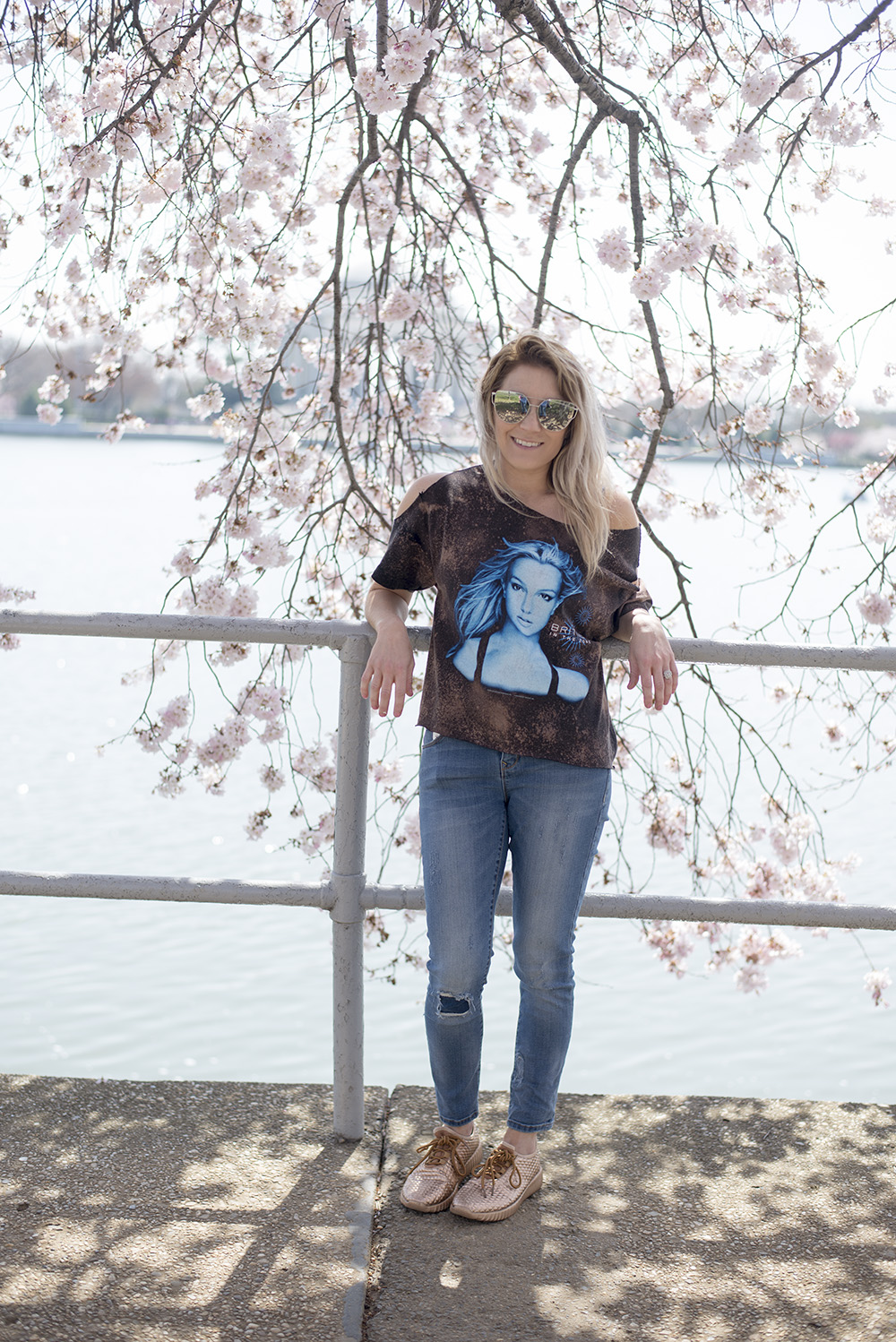 That shirt up there? I may or may not have gone a little fan girl and ordered that shirt off eBay a few weeks ago. And then DIY'd it. But I mean, Britney Spears has been my homegirl since 1999 and some of my greatest memories include her music. SO when I heard her new fragrance, fantasy IN BLOOM was being released, I had to check it out! It was actually inspired by her love for blooms so if B Spears says it's fab, it's fab.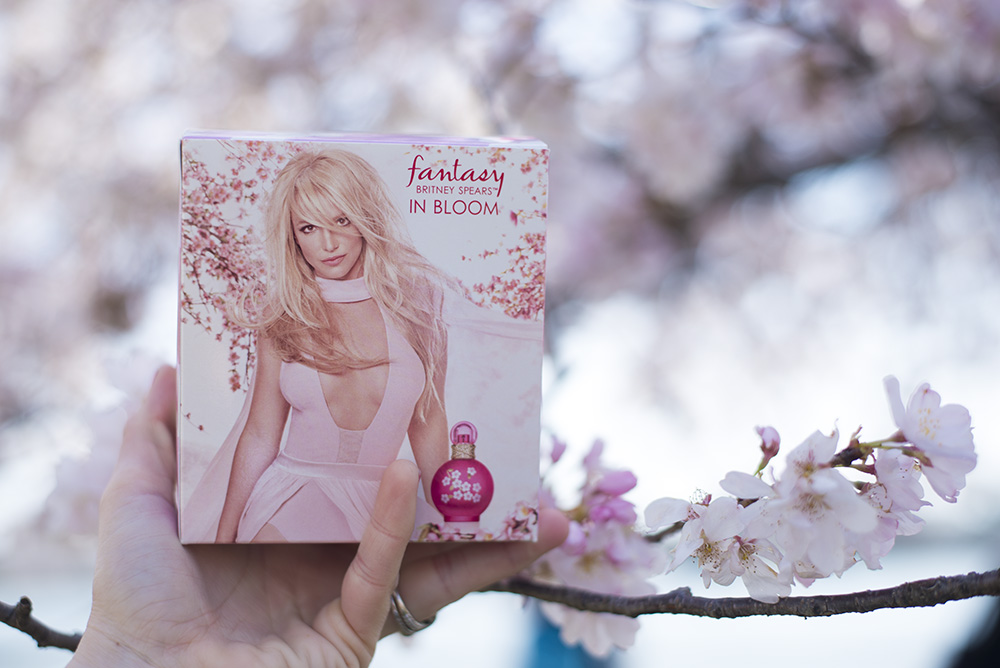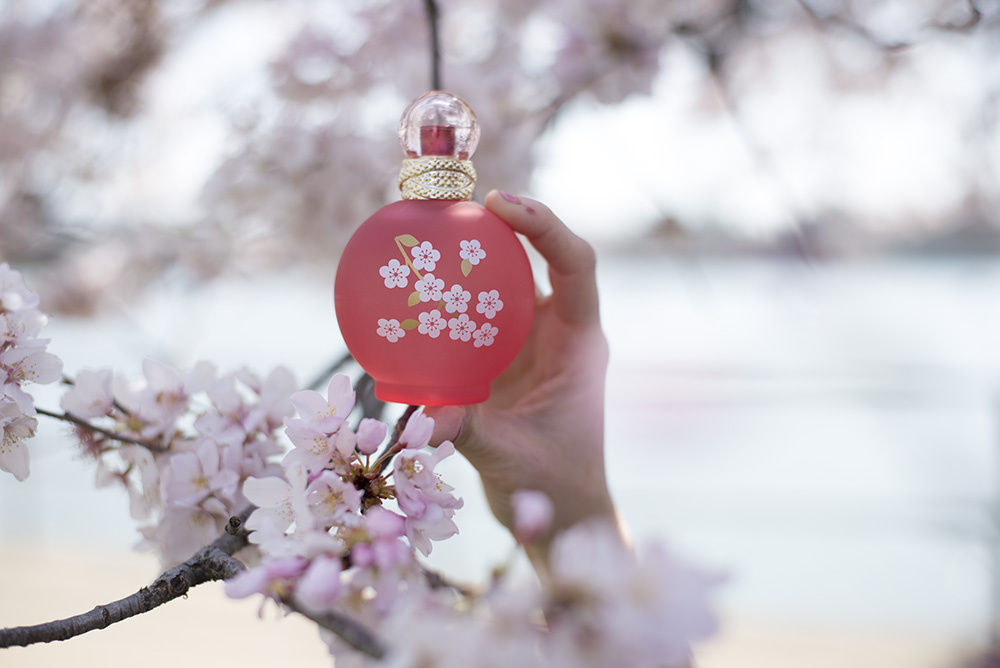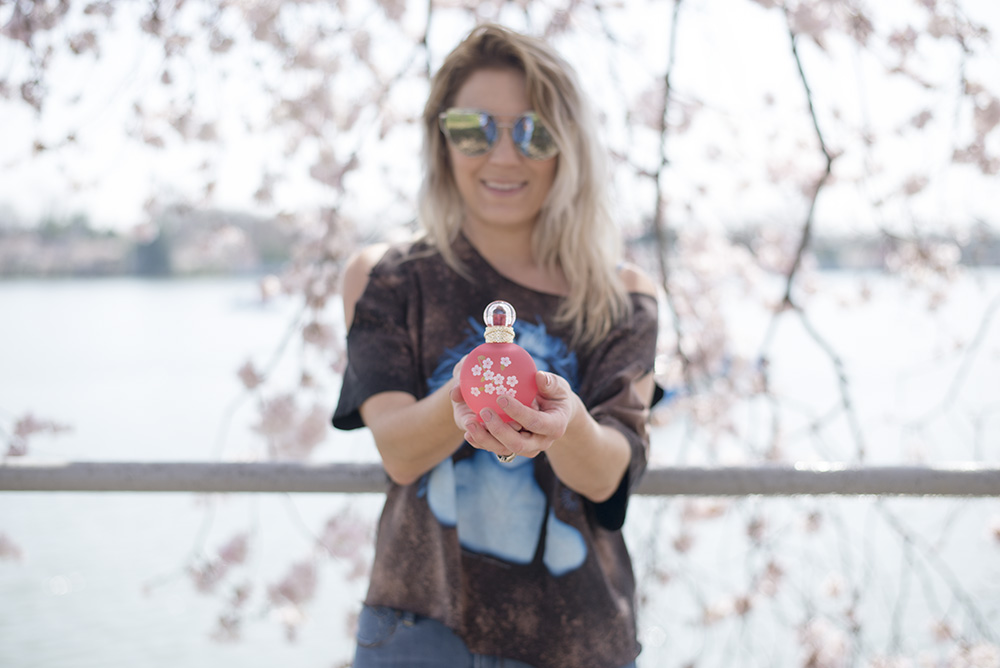 "I love flowers, and fantasy IN BLOOM gives me that fresh feeling of smelling a gorgeous bouquet. It's like a daydream in a bottle – a beautiful garden where the warm sun is on your skin and blooming flowers are all around." – Britney Spears 
The bottle was inspired by Cherry Blossoms so duh, I was already obsessed. The scent is soft and fresh but also gives off a hint of sensual and romantic vibes. Fragrance notes include berries, sparkling citrus, cherry blossom, white florals, sandalwood, warm amber and vanilla.
You can grab your own bottle at Kohl's or Kohls.com! And then once you're hooked, plan a trip to Washington D.C. and check out the blooms in real life 🙂 I would highly recommend everyone check this one off their bucket list. I could show you 1000 pictures but nothing compares to being there in person. Their beauty just can't be captured 🙂