Best things to do and see in Salem, Massachusetts
Planning a trip to Salem? Consider this your guide to the best things to do and see in Salem, Massachusetts! 
My friend and I have been talking about visiting Salem, MA for the longest time. So finally we decided to just bite the bullet and book the trip! And let me tell you, I am SO glad we did! We did everything you can possibly think of from historical tours, witch walks, food, drinks and more! So today, I'll be sharing some of the best things to do and see in Salem, Massachusetts!
We landed in Boston early Saturday morning and headed to our Airbnb in Manchester-by-the-Sea. While there are plenty of places to stay in Salem, we booked our trip a few months ago and most things in Salem for October book up a year in advance. So if you're thinking about going October 2022,  book it November 1st when they open up reservations!
But our Airbnb was charming and only a 3 minute walk to the train station. Which made it easy to jump on the commuter rail and head to Salem each morning!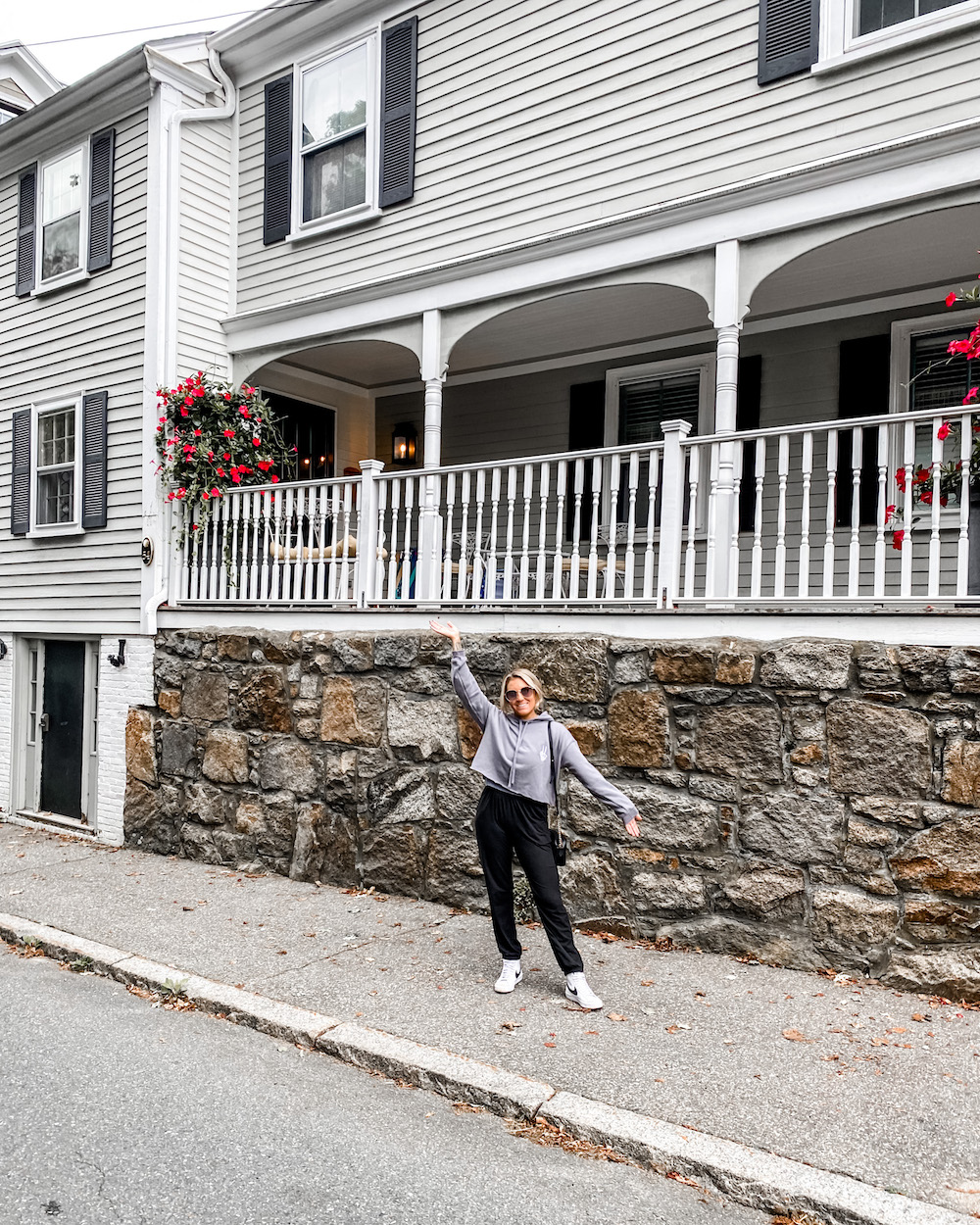 Our first stop once in Salem was Essex Street. This is where majority of things are ranging from coffee shops, restaurants, shopping, etc. If it's not on Essex, it's most likely on one of the streets perpendicular to Essex, so we figured this was a good place to start. It was pretty crowded when we arrived around 1pm! But of course this is relevant because as it gets closer to Halloween, the weekends get crazier. But we didn't have too bad of a wait to get into stores and enjoyed just walking around, taking everything in.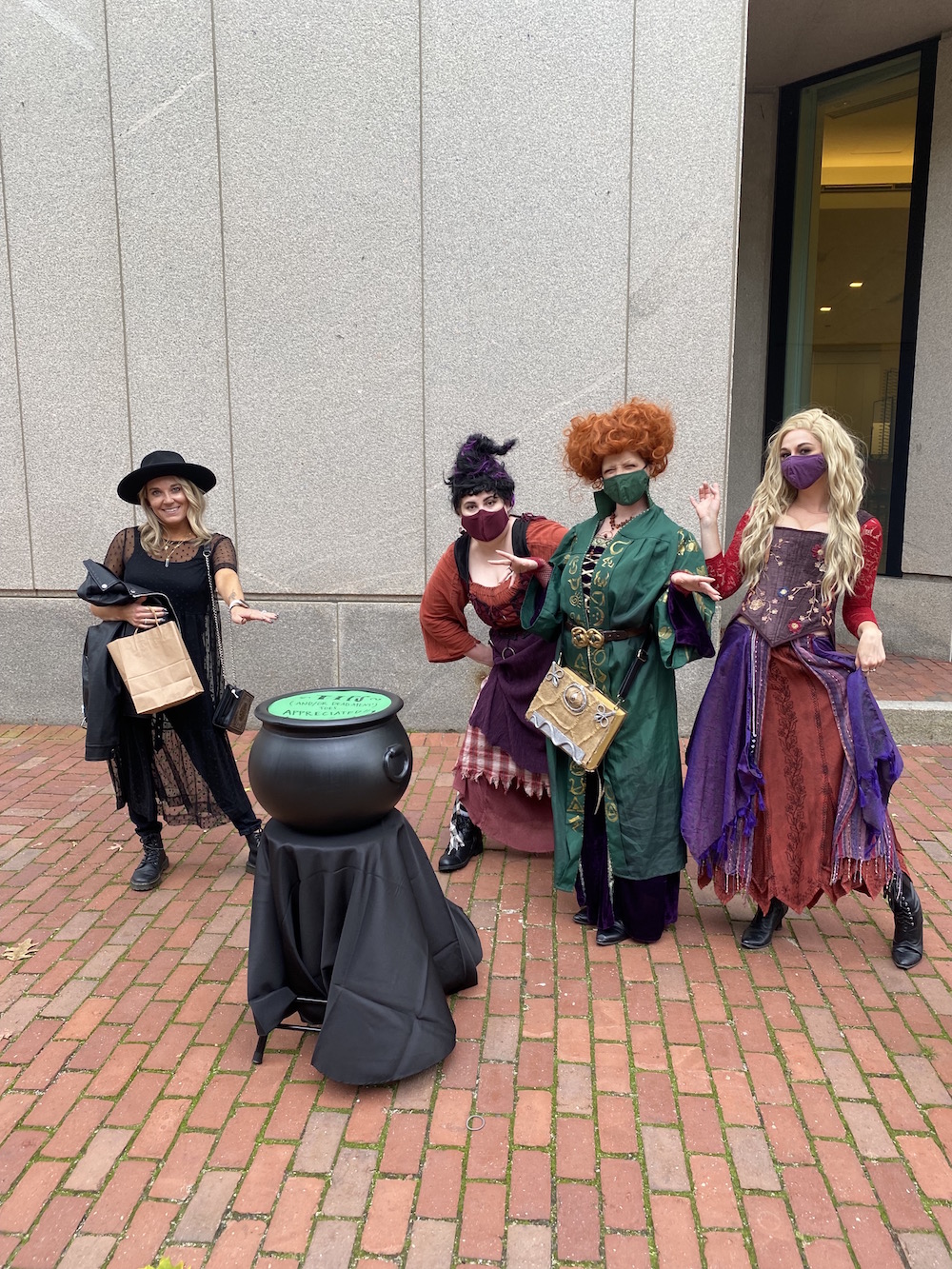 We headed to Bit Bar around 4pm to grab drinks and apps! It's a super cool restaurant; they have a ton of old arcade games you can play and an awesome patio for people watching!
Next, we headed to Pickering Wharf to do a little shopping! There are a ton of amazing restaurants and stores down there. Each store has different and unique gifts and apparel, and you cannot beat the views down there! We still had some time before our next activity so decided to do Count Orlock's Nightmare Gallery Monster Museum. If you're a horror movie fan, this is right up your alley! Memorabilia and life-like exhibits! And of course shop the gift shop at the end 🙂 No photos allowed but all the more reason to see for yourself!
We ended the night with a walking tour with Bewitched Tours. It was probably one of my favorite things we did all weekend because he covered everything; history of the city, the witch trials and more! You also visit the Salem Witch Trials Memorial and go through each of the victims one by one. And I think this is a really important part of the history of Salem. Highly recommend this tour if you get a chance to do it!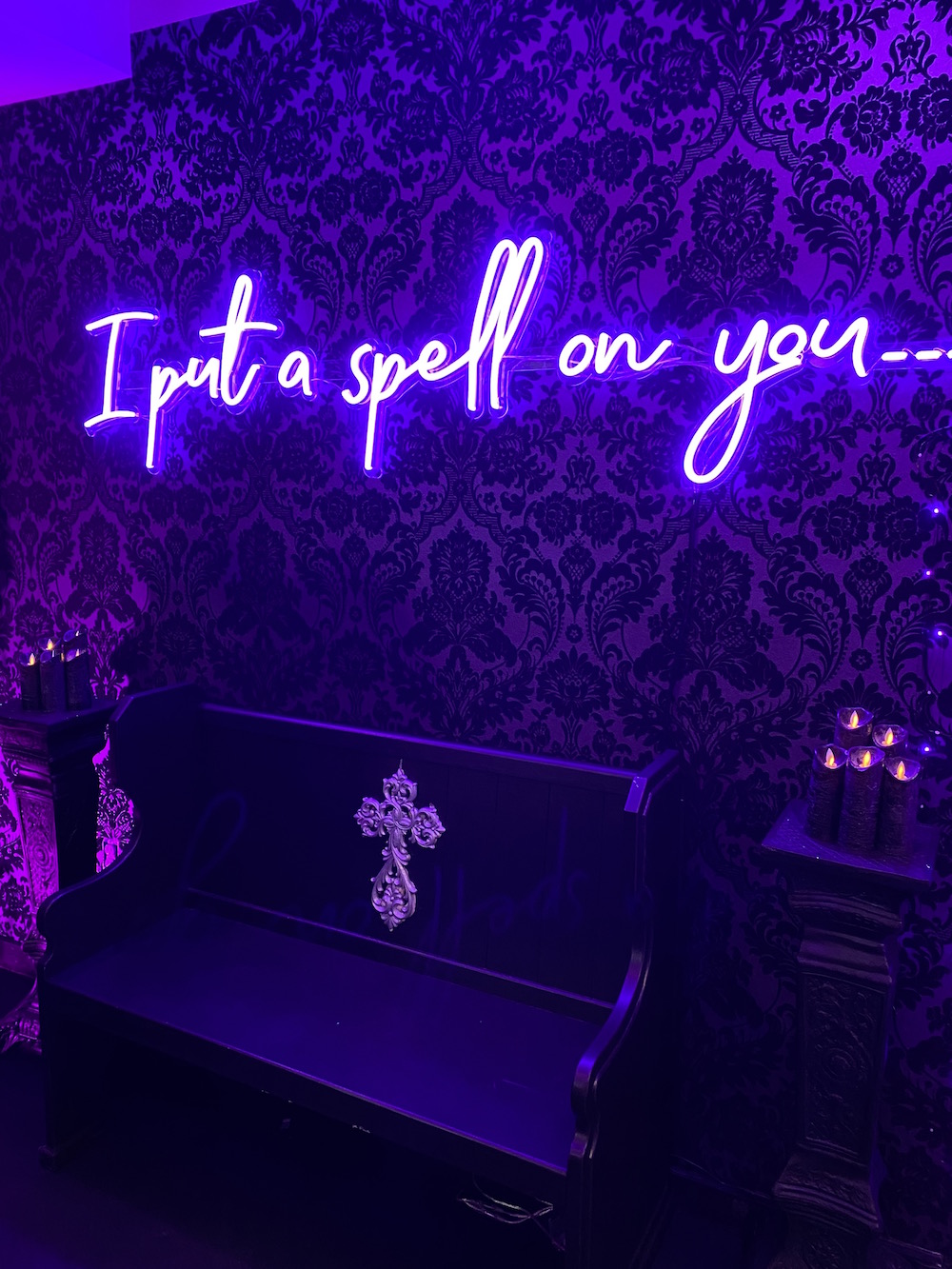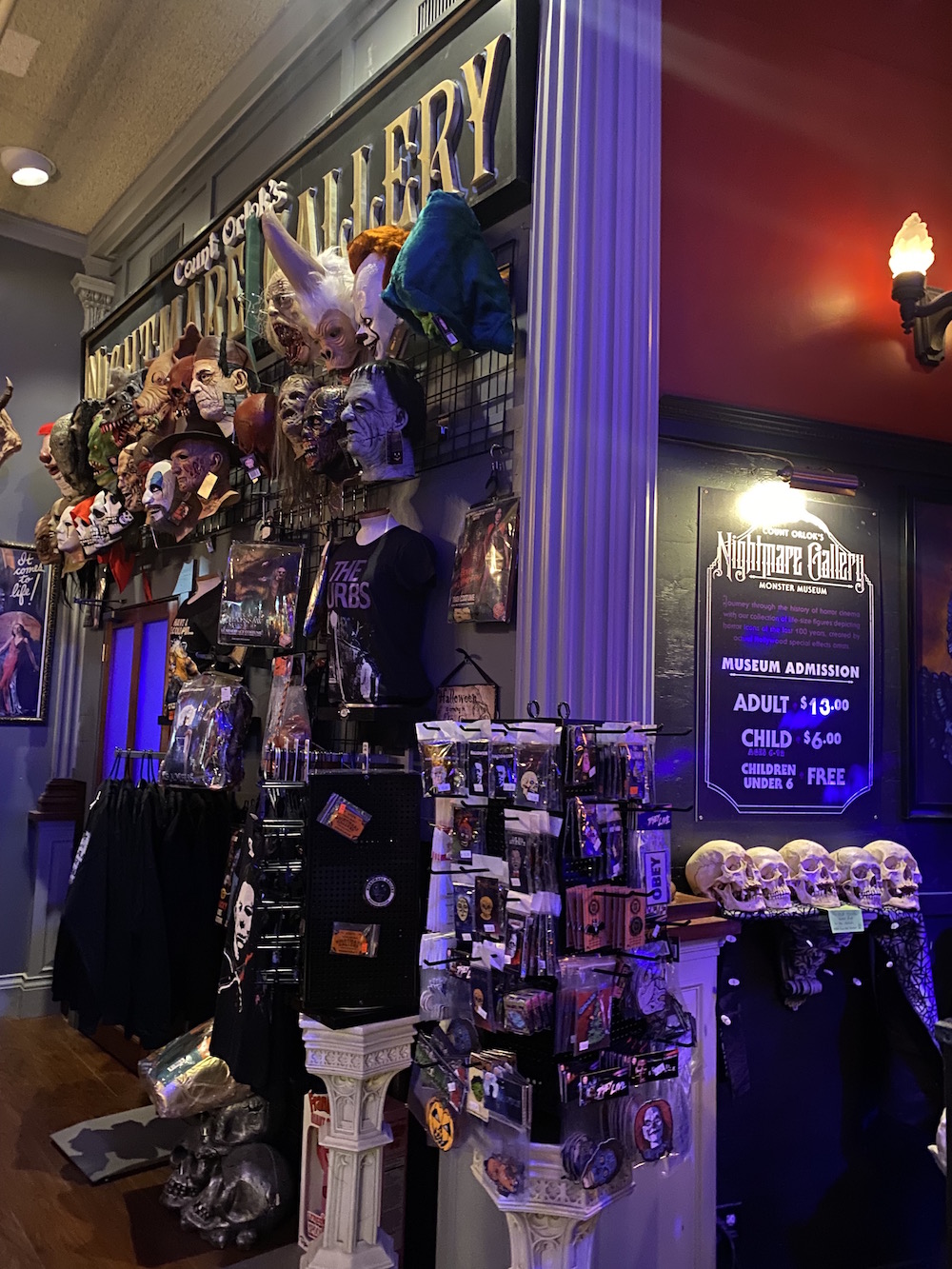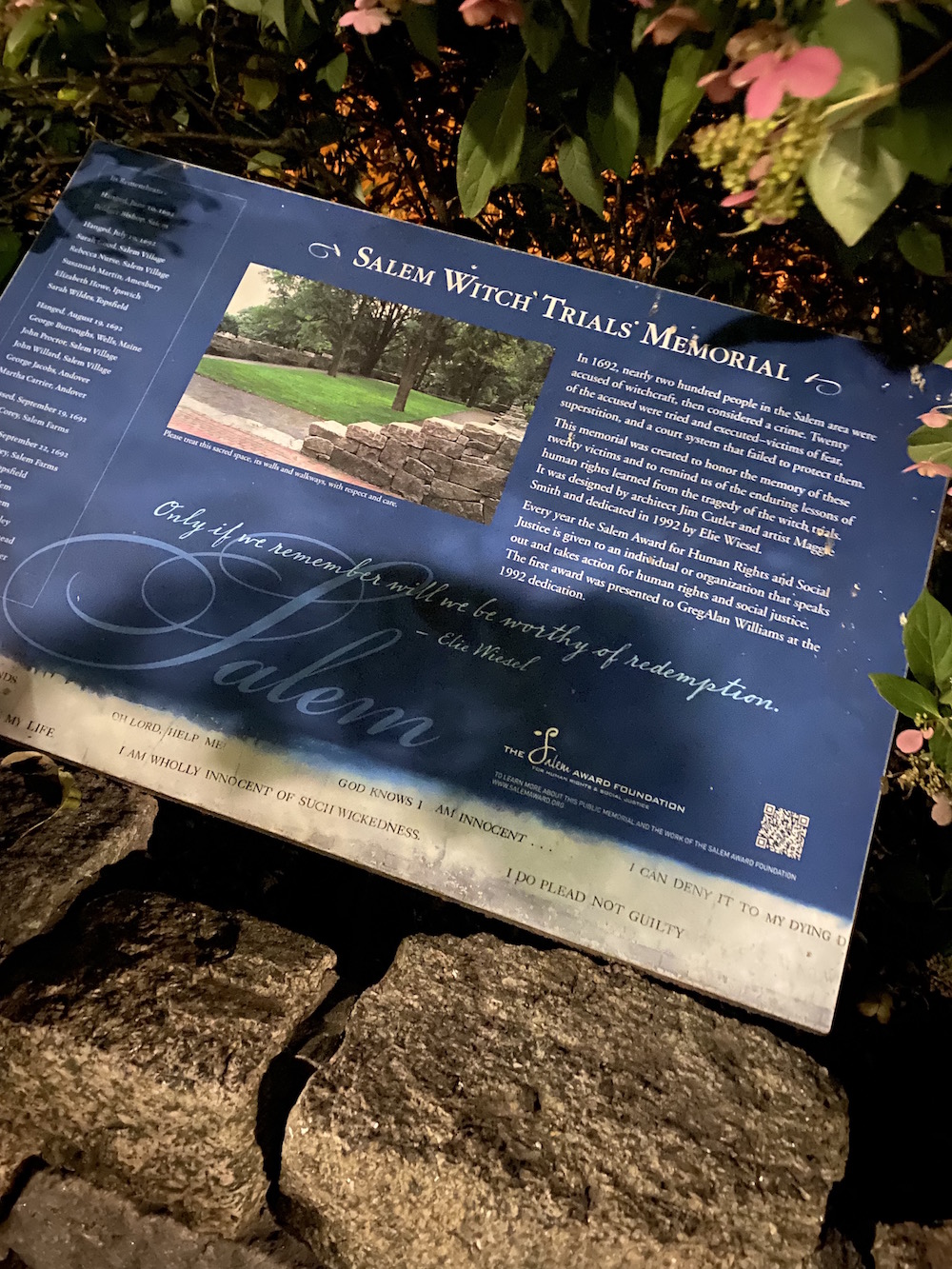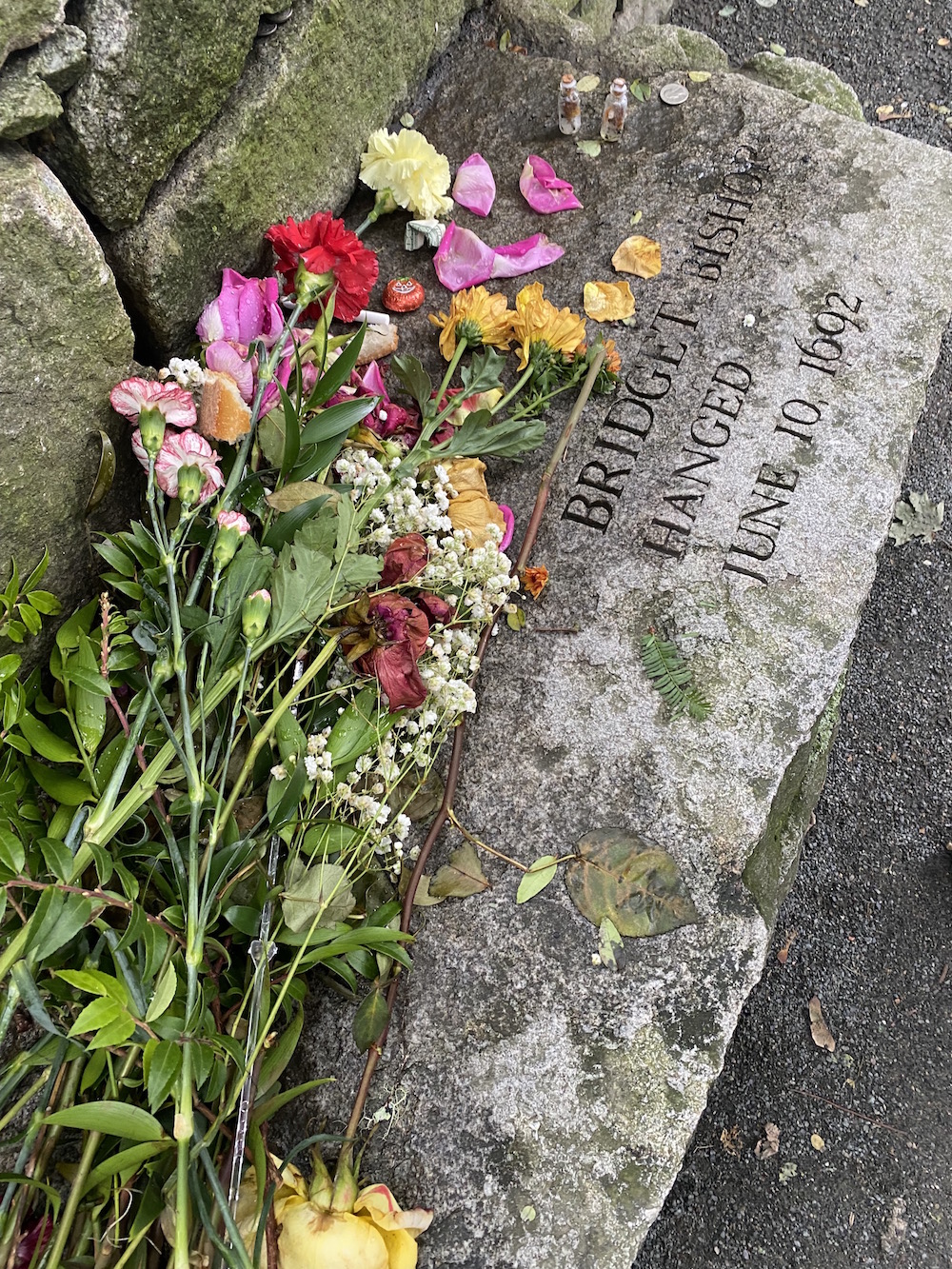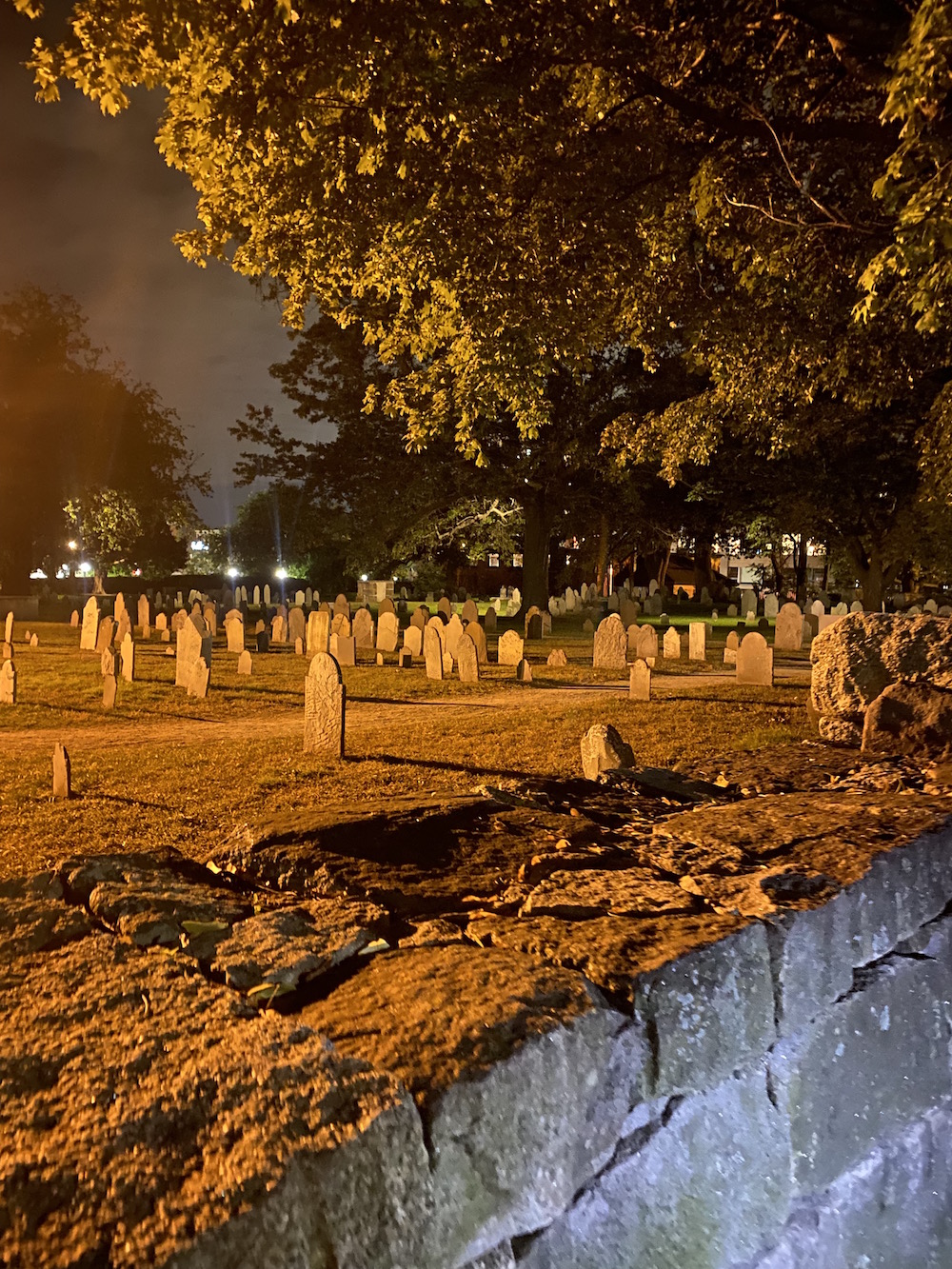 We kicked of Sunday morning with coffee from Odd Meter and then brunch at The Ledger and it was AMAZING. I had a mimosa and the Brussel Sprout Hash. Yum! They also have a different donut every week and these came highly recommended from the locals! We of course had to order one and it did not disappoint!
Pioneer Village is only open on Saturdays and Sundays so that was our next stop! It's technically walkable from downtown Salem but it would be a LONG walk. So we grabbed a Lyft and it was only about 7 minutes from brunch!
It was really neat to see the replica village and of course, the home of Thackery Binx from the Hocus Pocus opening scene! Right down the street from Pioneer Village is Max and Dani's house and honestly, this was one of the most magical parts of my entire trip. Not only is the house absolutely breathtaking and right next to the water, but it stirs up nostalgic feelings from childhood. Plus it smelled like salt water and was so quiet…totally calming!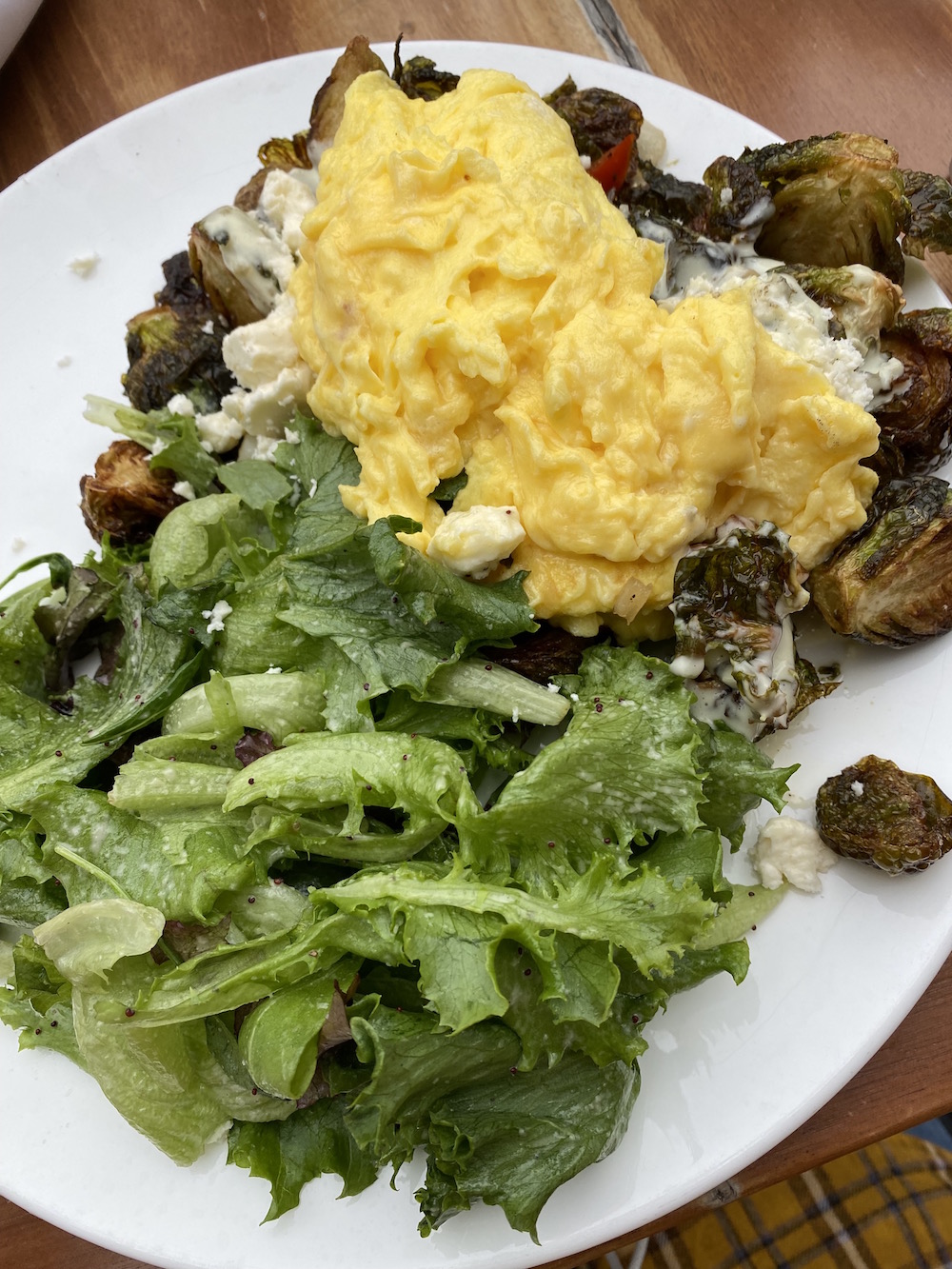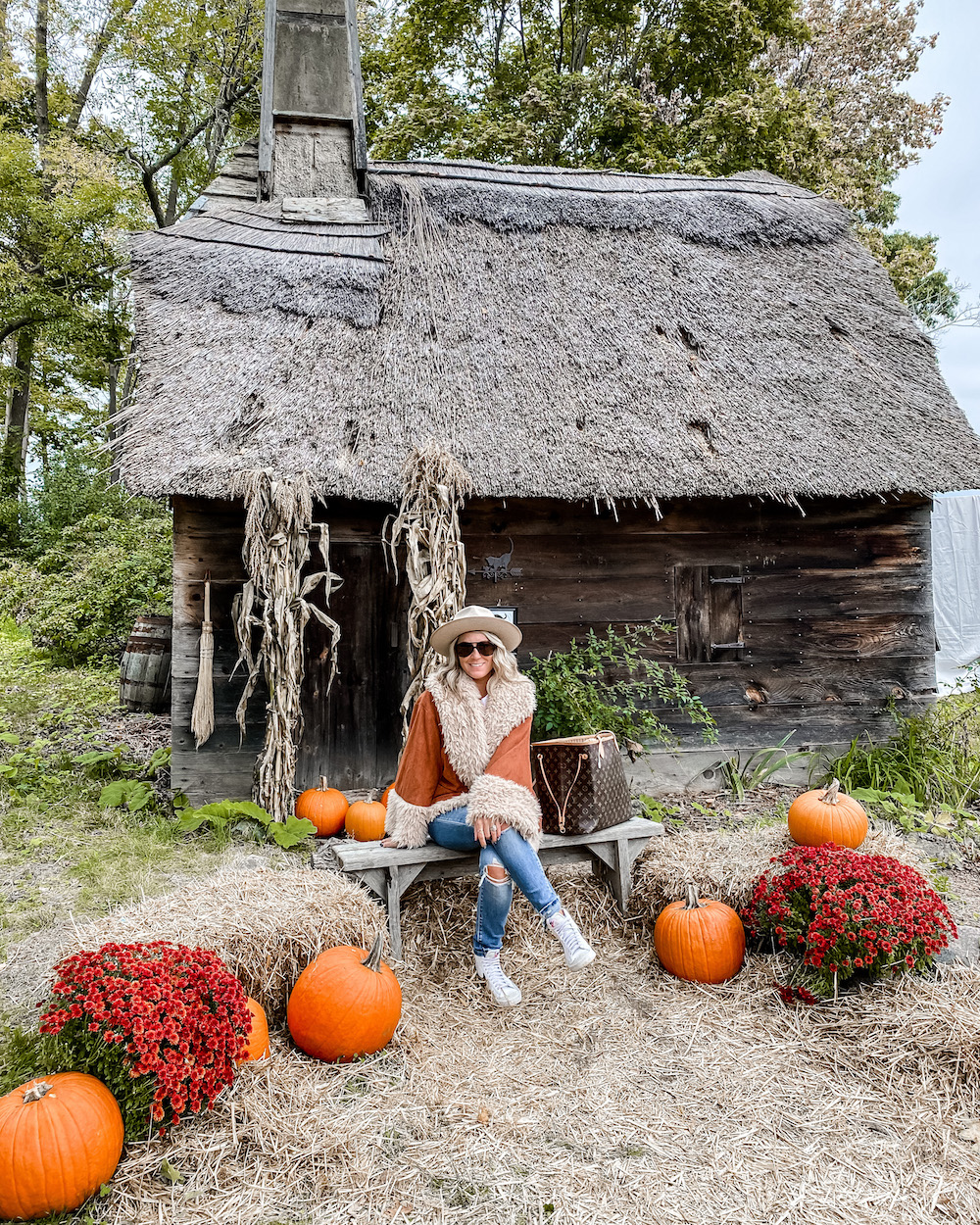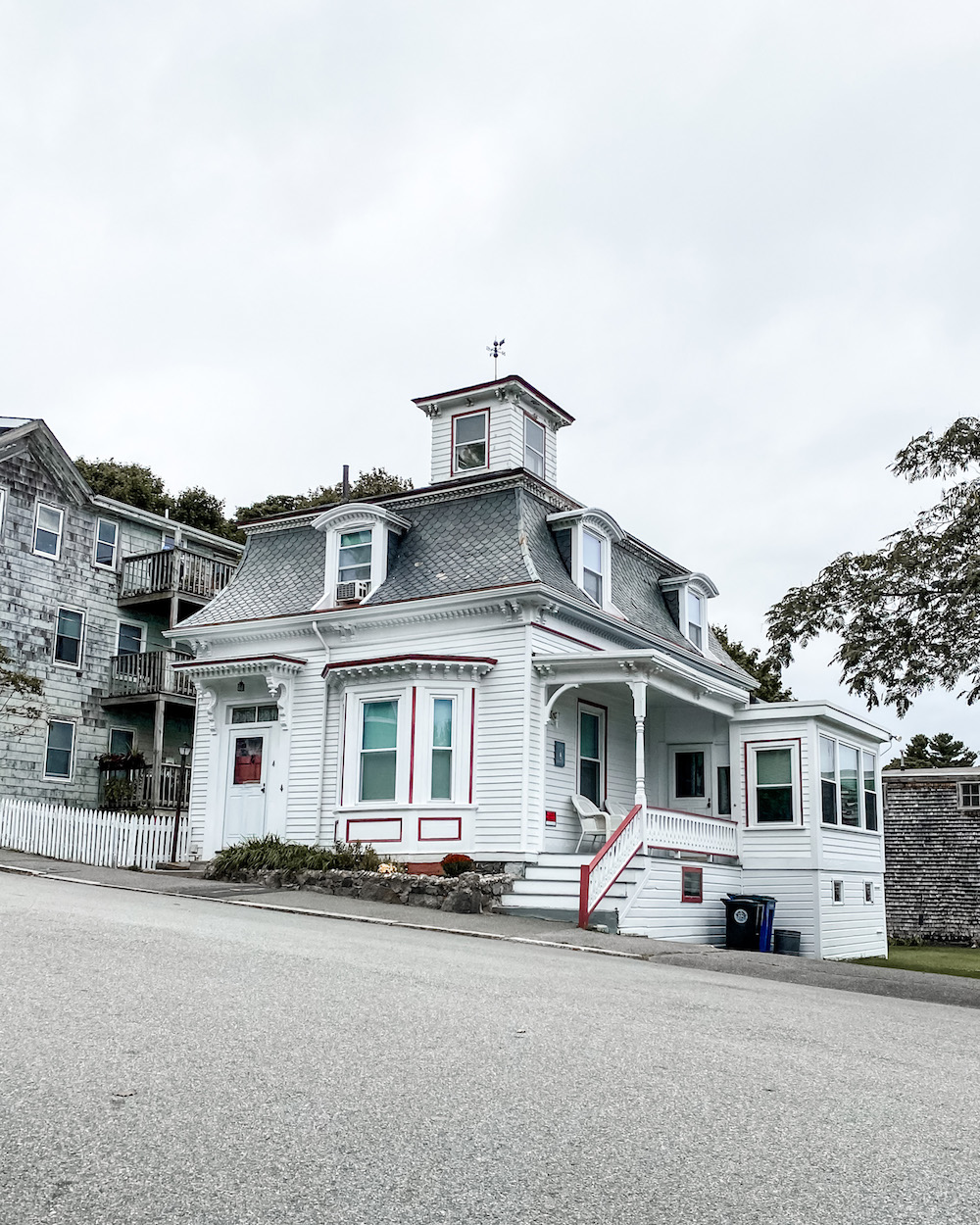 We took a Lyft back to Essex Street for our Witch Walk with Crow Haven Corner, the oldest witch shop in Salem! Here's a description of the Witch Walk:
JOIN US FOR A MAGICAL GUIDED WALKING TOUR THROUGHOUT SALEM. YOUR SALEM WITCH TOUR GUIDE WILL START BY LEADING YOU DOWN CROW HAVEN CORNER'S FAMOUS GARDEN ALLEY WHERE YOU MAY PARTICIPATE IN A TRADITIONAL WITCHES CIRCLE DANCE. YOU WILL BE EDUCATED IN MODERN DAY WITCHCRAFT AS WELL AT THE SALEM WITCH HISTORY OF 1692. YOU WILL THEN EMBARK ON THE TOUR WITH A GOODIE BAG AND A BROCHURE LISTING ALL THE VICTIMS OF THE 1692 WITCH TRIALS. YOUR SALEM WITCH TOUR GUIDE WILL ALSO PERFORM A BLESSING FOR THE VICTIMS. ALL OF THE MAGIC THAT WE DO IS ALWAYS FOR THE GOOD OF ALL PEOPLE, AND HARMING NONE.
My opinion; it was definitely interesting and cool to experience. I can see where it would make some people uncomfortable in the beginning (the ritual) but I just respected our guide and his beliefs and took it all in. But the actual walk was really informative, although it did overlap a little of the history that we had talked about the night before. But it also talked about modern day witchcraft and the misconceptions Hollywood has given it. Definitely a cool perspective and an interesting take on modern day Salem.
Next stop was drinks and dinner! We chose Rockafellas because we had heard they had amazing Halloween themed drinks! I got the Candy Corntini and loved it! Although it was pretty much a dessert and I could not finish it all haha. I had a salad with chicken and it was literally bigger than my head! We sat and people watched on the patio for a bit (and gave our feet a rest!) and then headed back to PIckering Wharf for the Mahi Mahi Haunted Happenings Harbor Cruise!
At this point it was starting to rain which kind of sucked considering the best spot on the boat was the upper deck. But the boat was decked out in Halloween decorations and they even had a Tarot Card reader on board! There was a story teller on board as we cruised the harbor but 1) I couldn't really see anything in the distance because it was dark and 2) being inside made me nauseous and I didn't want to get wet on the top deck. So, we hung out on the back of the boat haha but I would say it would have been much more enjoyable if t weren't raining!
For a night cap, we headed to Goodnight Fatty and grabbed their warm cookies and they were amazing!! Add this to your must-do list!
Monday was a lot quieter than the past two days had been. No crowds, no lines, and since it had just rained, it was a very moody Salem and we loved it. We had tickets for the Witch House first thing that morning so we grabbed coffee and explored the streets before it was our turn. This was also another favorite part for me because all the houses are absolutely charming.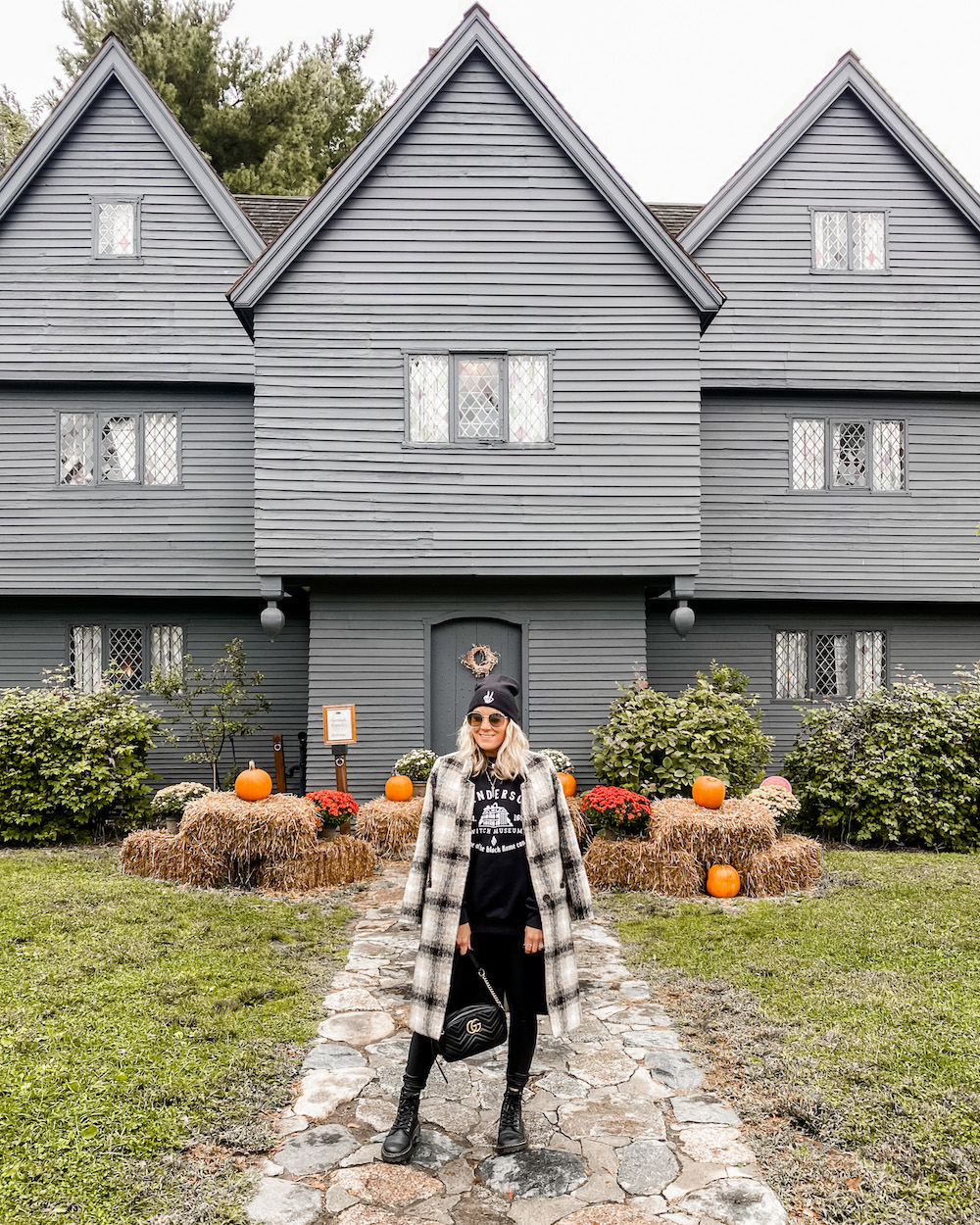 The Witch House is a must see attraction in my opinion. It's the home of Judge Jonathan Corwin and the only house in Salem with direct ties to the witchcraft trials of 1692. It was what would have been considered a mansion back then and it was eerie to think it's where he came home and slept every night after the hysteria of the trials. They don't allow photos but just take my word for it.. you have to do it!
We worked up an appetite after all of that walking and ate at Turner's Seafood. I am not a fan of seafood but my friend is and I heard amazing things. Plus it was one of the few restaurants taking reservations so we thought we'd try it! And I think it was my favorite restaurant and food all weekend! I had the Chicken Marsala and it was probably one of the best pasta dishes I've ever had!
We did a lot of shopping that afternoon and grabbed gifts for the family! To be honest, each store had it's own unique vibe and offered a variety of choices. No two stores had the same products which I was shocked by!
We were supposed to have drinks on The Roof of the Salem Inn but due to weather, they cancelled our reservations. So we decided to hit a few of the attractions we hadn't planned on seeing but now I'm glad we did!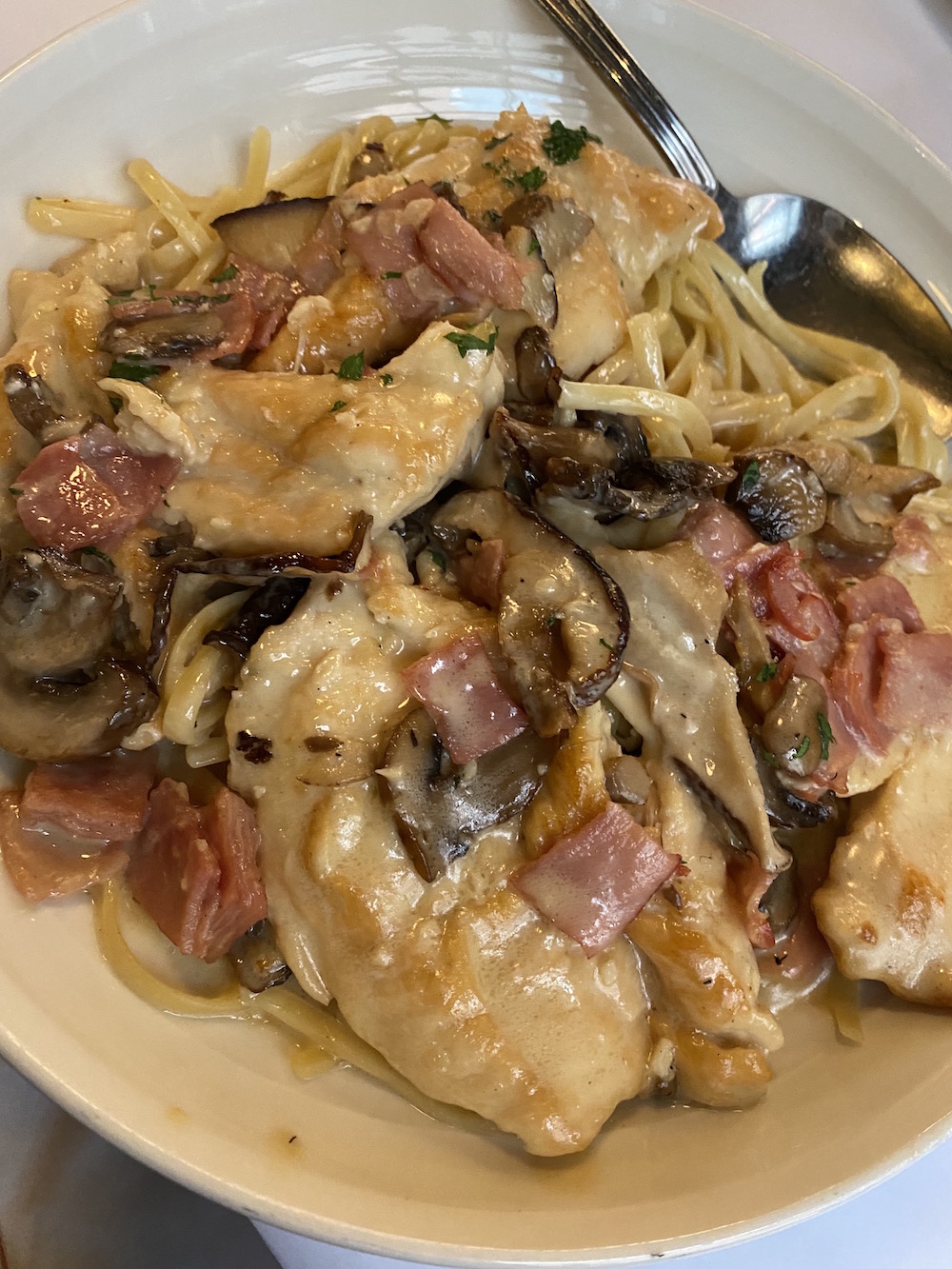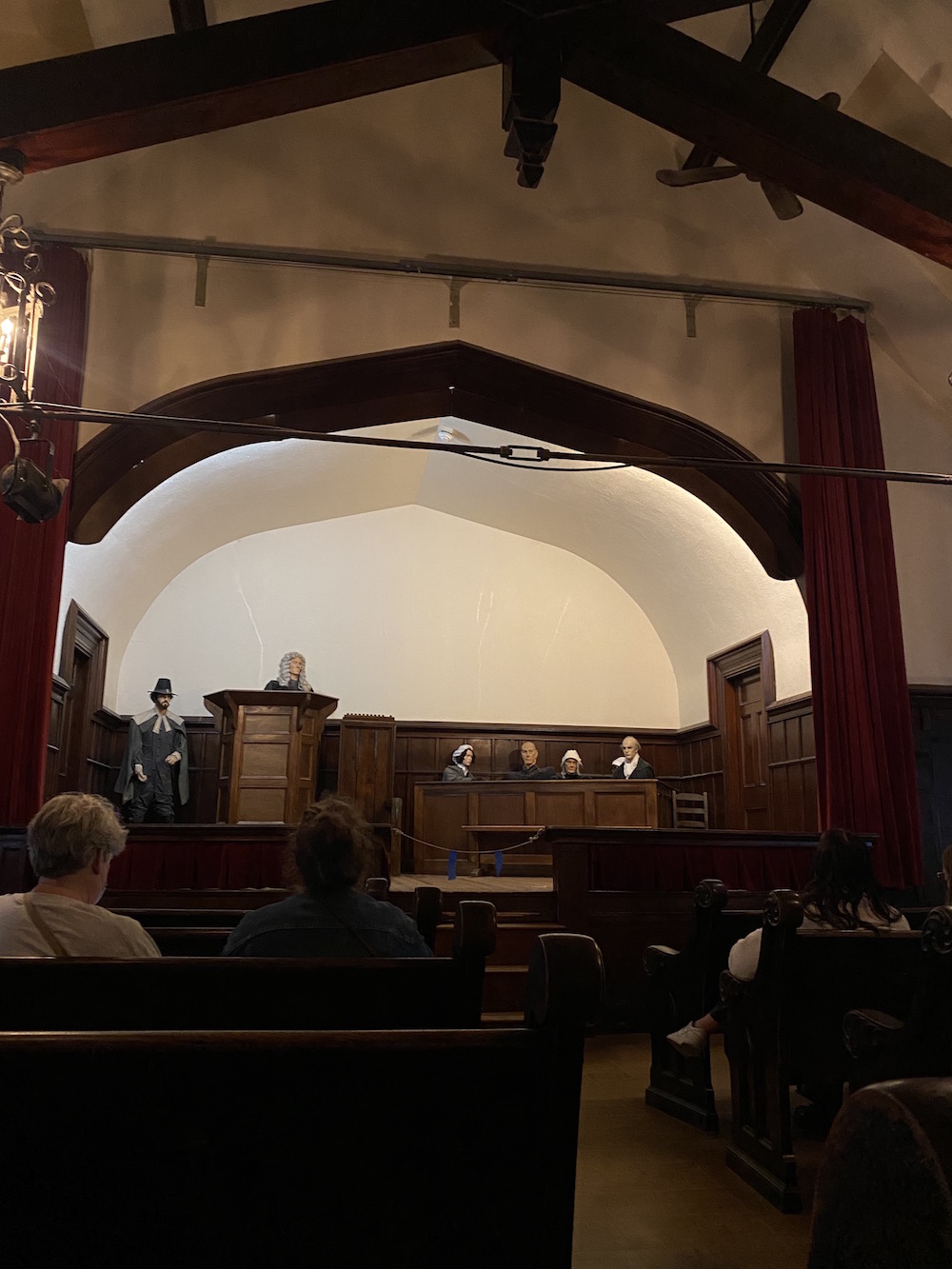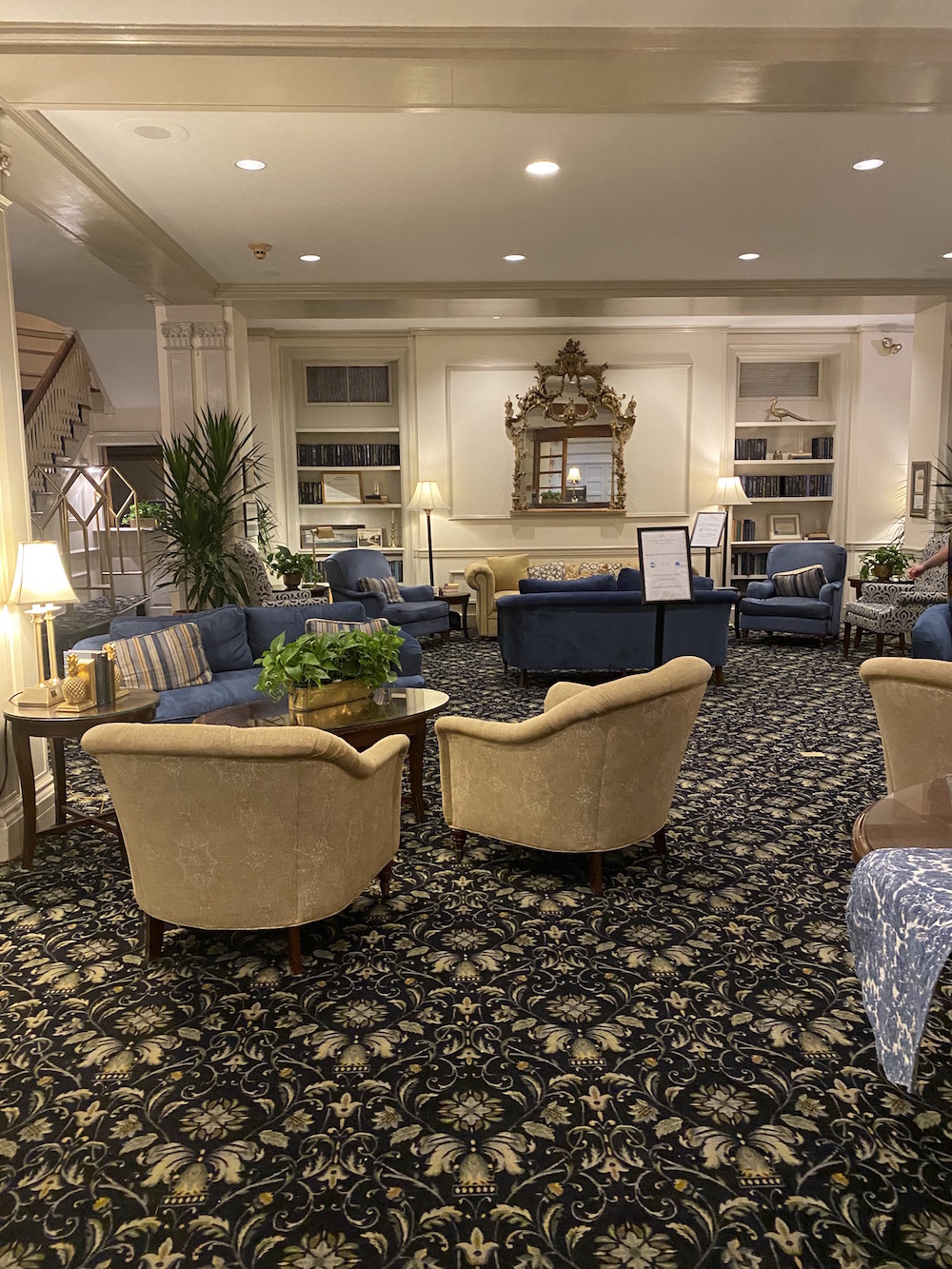 The Witch Dungeon Museum offers a reenactment of one of the trials as well as a recreation of the dungeon where the witches would have been held. It was wild to see the "cells" they were shackled in. They also have a beam that's said to be from the original dungeon of 1692 but I've heard contradicting opinions on that so do with that information as you will.
Right across the street is Gallows Hill. The actual Gallows Hill is where the witches were hung but now, that area of land sits next to a Walgreens! So this Gallows Hill is a theatrical show featuring historical elements as well as hints of the paranormal. It was so much fun! There's also the Lost Museum at Gallows Hill in which a tour guide helps you escape; sort of a mix between an escape room and haunted house! You can buy a combo ticket and do both or chose one or the other. But I thought they were both entertaining and very different!
We ate dinner at The Tavern at the Hawthorne Hotel that night, another delicious recommendation! The Hawthorne Hotel is apparently one of the most paranormal areas in Salem, but we didn't experience anything of that degree! I did hear the library in the basement is where they experience it the most, so we made a point to just eat at the restaurant haha
We woke up Tuesday super sad that it was our last day! But we took the train into Salem one last time and ate breakfast at Red's. Everyone raved about their breakfast and we knew we had to try it before leaving! DELICIOUS. Highly recommend; cute little mom and pop shop vibes with great prices! We did one last lap on Essex for souvenirs and then headed back to our Airbnb to catch a Lyft to the airport.
We had the best time. When we first arrived, I was a little shocked (that's not even the word I'd use but I can't think of an appropriate word haha) to see how commercialized and "touristy" Essex Street felt. You only see the prettiest and coziest photos on Instagram that give you that charming New England town vibe. And it definitely was that vibe once we walked around the residential streets. However it is touristy this time of year and catered towards Halloween. So just keep that in mind! I won't say I was disappointed by any means but my expectations were just different than my first impression when we arrived. But all in all, it was an absolutely amazing trip and I cannot wait to visit again!
Here are some helpful tips when visiting Salem: 
Wear comfortable shoes: We walked anywhere from 12,000-20,000 steps a day and the cobblestone roads make it even more challenging! Just make sure you're comfortable and you'll be fine!
Public restrooms are scarce, so use them wisely: Try to use the restroom when you're at a meal or after purchasing a coffee or snack somewhere. There are very limited public restrooms (the mall is one of them and it's less than clean). There are also Porta Potties a lot of places so make sure you have hand sanitizer!
Make reservations where you can: A lot of restaurants don't take reservations in October because of the pure volume of people they get, however there are quite a few that take reservations. Some of these include:
Turner's Seafood
The Ledger
BitBar
Oceans Edge
The Roof
The Tavern at the Hawthorne Hotel
Purchase tickets in advance: Some places allow you to purchase tickets online beforehand and some you have to buy the day of.
Tickets that can be purchased online beforehand include: 
Witch House (they open up a few days at a time)
Mahi Mahi Haunted Happenings Harbor Cruise
Gallows Hill
Pioneer Village
Crow Haven Witch Walk
Bewitched Walking Tour
Day of tickets to purchase:
Witch Dungeon Museum
Witch Museum (online same-day tickets)
Visit during the week: It is significantly less crowded during the week but pay attention to the attractions you want to see as they may only be open on weekends. For example, Pioneer Village is only open Saturday and Sunday.
Bring a portable charger power bank to charge your phone: Your phone will most likely be drained from all of the sightseeing, not to mention I had terrible service and it was probably draining my phone even more.
Have a face mask handy: As of today, October 27th, face masks are still required indoors. Please be respectful of this!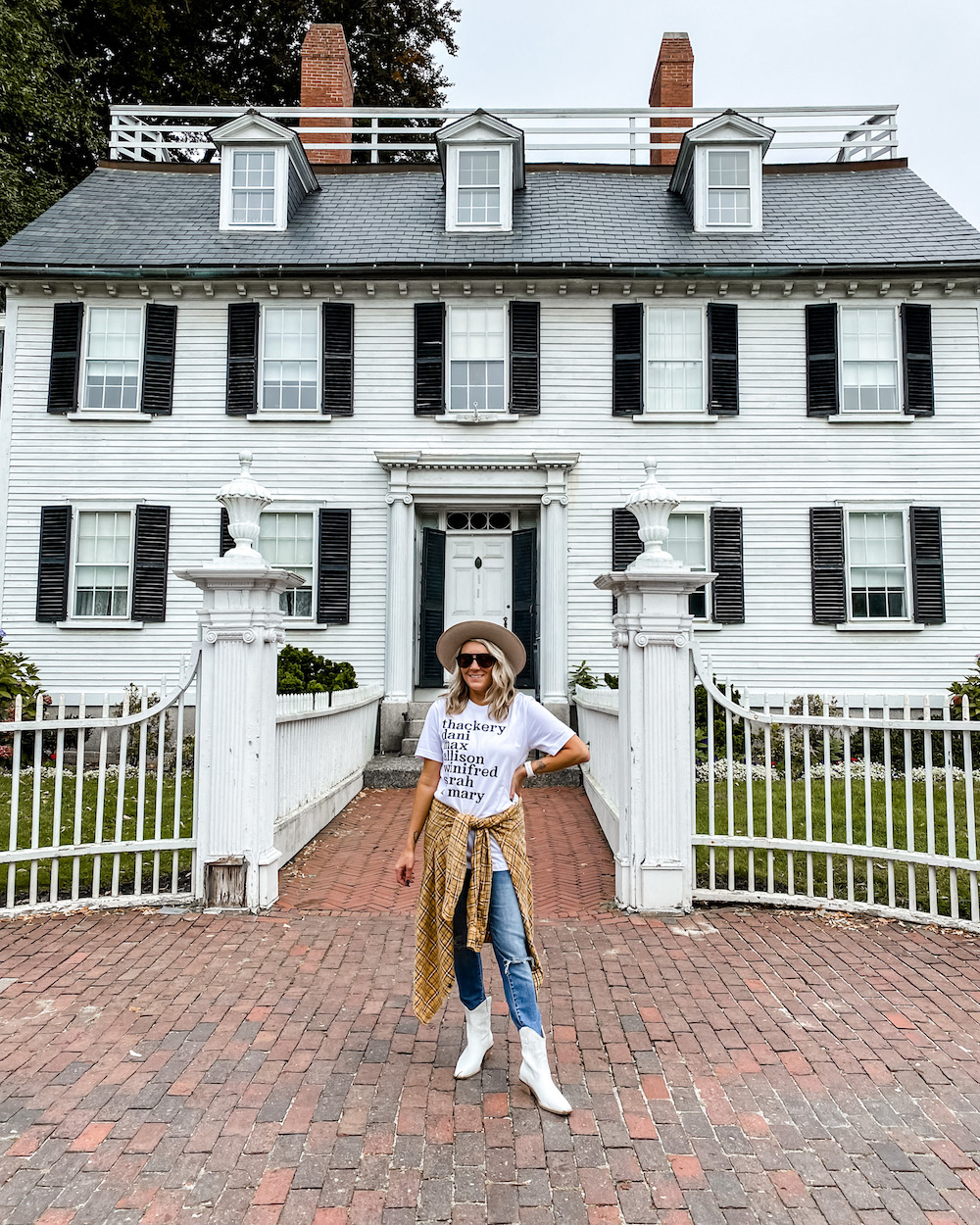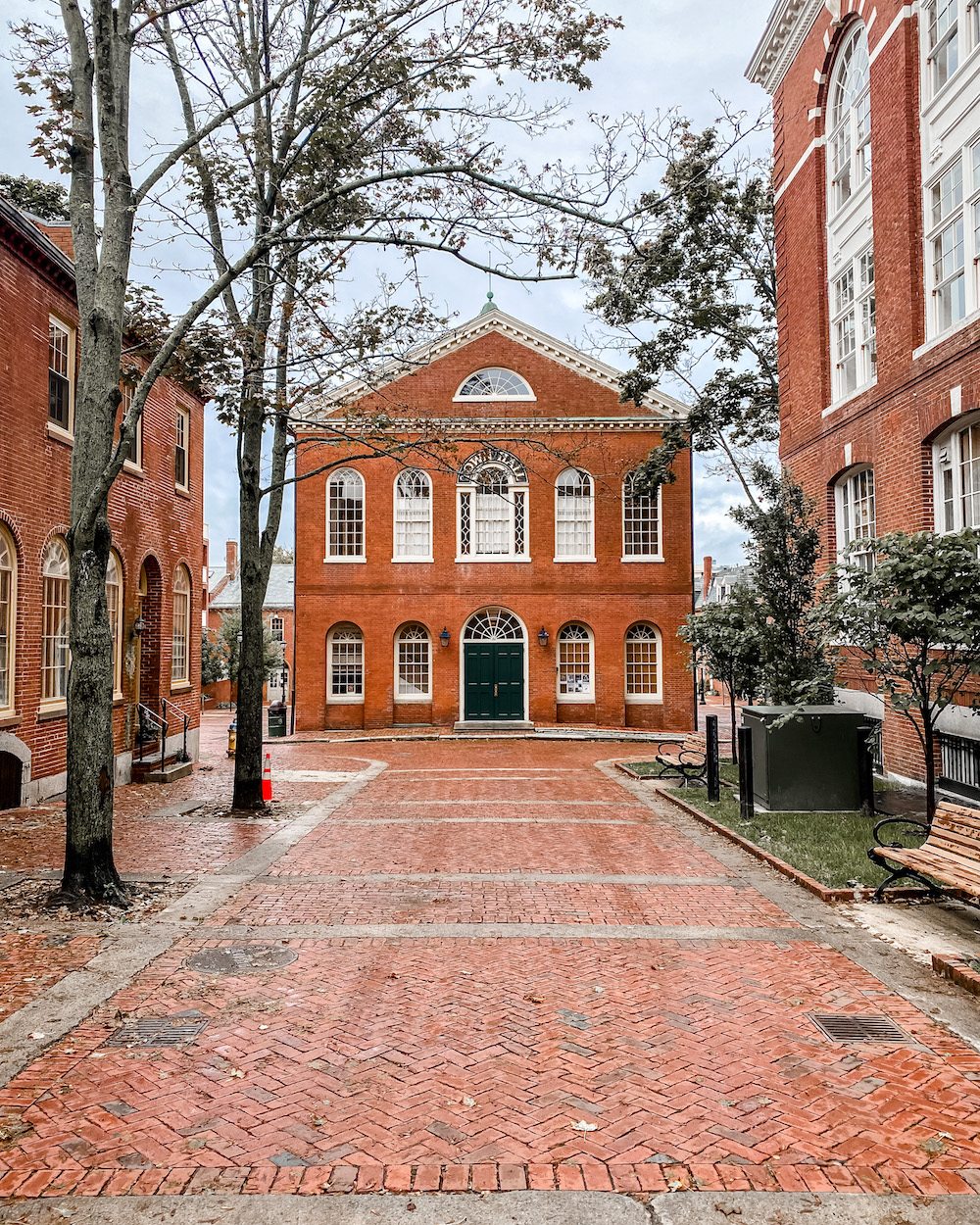 Hocus Pocus Addresses:
 Allison's House: 318 Essex St, Salem, MA 01970
Old Town Hall: 32 Derby Square, Salem, MA 01970
Pioneer Village: 98 West Ave, Salem, MA 01970
School: 56. South Washington Square Salem, MA
Max's House: 4 Ocean Avenue Salem, MA
Cemetery: Old Burial Hill Marblehead, MA
Everything is walking distance except for Pioneer Village, Max and Dani's House, and Old Burial Hill. You can walk from Pioneer Village to Max and Dani's house (it's about a 5 minute walk) but you'll need to drive to the cemetery as it's in Marblehead. Max and Dani's home is a private residence so please remember to be respectful when visiting! And keep that in mind in general while visiting Salem. It is still a functional city where people live and work and while they love and welcome visitors, it can get a little hectic! Be patient and kind and everyone will benefit!
I think that covers everything! If you have any questions, please leave them in the comments below and I will get back to you! I'd also recommend joining this Facebook group as most of my trip was planned with the advice of other seasoned members! Have the BEST time in Witch City! xo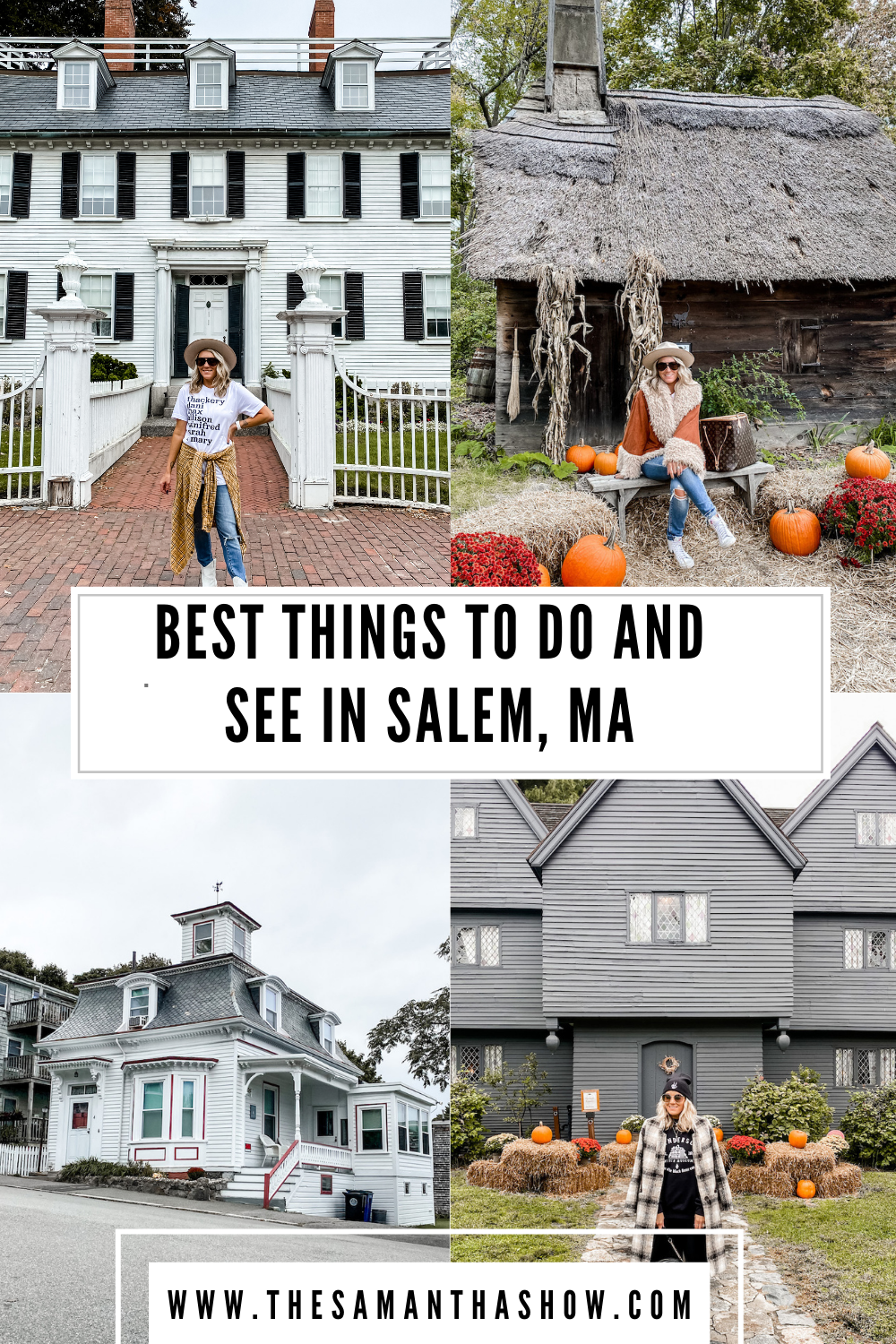 Looking to explore another destination? Read my other travel guides below! 
Best things to do in Dayton, OH
10 things to do in Chicago with kids