The BEST bathing suits on Amazon
I know that bathing suit shopping can be a daunting task. And even though I'm comfortable with who I am and the amazing things my body has done, it can still be a challenge to find a bathing suit I feel comfortable in. However, Amazon offers quite a few options and I love that they offer free shipping and free returns for Prime members. This way, you can try them on in the comfort of your own home and try-on as many as your little heart desires! So today, I'm sharing what I've found to be The BEST bathing suits on Amazon.
I tried to find a variety that would work for many different body types, as well as different levels of coverage. Here are some of my favorites!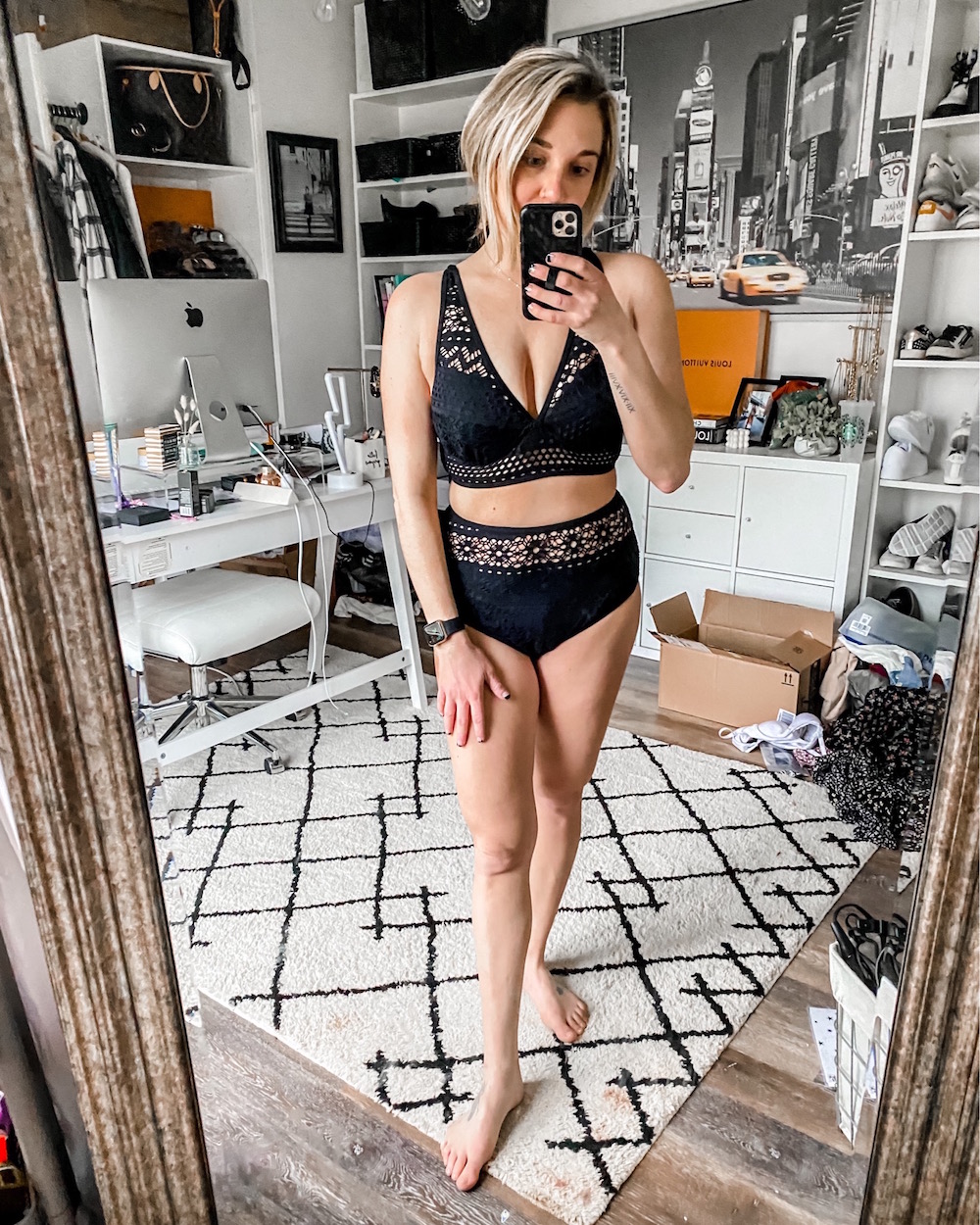 This two piece crochet swimsuit is probably my favorite! It's high waisted, has built-in cups, adjustable straps, and it's supportive. I felt like it gave me a good amount of coverage but the crochet detail made it stand out as more than just a black swimsuit. I'm wearing a medium and it's the perfect fit!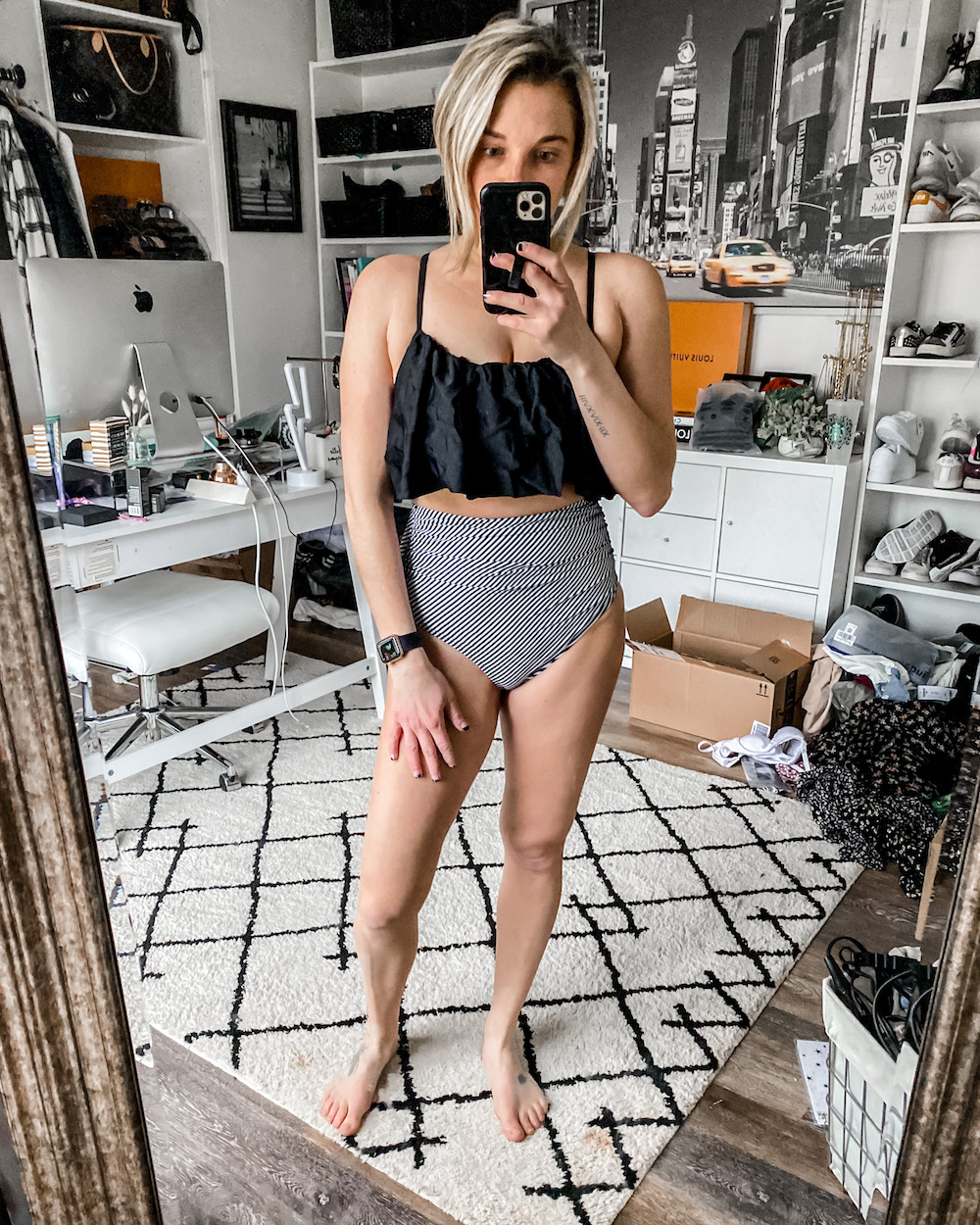 I received so many compliments on this bikini set but to be honest, I wasn't sure it looked good on me! The ruffles seemed to stick out further because I have a bigger chest but everyone commented on how much they loved this one on me! The straps do adjust and the bottoms are high waisted. I'm wearing a medium in this suit and it also comes in a variety of color/pattern combinations.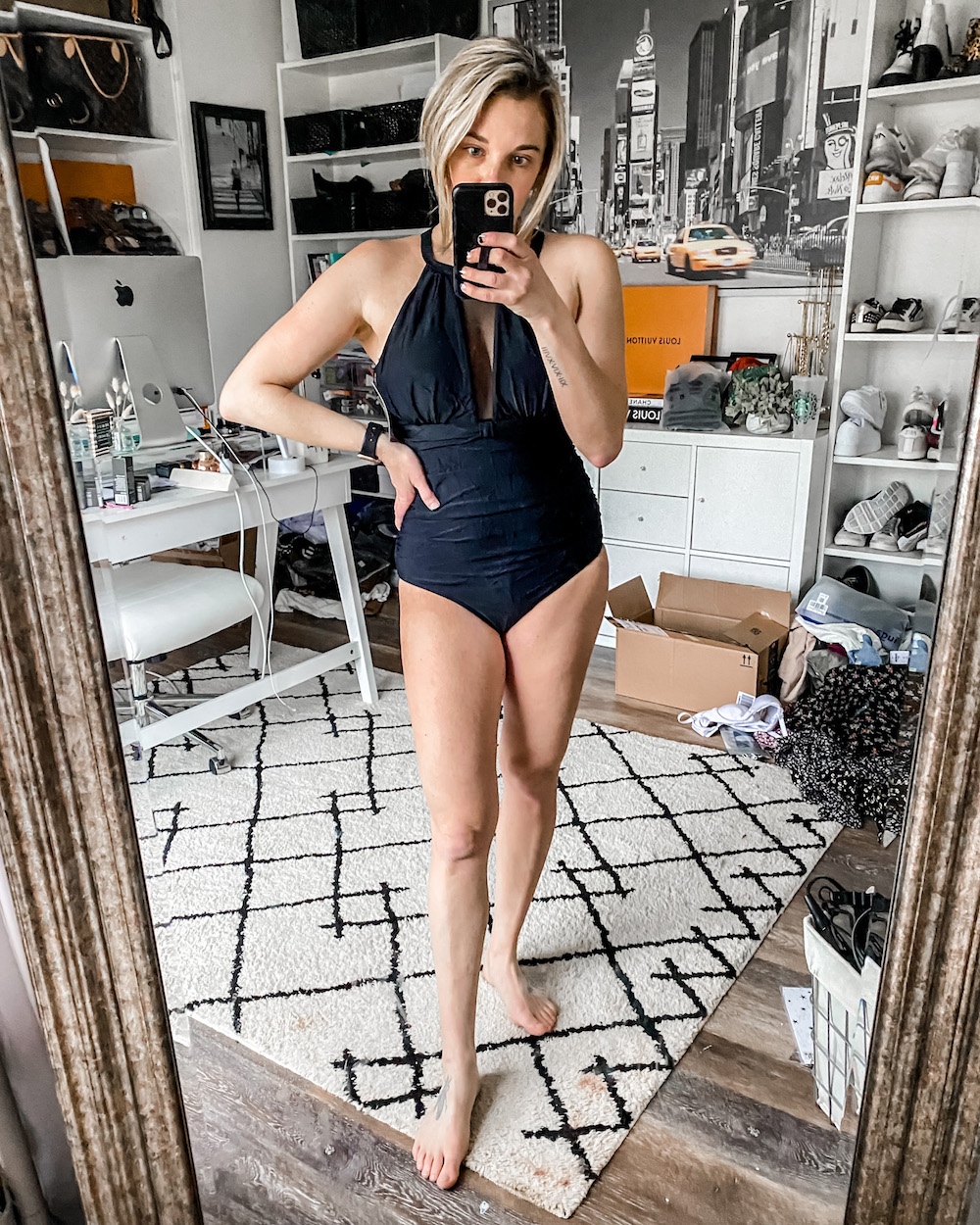 This high neck plunge mesh swimsuit was another favorite of mine! It has excellent coverage, built in cups, and ruched fabric…which always makes me feel more comfortable/gives off a slimming effect. My favorite part? The high neck and the mesh fabric give it a little sex appeal while also being completely covered and "mom" appropriate! The high neck also accentuates shoulders which are one of my favorite things to show off! I'm wearing a medium in this one and may be able to size down so I am going to order a small to compare!
This burnt orange ruffle swimsuit was shockingly one of my favorites too! I say shockingly because I normally order black swimsuits! When I ordered this one, it said it was the color brown but this is definitely burnt orange. But regardless, I love this suit. It has built-in padded cups, ruched fabric in the torso, and ties in the back. I'm wearing a medium in this one as well!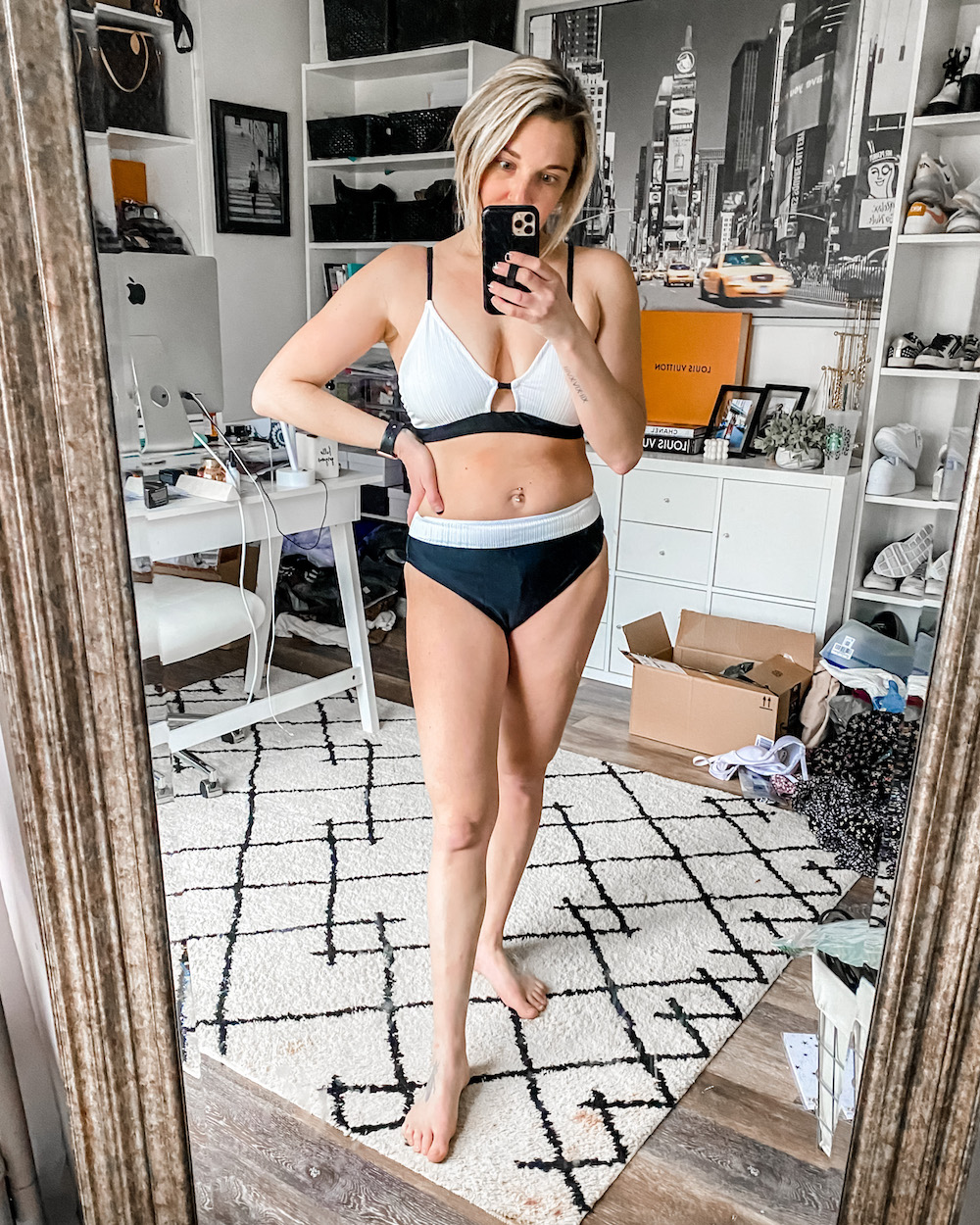 I really love the color block on this suit, however I didn't feel like the bottom was as high waisted as like some of the other suits. And I tend to gravitate towards higher waisted suits (stomach is always my problem area). But I do think it's a beautiful suit!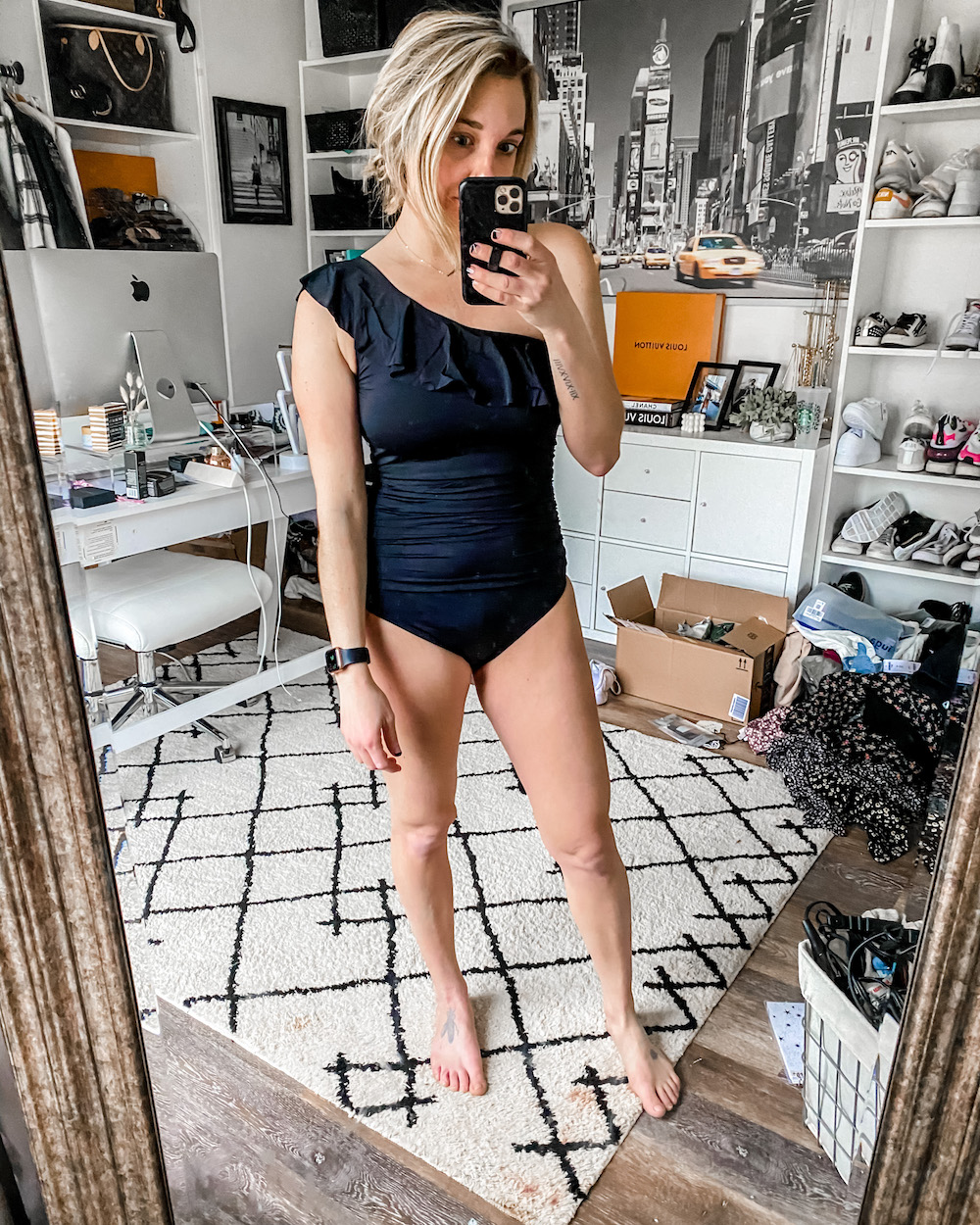 This asymmetrical one piece would be a great suit for any body type! I love the one sleeve and the ruffle detail; it puts a fun twist on a classic look. I also love the ruched fabric in the belly area because it makes me feel slimmer/less exposed (if that makes sense haha). I'm wearing a 6 in this suit for reference.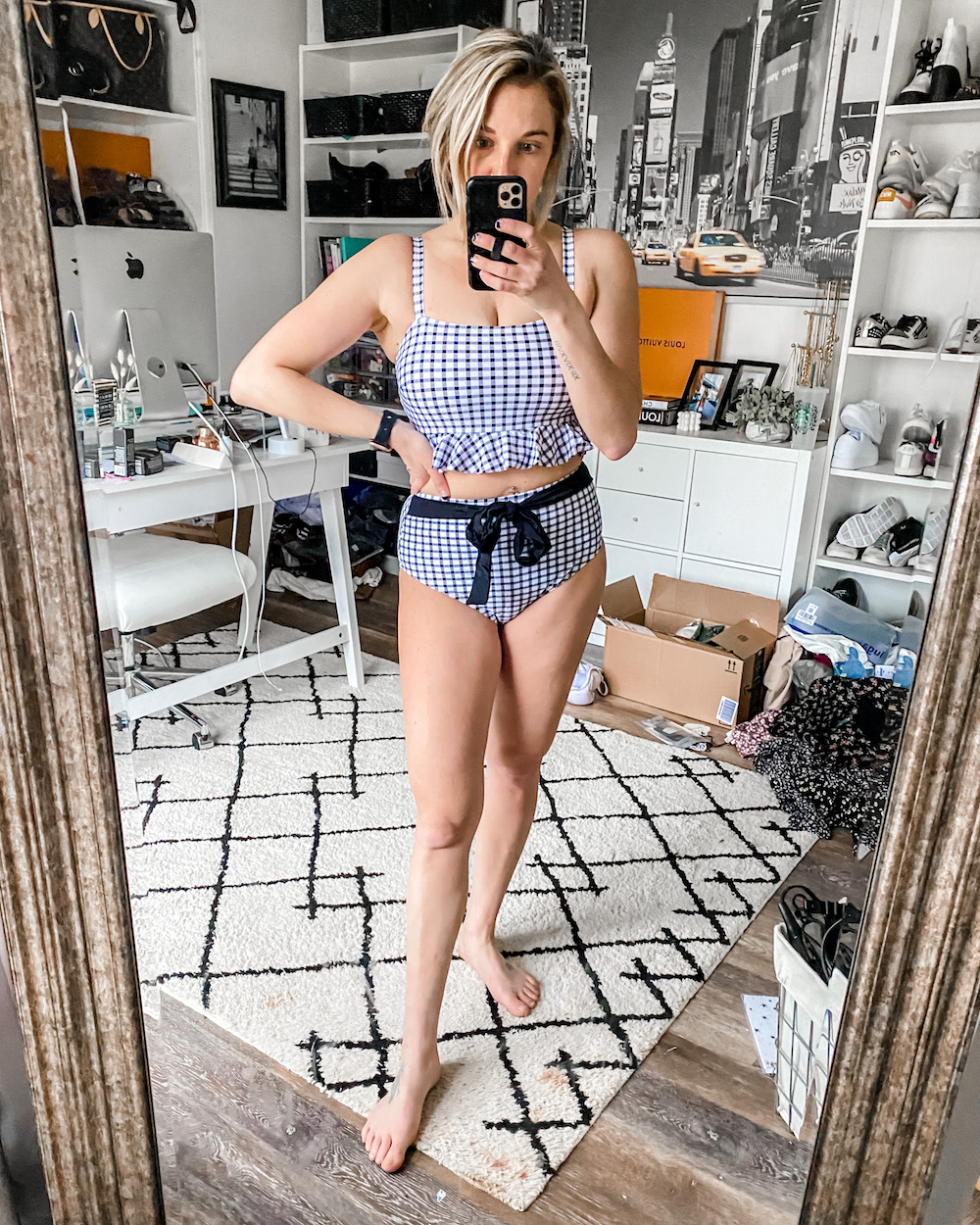 This gingham suit was another fun option; I love the ruffle on the top and the high waited bottom. Also felt good about the coverage in the back of this one too! I'm in a medium.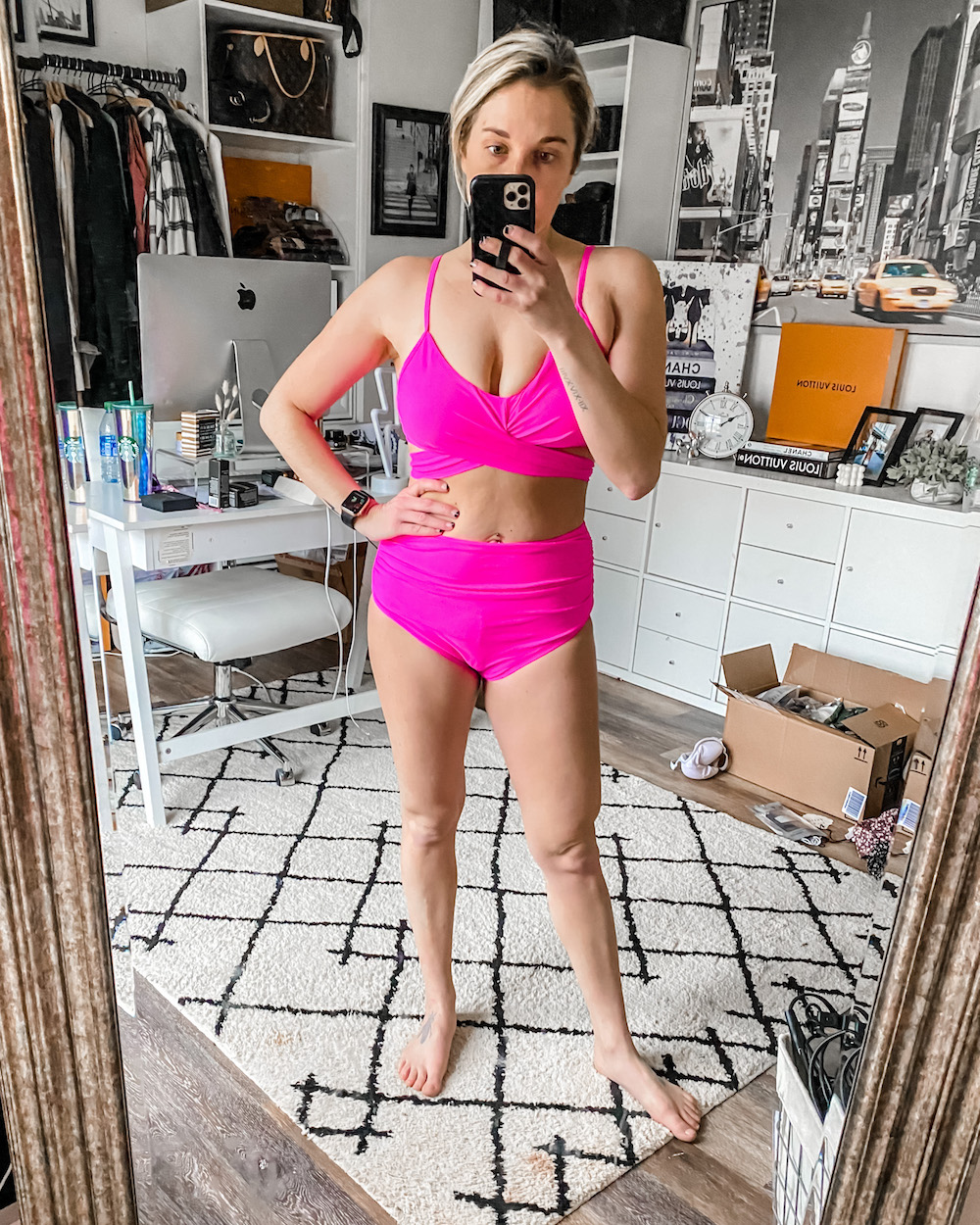 I never would have guessed I'd love a neon pink suit but I am living for this color! I love the style as well; high waisted and the wrap detail on top is a fun feature! I'm in a medium.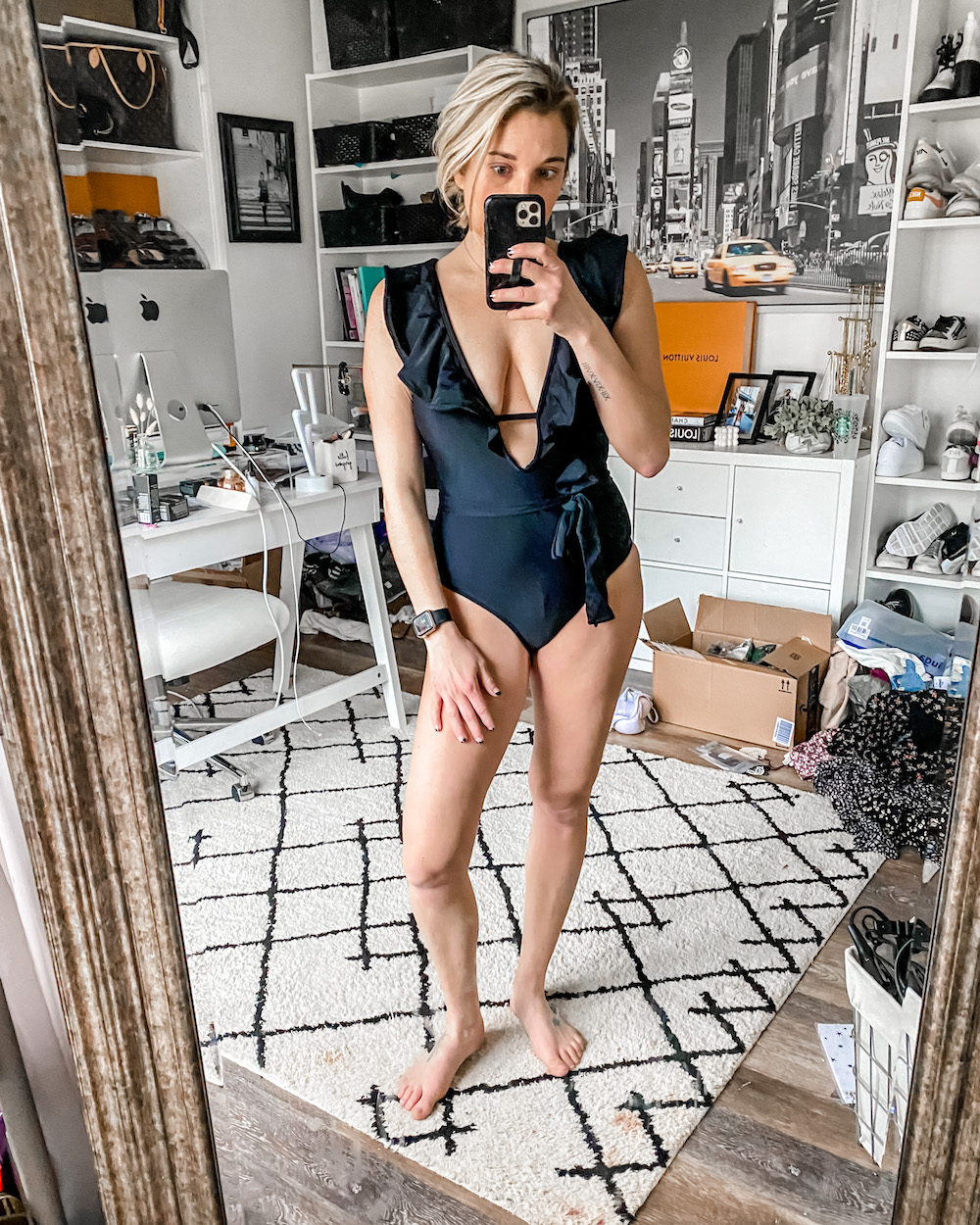 I love this v-neck ruffle suit however didn't feel comfortable with the bust area being so exposed. But if you're okay with that, I say go on with your bad self. It's super sexy and flattering! It also has a tie around the waist and I love the flutter detail on the shoulder!

These are just a few of the ones I found but there are so many options on there. When it comes to finding swimwear on Amazon, here are some of my recommendations:
Read the reviews! You can filter by height so I like to do that after I've read the general reviews first.
Scan the reviews where people measure their measurements (weight, height, bust) so you know how it will fit.
Look at the size chart in the photos section because it often differs from the standard Amazon size chart.
Read the description all the way through because they often break down sizing in there too.
Go with a suit that offers free shipping and free returns so that you can return it if need be!
And at the end of the day, JUST WEAR THE SUIT. All bodies are beautiful 🙂 XO
If you love Amazon fashion, you'd love these posts as well! Check them out below! 
Cold weather Amazon fashion finds
Fall fashion finds from Amazon
Best workout clothes from Amazon
Summer to fall transition pieces on Amazon