Why The Bachelor is a lot like sorority recruitment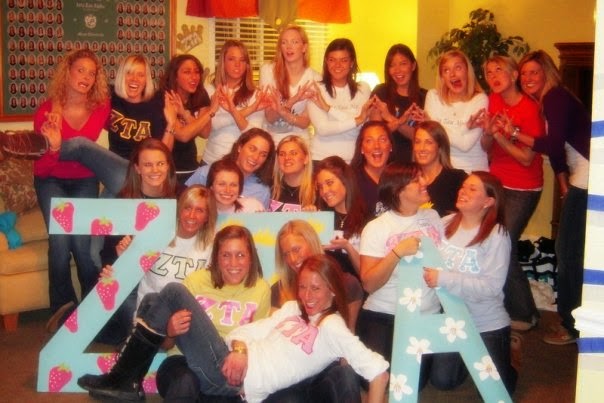 I swore I'd never rush a sorority when I went to college. I mean, you see all of these terrible things and hear all of these terrible stories about the rush (excuse me, I think the correct term is recruitment now) process and think oh hell no, I'm not doing that or being one of those girls.
But I found my sorority, Zeta Tau Alpha, and fell in love. It was nothing like they portray in books or movies and I met some amazing women and had some of the best times of my life.
But let's rewind to the recruitment process because that was a grueling couple of weeks. And at some point while watching The Bachelor last night, it clicked. Being on the Bachelor is exactly like rushing a sorority!
Why?
Well let's start with the obvious… you're surrounded by girls 24/7. Seriously, whether you're already in the sorority or going through the recruitment process, you are constantly surrounded by females. We didn't have sorority houses at my school but rather "suites", and I think I could have rolled out a cot and slept in there based on the amount of time I spent in there during recruitment. Some days it was fun and some days it just sucked… just like on The Bachelor.
The parties. The girls on The Bachelor almost always attend a cocktail party prior to the rose ceremony. And while I wish I could say we were sucking down glasses of wine at our parties, we weren't. It was just a bunch of talking and getting to know the PNM (potential new members) or if you were a PNM, getting to know the girls in each sorority.
Dressing to impress. There are guidelines on what to wear during sorority recruitment based on the "round". And while there aren't any rounds on The Bachelor, I feel like each week, the dresses get shorter and the fabric gets thinner.
Looking for love. Maybe in different ways, but at the end of the day, you're looking for the place where you fit in the most. My school had 19 different sororities and they were all so different, yet I loved so many of them. Each time I left a "party", I was gushing over the sisterhood I witnessed and the conversations I'd had.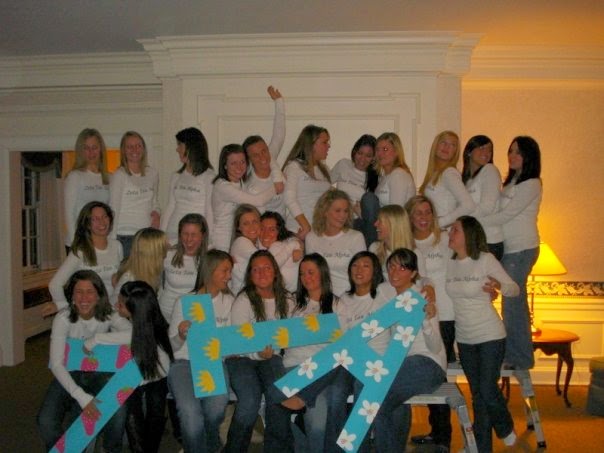 Competition. Prior to rush, there were a few sororities I had heard were the "popular" ones.  And while rushing, I wasn't sure if I actually liked a lot of the popular ones because they were just that, or if I genuinely had a connection. These girls on The Bachelor want to get asked back because "they're there for the right reasons" and "they're only there for Chris". But I have to wonder if some of their desire to be there is based on the fact that they "advanced" to the next round. Because as much as I hate to admit it, there are a lot of women who feel that life is a competition against other women.
The environment. My school held the first round of recruitment before the rest of campus returned from winter break. And I know that a lot of schools hold recruitment in the fall before the rest of the students arrive. So things are different, right? There aren't any guys to distract you, no classes to stress you out, and you're not allowed to go out.  So things aren't "normal" when you start the process. All your focus is on recruitment and recruitment alone.
Well the women on The Bachelor aren't in their natural environment either. They're not working, they aren't at home, and they're constantly being watched. They're all dating ONE guy (which I love the show but it's freaking weird when you think about it), and they're still forced to be friendly with each other. Regardless of what they say, things and feelings are going to change when the cameras stop rolling and they're thrown back into regular life.
The drama. Most of the drama during sorority recruitment takes place when you're not a PNM and deciding who to let into the sorority. Some girls will like girls others don't and someone will have a personal reason not to let some girls "in". And then there's the fact that you're together 24/7, exhausted, and not in a normal environment. And The Bachelor… I think the drama speaks for itself. Too many girls under one roof for a long period of time= recipe for disaster. Did I mention they're all dating the same guy? JEALOUSY.
Bids are like roses. Everyone wants a bid. And at my school, you're guaranteed a bid. Whether or not you accept it is up to you, but you want a bid from the sorority you fall in love with. These girls want roses, and eventually, they want the ring at the end.
I loved my sorority and I love The Bachelor… so maybe that's a coincidence? Or maybe they're completely unrelated and I haven't had my morning coffee yet. You decide…
Did you rush? Do you see the similarities? Am I missing anything?!