4 easy Halloween recipes for the non-baker
With Halloween right around the corner, you can bet your bottom dollar I've been scouting out the candy aisles like it's my job. What pregnant woman doesn't love chocolate, am I right?
I'm not a huge baker, so I tried to create easy recipes that other non-bakers could easily make as well. After a whole lot of experimenting, I came up with these!
1 package Crescent Rolls
2 cups sugar
2 TBS cinnamon
4 TBS Butter
Twix, Snickers, M&Ms
Candy eyes/sprinkles (for decoration)
1. Melt butter in microwave for 45 seconds.
2. Place candy in Crescent Roll and roll, tucking sides in to cover all chocolate pieces.
3. Dip Crescent Roll in butter.
4.  Mix cinnamon and sugar; dip buttered Crescent Roll into cinnamon/sugar mix.
5. Sprinkle Crescent Rolls with Halloween sprinkles.
6. Bake in oven according to Crescent Roll package (10-12 minutes).
7. Place candy eyes on mummies immediately upon removal (if they do not stick, you may need a little icing!)
7. Serve immediately and enjoy!
I personally didn't care for the flavor of the Snickers in these but the M&Ms and Twix were divine! My only gripe with these was that they need to be eaten while warm; they weren't very good after sitting for a few hours. But my son loved how they looked like little mummies 🙂
1 box brownie mix
1 package chocolate chip cookie bites
1 bag miniature Twix
Halloween sprinkles
1. Preheat oven to 350 degrees F.
2. Rip apart cookie pieces and spread evenly on the bottom of a pan. I used an 8×8 dish but it would probably take less time and make them a lot thinner if I had used a bigger pan (9×13).
3. Place miniature Twix bars on top of cookies
4. Prepare brownie mix as recommended and pour on top of Twix
5. Sprinkle with sprinkles.
6. Bake in oven according to the pan size instructions on brownie box. I cooked mine for 45 minutes but like I mentioned above, would have been shorter (and probably been a lot neater!) had I used a smaller pan.
Regardless, here's how they turned out! I loved them but they aren't the prettiest when it comes to presentation. These would be perfect to eat out of the pan with friends or to throw on top of Vanilla ice cream.  If you're looking for a super rich snack full of chocolately goodness, these are for you!
1 package of Cinnamon Rolls
4 miniature Snickers
Halloween sprinkles
1. Preheat oven to directed temperature on Cinnamon Rolls package.
2.  Cut miniature Snickers in half.
3. Push half a Snickers down into each Cinnamon Roll
4. Cook according to instructions.
5. Frost and sprinkle, serve immediately!
These went over really well, especially with my brother's girlfriend. Must be a girl thing… we love our chocolate!
I also needed something to wash these bad boys down and wanted to make a special Halloween punch using Hawaiian Fruit Punch and 7UP. Although Bubba has never really had anything carbonated, I thought this might be a special treat for him to have for Halloween. He's loving all things scary and creepy right now and I told him this was "Witches Brew"… and he was SO excited!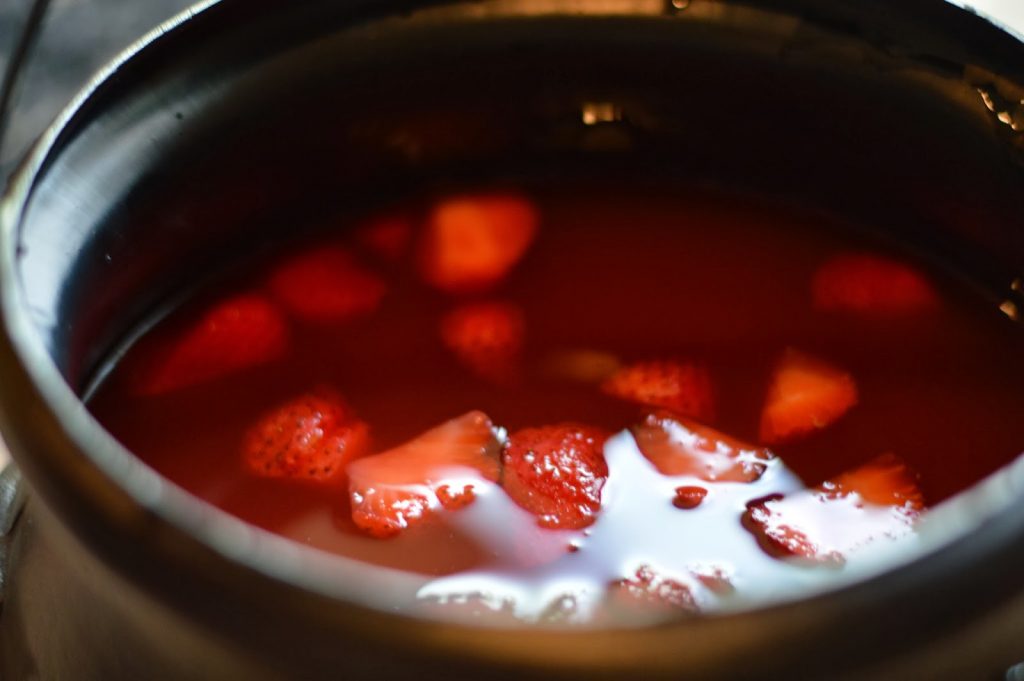 8 cups Hawaiian Punch
2 cups orange juice
1 2 liter 7UP
Few squirts of lemon juice (add last to taste)
Ice cubes
Strawberries (I cut and threw in 7-8 since it's all we had left)
Add all ingredients and chill! Serve in cauldron for effect 😉
I'm really not much of a baker, but it was super fun to step outside my comfort zone and use my creativity in the kitchen. I hope you find these as easy to make as I did… even a non-baker can have a little baking Halloween fun!
Happy Halloween!