Modern farmhouse master bathroom remodel
My husband and I moved into our home almost three years ago and have been slowly making updates as we were able to. Our master bathroom was one of my least favorite rooms and we finally decided it was time to tackle it! This room SCREAMED 90s; oak cabinets, linoleum floors, bone color tub, etc. Not my thing, not even in the least bit.
I knew I wanted a modern farmhouse master bathroom and pulled a lot of my inspiration from Pinterest. I was in complete control of design and then we had a contractor that executed all of it, with my husband's assistance.
Here are some before and after pictures! Can you even tell it's the same room?! I still can't believe it!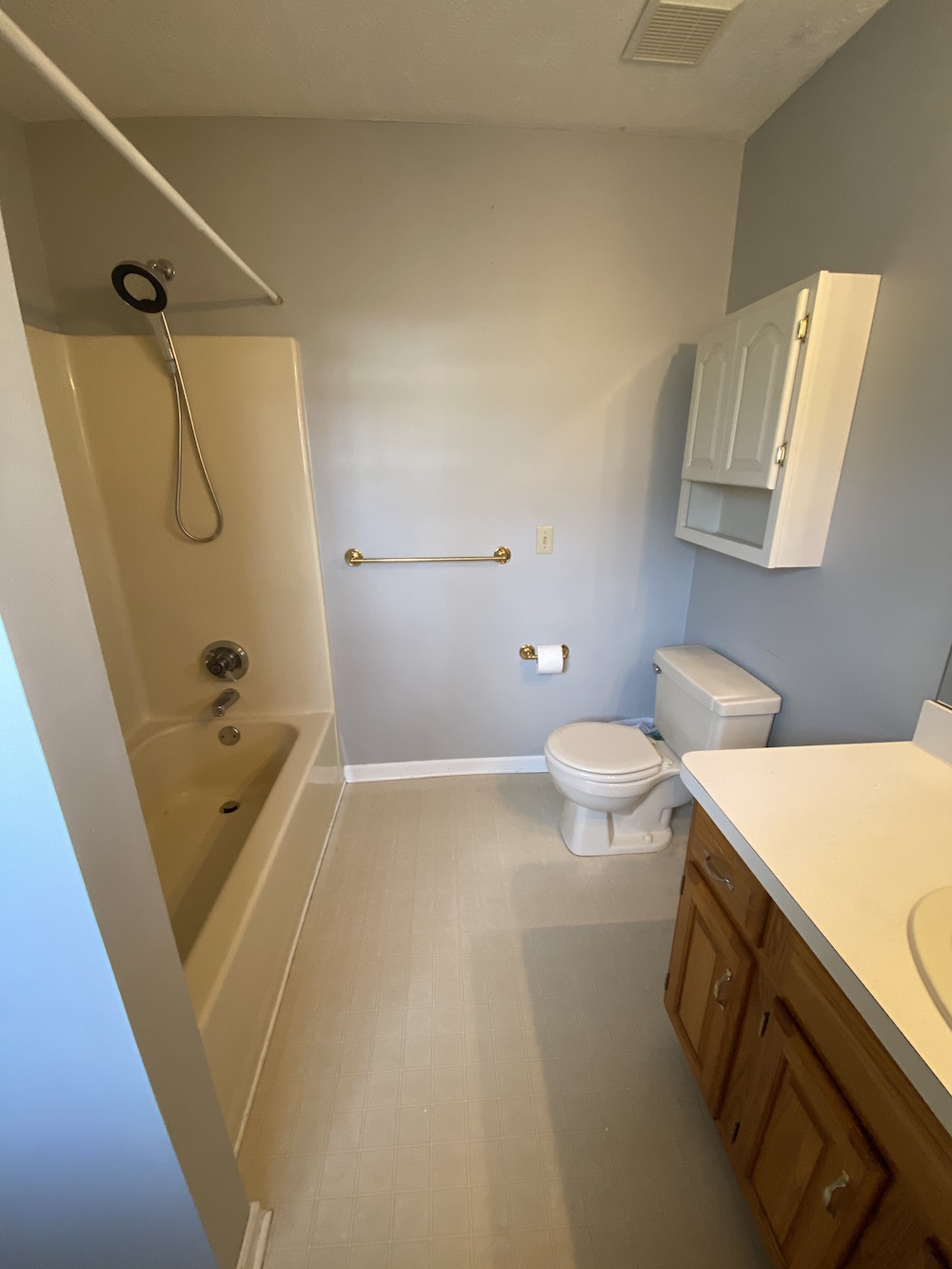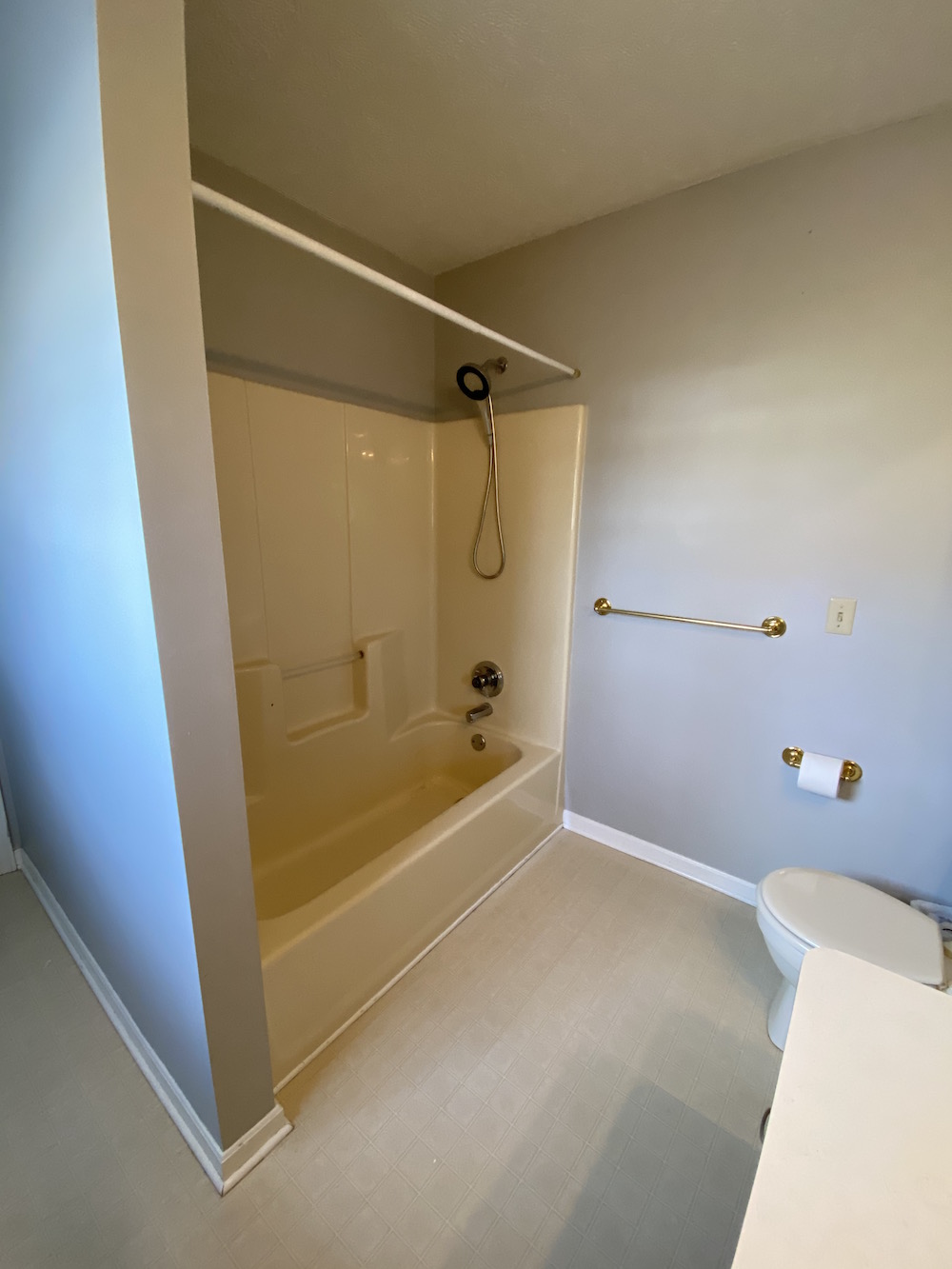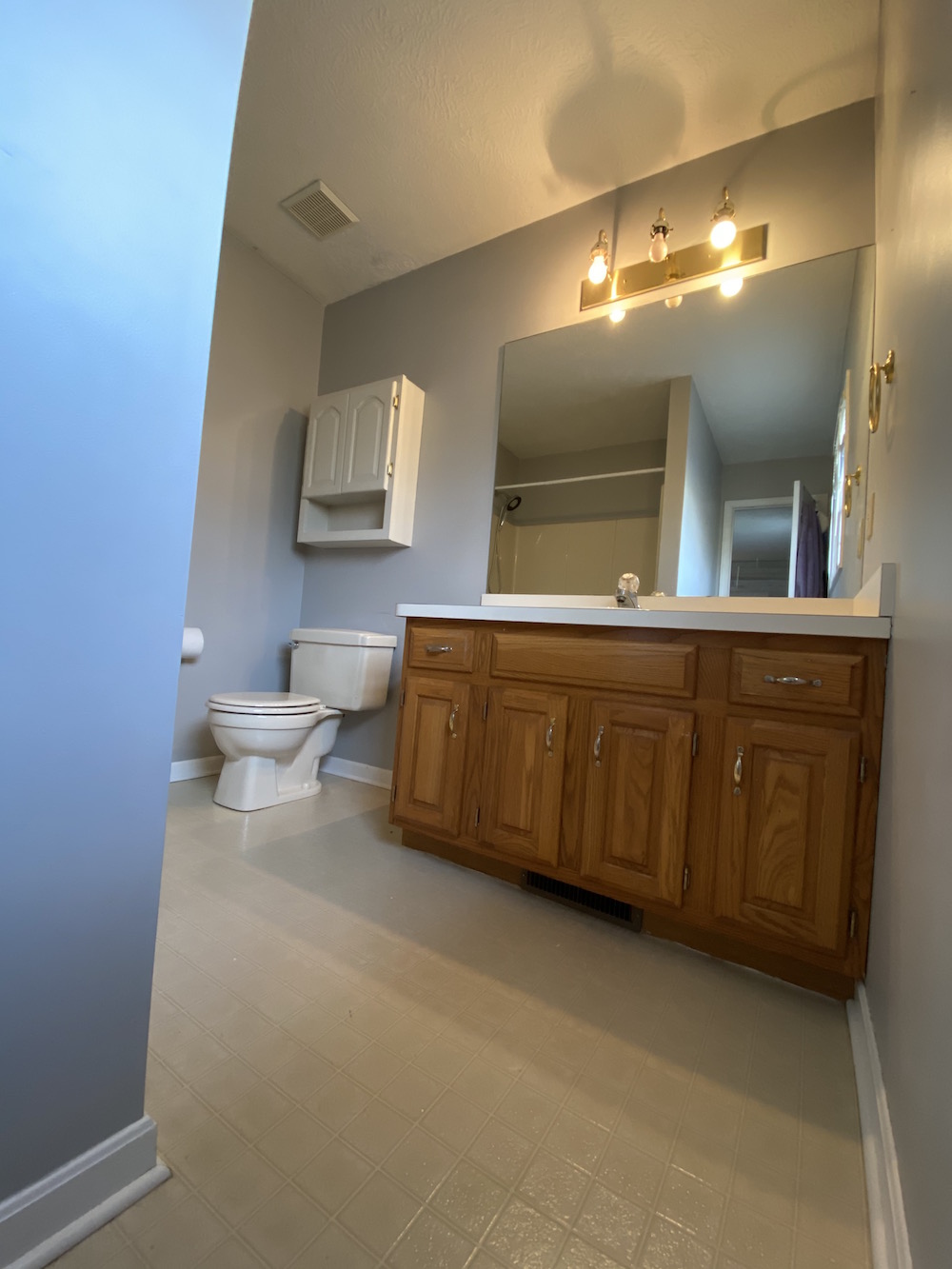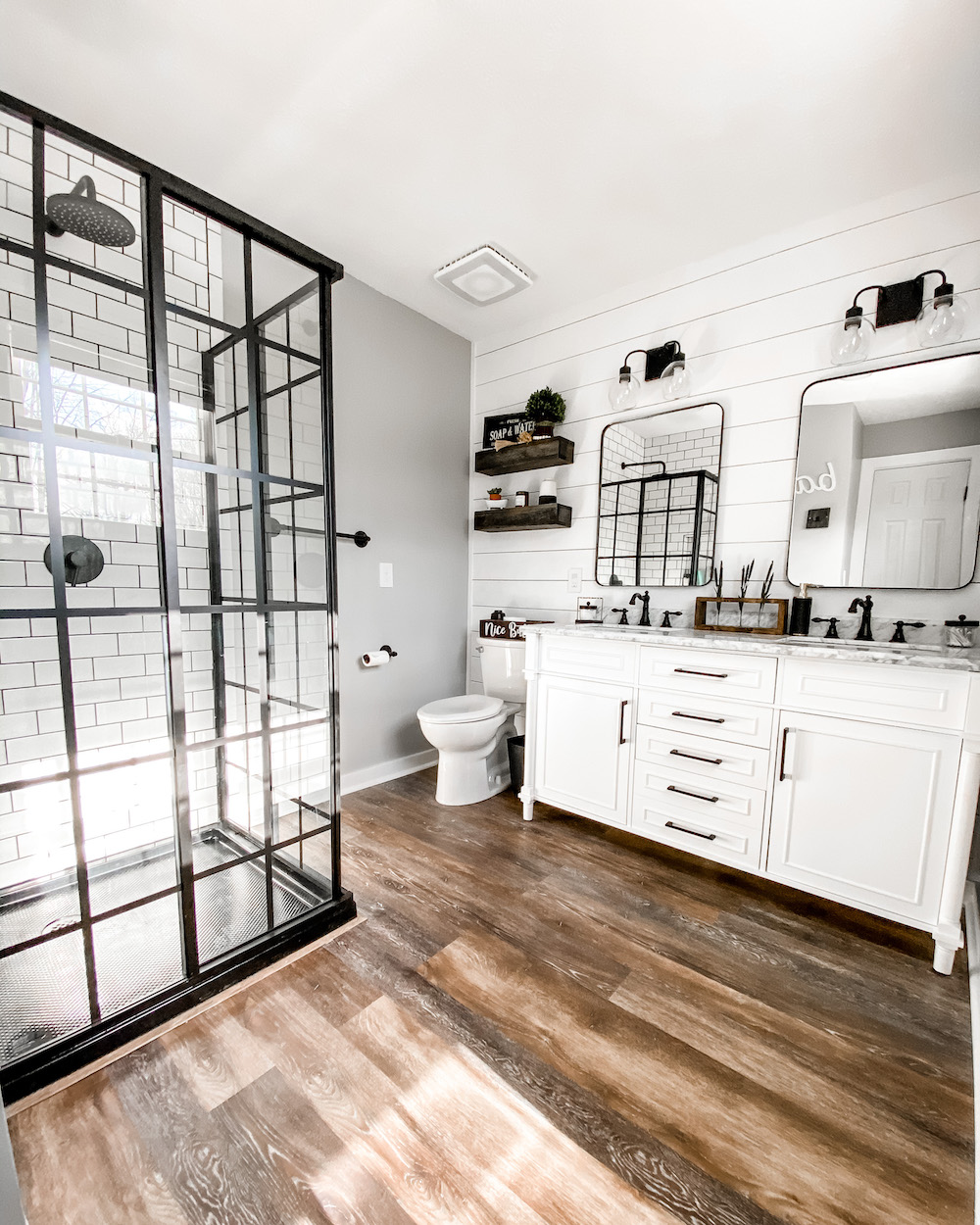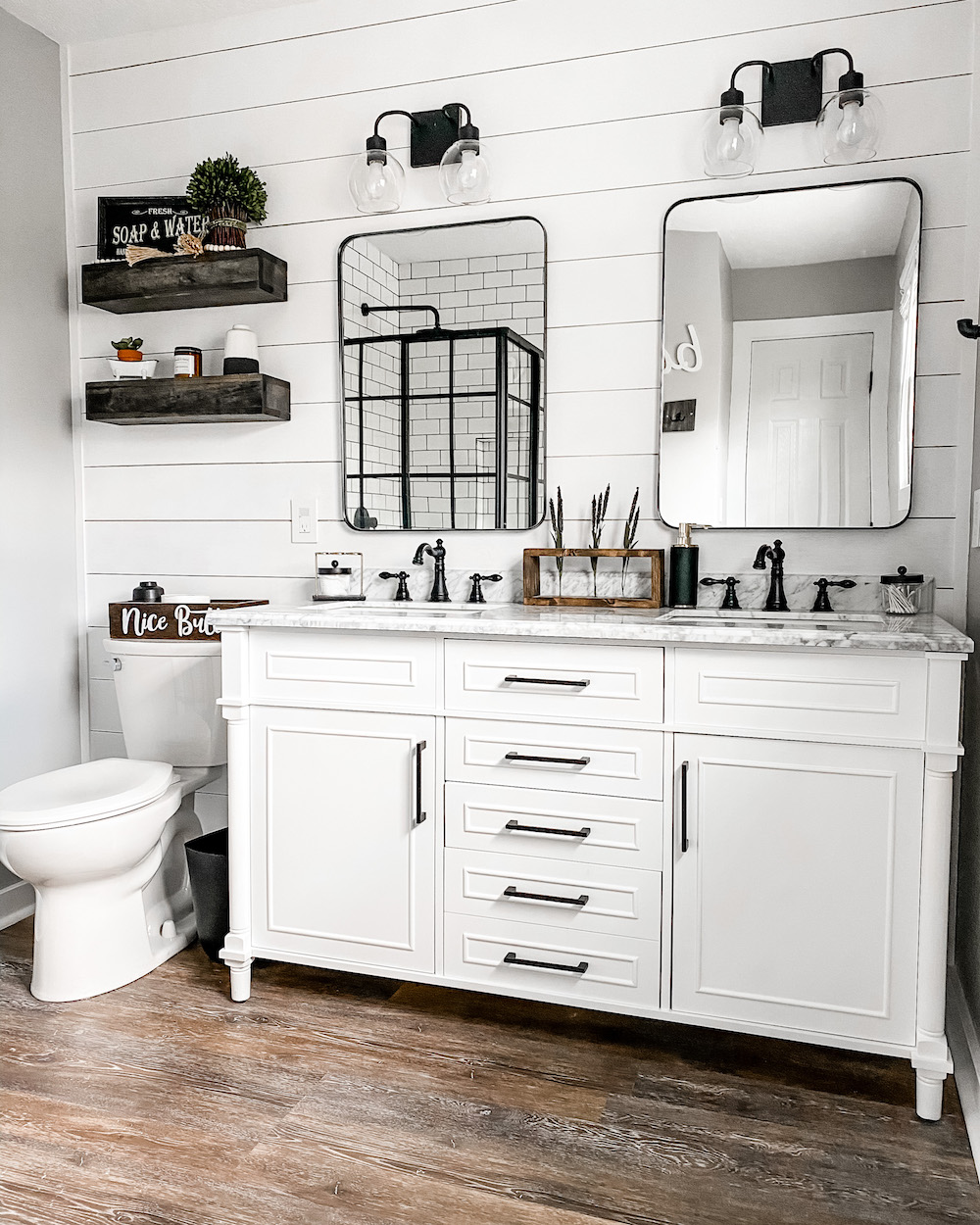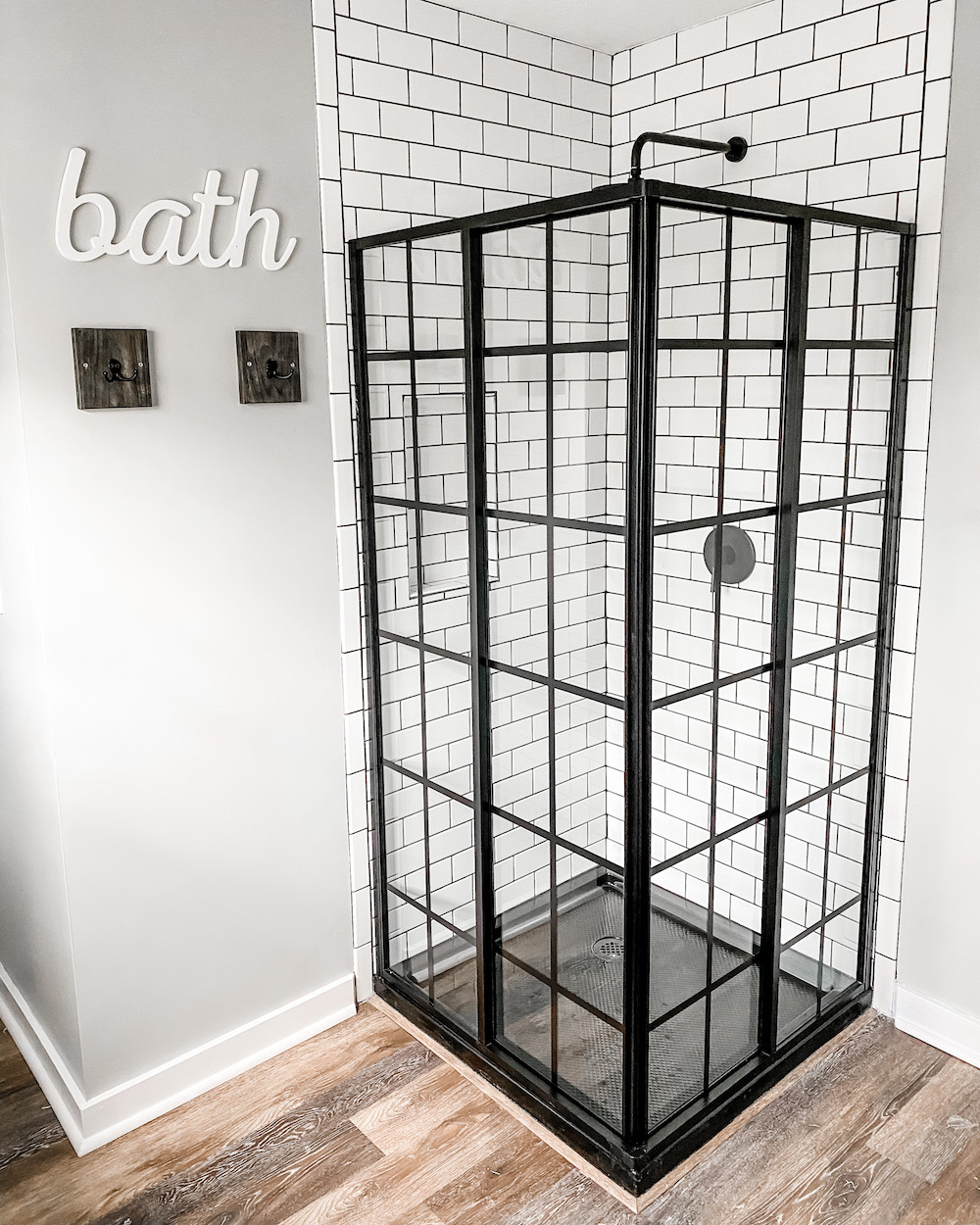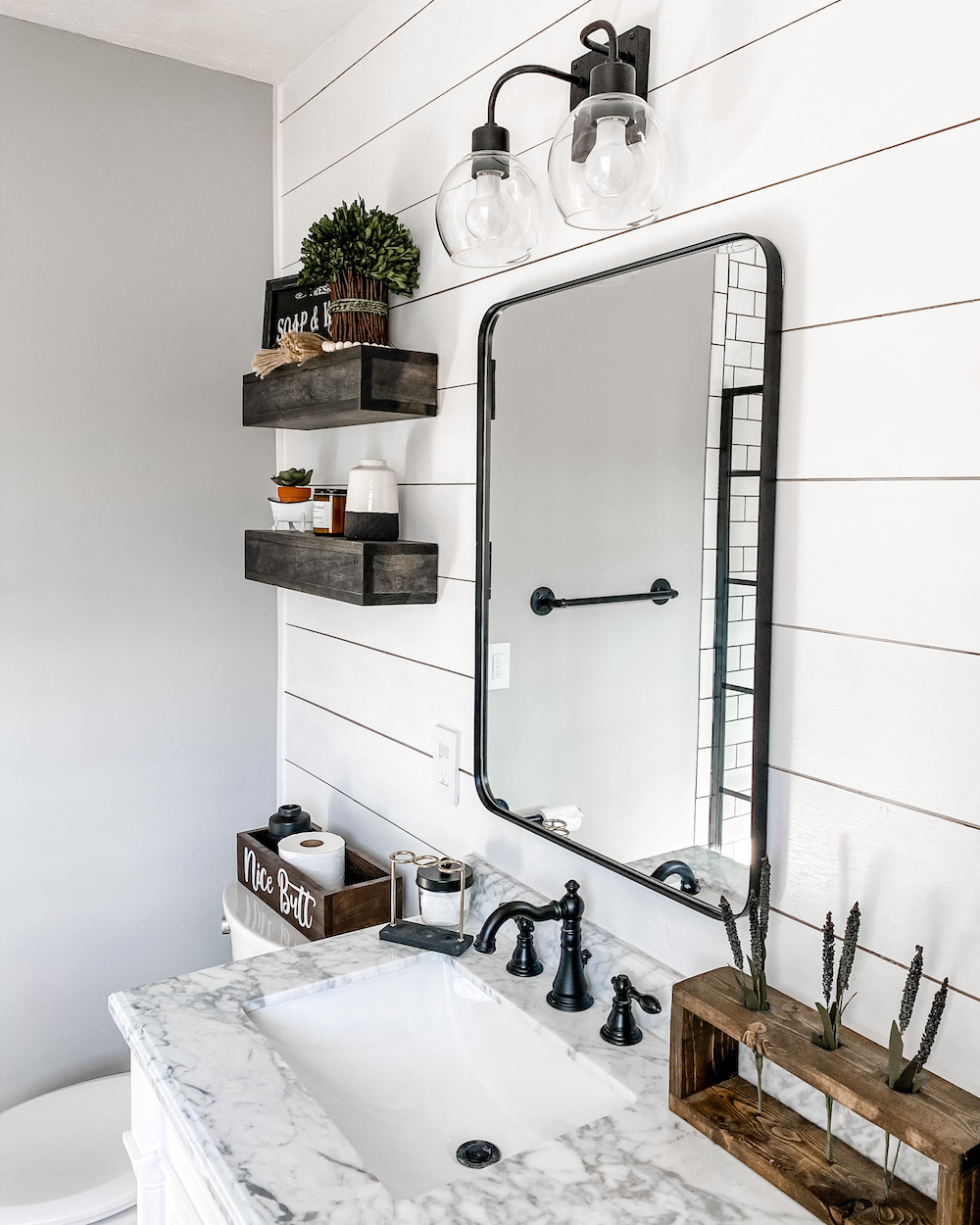 My husband's biggest pet peeve in the bathroom was the fact that it was only a single sink vanity, so we originally purchased the double vanity thinking we would deal with everything else. But then decided if we were going to purchase that big of an item, we might as well do it all big. So that's when we decided to redo the entire thing!
The vanity actually came with silver hardware but we wanted black hardware to make more of a statement and to match the shower and other hardware (more to come on that). This was a super easy change and gives it a completely different vibe!
Next we had to decide on floors. We had toyed with the idea of tile but since we still had vinyl plank left from our first floor renovation, we decided that would be most cost effective. We still needed to purchase a few more boxes but it was significantly less than purchasing tile.
Since our original bathroom had one giant mirror affixed to the wall, we had two choices when we took it down. Shiplap the back or patch all of the holes, sand, and paint. We decided shiplap would actually be the more cost effective option and also offer a statement wall as well. The shiplap is actually just pieces of quarter inch plywood that they spray painted white as a base coat and then painted again once it was on the wall.

The mirrors and lights are another favorite of mine; I had a lot of pictures for inspiration but it took me forever to find exactly what I was looking for. These mirrors come in two different sizes and these are the 22×30 option. We also decided to go with a two light fixture vs. a three light fixture because three over each sink felt a little overwhelming with the space. And I love how it looks now.
When it came time to decide what to do with the shower, we decided that if we wanted to make more space and open up the room, we could take out the bath and replace it with a standing shower. The wall was inconvenient and made the space feel SO much smaller. Once we took it out, it completely changed the layout and feeling of the bathroom. I looked around on Pinterest for ideas and loved the look of subway tile and glass doors with black details. I ended up finding these doors and basin online so there wasn't a need to custom make them.. total score! We chose white subway tile with black grout to make it pop. It's probably my favorite part of the bathroom, such a statement piece!
My husband also requested a rain shower head so we settled on that! It's AMAZING and I highly recommend it!
We had our floating shelves custom built and stained by our contractor. This is the "Ebony" stain and while I freaked out a bit at how dark they felt at first, I actually love them now. They've also faded slightly too so that helps. We coordinated our hooks for our towels; I  purchased the hooks and then our contractor made wood backs and stained them to match.
I decided I didn't want to have baskets on our floating shelves and wanted to keep them open for decor. Most of this decor is from Amazon and I kept it super simple! This "Nice Butt" box was an Amazon purchase and ended up matching our shelves almost perfectly!
Since we decided to go with black hardware on the vanity, we also wanted to go with black faucets. We searched high and low for ones that felt sort of farmhouse/vintage but were also affordable. I had no idea faucets could be so expensive! This one was a perfect match for both of our must haves! I'd highly recommend Wayfair for faucets, shower heads, etc. They had a lot of options at reasonable prices.
Since the shower is such a statement piece, we decided to keep the wall decor simple with this bath sign from our previous bathroom and leave the rest of the walls blank. We chose these industrial style pipe towel racks and toilet paper and love how it tied everything together!

Sometimes it's hard to believe this is our bathroom and think back to what it used to look like. It's such a crazy transformation! Someone asked me how much we spent total on the renovation and honestly, I didn't add it up. We had it finished over a span of 6 weeks and would just buy items as needed. I don't know that I will add it up, what's the point now right? haha
I've linked everything I could below but if you have any questions, please leave me a comment! XO