Style Challenge Recap: Week 1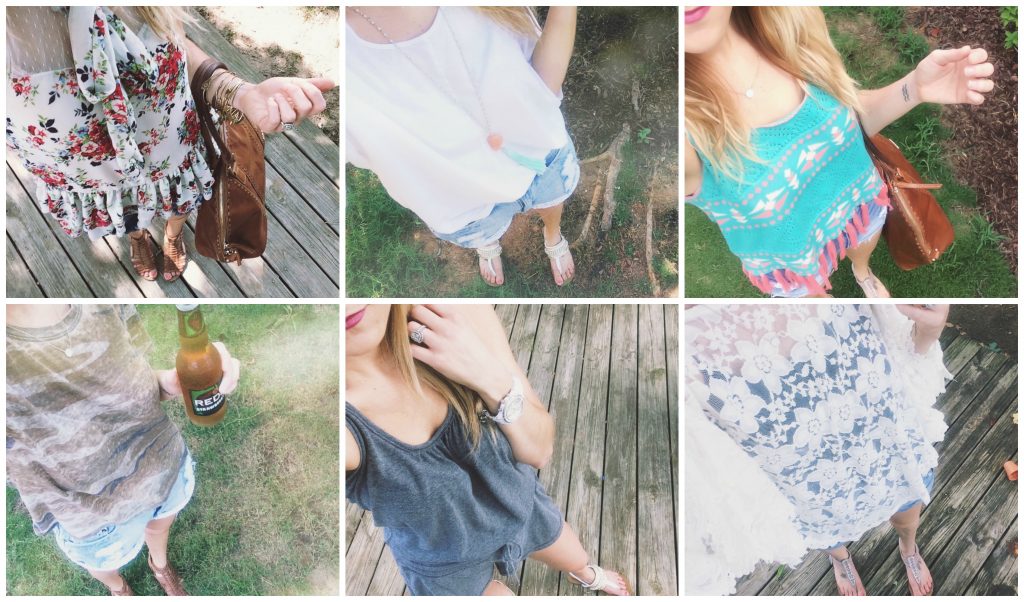 Okay guys… I made it through the first week of the 7 week style challenge. I only slipped up once, and it wasn't even on purpose. I didn't realize my camo shirt had black in it. But I'm going to say that doesn't really count… right?
Anyways! Here are the outfits from the past week(ish).
I found that I didn't reach for many black tops, blouses, etc BUT every t-shirt I wanted to put on was black. A lot of my graphic tees are black and that's typically what I wear in the afternoon while just hanging out back with my kids. So that was the only real challenge I faced. Since I work from home/ I'm a SAHM, I found it easier not to wear black than people in Corporate America probably did/would have.
Regardless, it was fun to watch what I was wearing and pay attention to it!
For this week's challenge, you'll need to stick a bunch of different tops in one bag, pants/shorts in another bag, shoes in another, etc. Then reach in and pull things out and make an outfit. Take a picture of each completed outfit you pull out. Wear as many of these outfits as possible… step outside of your comfort zone! According to the article, this will help you see things in different ways and pair things you may have otherwise not paired together. This one could get crazy and I'm super excited about it!
You may not have an outfit for everyday this week and that's okay. The object is just to try and mix different things and see if you would/could wear them. Don't forget to take a picture and hashtag #samanthashowstylechallenge on Instagram so I can find you! I'll be choosing a few random winners throughout the next few weeks and rewarding them with a little somethin somethin for stepping out of their comfort zone and joining me 🙂
If you participated last week, let me know how you did with cutting out the black!