Today's post on our updated sunroom tour is sponsored by Universal Windows Direct. As always, all opinions are my own. 
Our sunroom is the room where we spend most of our time as a family. I guess you could say it's more like our living room than a sunroom! It was an addition to the house by the previous owners and my favorite room in the house. It's the most open room, has vaulted ceilings and has the most natural light. Which no wonder it's my favorite! Give me all the sunshine!
I'm so excited to share an updated sunroom tour with you today but first let's take a look back on all of the progress we've made.
When we first moved into the home, it was NOT my favorite. It had key lime green walls and stained carpeting. Here's what it looked like before we bought it…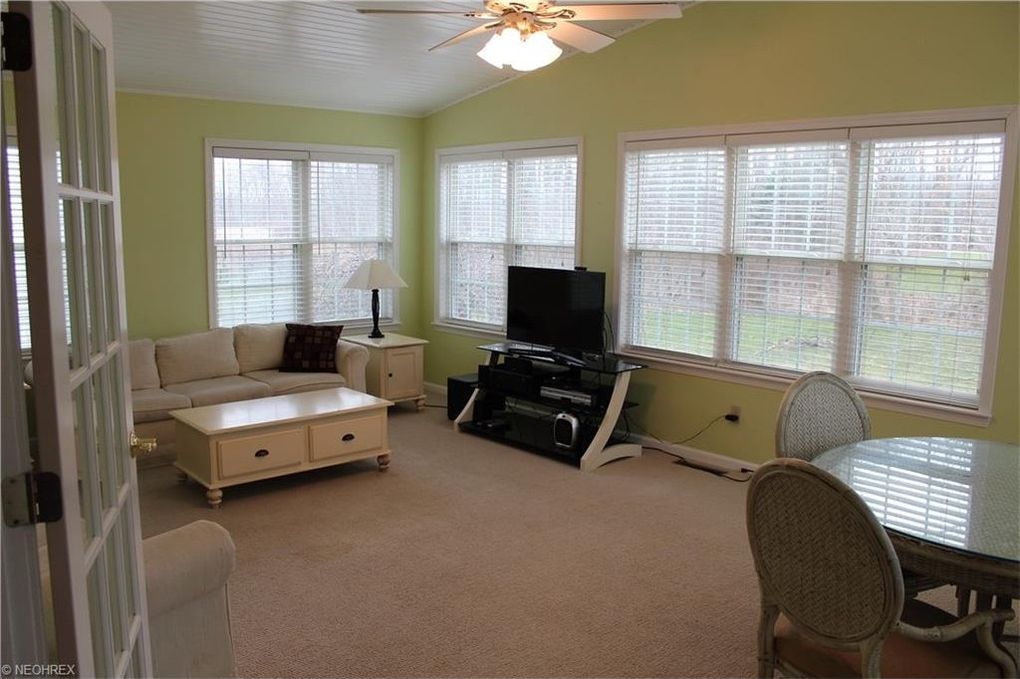 We painted it gray immediately (Sherwin Williams Light French Gray) but had to live with the carpet for a little while. Eventually we upgraded the entire first floor to vinyl plank flooring and that alone made a world of a difference.
Because the sunroom was an addition and what we *think* was intended to be more of a 3-season room, we really wanted to find a way to make it warmer in the winter months and cooler in the summer months. The windows were builder-grade windows which meant drafts, heat, and poor insulation. Which is why we decided on new windows from Universal Windows Direct** to help with all of that! We swapped out the builder-grade windows for new UniShield windows and we've been so happy with them. The other ones were so hard to open and close and half the time I wouldn't even bother. These are also super easy to clean! Like I mentioned, this room gets super drafty in the winter so this was one of our biggest concerns, and the new windows and insulation will help with that, as well as keep heat out in the summer.
If you've been thinking about getting new windows, check out Universal Windows Direct. The entire process was super easy from the first sales meeting to installation! They're knowledgable and have gone above and beyond, which is super comforting when it comes to making such a big decision!
A few more reasons I'd recommend them:
They offer BOGO free + 24 months no payments, no interest.
New windows help save on energy costs and also add instant equity to your home!
They offer a true lifetime guarantee on all parts of the window and it's even transferrable to new owners for 30 years.
Once the major updates were made, I added furniture and decor that still continues to change overtime. What can I say, I like to switch things up! Here's a look back at the changes we've made over the past 4 years…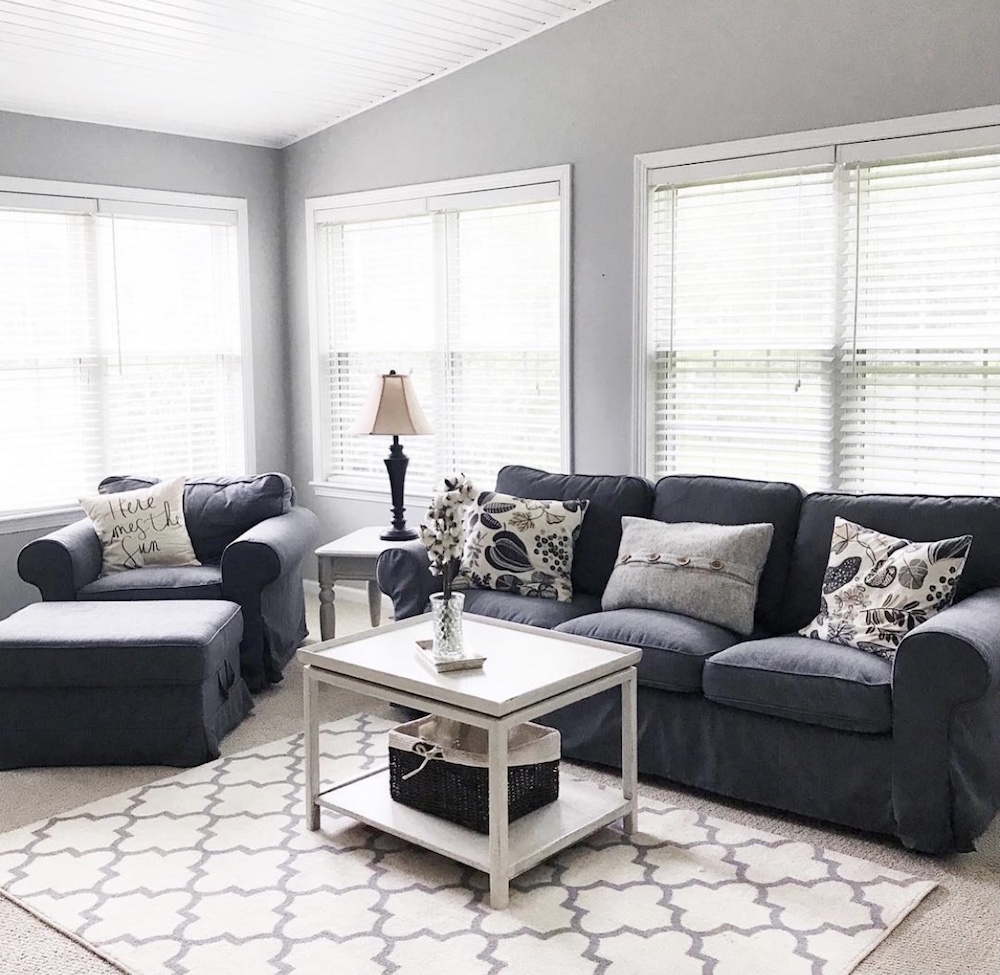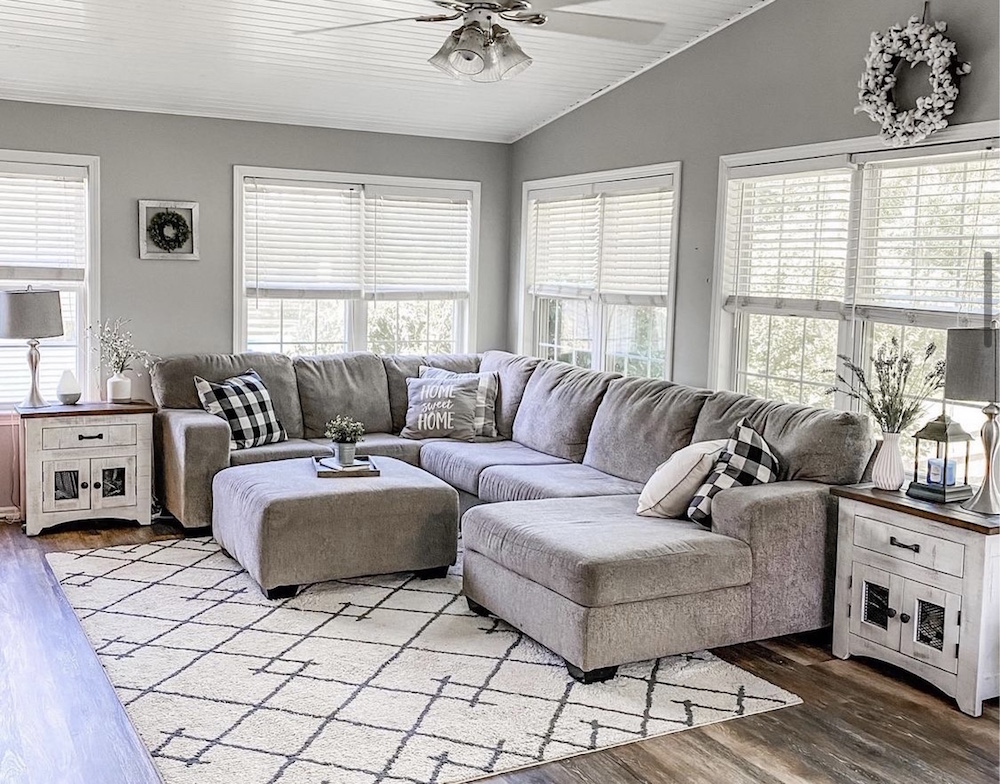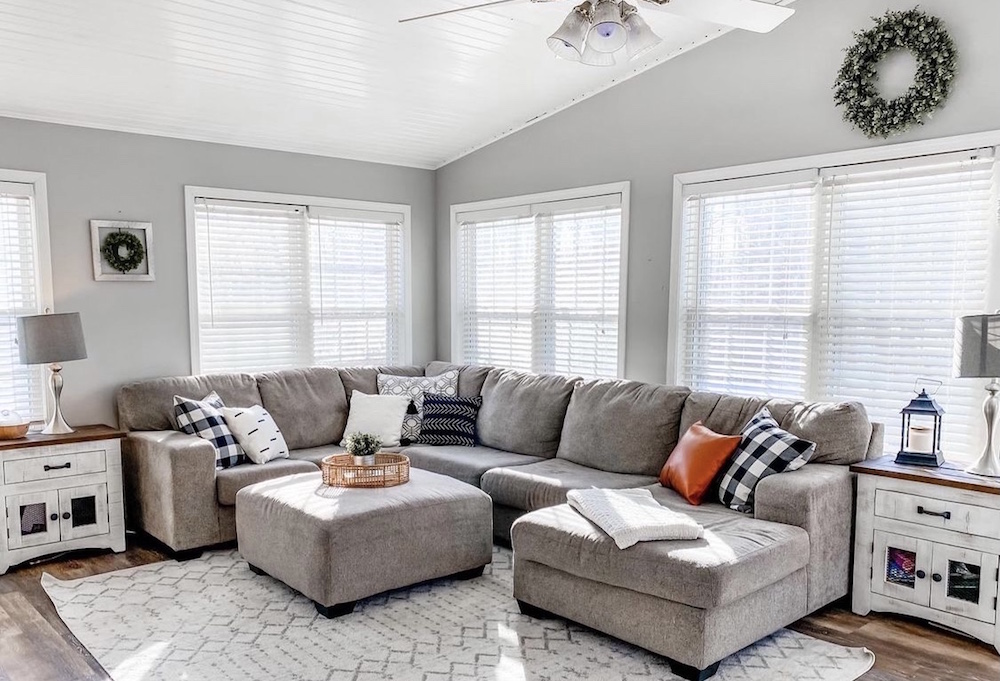 Some of the most obvious updates we made were switching out the couch and chair for a sectional and new side tables. We actually got really great deals on these pieces from a local factory outlet store and moved the other pieces into our living room. We've gone through multiple rugs in this space too but the most recent rug is black and I love how it makes everything else pop around it! I love it so much I even bought a backup for when this one starts to get too lived on!
I used to have more of a farmhouse theme throughout the house so as my style has evolved, I've slowly transitioned out those pieces and added more modern and abstract pieces + some greenery. We upgraded our TV last year and decided to mount it and I'm still working on how I want the area under that to look. Can't do it all at once!
Some other ways to easily change to the look of the room include swapping out the pillows (or in some cases just the pillow covers), new lamps, and new ottoman decor. I like to change out the pillows and decor with the seasons as well but these pillows and the decor pictured below are how it looks now most times throughout the year!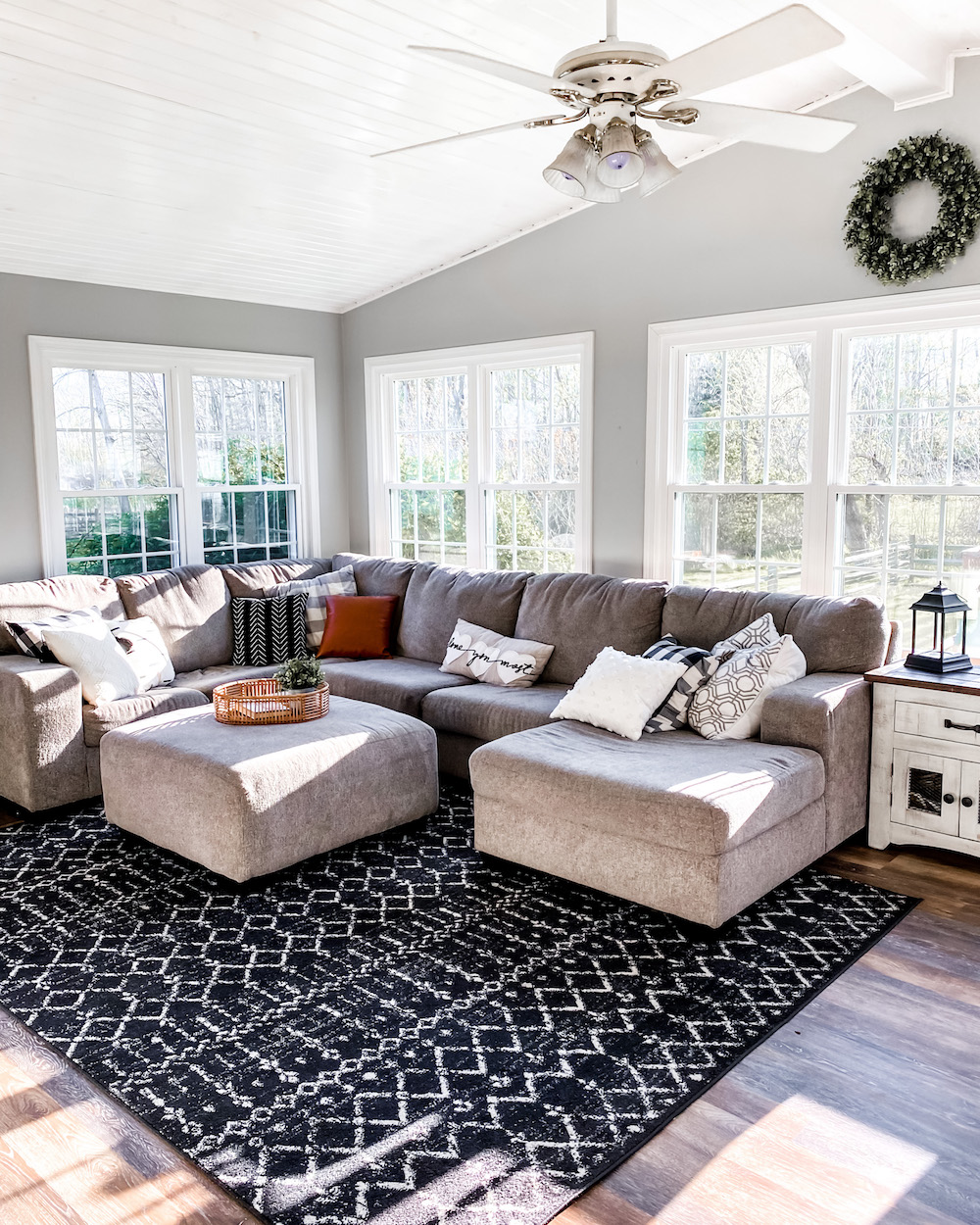 I'll share the other side of the room another day because it's still being updated (new windows coming + changing around the kids toy area). But this room is the heart of our home and we love how it's turned out over the years. I hope you enjoyed our updated sunroom tour and I can't wait to share the entire finished product soon! xo
**We received our windows complimentary from Universal Windows Direct in exchange for content creation and promotion. All thoughts and opinions are my own.
Like this post? Check out more of my home decor posts below! 
5 Affordable Ways to Update Your Home Decor