I'm a city girl, or so I say. I was technically born and raised in the suburbs, but we all know I belong in a city. I love hustle and bustle, fashion, media, shopping, restaurants, all of it. Even the noises. Who knows if I would love it given the chance to live there, but that's just where I feel like I belong. Having two small children makes it a different story now, but had I chosen somewhere back in the day, it would have been a city.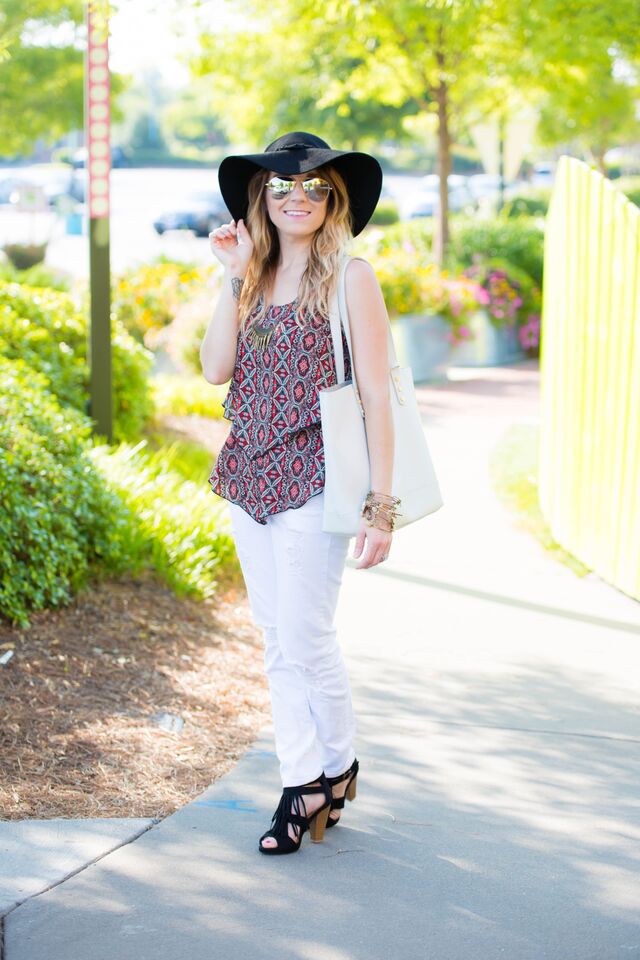 Where do I live now? Georgia. Did I choose to live here? Ehh kind of. Z was given a choice after our first duty station and since we were married here, we kind of knew the area. I was also 38 weeks pregnant when we moved aka past the point of flying sooooo this was one of the closest options in driving distance.
One of my favorite things about living here is our "downtown" area. It's pretty much two streets of shops, restaurants, and bars. There are so many things to do there and even just walking up and down the streets or on the river are enjoyable. Most weekends there is some sort of festival or event, and you can always count on going down there at some point in the weekend.
I don't remember exactly where I saw it, but someone posted about white pants being their jam this summer and I couldn't believe I didn't own a pair. So of course, I went and got a pair to see how I would like them. And ummm they were sent from the heavens above. They are seriously a summer staple of mine and don't know how I lived so long without them. However, because it's so hot here, I can really only wear them if I know we are going to be in air conditioning or we have a cooler evening. But I love them none the less.
I recently received this top from Byer California and knew I wanted to wear my white jeans with it. This isn't a separate necklace but actually attached to the shirt. Fun, huh?! I played around with the black hat for fun (you know I'm still so unsure of this thing) but in theory I like the idea of it. Who knows if I'll ever feel comfortable wearing it but it's fun to play dress-up sometimes.
I'm planning on wearing this same outfit again in the fall with a jacket and boots… which fall in GA means like, November. The colors are great for summer but are also perfect for fall too. The perfect transition piece 🙂
Because they're so fabulous, they've offered all of my readers a 20% discount with the code THESAMANTHASHOW. And if you want to win the exact same top I'm wearing, head over to @byercalifornia and checkout their giveaway! Good luck!