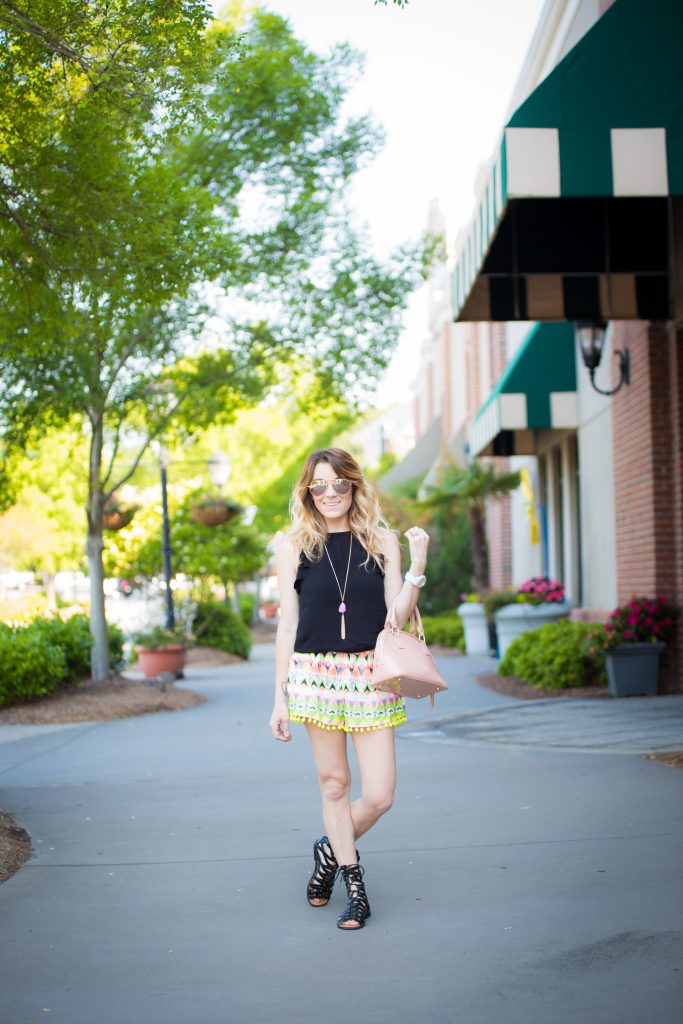 Remember last week when I said we decided not to go to North Carolina? That we were afraid the kids wouldn't behave on the boat and had changed our minds about going? Well if you saw my Instagram, you know we went. And we decided within a matter of seconds we should go.
On Saturday afternoon, we FaceTimed my parents and brother who were already there. And everyone kept saying "wish you could have come" and "you should just drive up tomorrow". And we were like "ehhhh we'll think about it". And as soon as we hung up the phone, we look at each other and were like "Let's just go". And within 15 minutes, we had packed a bag, the kids, and the dog and were on our way to North Carolina.
The kids were AMAZING on the boat. Like seriously, Nolan spent 4 straight hours in the water and Paislee just hung out on the boat and then napped for almost two hours. They both wore life vests the entire time so I was a little more at ease about it all. We had such a good time seeing everyone and I am so glad we made the decision to go after all.
Sometimes you just have to make those impromptu decisions. The ones where you're not prepared, you have to cancel other plans, and you don't even know if you have what you need because you ran out the door so fast. But when you live 12 hours away from your family, you take advantage of the fact that they're only 5.5 hours away and go spend the time with them. We probably won't be going home until Christmas, so spending this time with them was super important and we cherished every minute of it.
Had I actually had more time to pack, this would have been one of the outfits I brought with me to the lake. If you don't own a pair of pom shorts, you need to ASAP. They're SO comfortable and you can totally dress them up or down. Throw on a cami with flip flops or wedges and a tunic and you have two totally different looks. Maybe I'll style these in another way so you can see how versatile they are. But definitely size up; these are a medium.
This tank was a clearance find from Old Navy when they were having their buy two get one free clearance sale. I personally don't like wearing plain camis because you can see my bra straps, so I loved that this was thick enough where you couldn't.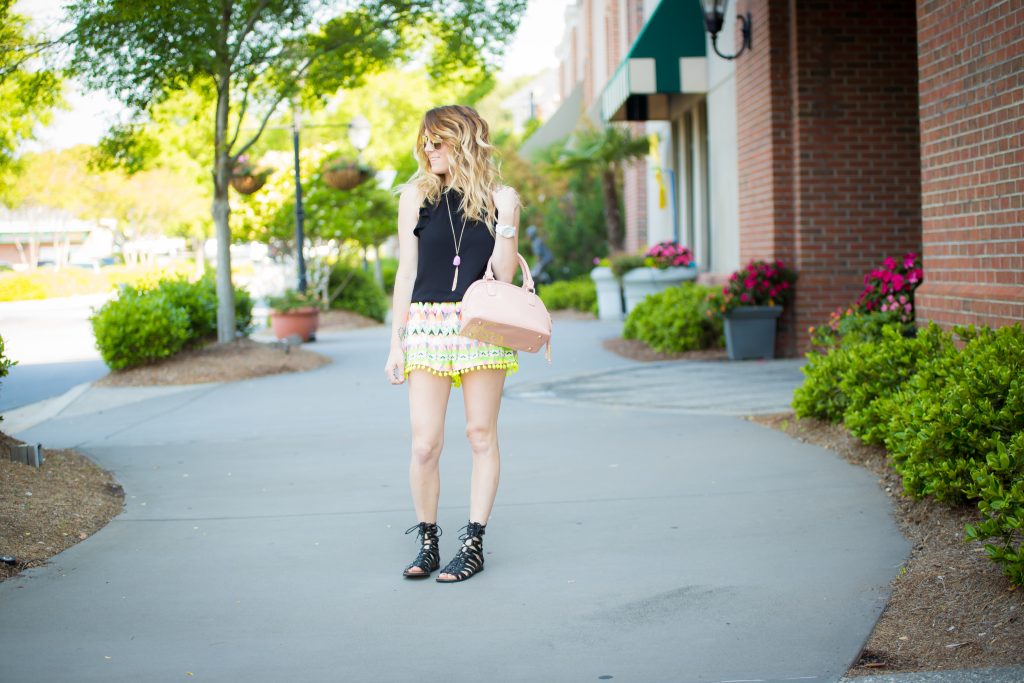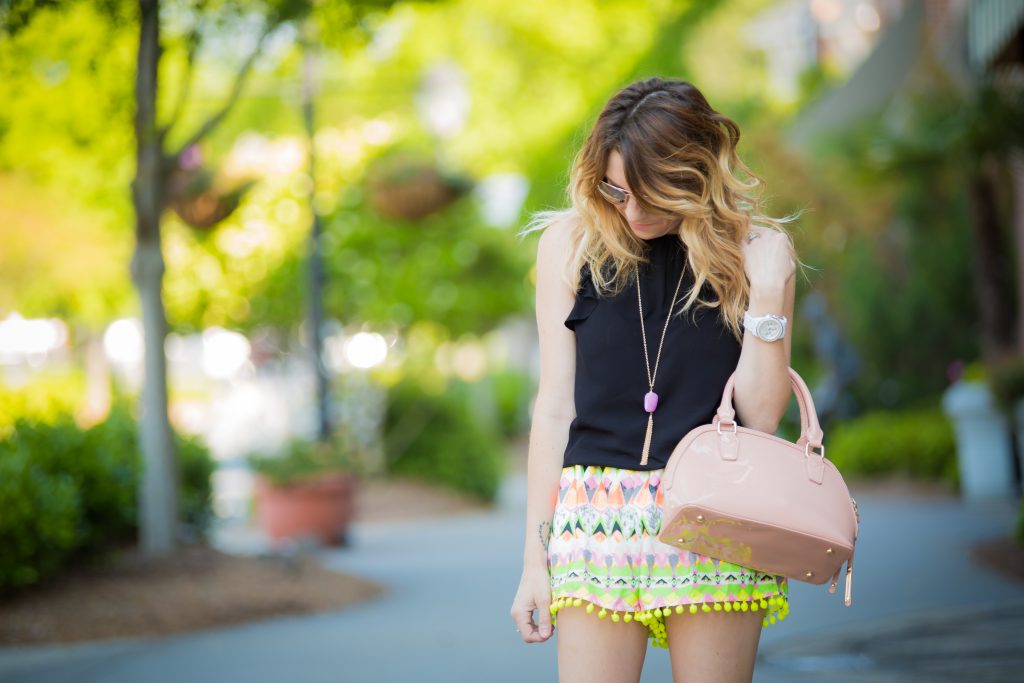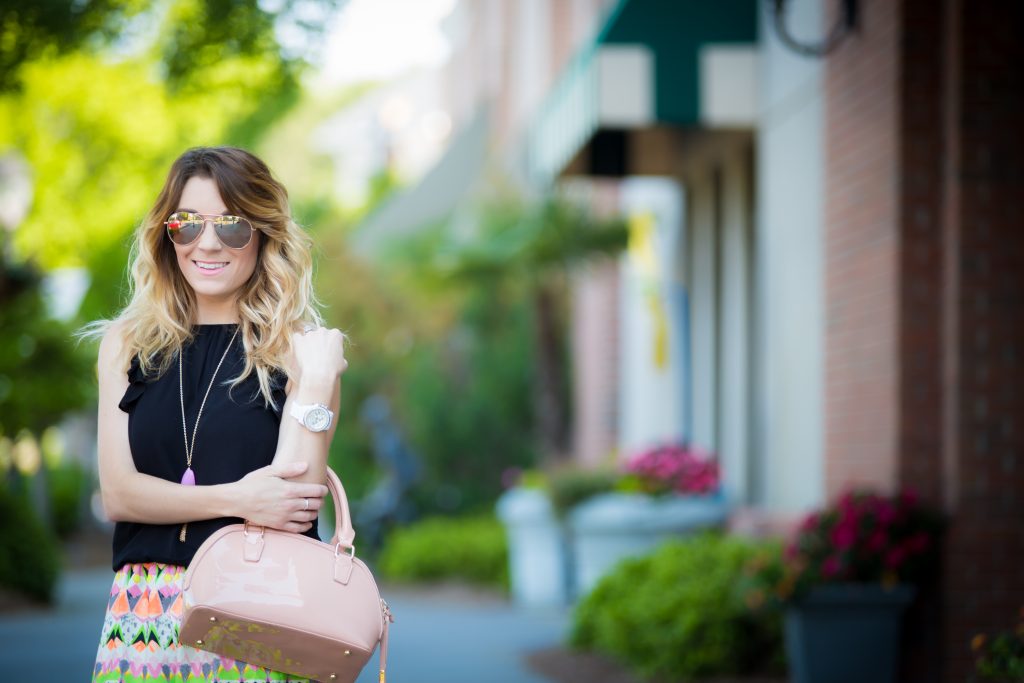 Old Navy top (similar here)// The Dandy Lion Boutique Pom shorts (use thesamanthashow for 25% off)// BCBG purse via T.J. Maxx (similar at Forever 21 here)// Metal Marvels Spring Tassel necklace (use samantha20 for 20% off)// Michael Kors watch (similar here)// Go Jane sandals (sold out in black but here in white or similar here)// Express sunnies// Photo credit: Amy Hess Photography
I hope you all had a fabulous weekend as well. As much as I loved the long weekend, the "holiday" aka the reason everyone had off work yesterday was kind of a hard pill to swallow. I can't imagine what the family's of those military members who made the ultimate sacrifice were feeling yesterday. Or what they probably feel everyday. Over 6,000 lives have been lost during this war and yesterday was a chance to honor them and all of those who have died during wars past. I saw someone's status and it really helped put it all in perspective.
"Memorial Day isn't about those still serving and wearing a uniform. It's for those who served and didn't make it out of the uniform". We will never forget the sacrifices these courageous men and women have made so that we can have the freedoms we do. America is a great place but freedom isn't free. We have these men and women to thank for it.