Healthy Eating on the GO!
The sun is shining, the weather is warmer, and the flowers
are in full bloom. Yes, spring is finally here!
As the mother of a toddler, I spend majority of my day
chasing him around at parks, playgrounds, and open fields. Children love to
play and discover and now that the weather is finally nice enough, we're taking
full advantage of it.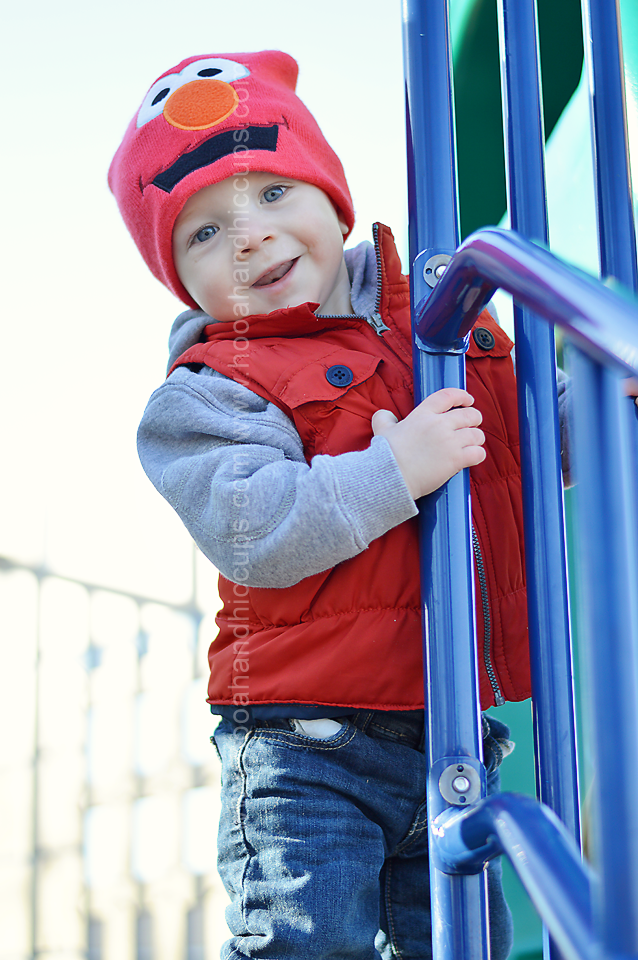 Being away from the house during meal times raises important
questions and decisions; "What's for snack? What's for lunch? Will we make it
home for dinner?"
To make sure we're providing our children with the most
nutritious options, I've compiled a list of some of my
favorite tricks and snack ideas for the mom-on-the-go!
Travel container: When we took a train from New York to
Chicago, I wanted to pack snacks for my son and avoid fast food and vending
machines. I baked muffins and filled the other slots with Cheerios and
Goldfish. It kept the muffins fresh and avoided the other snacks getting
crushed in the hustle and bustle of travel. You can purchase a craft case at your local craft store…it's
that simple!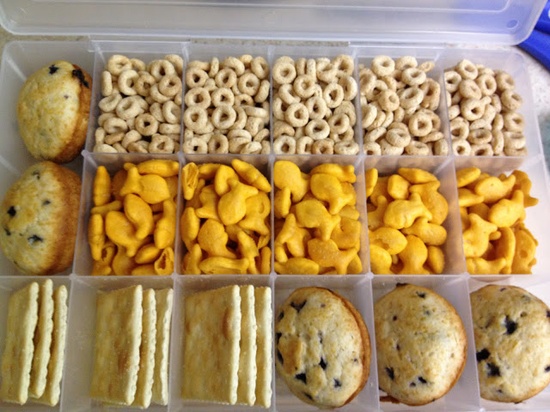 Sandwiches: Get creative! Mix and match; Peanut Butter and
Jelly, Turkey and Hummus, Ham and Cheese, etc. Try different combinations to
find your little one's favorite. Wrap them in foil and pack them in a small
cooler to keep them chilled (if need be). You can even make a few at the
beginning of the week and just grab them on the go!
Veggies and Ranch or Peanut Butter: I like to cut up veggies
at the beginning of the week and keep them in Ziploc bags. When we're on the go, throw a bag in
your purse along with a little packet of Ranch or Peanut Butter and you have a
healthy snack at your fingertips.
Snacks: Just like the veggies, I construct little snack bags
of cheerios, goldfish, etc at the beginning of the week. It's a better value to
buy the large containers and separate on your own, as opposed to buying the
snack size bags for purchase. This way, you have a serving size ready for your
day's adventure.
Dried fruit: My son is obsessed with fruit snacks, however
not all fruit snacks are actually good for you. I like to buy dried fruit and
call them "fruit snacks" and most of the time, he can't tell the difference!
Juice/Water: Juice
boxes and little bottles of water are great to quench the little one's thirst!
Don't forget to pack some of these to keep them hydrated throughout the day.
Although I try and stay clear of fast food, sometimes you're out later than expected or unprepared for meal time. If you have an impromptu day out and don't have time to
grab snacks or lunch, you can always opt for healthy fast food. Here are a few of
my favorite options:
Subway Fresh Fit for Kids meal: each meal includes a 6-inch
sub, apple slices, and your choice of milk or juice in a reusable bag.
Panera Kids meal: A variety of items made with all-natural,
whole grain and organic options. A squeezable organic yogurt is included as well.
McDonald's Happy Meal: A hamburger or cheeseburger would be
your best option here. Although fries and apple slices come with the meal, you
can always ask for just apple slices. Also served with milk or juice and a toy.
There's always a way to eat healthy and fast without
resorting to "fast food". Just by
implementing a few of these simple preparation tasks, you will save time, money,
and the headache of figuring out a healthy option on the run.
Here's to enjoying the spring with our little ones in the healthiest and
easiest way possible!
"Check out this month's featured blog, Life According to Kenz"