Happy Friday babes! Did anyone else have a chilly weather week? Not complaining at all because this mama loved the cool down. But it was definitely weird for sure. And then it's supposed to go up into the 80s next week so there's that. But it gave us time to get outside and go to the playground without sweating. Plus N had outdoor sports camp this week so I'm glad it was cooler for his sake.
Our week started off kind of crazy; Monday night I started feeling a lot of pain and pressure in my pelvis and just pushed through it. Tuesday morning I could barely put pants on or walk without pain. So I called my doctor and they said to come in and get checked, just to be safe.
Well turns out I'm 1.5 cm dilated but not effaced. Which is good. At 32 weeks and third kid, 1.5 cm dilated isn't super crazy. They wanted to monitor me for 20 minutes to make sure I wasn't contracting or anything, but baby looked good and contractions were normal. So she just said to take it easy and that they'd keep an eye on me.
I was 1.5 cm dilated at 26 weeks with N, and was put on bedrest. But they didn't seem too concerned this go around and we will just take it easy and hope for the best! As long as we make it to 37 weeks, I'll feel good about it! After that, COME ON BABY.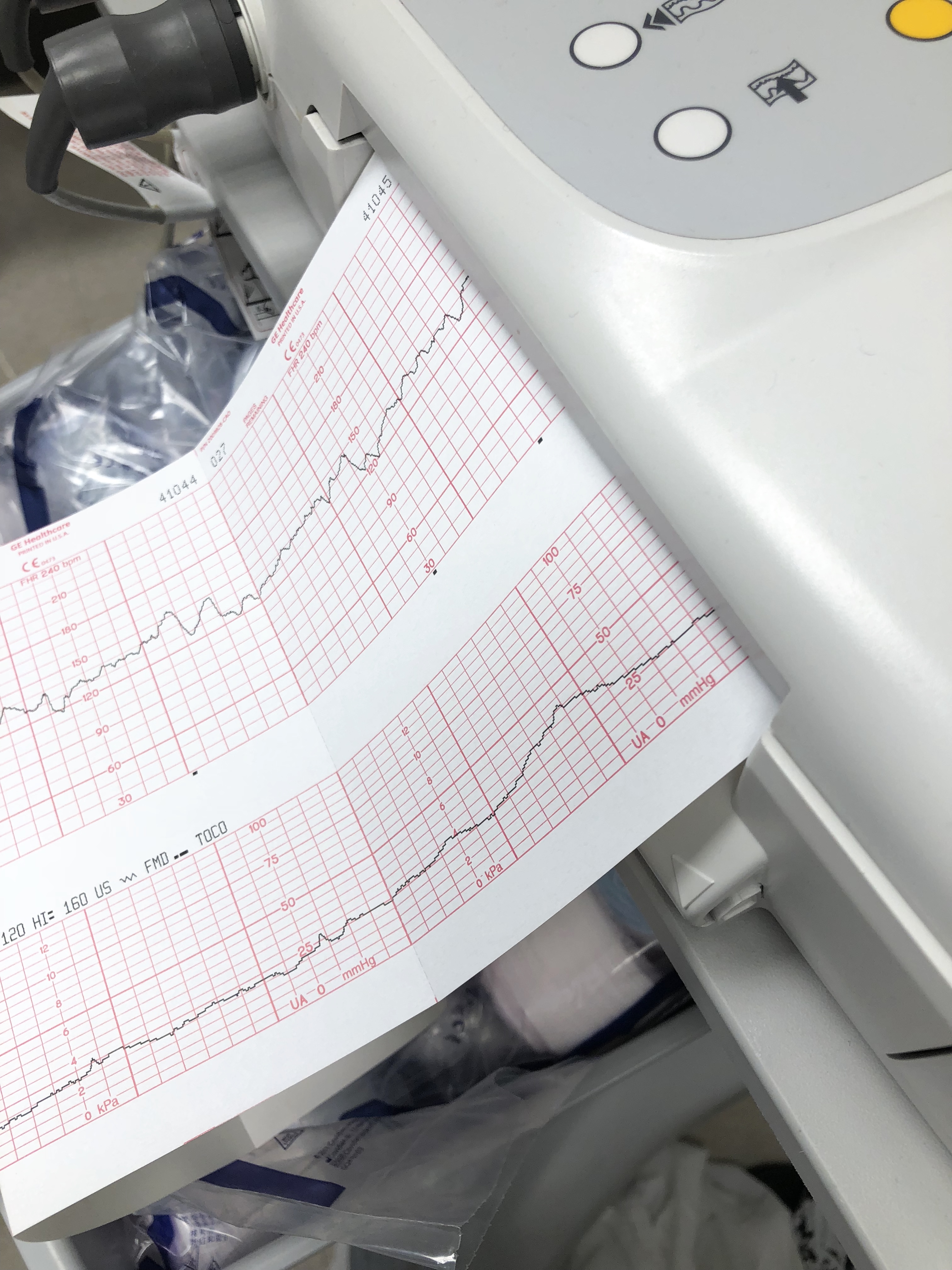 So let's get to this week's bumpdate, shall we?
How far along: 32 weeks + 4 days
Size of baby: Squash
Baby's size and weight: 16.6 in + 3.75 lbs
My total weight gain: 40 lbs
Baby's development: 
Baby is head down! Ready for descent!
Braxton Hicks contractions (getting a lot more of these)
Shortness of breath.. literally can't go up the stairs without getting winded.
Baby is sleeping a lot.
Baby's digestive system is all set to go!
Bones are still pretty soft but hardening every week. .
Skin is still slightly transparent but will get more opaque as she puts on more fat in the next few weeks.
Stretch marks: Nope.
Maternity clothes: Grabbed some sundresses, tanks and  stretchy shorts to get me through the last few weeks!
Gender: Girl.
Movement: It comes in waves. Sometimes I can't feel her at all and sometimes she won't stop moving!
Sleep: Non-existent. I roll all night in pain and cannot get comfortable.
What I miss: being able to walk without pain, eating whatever I want, and sleeping soundly.
Food cravings: I've really wanted Chick-Fil-A nuggets and just haven't wanted to make the drive lol
Symptoms: Back pain, pelvic pressure, burning sensation under ribs, not sleeping, irritability.
The siblings are:  crazy. They do nothing but fight all day, ask me for snacks, and run around like crazy people. Oh summer…
High of the week: My Baby Sprinkle is Sunday and I cannot wait to celebrate this little babe. I've been having all of these crazy thoughts lately like, "how will I love another child" but I have had those before. I know once she's here, I'll feel differently. But that's why it's important I have a day to celebrate this baby and this baby only. 
Low of the week: The pelvic pain and extra trip to the doctor. And Charlie Horses or leg cramps or whatever you want to call them. If I straighten my leg I get this terrible burning sensation in my calf. It still hurts to walk the next morning.. it's so insane.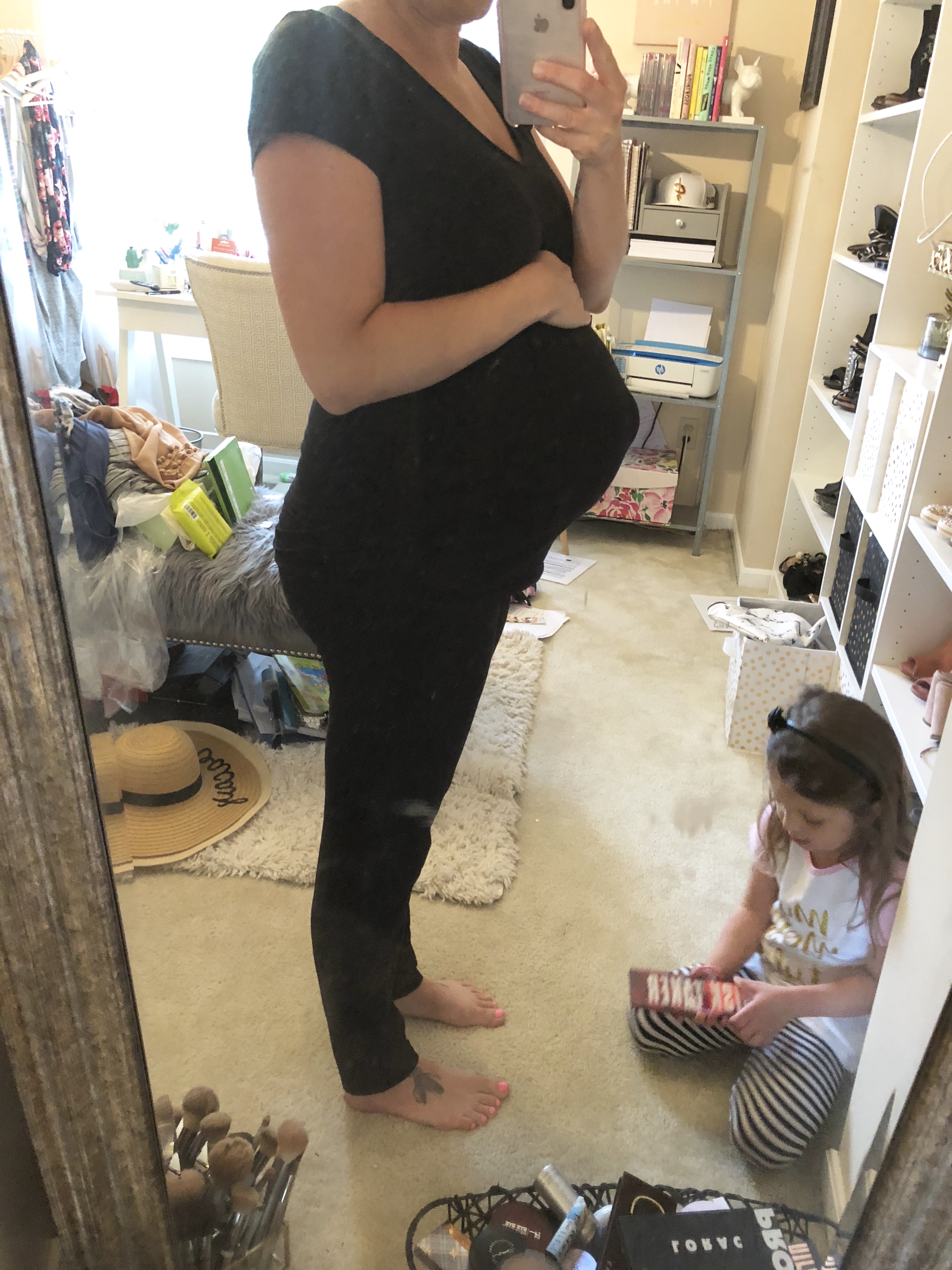 This weekend is jam packed with fun things! Tomorrow I'm headed to Eastwood Mall to shop and dine with a few other fabulous Cleveland bloggers! And then Sunday is my Sprinkle and I can't wait! I'm a little worried because I'm starting to have a lot of pain when I stand or walk around for too long, but I will just have to take a lot of breaks and rests. I still have so much longer to go but this belly is just so heavy! The things we go through for our kids, I tell ya…
Hope y'all have a fabulous weekend… see you Monday! xo
Here are the previous bumpdates if you missed them!