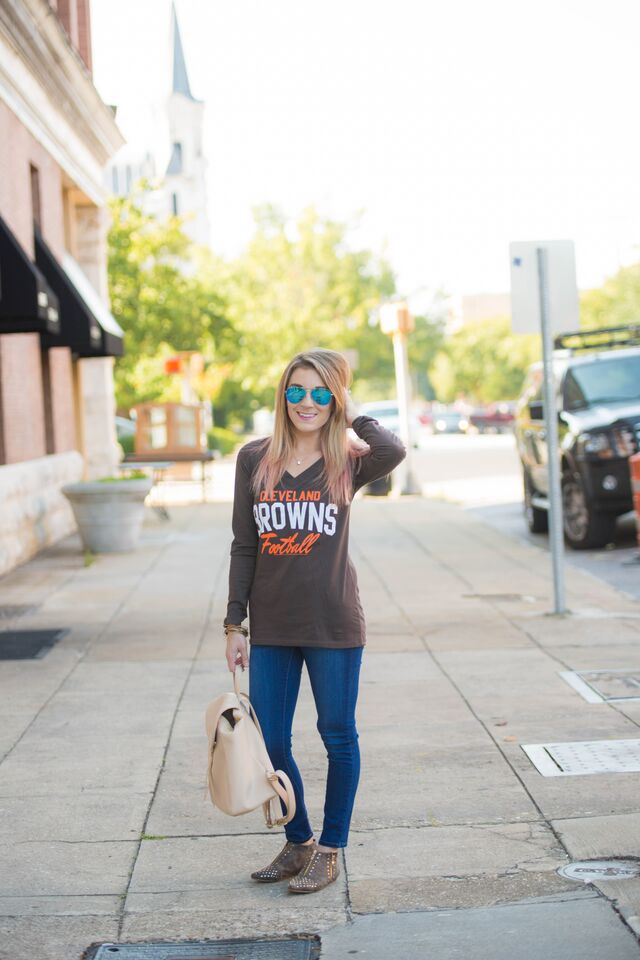 Ah can you smell that? It's football season my friends. The Cleveland Browns kicked off their home opener yesterday and let's just say I was impressed. If you're not a Cleveland Browns fan, you're lucky. But if you are, you know how good it felt to feel like we may actually have a chance this year. Don't worry, they'll find a way to screw it up in the upcoming weeks and we will still suffer heartbreak from the unavoidable Cleveland Curse. But for now, we will ride our high horses into the sunset and enjoy every minute of it.
Since we live in Georgia, I don't get to go to many Cleveland football games. We went for Z's birthday last year and had an absolute blast. However just because I don't live in Ohio right now nor do I get to go to any of the games, I still rock my Browns gear every weekend. They can break my heart year after year but I will still bleed brown and orange till I die. Wearing football gear doesn't have to be "athletic". I've heard women say " I don't want to wear a t-shirt, it's not my style" or "jerseys are manly". Well my friends, I'm here to tell you it's not any of that. You can style a t-shirt however you want and I'm showing you two different ways to do that today.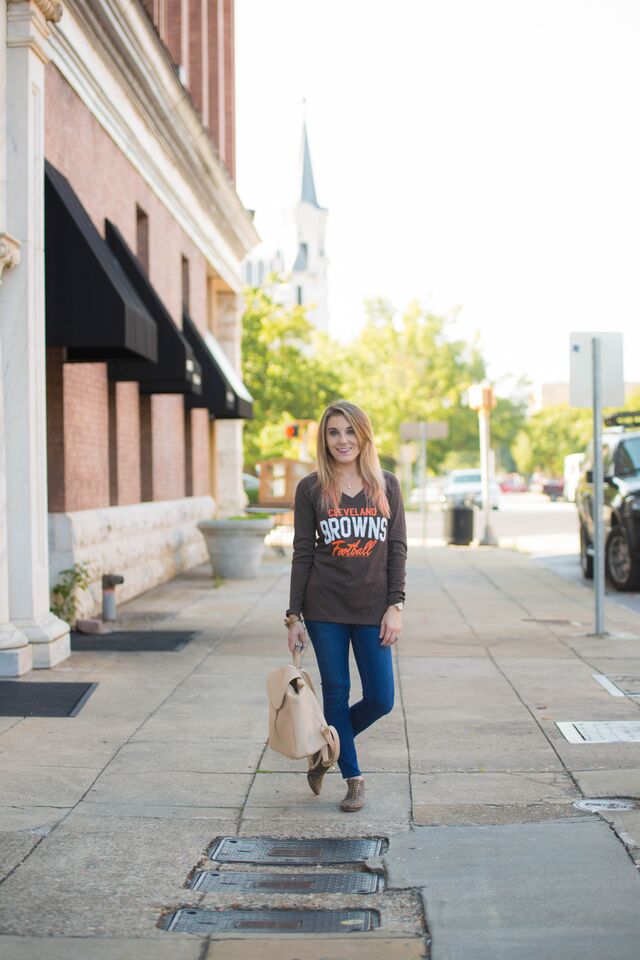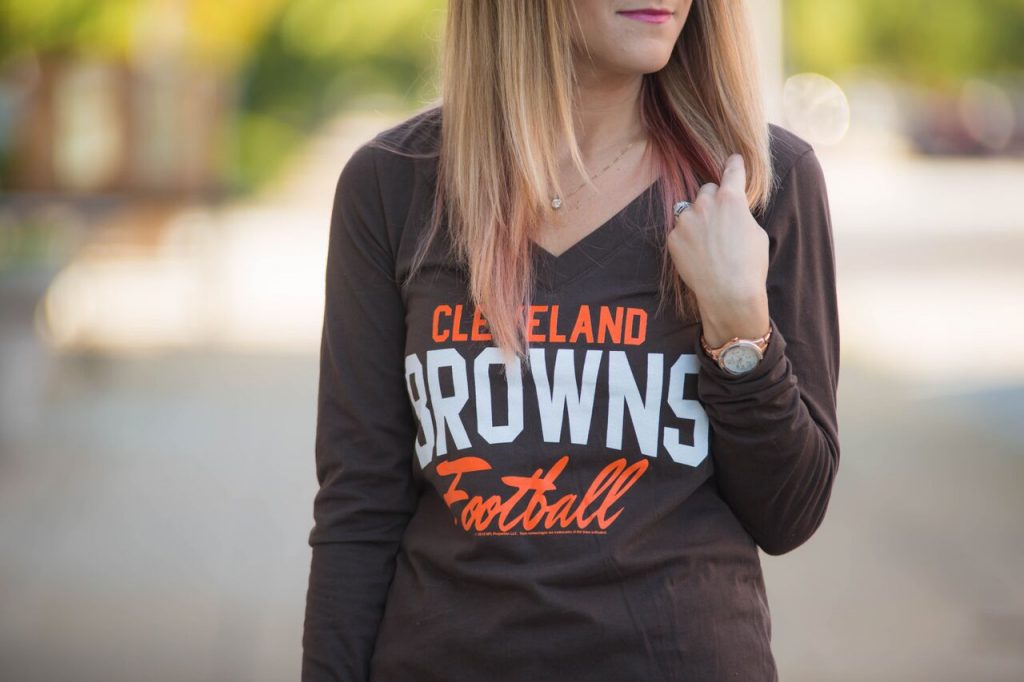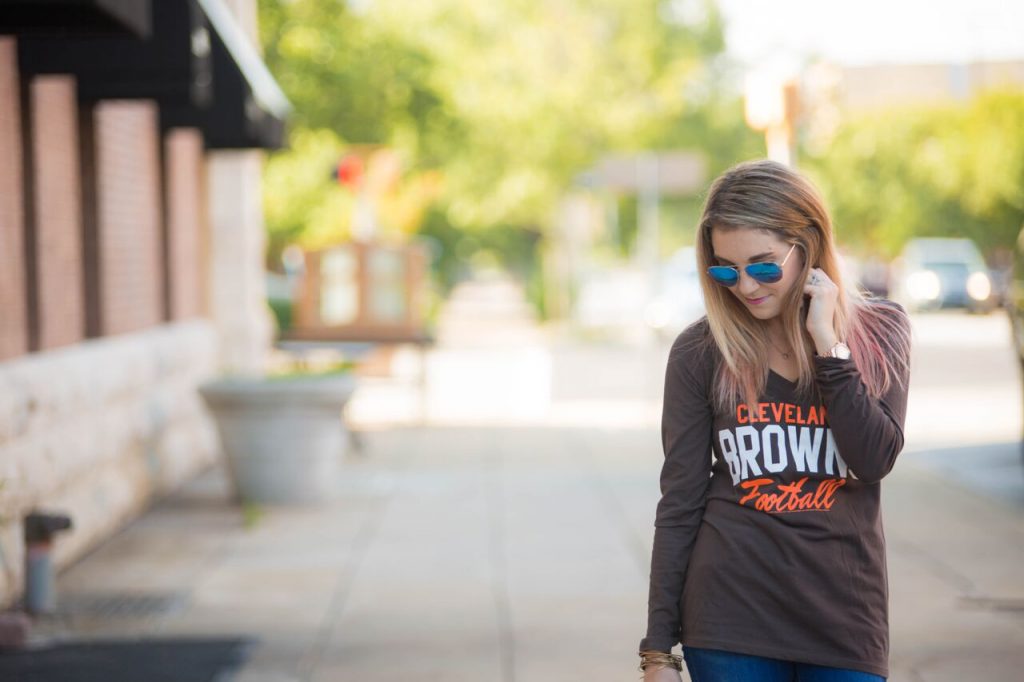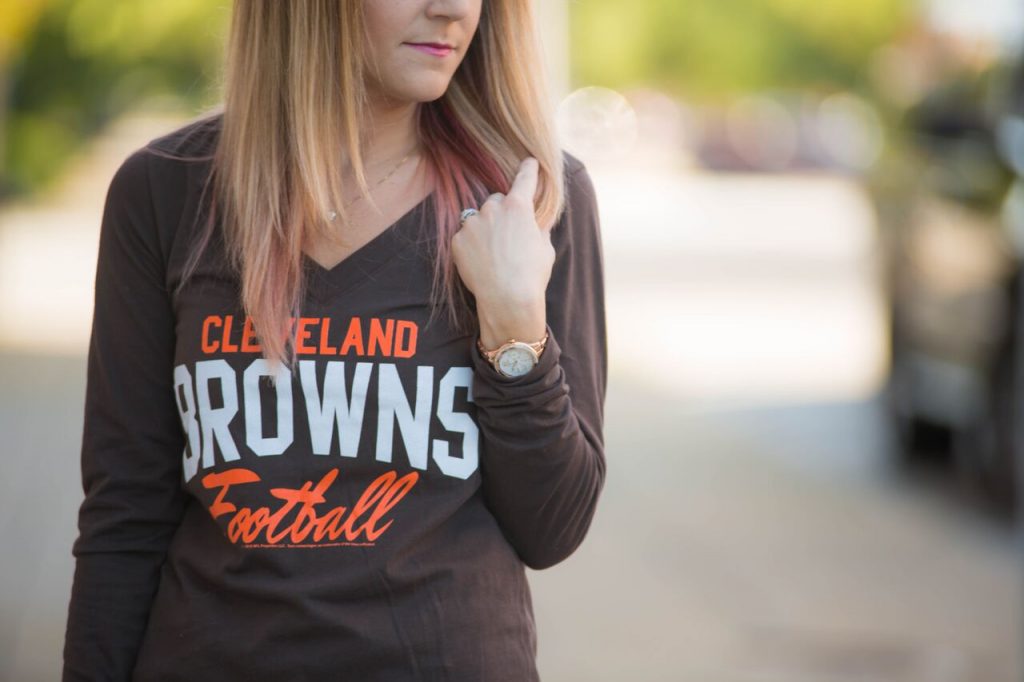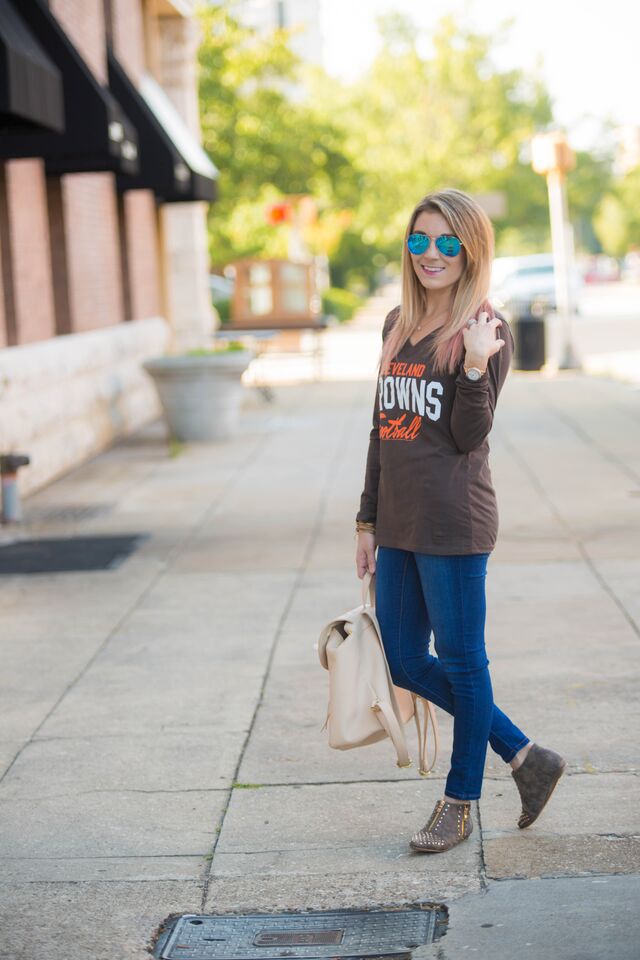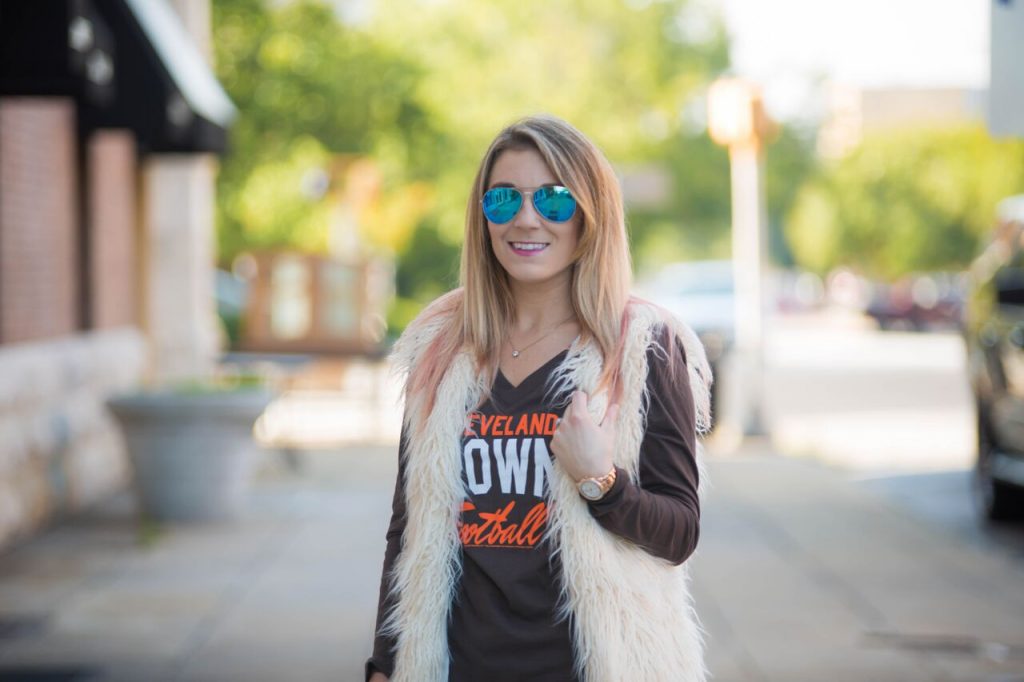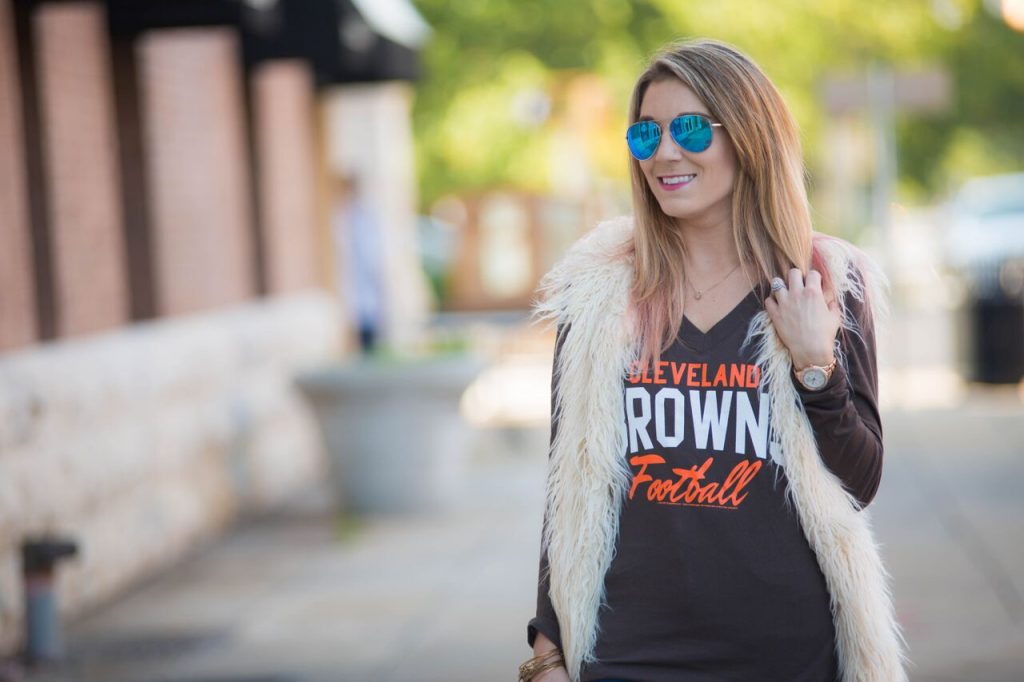 This first look is simple; jeans and a t-shirt. But the embellished booties and fur vest give it a little umph in the fashion department. This is probably an outfit I would wear with a piko top or some other sort of tee, so why not rock a Browns one on Sundays? I always love to throw on vests with long sleeve tees in the fall. Especially in Georgia, it's not cold enough for a jacket so a vest does the trick. You could wear a jean vest, poncho, whatever… it would look cute with anything!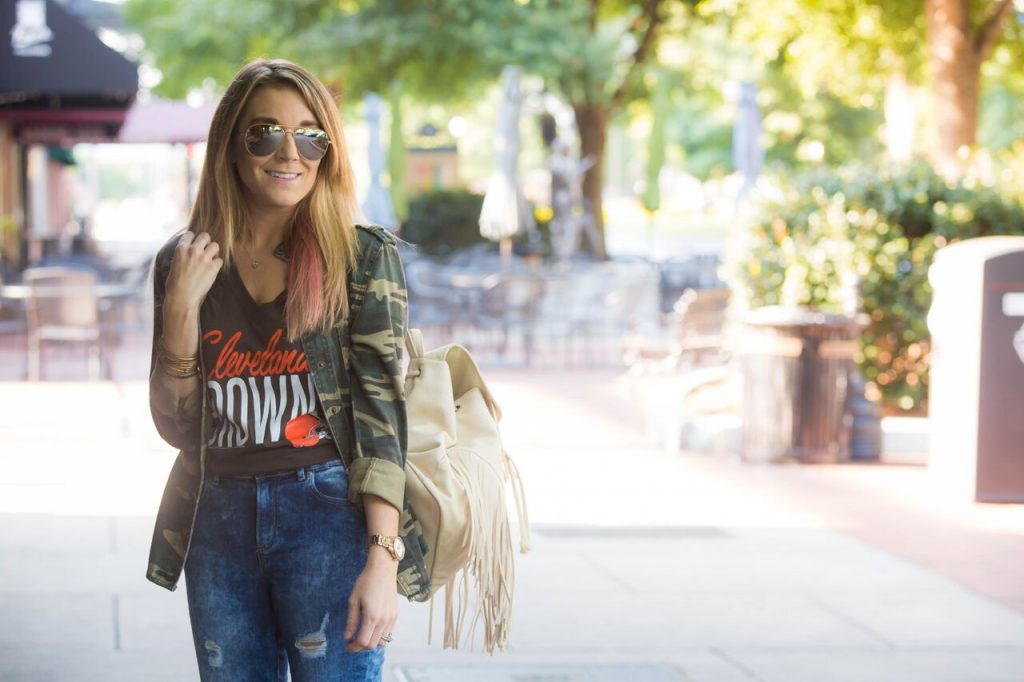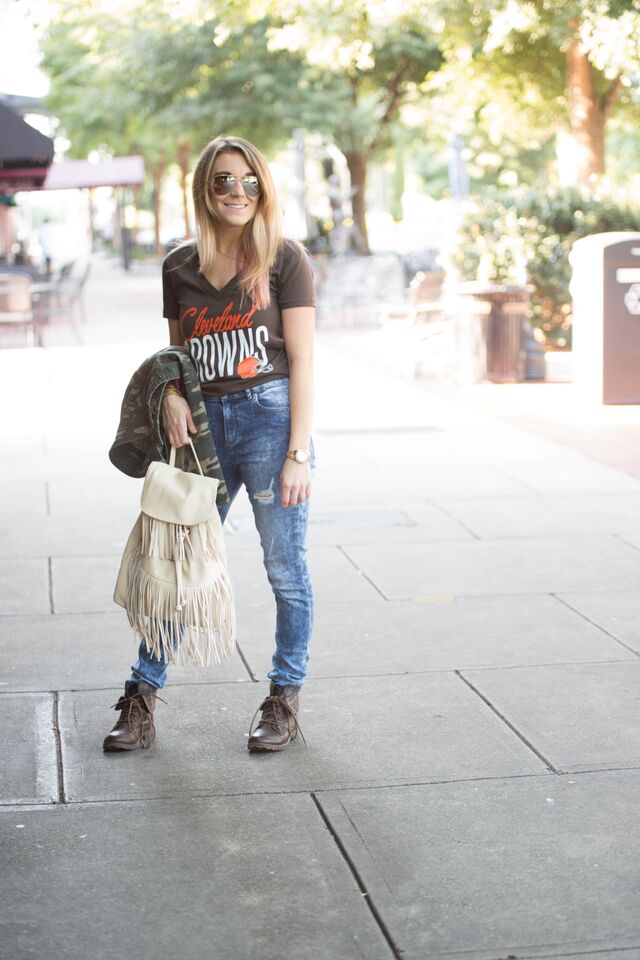 For this look I went with high waisted acid washed jeans, a camo jacket, and combat boots. I love love love camo for the fall and since my team's colors are the colors they are, I loved camo with it. Depending on your team's colors you could wear a jean jacket, cardigan, poncho, etc. I'm not a fan of vests with short sleeve t-shirts but any other outwear would look cute. I kept accessories simple with gold bangles and a neutral bag, but feel free to get a little crazy depending on your team's colors! Football is fun and football fashion should be fun too!
Both of these tees came from NFLShop.com and I love buying my NFL gear from them. They always have the cutest options for women; mens tees work fine for women too but I love my t-shirts more fitted and feminine. And they always have great options for that!
Be sure to follow @NFLFanStyle to see other great looks and inspiration! And tell me below who you're rooting for this football season!