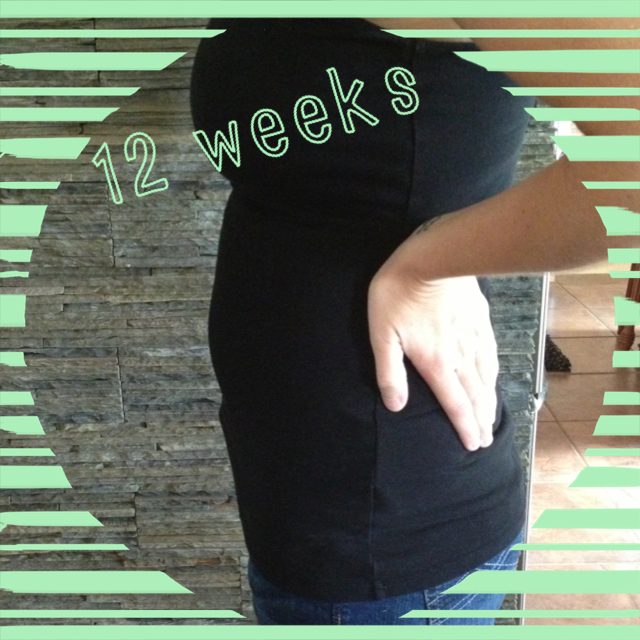 How far along: 12 weeks
Size of baby: Large plum
Baby's weight: Half an ounce
My total weight gain: 7 pounds. No change from last week.
Baby's development: Digestive track is forming, pituitary gland has started producing hormones, and bone marrow is making white blood cells.
Stretch marks: None.
Maternity clothes: I haven't busted them out of storage yet BUT none of my pants or shorts fit. Tops are still okay but bottoms, not so much.
Gender: Unknown BUT we are taking a sneak peek next Thursday so stay tuned 🙂
Movement: None yet.
Sleep: Waking up to go to the bathroom 2-3 times a night and sharing a bed with my toddler at my parents house=sleepless nights.
What I miss: Fitting into my pants.
Food cravings: Everything bagels with cream cheese and have been my go to. I can hardly stomach the thought of anything else half the time.
Symptoms: Besides the normal nausea, dizziness, headaches and frequent potty trips I've been experiencing, I've had TERRIBLE lower back pain this last week. And my tatas are extremely sore and tender (sorry if that's TMI…but it came out of no where!)
Nolan is: 18 months old and a crazy man. This kid definitely keeps me on my toes…
Zach is: in Ohio with us (finally!) We will be here for the next few weeks and then headed back to NY to spend our final month there 🙂
What I'm looking forward to: Next week's sneak peek ultrasound.
Best moments: Picking up Z at the train station and seeing a visible bump when I woke up the other day 🙂
Funny things: Imaging myself with two kids. YIKES! But so excited!
Not so funny things: Knowing I'll be apart from Z for 15 weeks BUT that's the life we lead I suppose…
Hope everyone has a fabulous weekend! And thank you to everyone who voted for me in the Top 25 Military Moms contest 🙂 I made it! I love you all so much! xo
"Check out this month's featured blog: They Call Me Mama"