Compensation for this post was provided by Baskin Robbins via MSB New Media. All opinions expressed in this piece are my own.
The United Service Organization (USO) has been a huge part of lives since my husband joined the army. I can remember sitting in the
USO
before he shipped out to bootcamp and being so thankful there was a private place for us to spend time together before saying our goodbyes. Every time we're at an airport, we head to the USO for snacks, toys, and somewhere for the gremlins to run other than the terminal.
While waiting for connecting flights (that happened to be overnight), Zach was able to sleep on a cot in the USO instead of leaving the airport or finding a place to sleep in the terminal. He also recorded himself reading a book at the USO in Afghanistan and sent the DVD and book to us back in the states.
But one of my favorite experiences thus far was being shadowed by a USO reporter and sharing our story with her and the rest of the world.  The Sesame Street/USO Experience visits a ton of bases throughout the year and allows military families to experience it free of charge. You can view the video below 🙂
I love that the USO is all about supporting troops and their families. Military life can be extremely hard at times and it's nice to know they're always in our corner and willing to help however they can. From locations at airports, events on post, etc, they're always going above and beyond to be the support system you can count on when away from friends and family.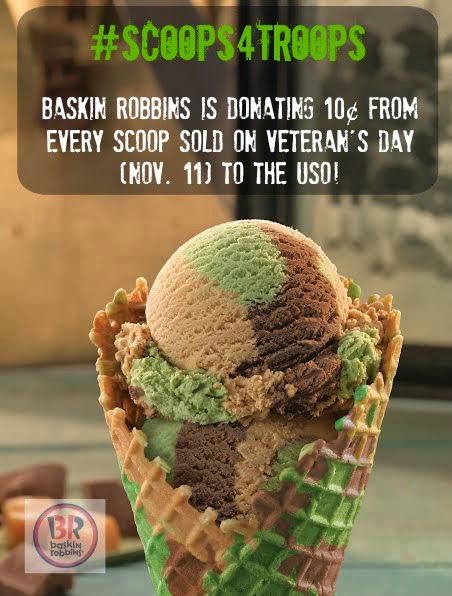 For the month of November,
Baskin Robbins
has teamed up with the USO to create the flavor of the month "First Class Camouflage". The flavor features a combination of chocolate, salty caramel, and cake batter flavored ice cream. You can even get it in camouflage bowls or cones!
And on Veteran's Day, Baskin Robbins will donate 10 cents of every scoop sold in US locations to The USO so that they can create programs and have the resources to provide military families with the support they need. So not only will you be enjoying delicious ice cream, you will be giving back to our soldiers and their families. Can't beat that, right?
We've had nothing but the best experiences with the USO and will continue to lean on them for support for the duration of Z's military career. And when all is said and done, we will give back to active military families anyway we can. Because we truly know and understand the importance of this amazing organization 🙂
A big thank you to The USO and Baskin Robbins! And a big thank you to our troops and their families and well 🙂 Happy (almost) Veteran's Day!