Modern Farmhouse Sunroom Design Ideas
Today's post is sponsored by Universal Windows Direct. As always, all opinions are my own.
Over the past couple of months we've added a few updates to our sunroom. And while I'd like to say we're finished with the updates for now, never say never haha my husband is always looking for projects to do! But for now, I'm so happy with the changes we've made and how the room looks! So today I'll be sharing a few Modern Farmhouse Sunroom Design Ideas!
You can read about our previous sunroom updates here but today I wanted to share the other side of the room. We went back and forth on what we wanted to do in this corner and I am SO happy with how it turned out! This space used to consist of kids toys and a play kitchen but once we had the basement re-finished, we move majority of their toys downstairs. Which makes this mama happy! Haha we do have a few bins on the other side of the room with toys but if they want to play with anything in this room, it goes back downstairs after!
When it came to this open space we talked about either doing an oversized chaise or two chairs with a table and ultimately, the chairs and table won. And I am SO happy with how this area turned out! It's soooo cozy and makes me so happy. It's the perfect place to sit and enjoy my morning coffee or catch up with a guest. This side table brought in the black scattered throughout the room as well as the wood in the fan and side tables. I added a coffee table book, a candle, and a set of coasters to make it feel even more cozy! We also replaced the old white fan with this wood one and I love how it pops against the white beam.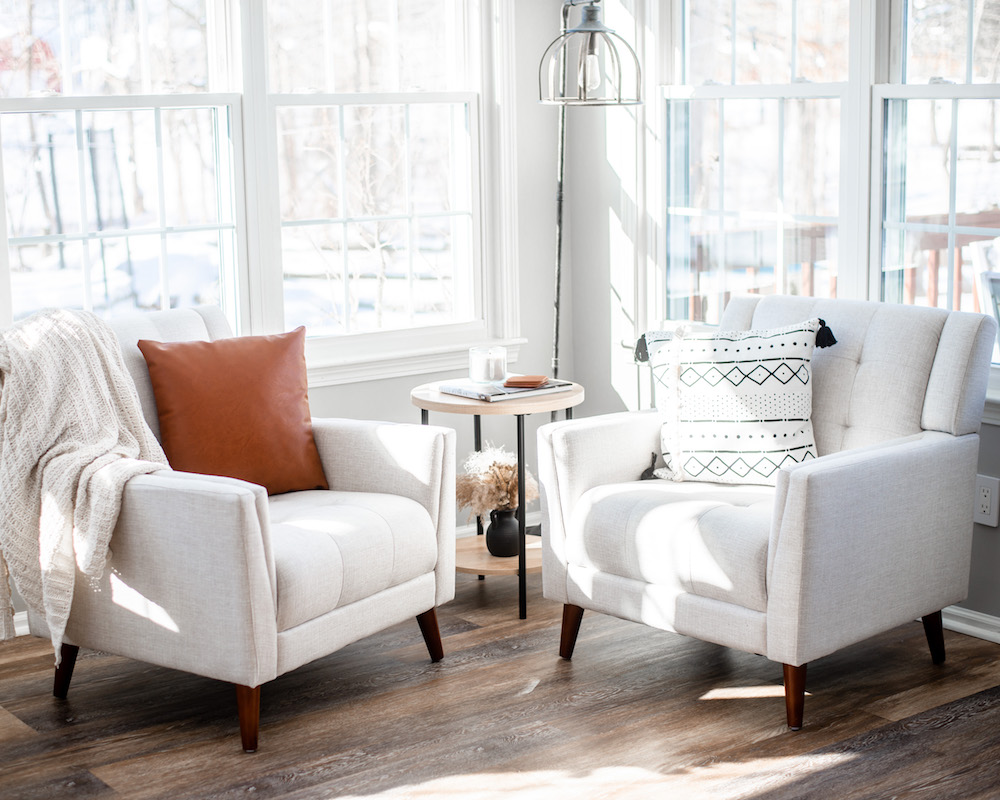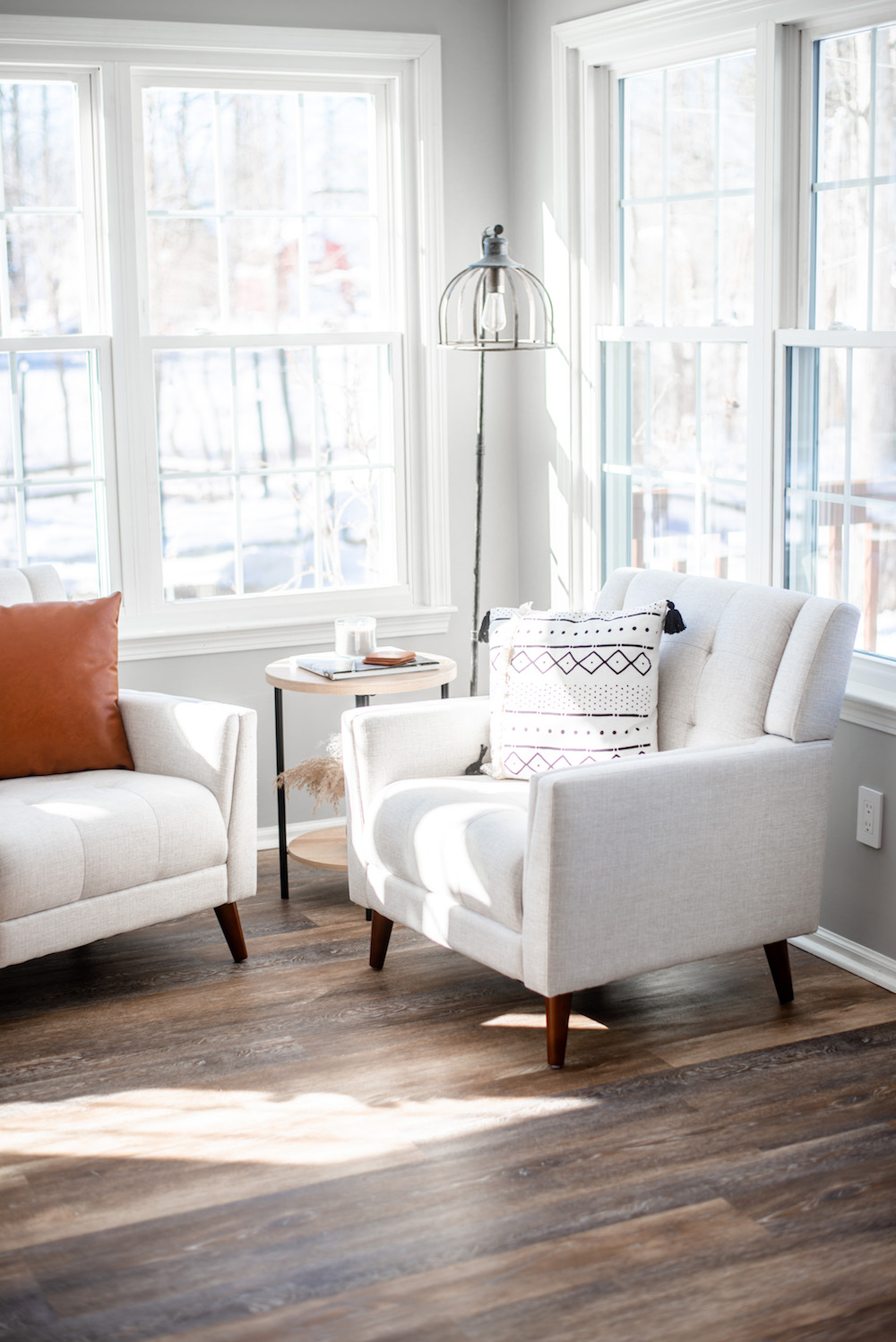 I also added some new pillow case covers which is a great way to change up the look of the room!
Next were these built-ins. We decided to paint the shelves black for a little bit of a pop and accent and I love them! Amazing what a little bit of paint can do! I also grabbed these baskets to clean up the clutter a bit and for some extra storage over here.
We worked with Universal Windows Direct to replace all of our windows but my favorite part of this side of the room was replacing the door. It needed it! It was drafty and ugly and we knew that replacing it with a new one from Universal Windows Direct would solve both of those problems! As I've mentioned before, all of our windows were replaced by Universal Windows Direct and it has made such a difference in this room.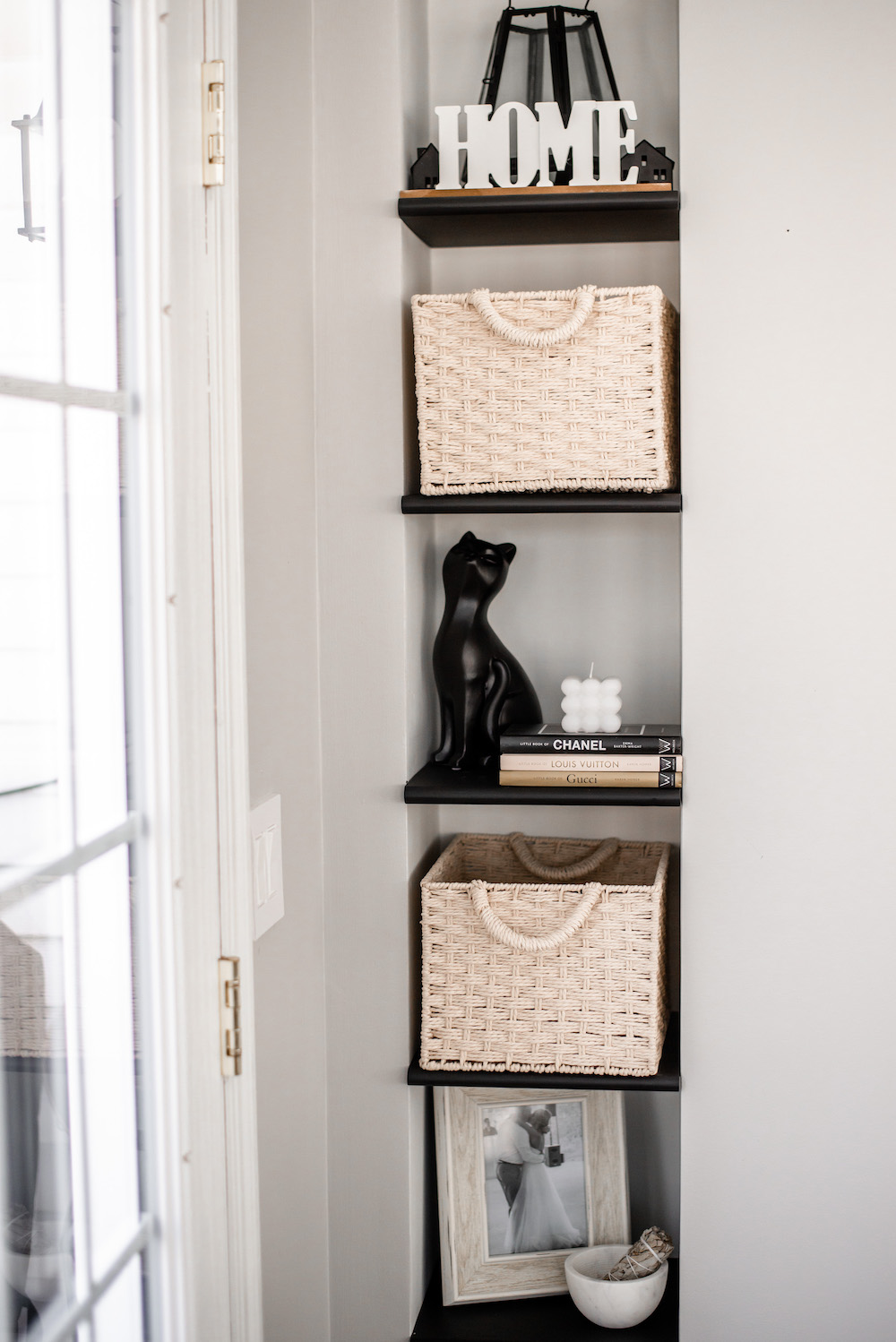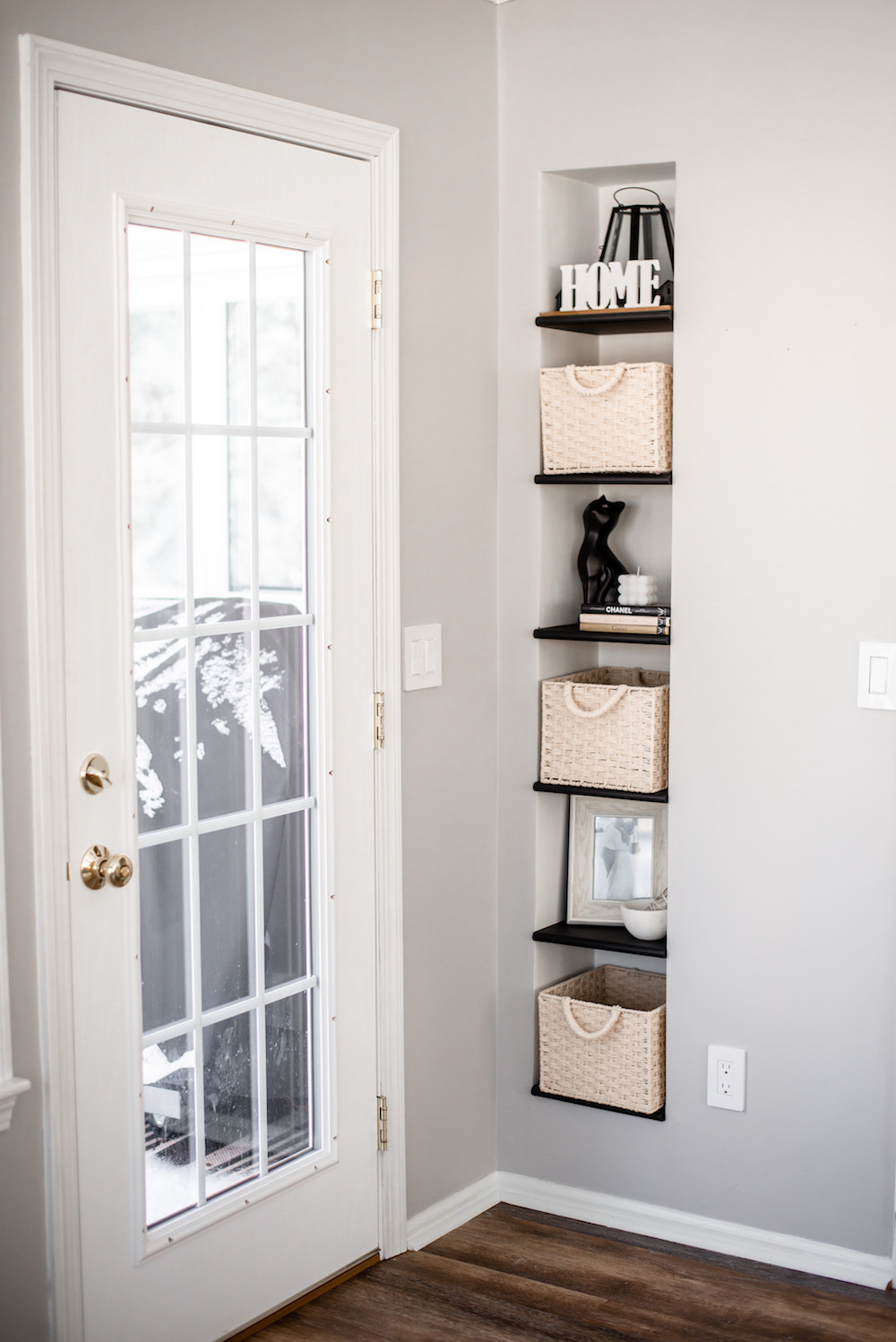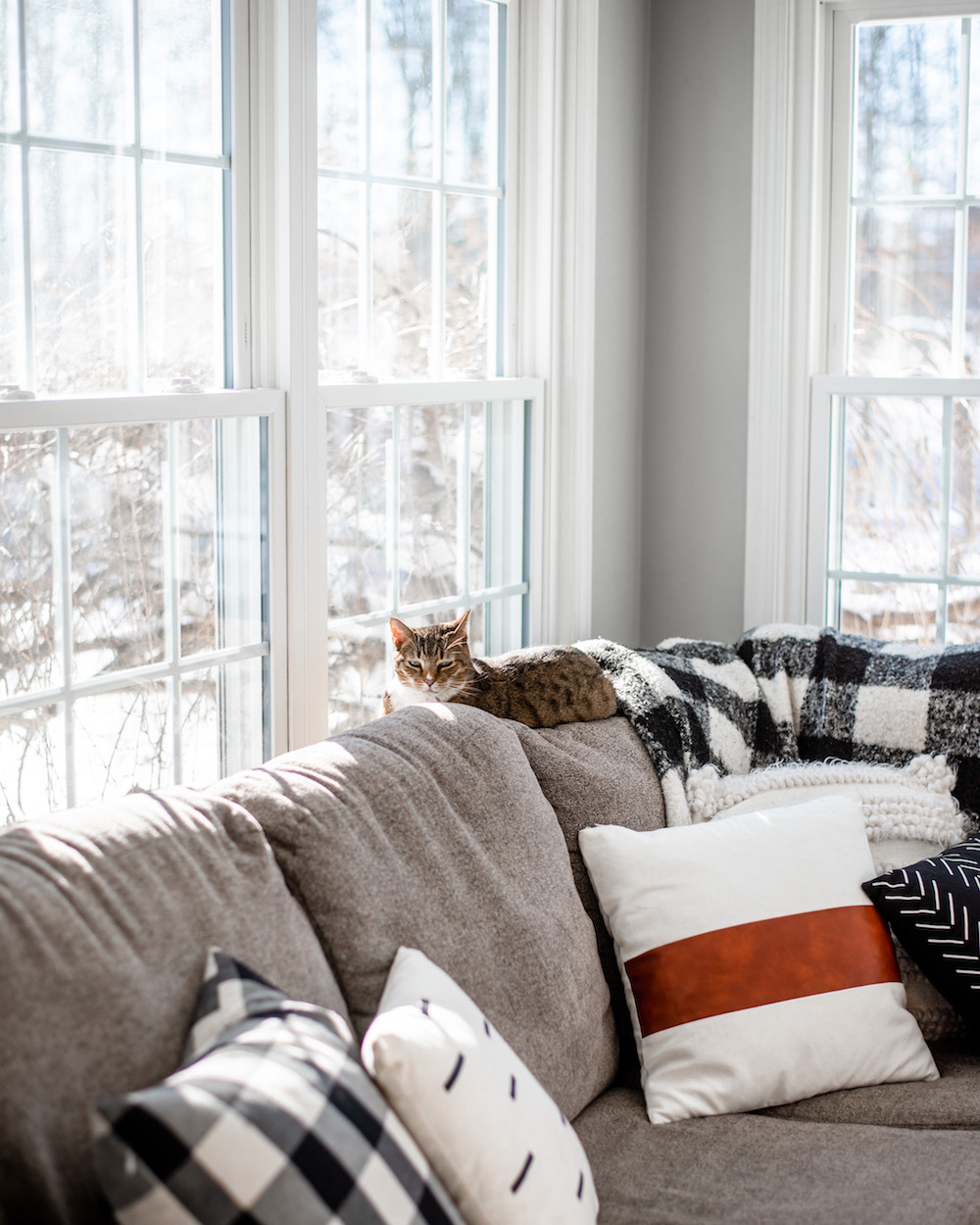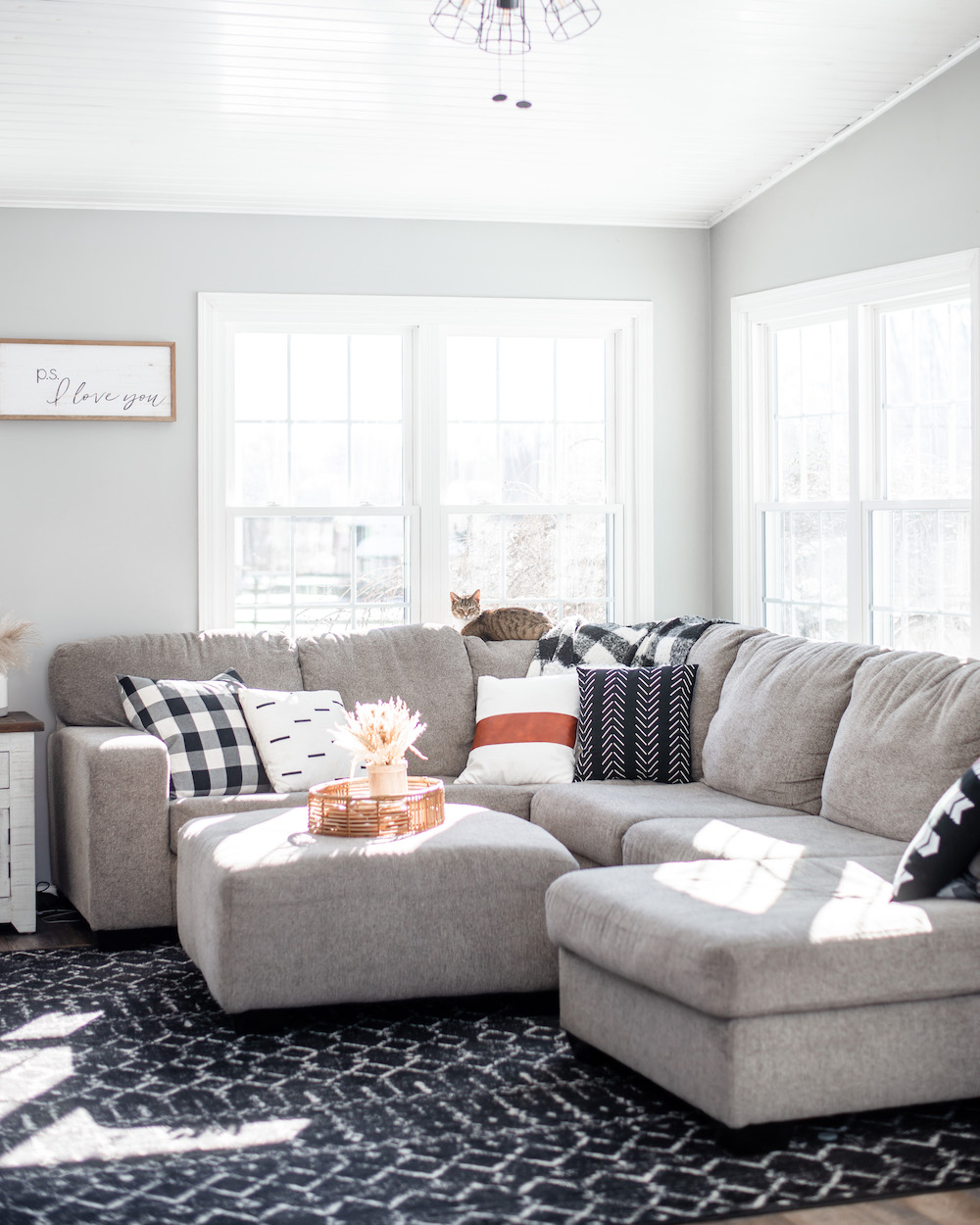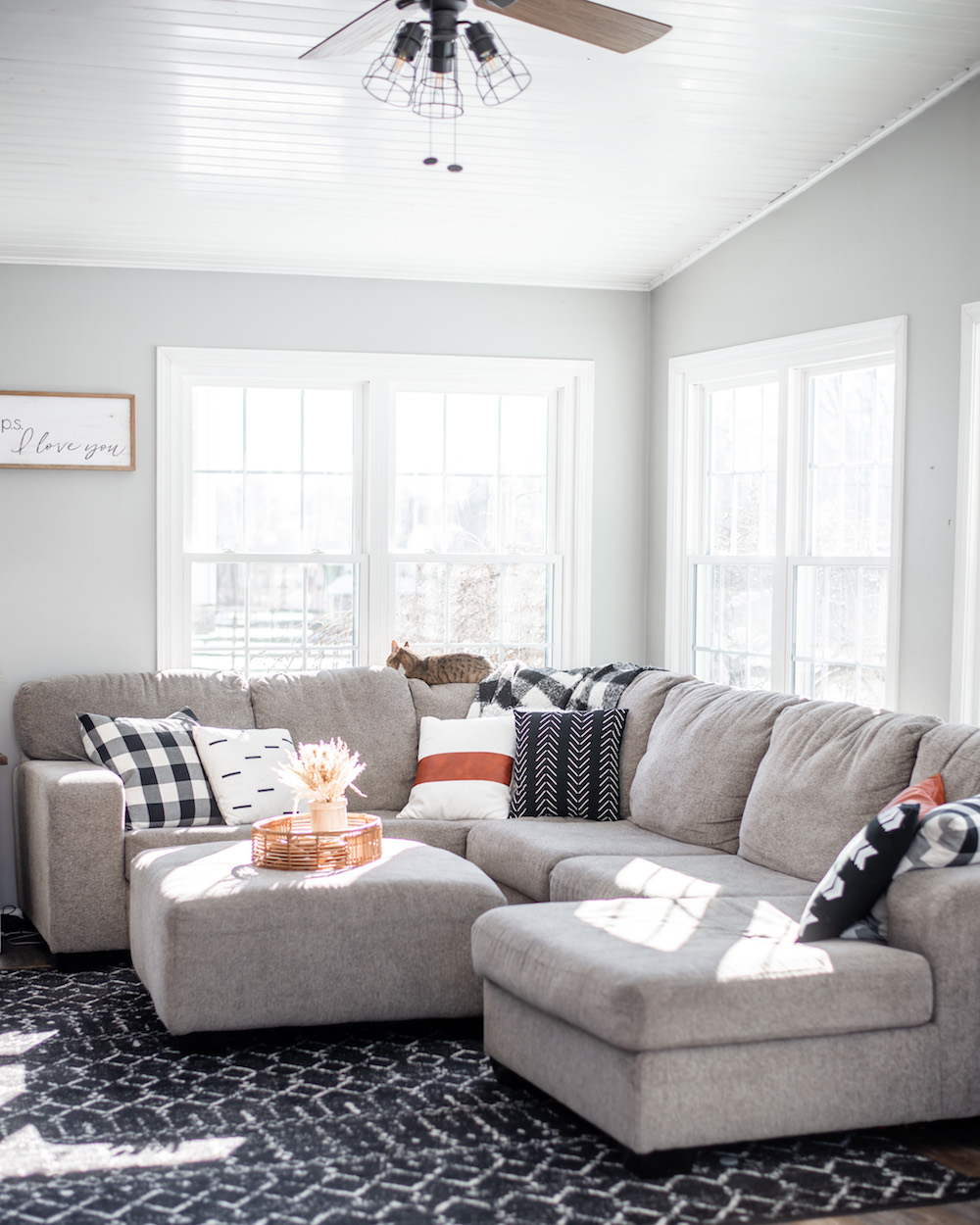 The process with Universal Windows Direct is super easy from start to finish. You can contact them for a free estimate and they'll come to your house and go over the different types of windows they have and what would work best with your home. From there you'll schedule your measurement appointment where they come to your house and take measurements of everything. Next is installation day; their teams are super quick and efficient and very detailed oriented. They showed us how to use the windows after they were installed and went over the lifetime warranty.  It's a true lifetime warranty on all parts of the window, plus they're transferable to the next homeowner for 30 years!

Throughout the process they sent emails to keep us updated on production and timeline! Super easy! Universal Windows Direct offers a BOGO deal + 24 months no payments and no interest! Be sure to visit their site for more information and to get a free in-home estimate!
So what do you think?? Such a difference in here right? Let me know if you have any questions below!