Happy Friday friends! It is Friday, right? A holiday in the middle of the week totally threw me off. Actually summer in general has just thrown me off and half the time I'm not sure what day it is. The only way I usually know is because my kids ask "what do we have today?" and I have to be like "oh yeah, swimming or gymnastics" or whatever. Always keeping me on my toes!
This week was rough. The heat and humidity were brutal so we spent most of our time inside. Which makes me feel super guilty because I know my kids would love to be outside or at the pool but I just cannot handle it right now. We spent all last weekend outside at the beach for a family day and I was super sick with headaches the next day due to the heat. I even drank half a case of water, I swear. But pregnancy just sucks the life out of you!
We ended up at Labor and Delivery (again) Monday night because I was having intense back pain and some contractions. And given my history of fast deliveries, they wanted me to come in, just to be safe. It ended up being nothing and I was sent home a few hours later.
I had my appointment with my doctor yesterday and legit broke down and cried. I have been in so much pain that I can barely walk, roll over, or sit down. I know that baby will come when she's ready and of course I want her to be ready to survive on the outside. But with the apparent size of the baby and the fact that I'm measuring ahead, I have a feeling my due date may be just a guess and this baby is due sooner than everyone thinks. I guess we'll find out soon enough, right?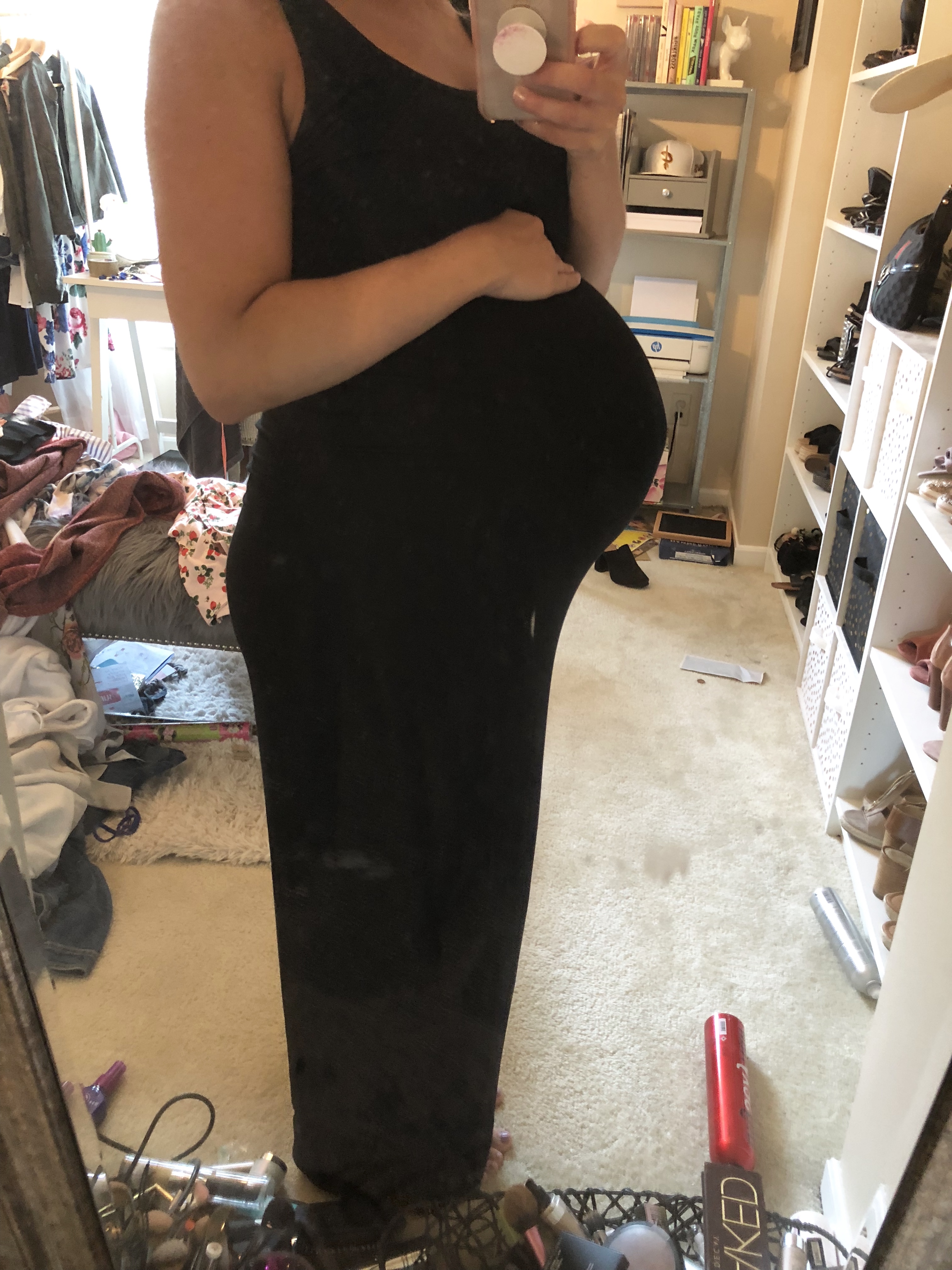 So let's check in on this week's bumpdate:
How far along: 36 weeks + 4 days
Size of baby: Papaya
Baby's size and weight: 18.7 inches and 5.73 pounds (which is apparently bullshit and my kid is way bigger…)
My total weight gain: 49 lbs
Baby's development: 
Baby is getting closer and closer to breathing on her own.
Baby's skin is getting smooth and soft and gums are rigid.
Baby's liver and kidneys are good to go.
Circulation and immune systems are also ready!
Stretch marks: Small ones on the hips
Maternity clothes: Living in sundresses. I wrote about my current fave here.
Gender: Girl.
Movement: She's constantly jabbing me and is strong. There isn't much room in there so it's pretty intense.
Sleep: I don't even know what that is anymore. I've stopped taking Unisom in case I go into labor in the middle of the night. I woke up a few nights ago with an intense anxiety and felt like I couldn't breathe. Blah, so not fun.
What I miss: being able to function without being in pain. Eating whatever I want.
Food cravings: I just want to eat without counting every carb lol
Symptoms: Back pain, pelvic pressure, pelvic pain, exhaustion, irritability, pain everywhere.
The siblings are: testing me, for sure. They were SO bad at my doctors appointment yesterday and even when I was bawling to my doctor, just would not let up. I found an article about handling strong-willed children and I am going to try and put some of the suggestions into effect. We'll see what happens when baby gets here because something has got to give.
High of the week: Probably getting out Thursday night with other Cleveland blogger babes and doing some shopping at Kendra Scott. Always a good time! I'm also making a tiny bit of progress at 3.5 cm and 60% effaced. Let's go baby!
Low of the week: Crying at my doctors appointment and just being in so much pain it's unbearable. I didn't have this pain with the other two kids and apparently it gets worse with every pregnancy. I'm also getting a little anxious about WHEN it's going to happen, how it's going to happen, etc. I've been so focused on not being pregnant anymore that I haven't had a chance to think about labor and then oh yeah, having a newborn haha but I'm hoping it all just works itself out. As my husband keeps telling me, there's no point in worry about what I can't control (easier said than done, right?)
In case you missed it, I shared what to pack in your hospital bag and there's a free printable to keep you organized too!
Cheers to the weekend, babes. Hope it's a good one! xo
Here are the previous bumpdates if you missed them!