Simple and inexpensive water activities for kids.
We created our water day and had fun in the sun with Banana Boat as part of a sponsored post for Socialstars #BestSummerEver"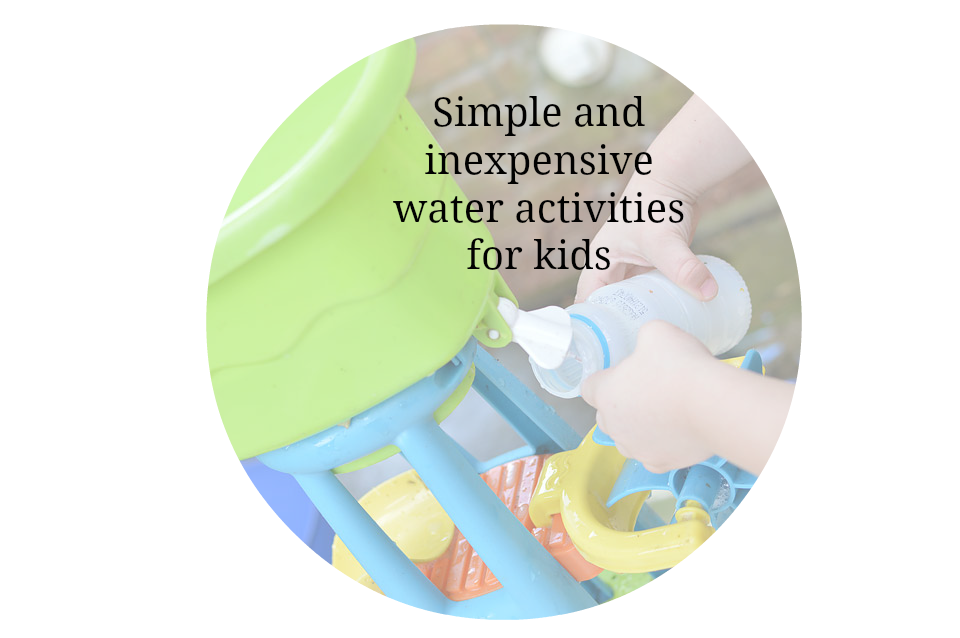 I didn't realize it until the other day. Realize what you may ask? That I've turned into a grown up. It's not something I would like to admit because being a grown up is no fun. And if I had it my way, I would stay a kid forever.
But I was sitting and watching my kids play, and realized that they were playing make believe. They didn't have any elaborate toys out. Nothing made noise or lit up or needed to be swiped on a screen.
They were just playing. And if I caught them in the right moment, they were playing nice with each other.
So I set out to see how many different things we could do with the least amount of items as possible. How long could they stay occupied with a few simple things?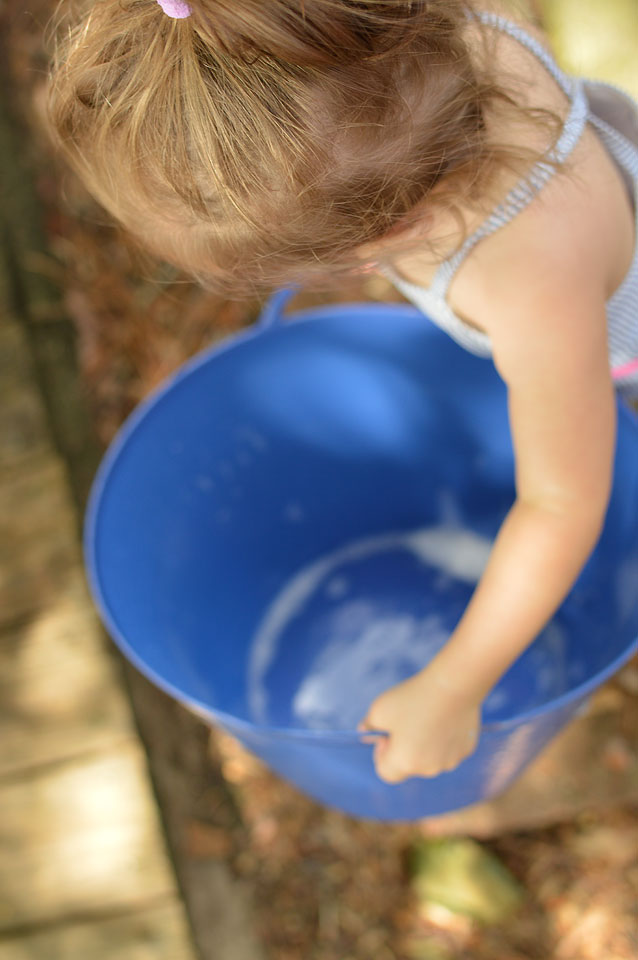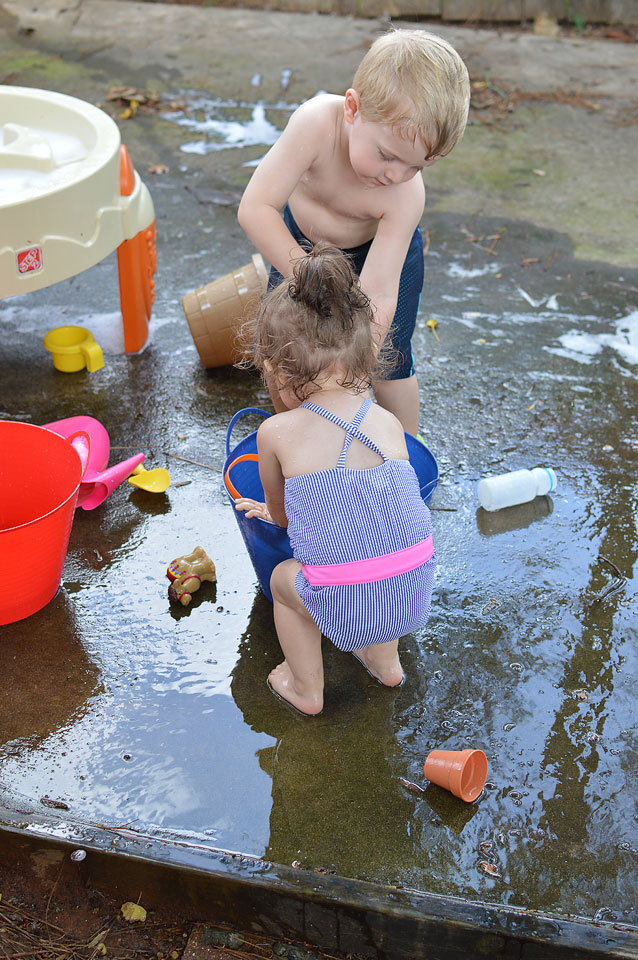 1. Buckets of water and dish soap. Seriously, these two had a blast dumping the water from bucket to bucket. Different size buckets made it exciting too.
2. A sponge. Like just a regular old sponge you wash your dishes with. They washed their cars, house, water table, everything. If it wasn't moving, it was getting washed by them.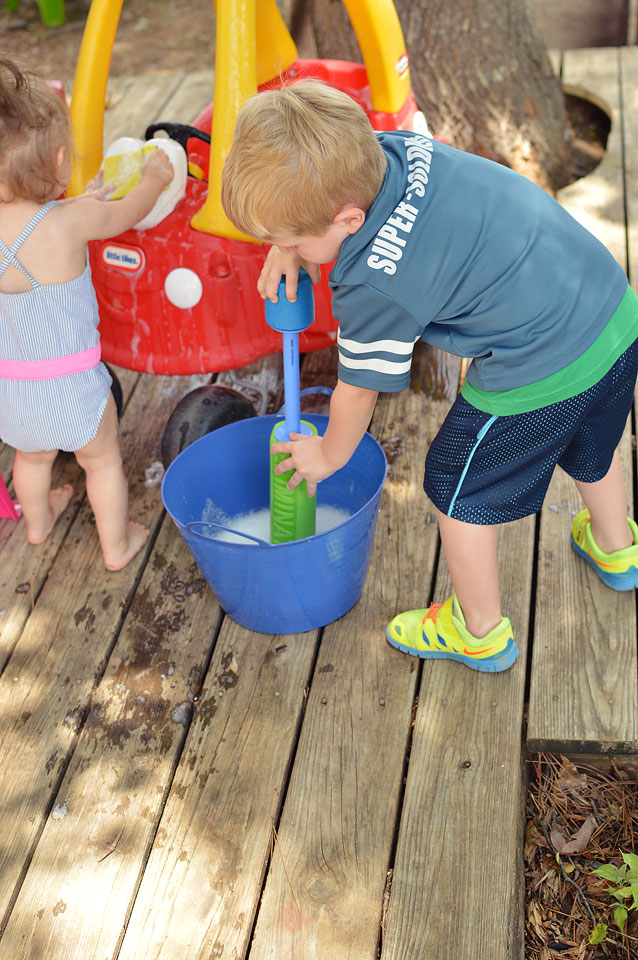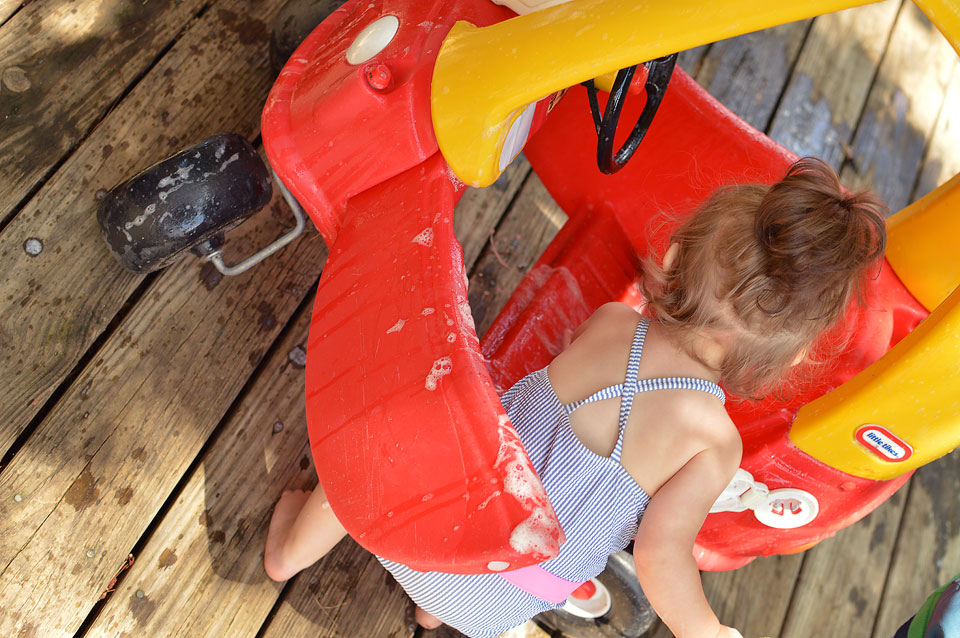 3. Water table. This was obviously an investment but if you don't have something like this, you could easily use a giant plastic tote. Just fill it with water and bubbles and throw some of their toys in there. Of course use things you can get wet, but cars, figurines, blocks, etc.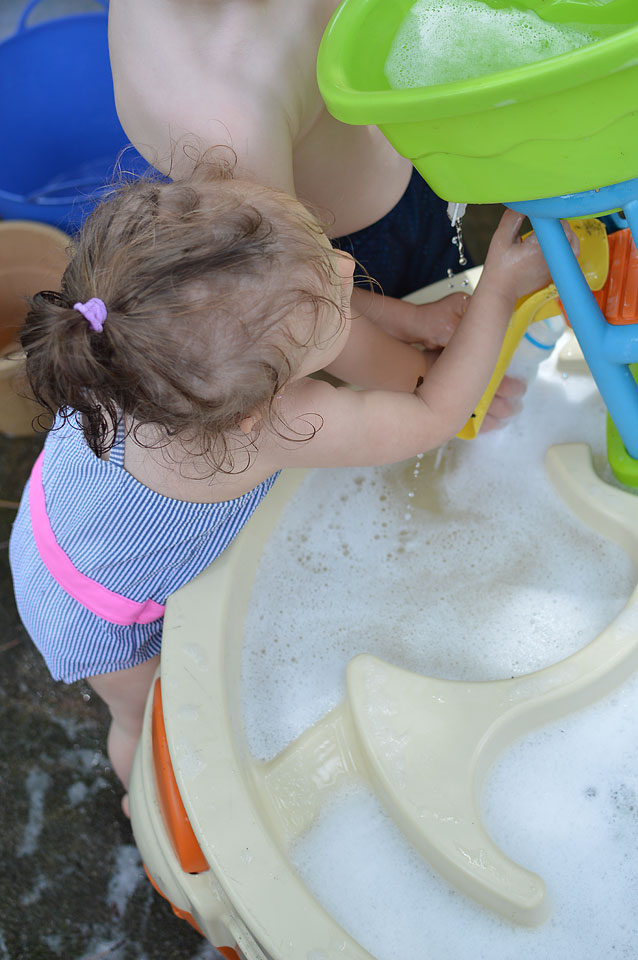 4. Recycled bottles. Old drink bottles, shampoo bottles, whatever. If you can fill it with water and dump it out, they'll enjoy it.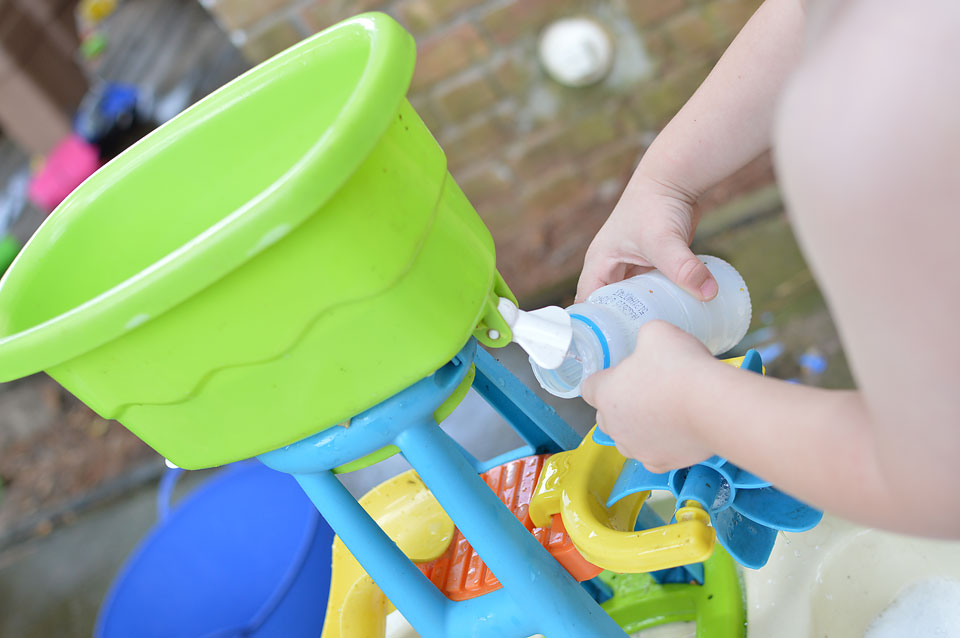 5. Sprinkler. You don't need a fun one to do this… the hose would work just as well too. We used to love running through the sprinkler when we were growing up and when Dad wasn't watering the lawn, we were using it to play in.
6. Races down the slide. Whether it's your kids racing or them racing their cars down the slide, find some way to make it into a game. Maybe you make boats out of old water bottles or whatever. Run water down the slide and watch their amazement. My daughter personally liked splashing in the puddle that formed at the end of the slide.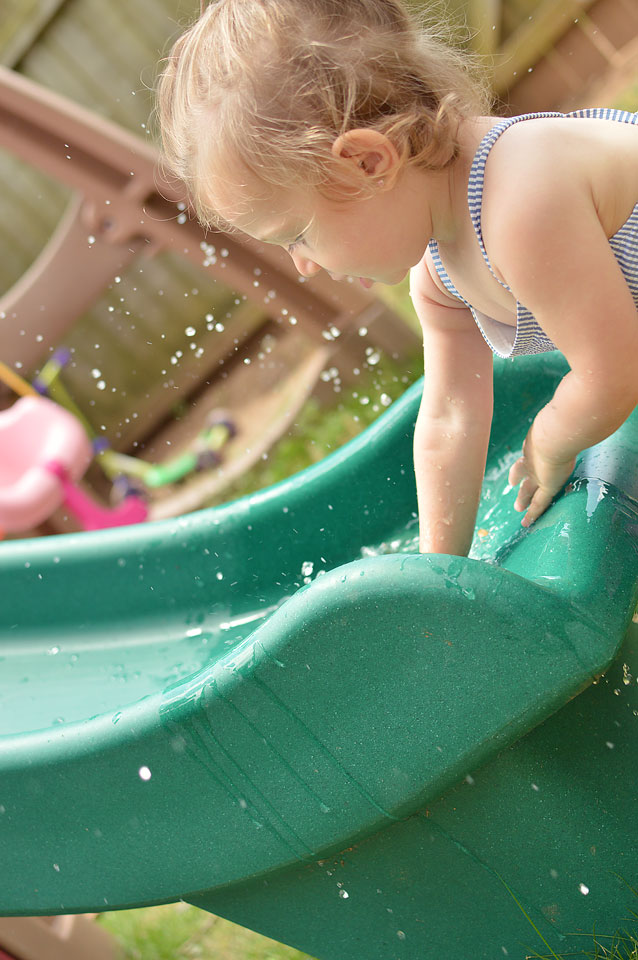 7. Water pump. Now obviously we have one of these built into our playhouse, but it would be super fun to get some PVC pipe or noodles or something, cut them open, and make "tunnels" for the water to run through. Start from one end and end at the other. Simple to us but totally cool and complex to kids.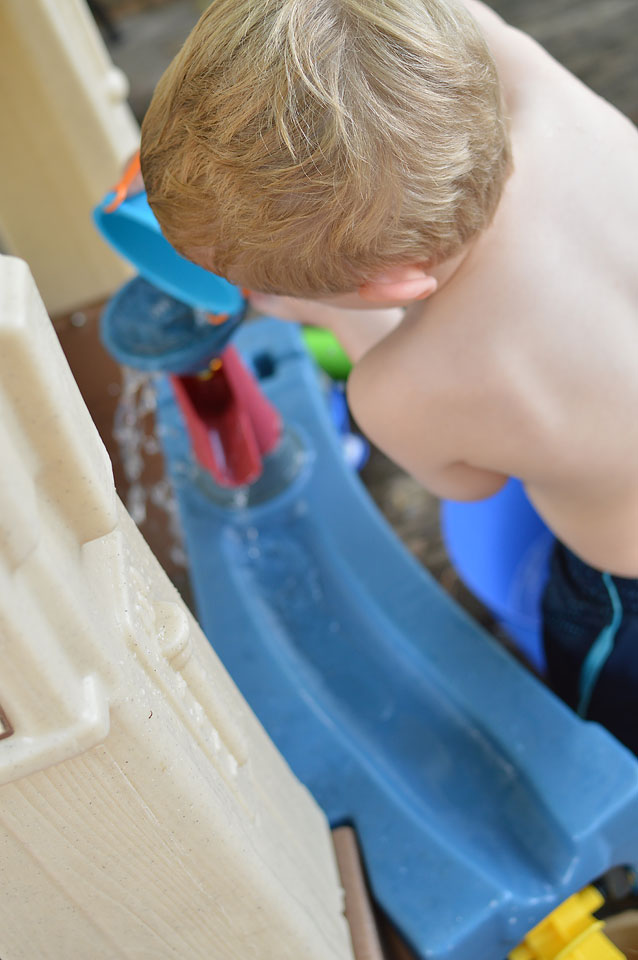 We forget all of these simple pleasures when we become adults. We think that kids need some elaborate toy or contraption that lights up and moves on its own. But give them a few buckets, water toys, and sponges and they'll be golden for hours.
And speaking of being golden for hours, don't forget the sunscreen. This new Banana Boat® SunComfort™ Clear UltraMist® Sunscreen is the perfect sunscreen for the entire family. It's water resistant for up to 80 minutes, so no need to stop the water day fun every 5 minutes to reapply. It's also perfect for the beach due to its unique ability to brush sand off easily, moisturize, and protect!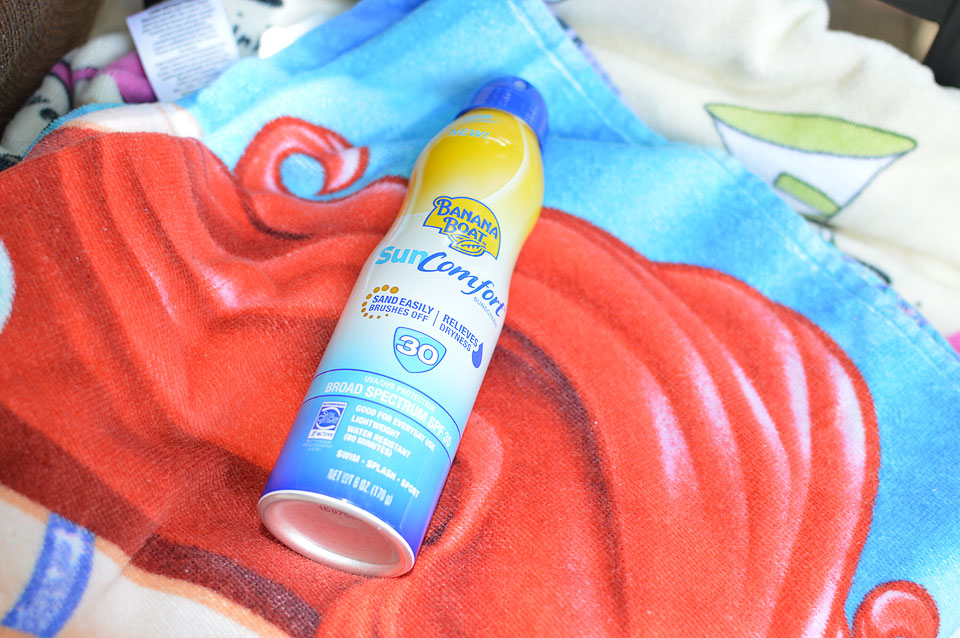 Summer is short, so make the most out of your time outside. Unless you live in the south, then you're pretty much living the summer life 10 out of 12 months of the year 😉
What are some of your favorite activities and things to do outside with your family?