Simple Outdoor Exercises from my gal Mal
Hi! I'm Mal from Mal Smiles and I am happy to be here on Hooah & Hiccups! Samantha and I became fast friends when we realized we are both Army wives, grew up in Ohio, and have a close mutual friend (it's a small world, isn't it?)
Fitness is a big part of my life and now that the weather is warming up, it is easy to want to skip the gym. Why not do both?! Here are some outdoor activities that will shape your beach body while you soak up a little sunshine.
Go for a Walk/Jog/Run.
Anyone can be a runner! I didn't start running until 2011; I ran jogged a 5K and barely made it to the finish line. Now I have completed three half marathons and a handful of other races. Start slow, listen to some sweet tunes and enjoy the sunshine on a pretty day!
Find a Fitness Trail.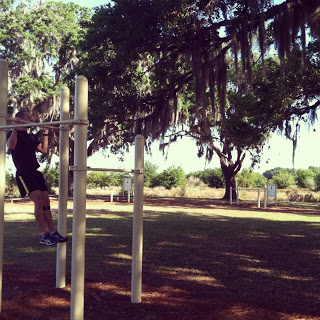 There are many Fitness Trails
hidden in public parks. My husband and I found one in Florida and got a
great workout in a beautiful setting. Each piece of equipment has
directions and suggestions for the number of repetitions.
Go for a Hike.
Find a state or national park and enjoy
the view! We live in Virginia and I want to hike in the Blue Ridge
Mountains before we move out to Colorado in September!
Play a Game.
I am awful at pretty much every sport but it's still fun to play! Grab a basketball and play HORSE- we like to play LAYLA, our dog's name.
Ride a Bike.
When is the last time you rode a bicycle? I hopped on a bike while in Florida and loved pedaling around town. It made me feel like a kid again and was a great workout for my legs.
Rent a Kayak or Canoe.

We rented a canoe at a state park for cheap! Paddling is a
great workout for your arms & back muscles! Grab a friend and
have fun while getting a great upper body workout!
Outdoor Yoga.
I love Yoga because it "puts my head on straight." What better place to feel balanced than outdoors in nature? Search for an outdoor Yoga practice in your area and make sure to bring a mat!
Happy Spring! Go enjoy the beautiful weather, get some exercise and come tell me about it at Mal Smiles.
"Some days just are…A Complete Waste of Makeup"