Fall vibin' with Carly from LuLaRoe
Check out how I style this gorgeous Carly from Lularoe a few ways, for the perfect fall outfit!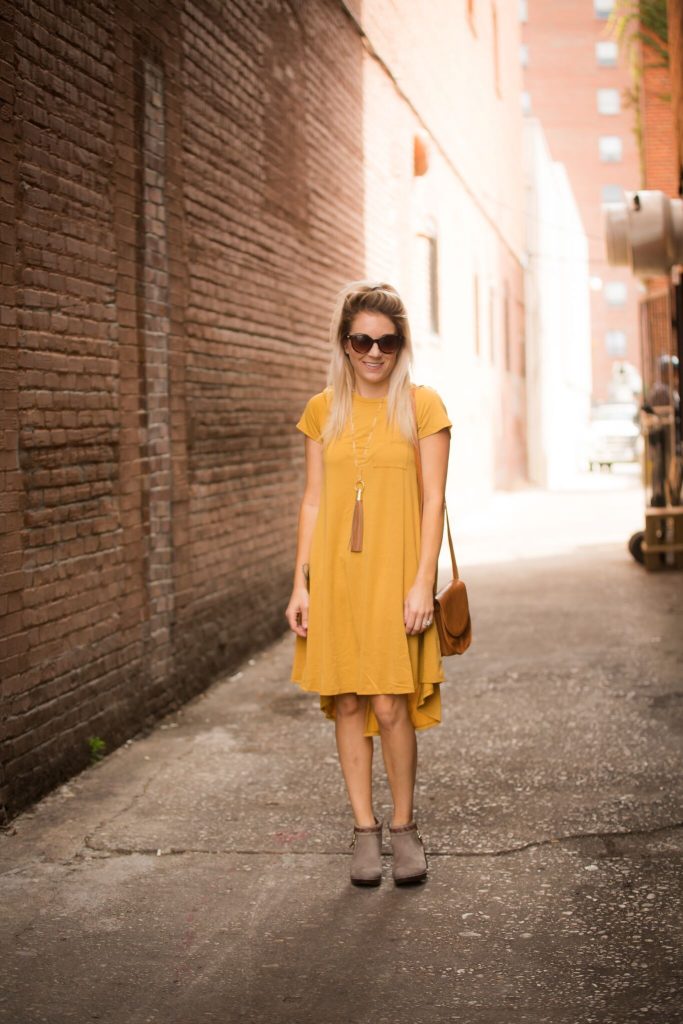 I think I saw everyone offering up their first born child when the Carly was introduced in the LuLaRoe scene. Now not ever having owned a piece of LuLaRoe clothing in my life, I couldn't see what the big fuss was about. But let me tell you, people were going NUTS for this Carly chick. The LuLaRoe world talks about the pieces as if they're a person and your best friend so hence the title of this post, fall vibin' with Carly from LuLaRoe. Think I'm crazy? You're probably right. It's been a long couple of weeks…
Carly From Lularoe
But what's the big hoopla all about? Well as I said in my other post about LuLaRoe, I think it's the excitement of it all. Different consultants get different pieces and styles in different prints and you never know what you're going to get. So waiting for them to launch their new inventory is like Christmas morning. When my friend posted this in her inventory, I knew I had to have it. Mustard=love. Especially for fall. So I decided to try it two different ways; the first way with a simple tassel necklace and the other with a blanket scarf. #basic.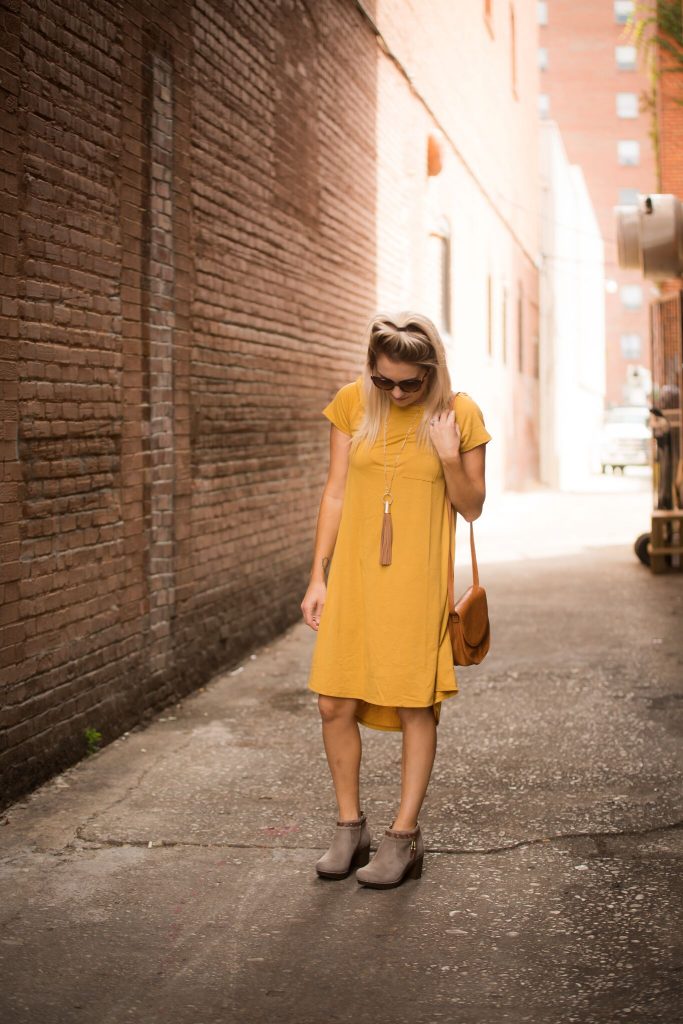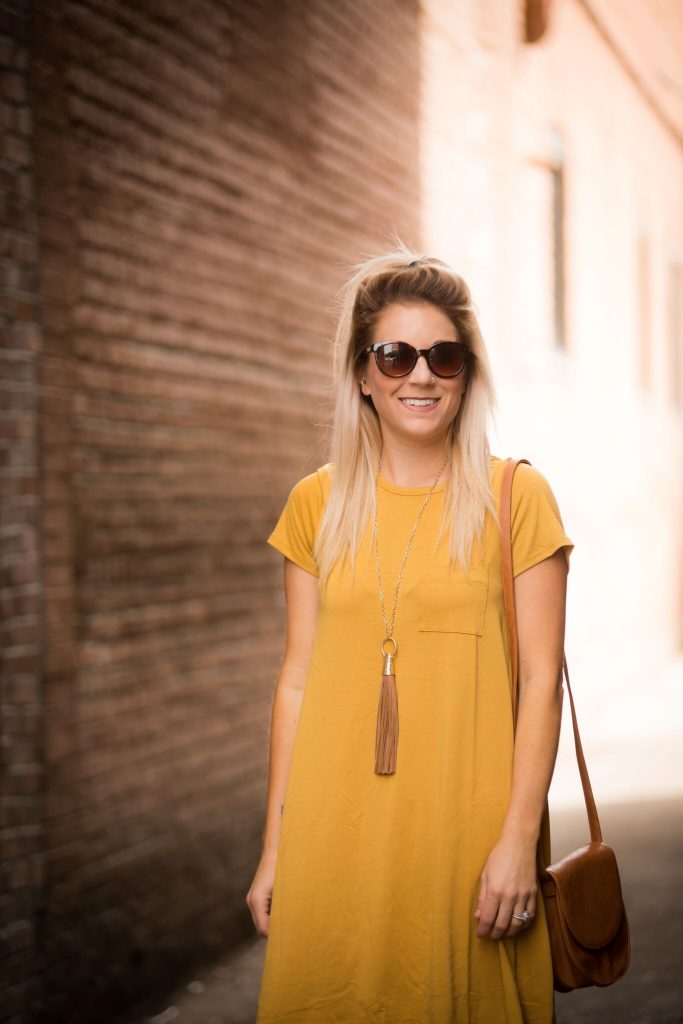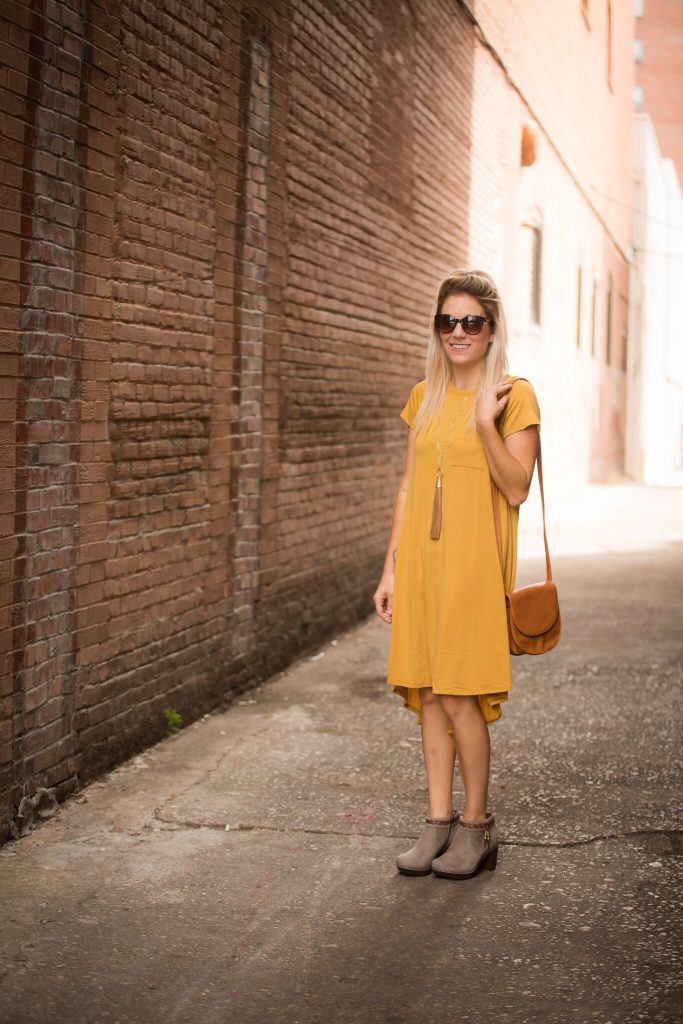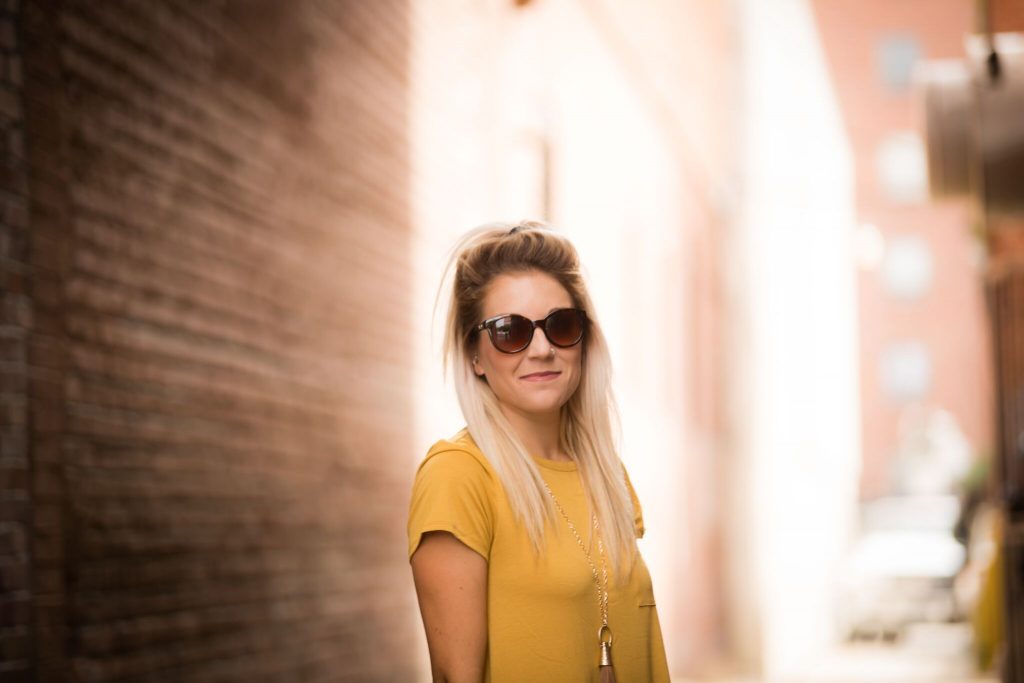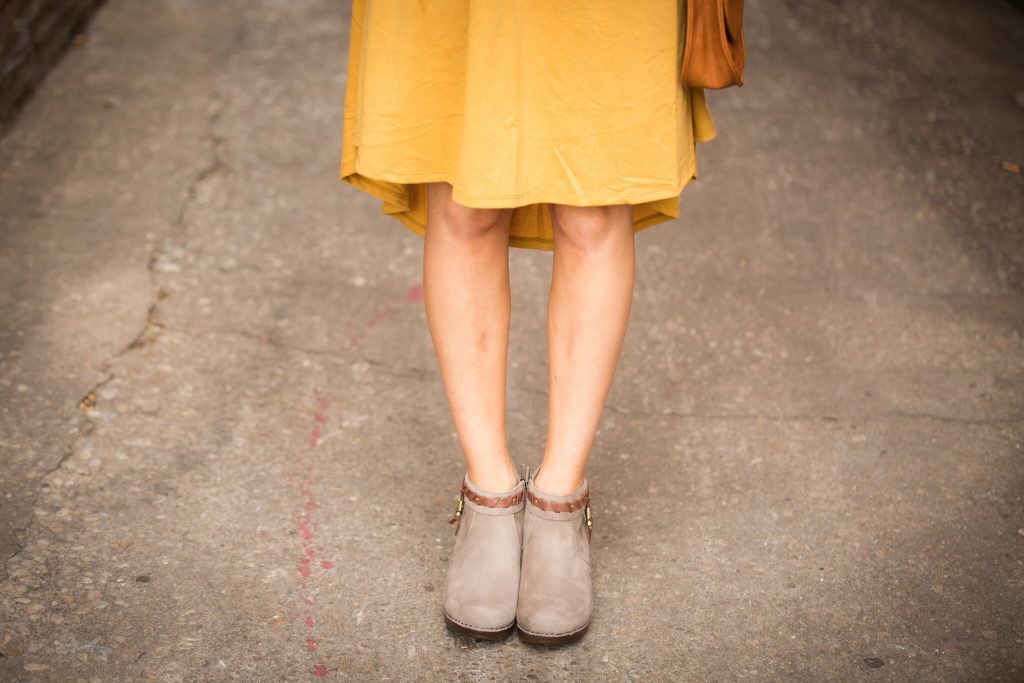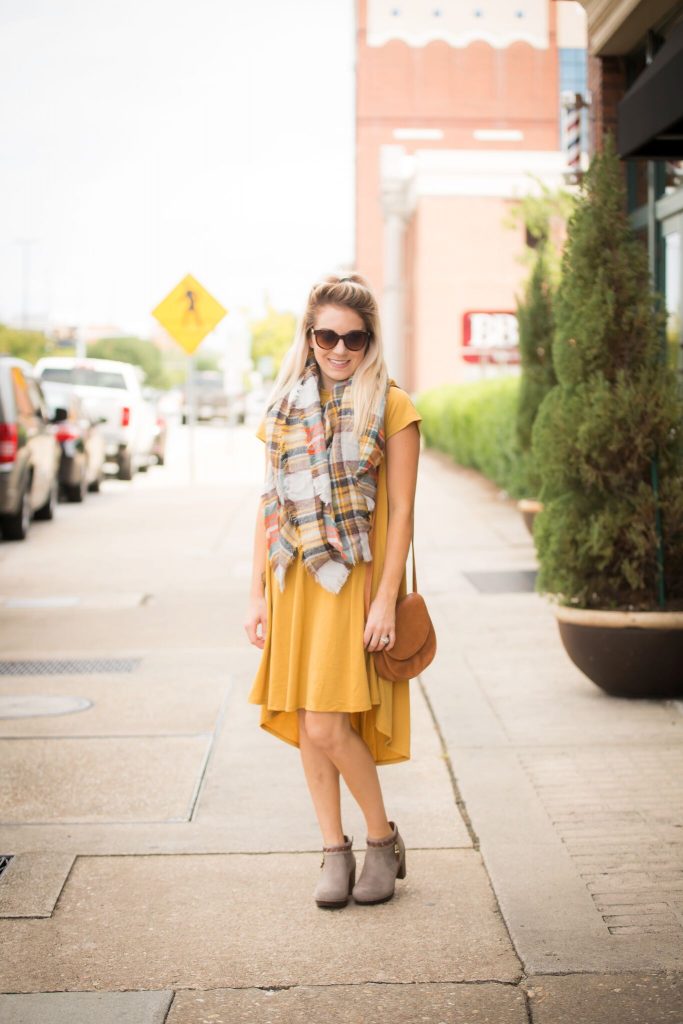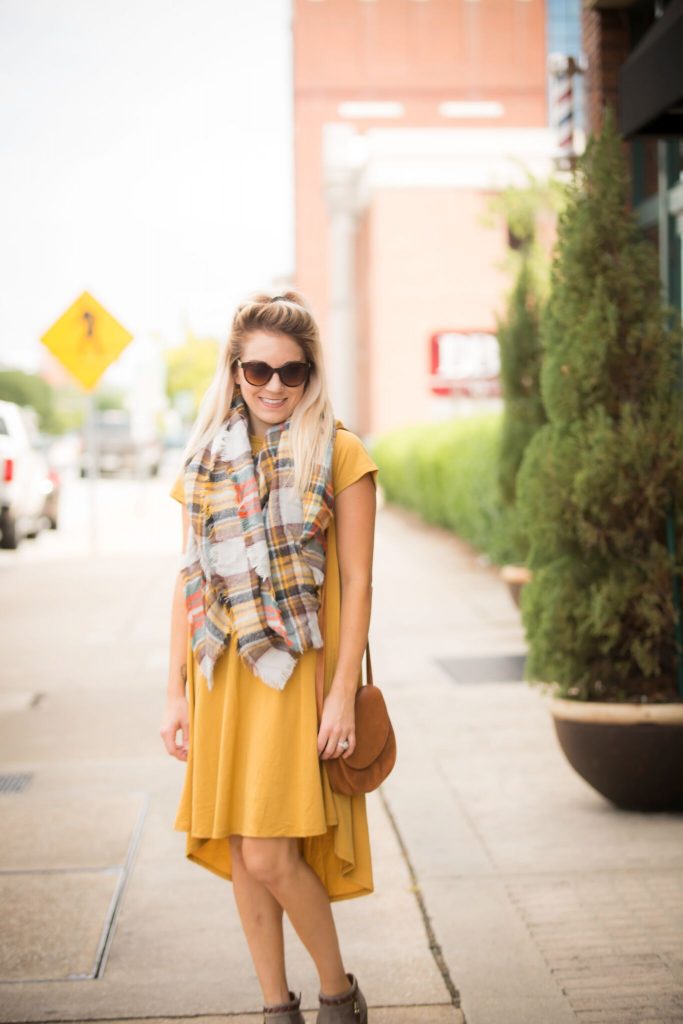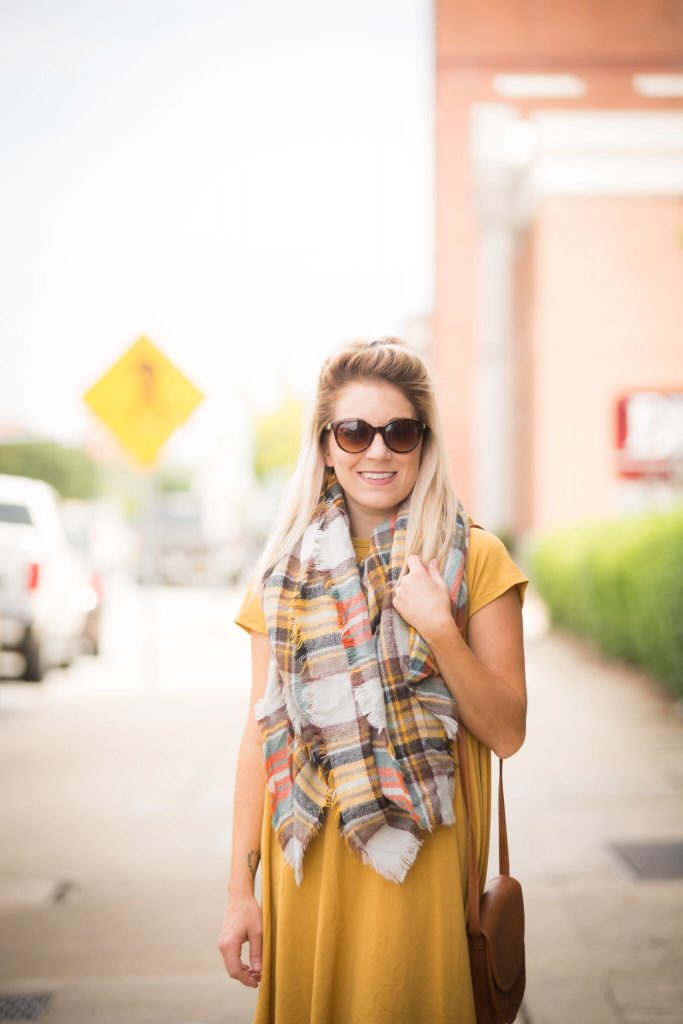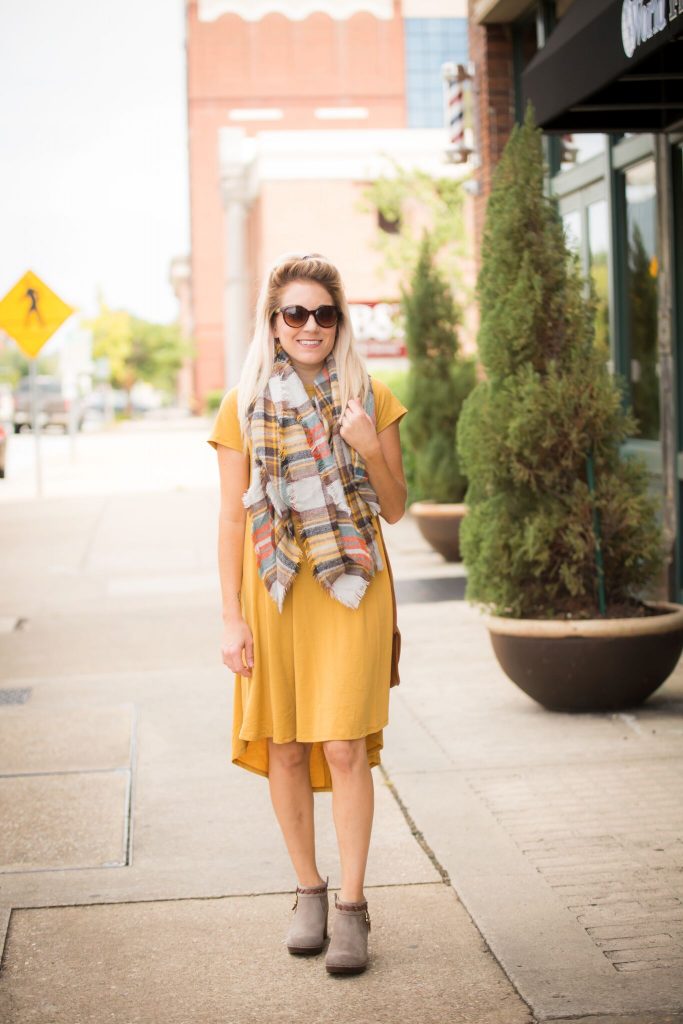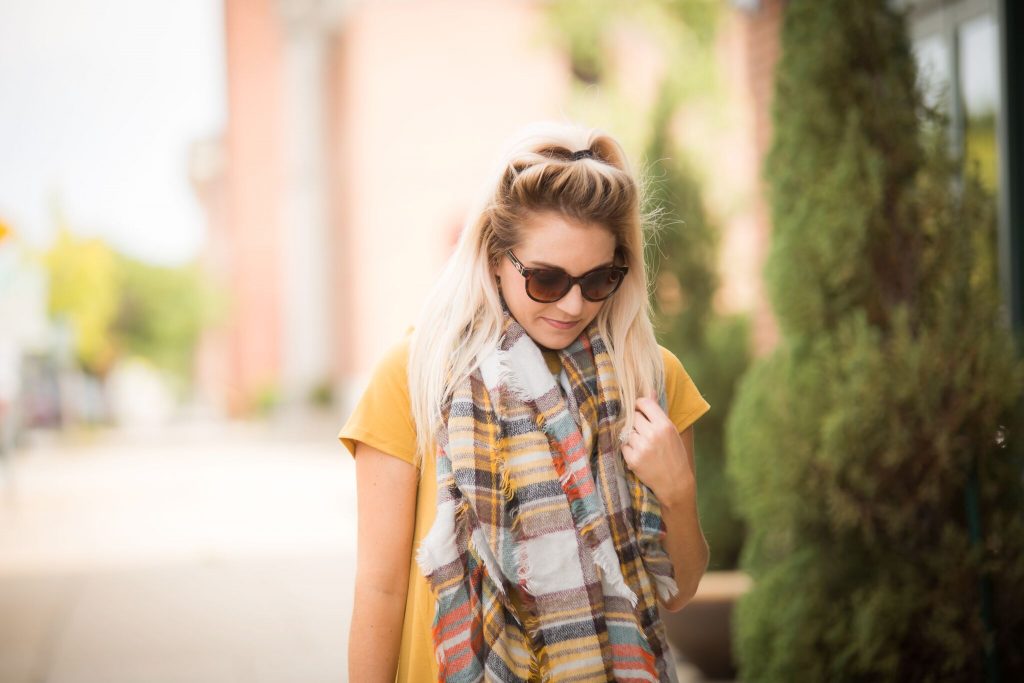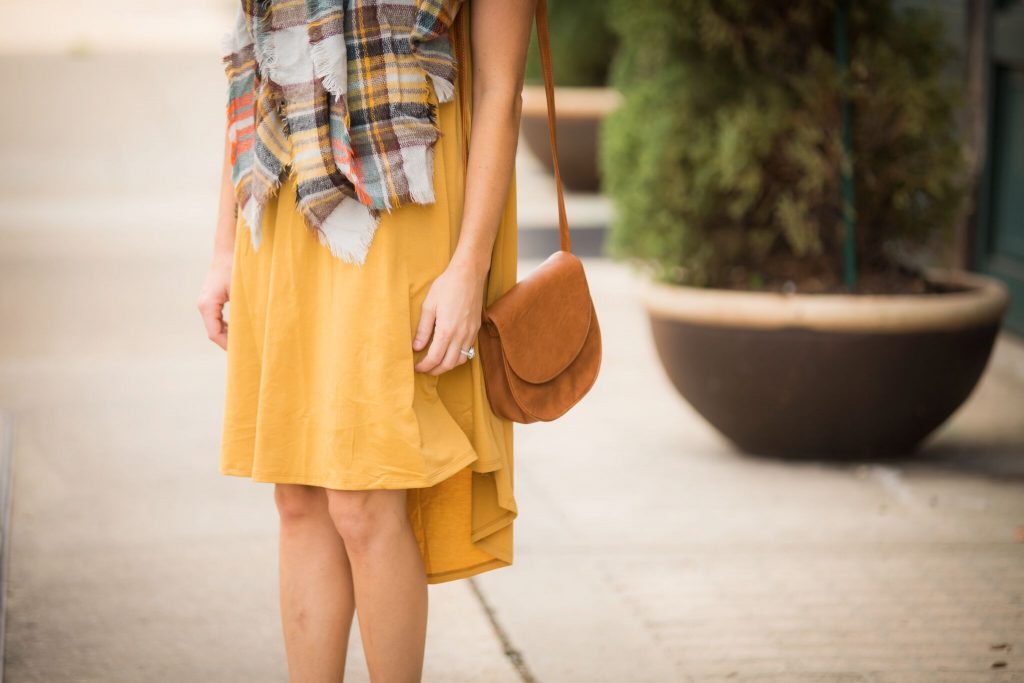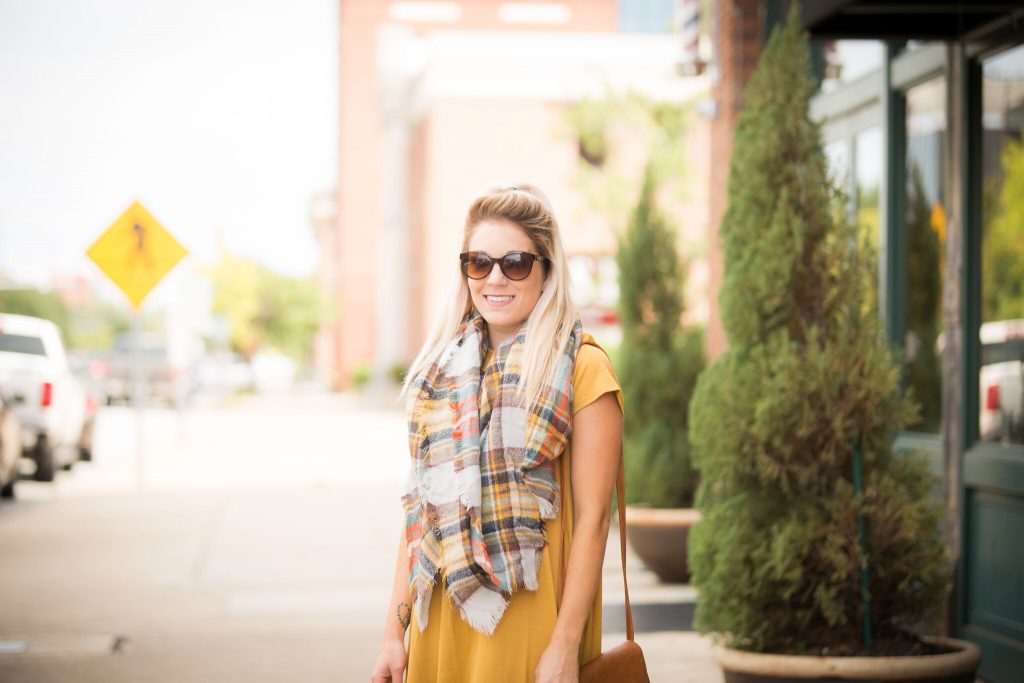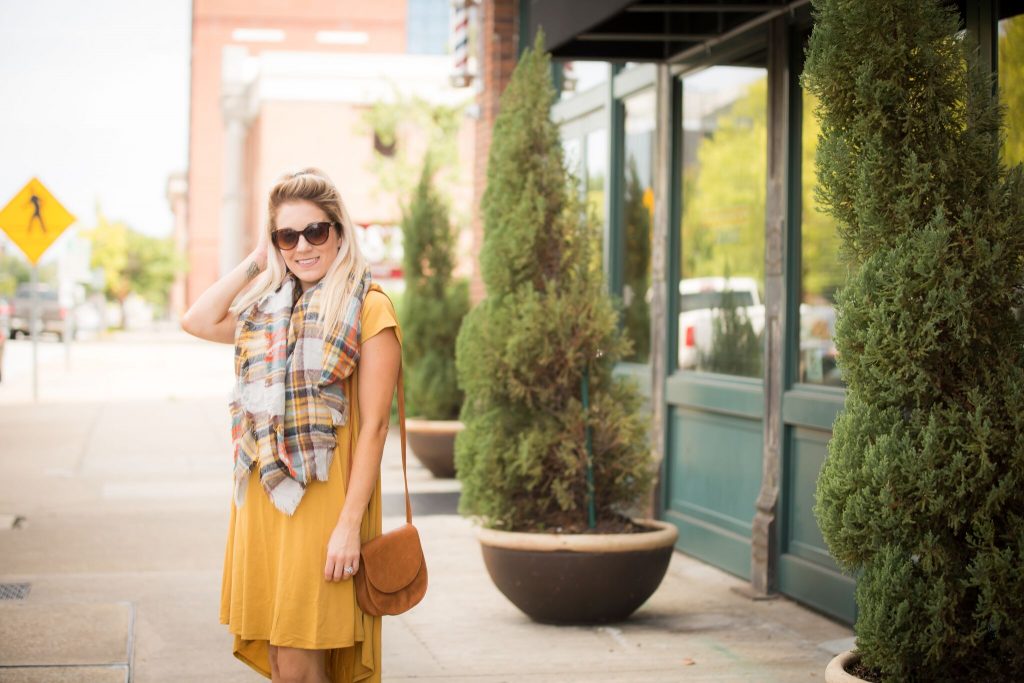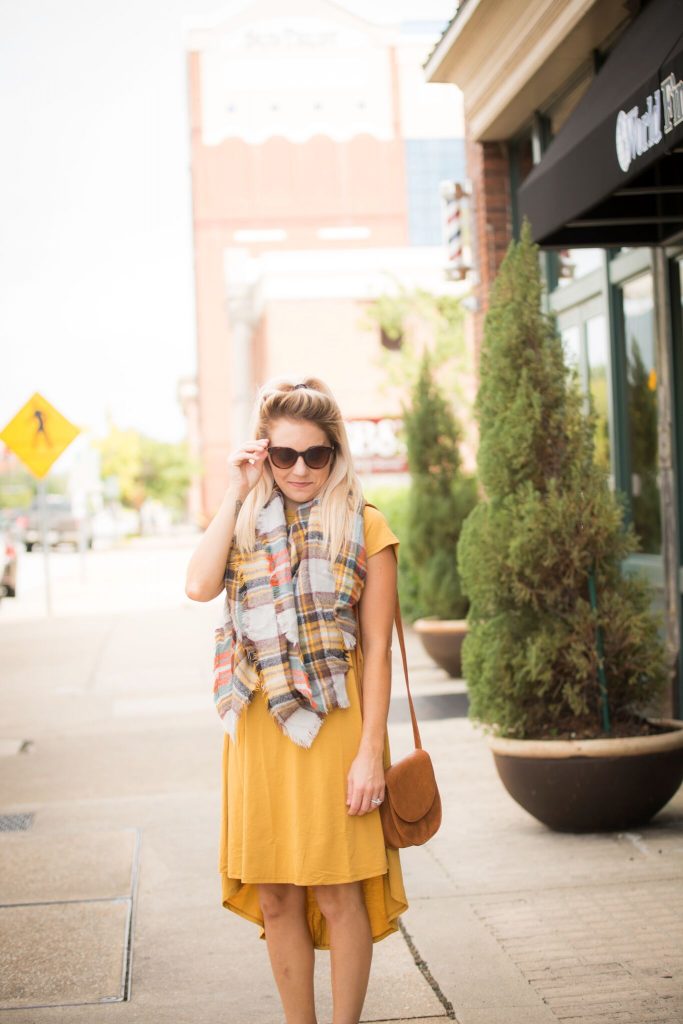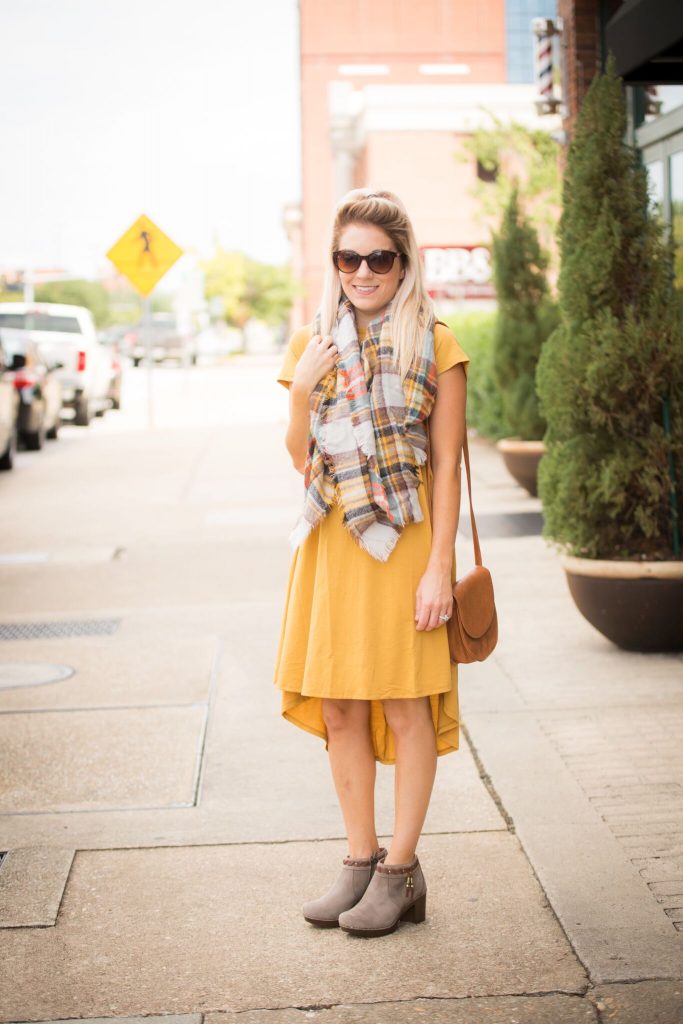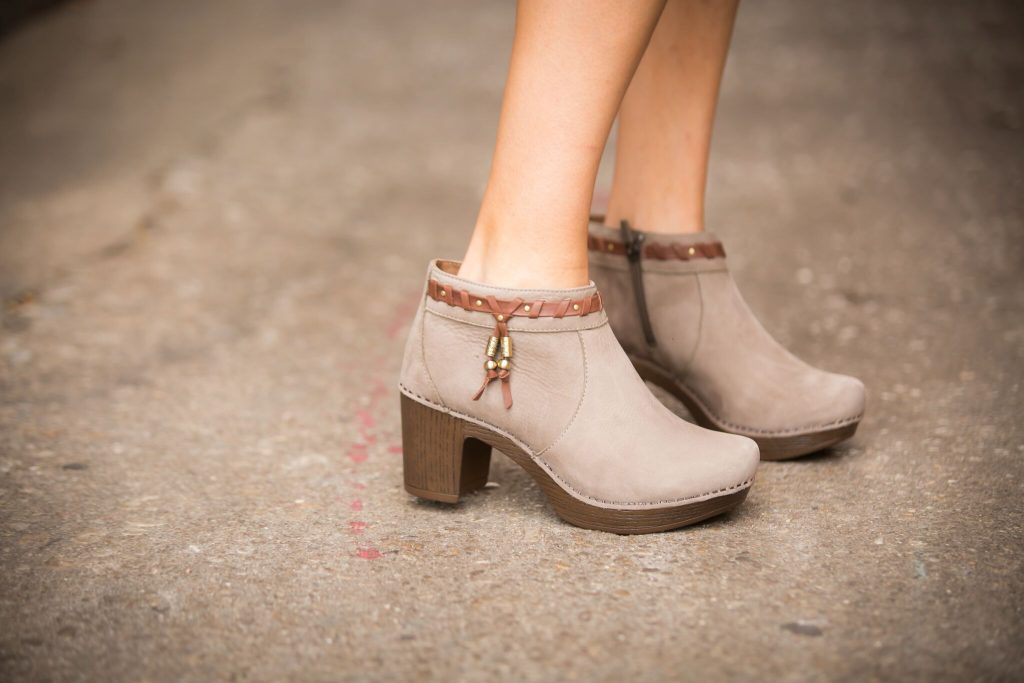 I'm wearing an XS here and I'm almost wondering if an XXS would be a better choice for me. They offer so much room and if worn the wrong way, can actually be unflattering. I didn't learn until after I shot these pictures but I actually really like tying a knot on the inside with a little plastic hair tie. It's SO cute! I'll take a few pics of it that way the next time I shoot 🙂
Now it's time for some honesty… I do think they're slightly overpriced. Call me cheap but at $55 a pop, it's hard to justify it. I know it's no big deal for some people and yes, the quality of the dress is phenomenal. But the bargain hunter in me cringes when I look at the price tag. I will say that if you aren't a big shopper and are looking for basics to accessorize, this is a wonderful investment. But you guys know I shop like I breathe, so I would get in big trouble if I was constantly buying these! But I would be lying if I didn't go a little crazy when I see new inventory posted.
SO tell me. Do you own Carly? What do you think? You can visit my girl Lisa's Facebook page and check out her inventory firsthand. She's also offering y'all $10 off any purchase of $50 or more with code SAMANTHA SHOW+ she's giving away $50 to do some shopping! Just enter the Rafflecopter below and good luck!!