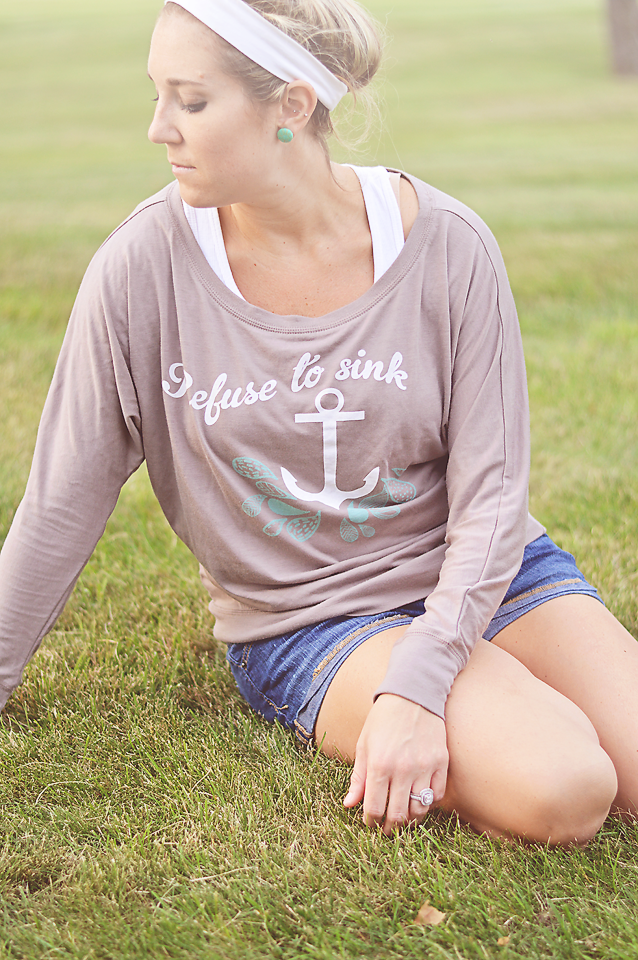 Ever have those days where you just want to find a pillow and scream into it? Or slap the next person who gives you a dirty look when your kid is having a tantrum in public?
I had one of those days the other day and as soon as I sat down to write, my anxiety began to dissipate and I began to breathe again. Besides having a cold, Bubba is getting two teeth (possibly more), and coming up on the "terrible two" phase. Sometimes I feel like a bad mom because I get so frustrated and don't know how to help him. I want a break, but how terrible does that sound that I need a break from my son?
But we all need breaks. We need breaks from each other, from work, from kids, and from friends. Sometimes, all we need to do is sit down in a quiet room and think. Some of us write, some of us read, some of us draw; regardless of our outlet, sometimes we just need that.
I sat down to upload these pictures and took a second to read the very saying written on my shirt:
Refuse to sink.
I thought about this, and realized that no matter what outbursts, or meltdowns, or hardships come my way, I refuse to sink. I've dealt with a lot worse and a lot bigger problems than my toddler having a meltdown in Kohl's.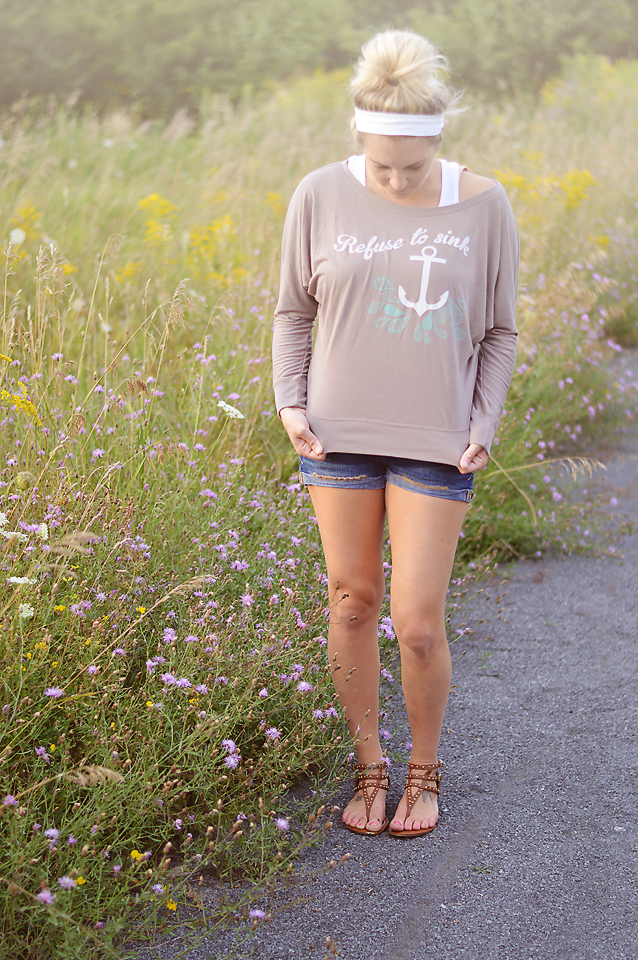 I can't control when Bubba decides to have a meltdown or the dirty looks I get when he does, but I can control how I react. This goes for everything going on in my life right now; I can't control the fact that Z is leaving for 15 weeks, or the fact that I have to rent a house without ever seeing it. I can't control my weight gain, or acne, or how messy and unorganized my house is at any given moment during this moving process.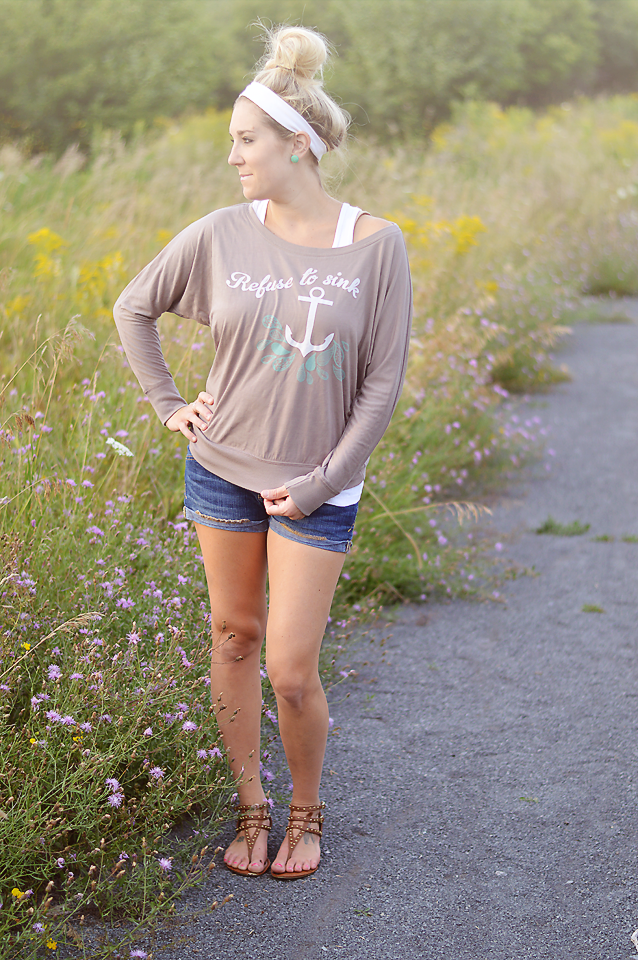 However, I can control my emotions (well actually, these pregnancy hormones are a whole different ballgame…just kidding…). I can control how worked up I get, or how upset I get when things don't go the way I'd like them to. I know things will all work out; I've dealt with a lot more than this in my short 26 years and I refuse to sink.
Thank you to
The Printed Palette
for my new favorite shirt; I love how soft and comfortable it is and the saying has truly inspired me.
I love everything The Printed Palette creates; they are true artists and their clothes scream individuality and inspiration.
"We are a creative couple from San Diego who have been business partners for most of our relationship. Together our imaginations run wild and create a "two heads are better than one" dynamic. With passion for art and design, we hope to create wow-filled experiences with designs to inspire.
Our design approach is taking simple shapes and blending them with vintage twists or thought-provoking words. Most of our designs are stemmed from being inspired in our everyday lives. We use only water based inks free from harmful chemicals. These inks are embedded into the fabric to create a high quality product in both look and feel. Our Colors are brilliantly printed and will last the life of the garment. We design and print all of our goods ourselves along with our production team. We have set forth core values based off the acronym THRIVE to be instilled in our team. These values are practiced and applied daily within our team as well as with customer interaction.Think outside the boxHave dedicationRe-invent the wheelInspire opportunityValue and respect your teamExude passion & knowledgeWe are passionate about what we do and with passion comes dedication. We are dedicated to our customers and it shows through in our work. We strive to be the difference between then and now, old and new, and what people settle for versus what people should strive for."
Disclosure: I received this product in exchange for a review. No other compensation was provided and all opinions expressed are my own.
"Check out this month's featured blog, Simply Clarke"