Two years ago today was, at the time, what I thought was the hardest day of my life. I watched Z take an oath to serve and protect our country, but didn't even fully know what that meant for months down the road.
If you want to read my reflection after the first year, you can do so here. But even looking back on that, SO much has changed in a year that I can't even believe that this is our life sometimes.
Here we are two years ago, on this day, when Z was sworn into the United States Army. (Ignore the fact that I'm 30 pounds heavier here, gross).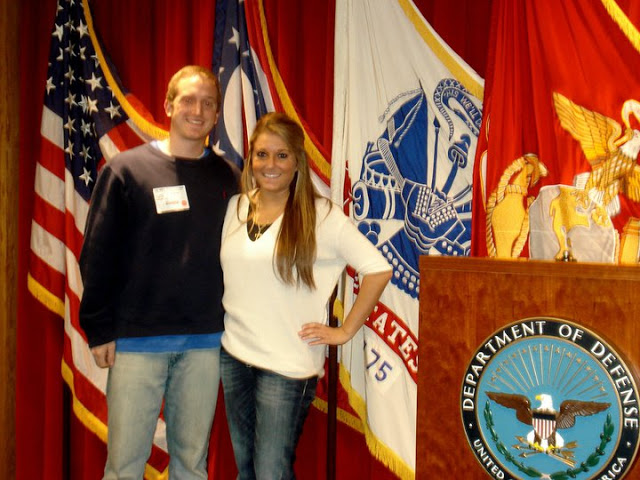 Z and I had only known each other for 3 months at this point. But that was all it took for us to fall in love and realize we wanted to spend forever together. Joining the Army was something he always wanted to do and most people would say, "Are you crazy?" I think I myself may have asked him this but someone has to do it, right?
We've been through hell and back; boot camp, a deployment, field exercises, near death experiences, and much, much more. I thank God everyday for bringing my husband home safe and for keeping watch over our little family. On the worst days, when I wasn't sure what was going to happen and if we were going to be reunited, the only thing I had was faith.
Faith in our love. Faith in our marriage. Faith in God.
As we celebrate Veterans Day tomorrow, take a minute to think about the sacrifices these soldiers and their families make to protect our country and keep us safe.
Go out of your way this weekend to thank a soldier (past or present). Do you personally know a soldier? If not, I can certainly point you in the right direction to thank one. It will mean more to them than you know.
Soldiers aren't paid millions; they are away from their families more often than they are together, and they don't ask for handouts or special privileges. They volunteered for this job and they knew the hardships that would come along with it. However, this doesn't mean that a "thank you" or "we appreciate what you do" doesn't mean the world to them.
To my husband, my friends, and those who I don't know or won't ever have the chance to meet. Thank you.
Thank you for making the sacrifices you do. Thank you for showing no fear. Thank you for protecting our country. Thank you for making me feel safe and proud. Thank you for being you.