5 tips to keep your closet organized.
This shop has been compensated by Collective Bias, Inc. and its advertiser. All opinions are mine alone. #ZiplocSavesSpace #CollectiveBias
I'm what some may call a hoarder when it comes to clothes. I'm super attached to old sweatshirts from high school and college and am always holding onto things thinking "I may wear that again one day!" I know, I probably should seek professional help for my OCD (Obsessive Clothes Disorder) but I'm getting better. I've started downsizing, donating, and the biggest help? Rotating my clothes based on the season.
Since we've been married, my husband and I have officially moved three times. I say officially because there were times I spent months at my parents' house when he was either deployed or at trainings, but three official times. During those times is when I really found myself organizing my things. Tossing what I didn't need and storing the items I absolutely couldn't do without. I discovered Ziploc® Space Bags® from Lowe's on our first move and they changed my life. They made it so much easier to take things to and from places, carry them to storage, and quickly access something if I needed it.
On our most recent move, I really got organized (not in life, just in my closet. Just kidding. Maybe…) so today, I'm sharing how I did it!
1) Store the clothes that are not in season. In the summer, put away any sweatpants, sweatshirts, sweaters, jackets, scarves, boots, etc. In the winter, put away any tank tops, sleeveless, shorts, bathing suits, and sandals. Of course there are some exceptions; it's totally fine to leave out a sweatshirt or two for chilly summer nights or a bathing suit in the winter if you plan to frequent a hot tub. But we're talking majority here; stick everything in Ziploc® Space Bags® and store them under your bed, in your closet, in the attic, wherever. I store mine in my attic so I don't clutter my room… personal preference!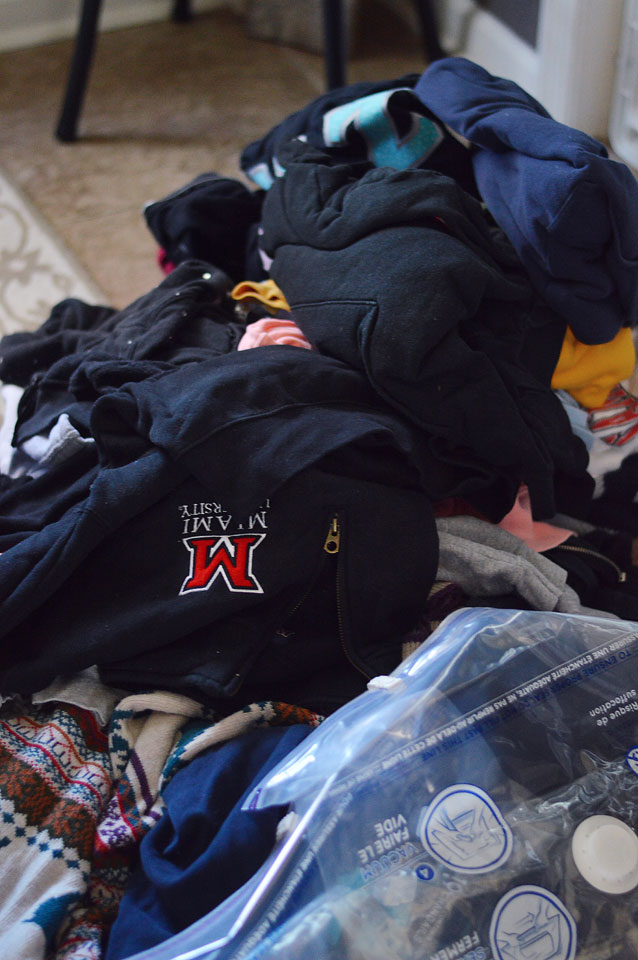 2) Purge. When switching out your wardrobe for the season, make two piles; one to donate or sell and one to store away. No need to store things that you look at and realize
you haven't worn at all that season or in the last six months. Look into selling it at a second hand store or donating it to a shelter. Then store away the rest!
3) Color code your closet. This will help you to see what you have and make it easier when you go to store things away for the season. For example, most of my neon colors are in the same area and I can go down the line and grab what needs to get put away. This also makes it much easier to pick outfits out; you know exactly what your selection of black tops looks like when you feel like wearing a black top. No need to push through your closet and pull things off hangers… it's right in front of you! Of course this won't be exact but try to put them where they fit based on the dominant color of the item.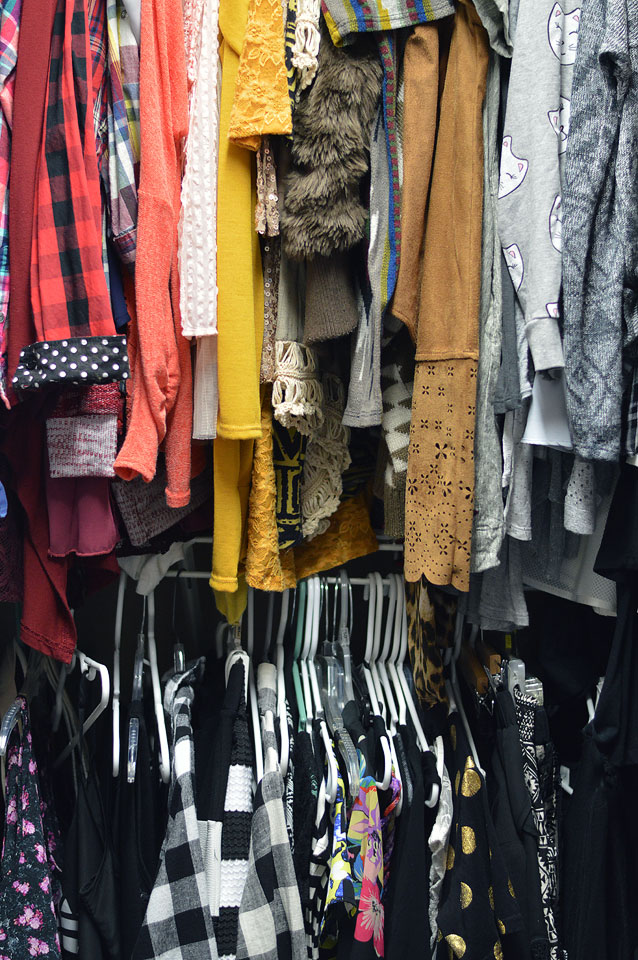 4) Keep things separated by person. Don't store all sweatshirts, all shorts, etc. in one bag… break it down my person. This will make it easier when you go to switch out for the next season. The different bags go to different people's rooms. Easy peasy!
5) Dedicate a day to it. You know why I implemented this system? Because my mom does it! It usually takes an entire day to get everything down, purge, wash if needed, and hang up. Take your time and do one person's room at a time. This will help you stay organized and it won't seem so intense.
I love clothes and shoes and that's probably one thing I won't ever give up. It's kind of like my hobby… anyone else feel that way?! So staying organized and keeping my things nice is super important. And I think my system helps me do just that 🙂
How do you stay organized? Do you have any tips? Do you use Ziploc® Space Bags® to store your clothes?