Looking for the best workout clothes from Amazon? I've got you covered! Affiliate links are present which means when you make a purchase using one of my links, I receive a small commission at no extra cost to you. Thank you for the support! xo
We purchased our Peloton back in September, but it wasn't until the quarantine began that I really started to get more use out of it. I used to be a 2-3 times a week kind of gal, and now you would have to force me to take a rest day. Not because I'm trying to lose weight or work on my physical appearance, but because my mental health depends on it. It's seriously my escape in all of this craziness and I am SO thankful for it. I could talk about the Peloton bike for days but that's not what today's post is about, so if you're interested on learning more about that, read this post here!
But since we can't go shopping anywhere and I was in desperate need of some new workout clothes, I turned to Amazon to find some good workout clothes! I typically just work out in leggings and a sports bra so that's what most of this haul consisted of. But they have a ton of great options if you're looking for some more coverage so I can share those below as well!

So in my opinion, here are the best workout clothes from Amazon:
I've been a fan of the CRZ Yoga brand for quite some time so I grabbed a few pairs of their leggings (I knew I already loved those) but I also wanted to try their sports bras. I ordered three; one of them I loved, one of them is great for lower impact workouts, and one I felt like I was in a straight jacket and sent back. But the one I loved looks like it's two different bras but it's actually one piece (first 3 photos). And the one I really liked but would recommend for lower impact workouts is the one in the picture with the pink leggings (4th photo). They're both around $20 too so you can't beat the price!
The gray marble leggings in the first picture are actually the Jockey brand and I really liked the fit of these as well. They're high waisted and come in this silver wash and a pink wash!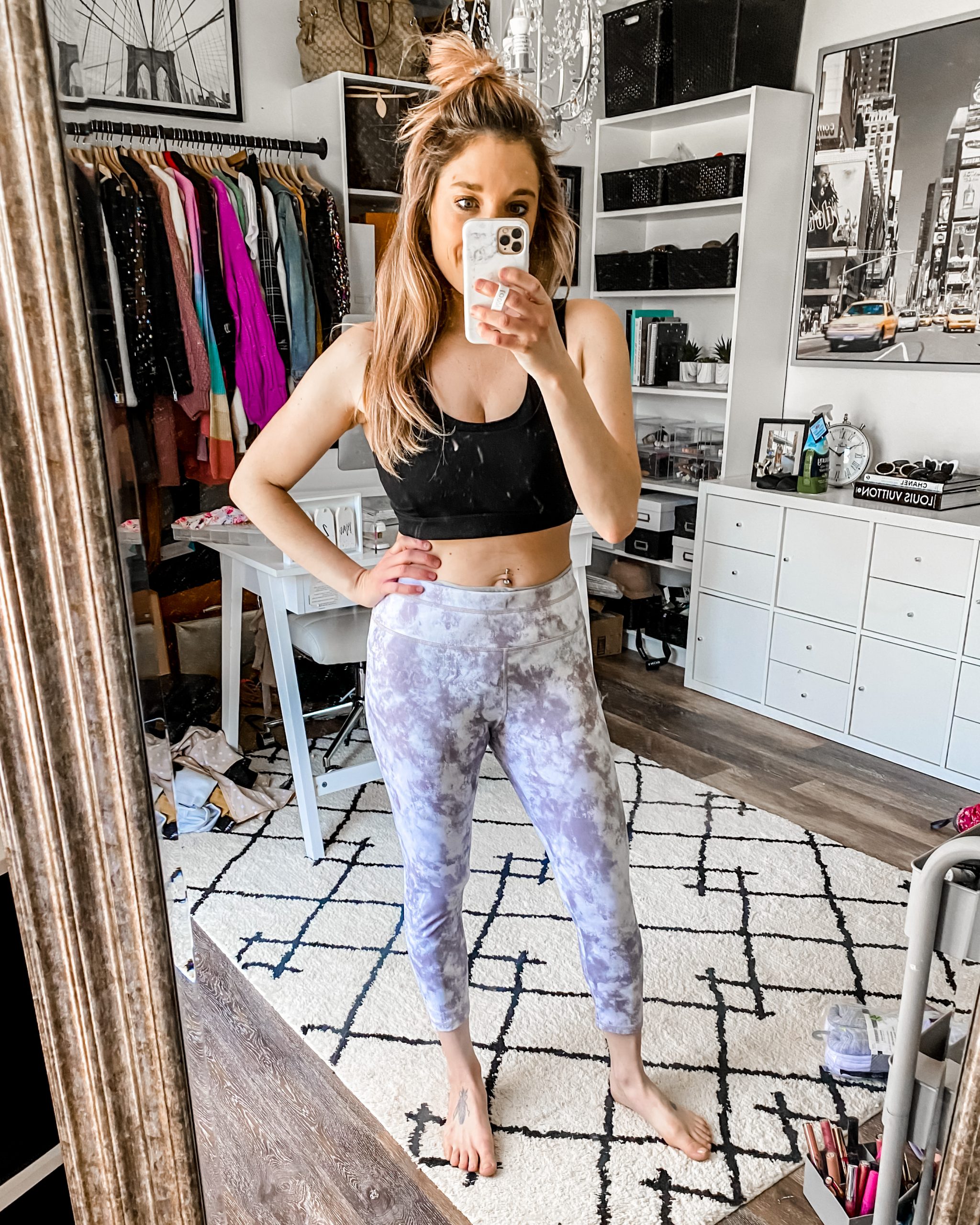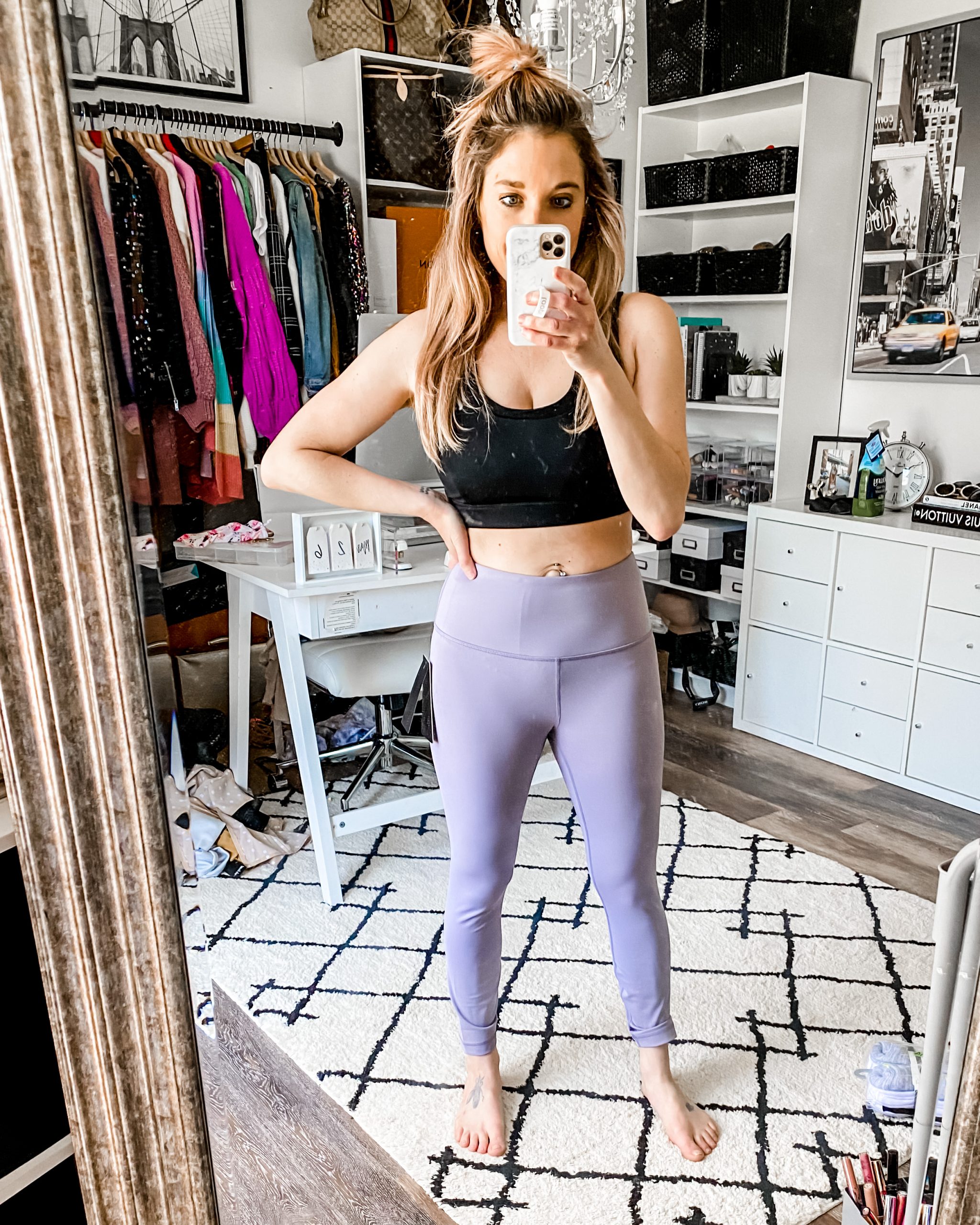 This purple pair is a new brand for me but I loved the color and decided to give it a try! And I have to say I'm a fan! They're super soft, high waisted, non-see through, breathable, I could go on and on. They also come in 16 different colors so feel free to browse and choose a color that works for you 🙂 I'm wearing a medium in them and they fit perfectly (I'm typically a size 6 in jeans).
This taupe color is the CRZ Yoga brand and they are BUTTERY soft. Like I want to live in them. They're also high waisted and suck your tummy in, but not too much where you can't breathe. I've also owned a few pairs since last year so I can honestly say they wash well time and time again.
The sports bra that I'm wearing with the pink pair of leggings is a great lounge bra or low impact bra, but I wouldn't recommend it for high impact or if you have a large chest like I do. While there weren't any slips, I did come close haha and I just prefer to feel more supported when I'm doing my workouts. But it beats wearing a real bra these days so like I said, I would recommend it for other reasons!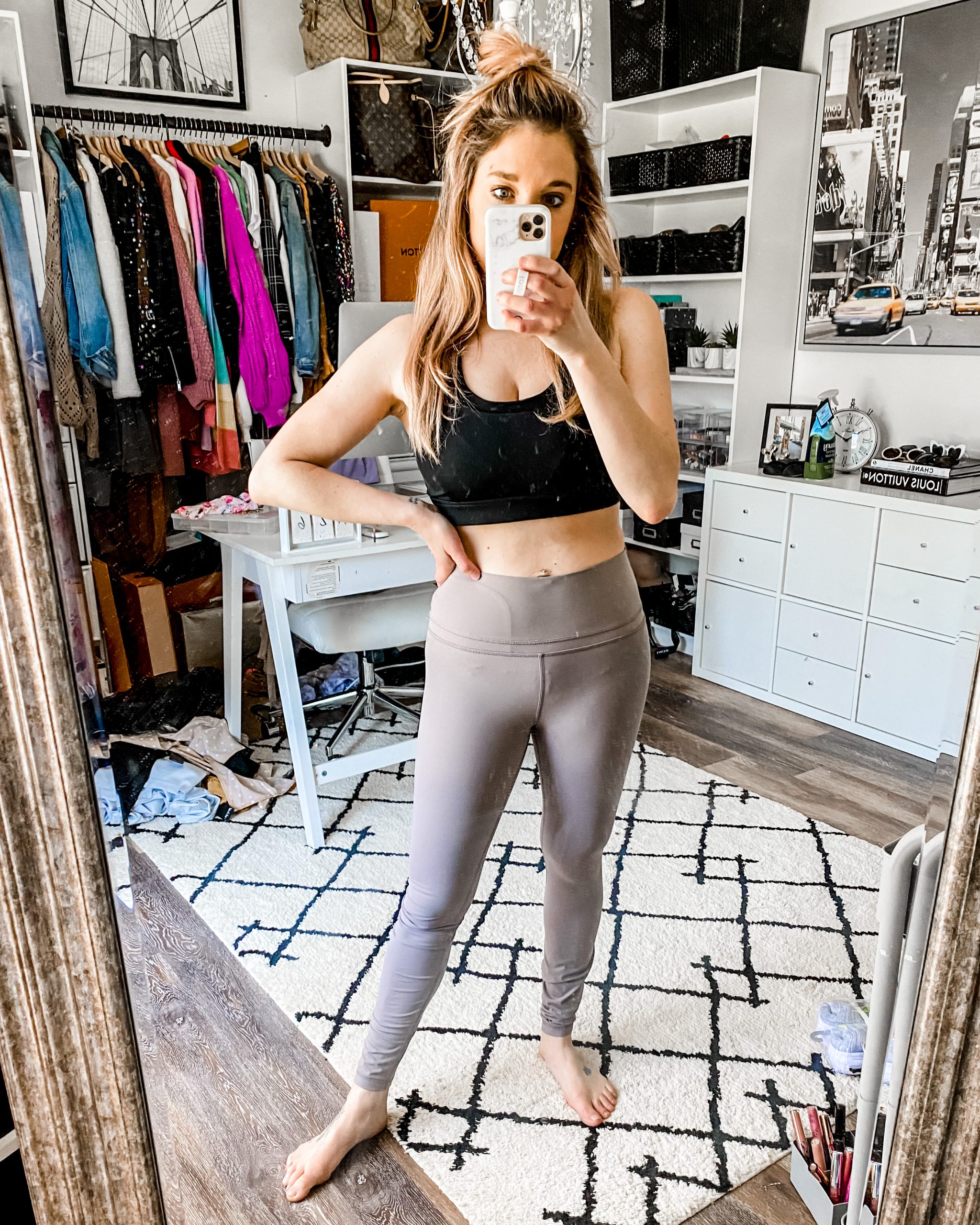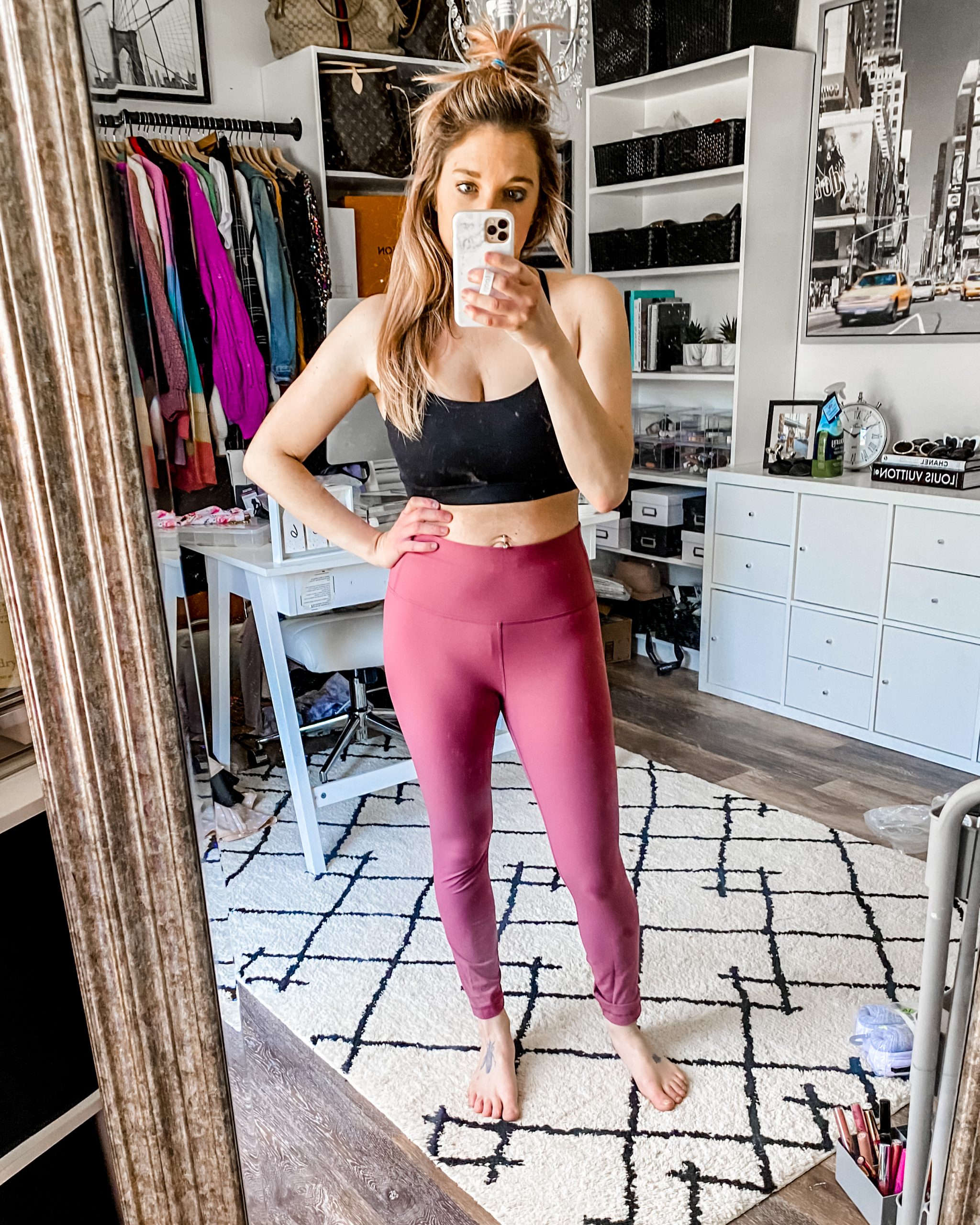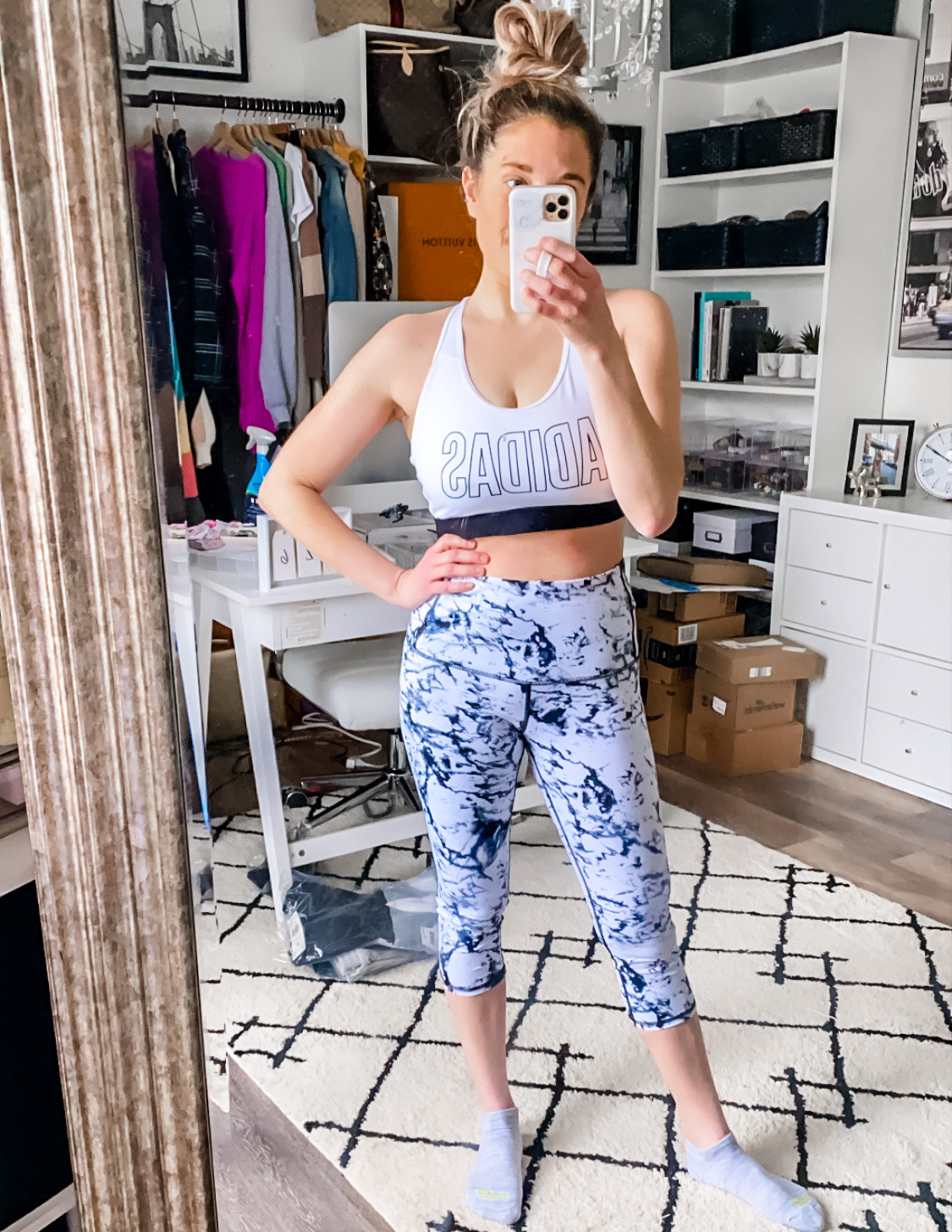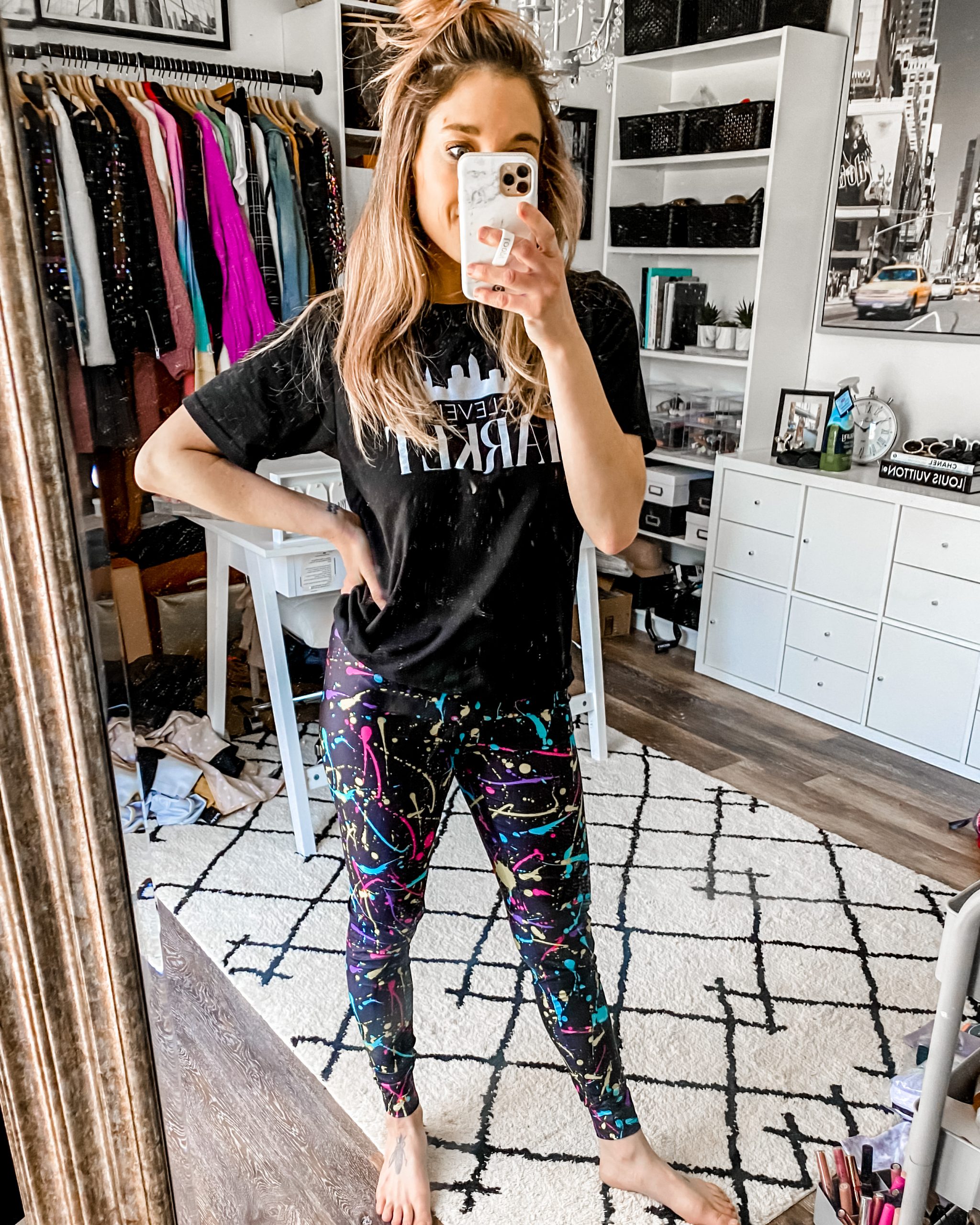 The cropped marble leggings are also a great pair and another option if you don't like full length leggings. They were also high waisted and didn't roll down while I was working out. I'm also wearing a medium in these.
And then for fun, I grabbed these splatter painted leggings. They're not high waisted so I didn't try working out in them, but they are great for lounging and walking if you're getting your exercise outside that way!
I also grabbed this pack of socks because I have NO idea where all of my socks go. Seriously, why do socks disappear?!
And there you have it! Some of the best workout clothes on Amazon. I hope if you order them that you love them as much as I do!
For reference, I'm 5'2′ 125 lbs. I typically wear a size medium or size 6 in bottoms and a medium in tops. Let me know if you have any other questions! xo